8 Ways to Optimize Facebook's Ad Targeting
Translator: Lu Dongxuan: Dong Liang

The length of this article is3495Word, estimated reading time6 minutes。
What we're going to show you today is 8 ways to optimize Facebook's ad targeting
Can your Facebook ad targeting be further optimized? Are you looking for new ways to reach your ideal audience with Facebook ads? Facebook's new targeting options can help you increase conversion rates for Facebook ads.
This article describes eight ways to help you optimize Your Facebook ad targeting.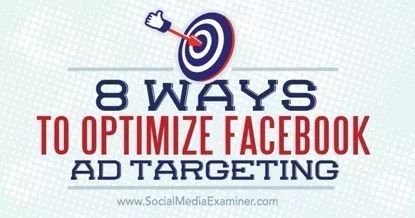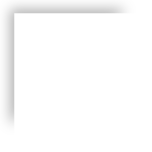 Click to listen to the original text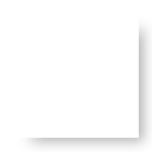 Precision filtering for similar audiences with interests (lookalike audience)
If your blog has a lot of traffic, or has a wide range of potential customers, it's a great choice to use a similar audience to target a larger audience. In many cases, however, similar audiences are too large. In the United States, for example, the smallest similar audience also has about 1 million.
To find a smaller and more targeted audience for your ad, test your ads with different interest targets.When you find the right matching mix of similar audiences and interests, you have a more targeted audience and the cost of each click/conversion decreases.
Here's how to combine interest with a similar audience.
First, select a similar audience you want to test. For example, in the image below, I chose a similar audience of 1.9 million people (equivalent to 1% of the U.S. population).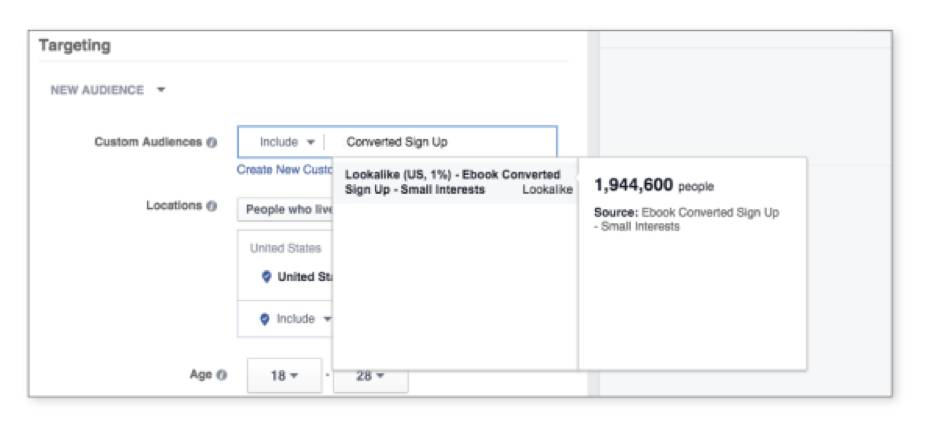 Choose your similar audience
And thenScroll down to Detail Targeting and add interest one by one.

Choose the interest that best suits your target audience

Test the above options with the traditionalSingle Point of Interest Audience(Wider coverage). See if you can refine a more precise definition of an already well-defined audience.
Improve interest orientation through companies and blogs
The way audiences are defined based on interests has changed dramatically over the past year. In the early stages of interest orientation, your interests can be limited, and the coverage of interests is usually general (e.g., running, marathons, triathlons).
Now you can define a company, a blog, or even an influential person as an interest. Instead of using a wide range of terms, you can choose from interests like RunKeeper, Nike and Energy Band Fuel, Jeff Galloway and The Runner World Blog. These types of interests are often more effective than a wide range of terminology.
If your audience is too small, try selecting dozens of companies, apps, opinion leaders, and blogs.
This is an example of a classic and advanced audience mix.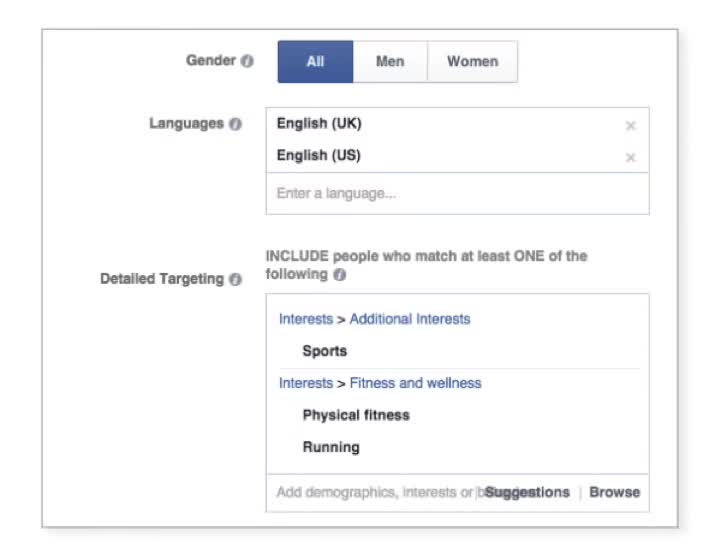 Choose from a wide range of interests, such as running
Here's a recommended mix for smaller audiences.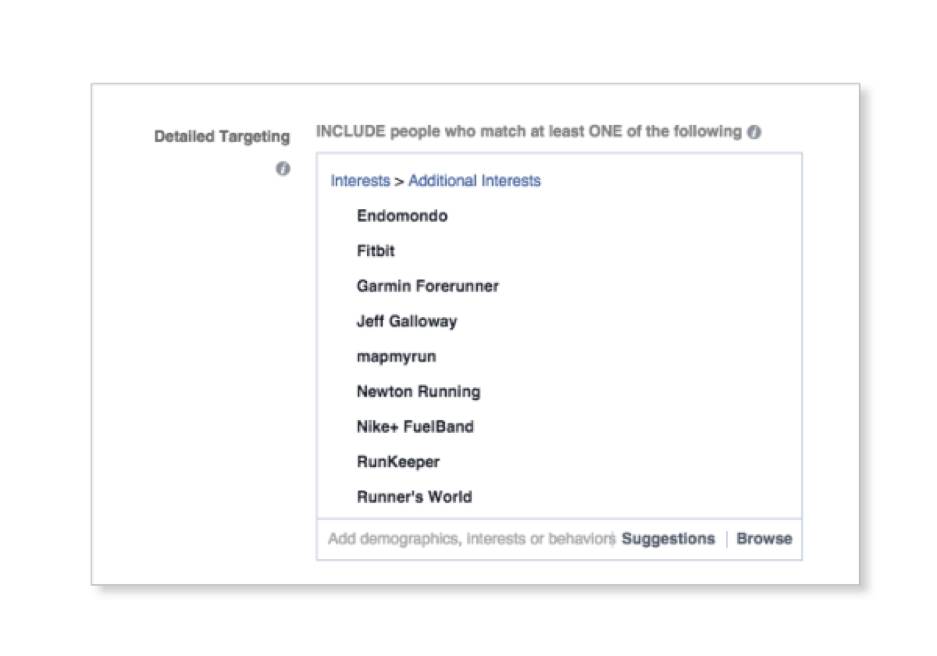 Choose multiple segmented interest choices
You can start with a broad audience, then slowly refine your audience with more segmentation options, or take a small, refined route from the start to steadily expand your reach. No matter what strategy you choose, make sure you provide enough presentation to test its effectiveness thoroughly and accurately.
A common way to define a target audience is to select the right age group based on your product definition or through Facebook Precision Marketing Data Analysis Tools. For example, when advertising for college students, most advertisers will choose people between the ages of 18 and 22.
A great way to reduce conversion costs is to expand your age range. To test a wider age range, try any of the following options:
Select age with a span of 10 years (e.g. 18-28 years)

Select age span 30-40 years old (e.g. 18-58 years old)
Younger and larger age groups
You may be surprised to find that Facebook ads haven't changed, but costs are falling.
Use the MustAlso Match feature
Last October, Facebook launched a"Detailed Targeting"New features. This allows you to select must match at the same time to be more interested, not just to satisfy any point in a set of interests.
Multiple experiments from different categories and industries have shown that adding "must match at the same time" interest leads to a more accurate audience, resulting in a 25% reduction in click/conversion costs.
For example, if you choose Twitter as an interest and treat Socialmedia Marketing as a "must match" interest, this match will be better than the usual choice of two interests or just one interest.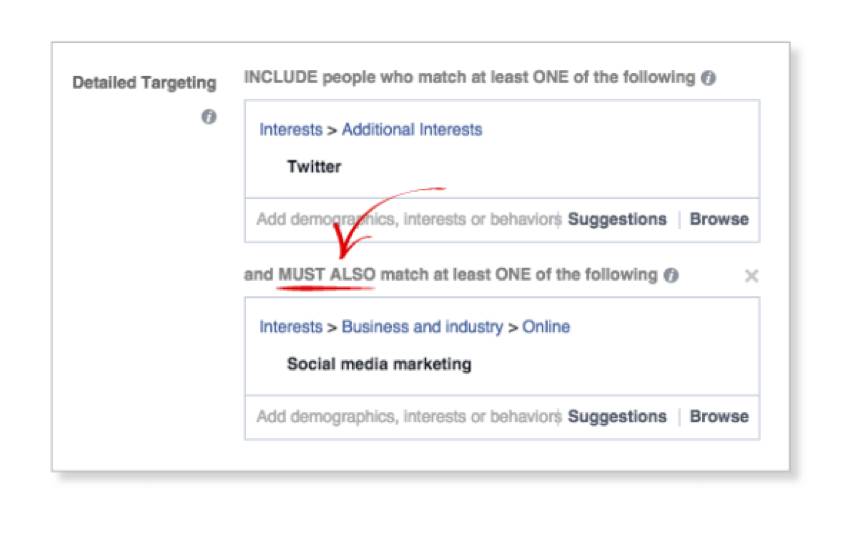 Choose a "must match" interest to narrow down an overly broad audience
To test which options are really useful to you, change the interest option that must match at the same time in the options box below. Try adding two or three interests, keeping the closely related tags, and then see if your conversion rate increases. If not, it may be because one of your directed interests is too biased.
Block existing visitors to the site
Don't waste ad money on people who are already loyal to you unless your ad campaign is targeted at potential customers. You can exclude certain demographics or audiences for specific interests.
To do this, you first need to install a Facebook code on your blog or website. The code will build a Facebook user base from people who have already visited your blog. Then exclude all visitors to your blog in The Custom Audiences section. Select the custom or existing audience you create.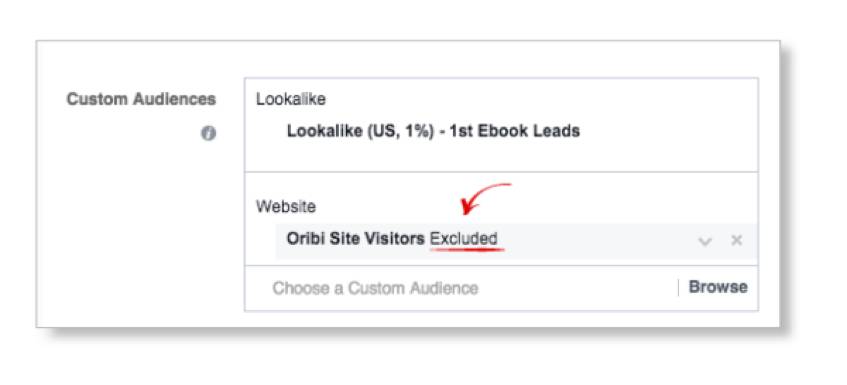 Exclude the people you've successfully reached
Segment redirect audiences
Instead of defining all users who have visited your blog as the same audience, you'll divide visitors into different interactive categories. This allows you to deliver your message to your audience. Here are some potential benefits:
Increase overall audience engagement.

Increase conversion for each audience.

Build long-term brand value. (You don't harass a specific audience with irrelevant information.) )
Here's a breakdown of what you can try:
Segmented by last visit time:Redirect users who have visited your blog in the last 14, 14-60 days, or more. People who have recently visited your blog are more likely to convert, and the cost is often lower.

Segmented by the number of pages users visit:Redirect stomp only access to users of 1 page, 2-5 pages, or more. This is a good illustration of how much the user is interested in the product.

Segmented by specific pages:Redirect a group of users who visit a specific page, such as a quote page. They are more likely to convert.

Segmented by the length of the visitor's online time:Choose to stay online for less than 10 seconds, 10-60 seconds, or more than 1 minute. This is another indicator of user engagement. Removing all users browsing on a blog for less than 10 seconds is usually a good policy. They are less likely to remember your brand and don't show much interest.
To create a redirected group by time on your blog, specific page, or number of pages visited, use Google Tracking Code Manager. Click for more on Google's tracking code management tools (http://www.socialmediaexaminer.com/google-tag-manager-what-marketers-need-to-know-christopher-penn/).
Advanced users of directional devices
You can increase conversions by targeting and targeting digital device users who are more likely to click and sign up/buy.
More optimization methods can be excavated through the user behavior section. As an advertiser, you can use behavior tags to define your audience (for example, a travel frequenter, video gamer, or Facebook page owner). When you use the behavior tag to cut out users who are less likely to convert, you'll find the results surprisingly good.
Although you cannot exclude certain behaviors, you can bypass them by selecting other options. For example, to remove users who use 2G/3G mobile networks, select only those who use 4G and Wi-Fi. That way, you can target more advanced users of device technology, use a smartphone, and are more likely to click on ads.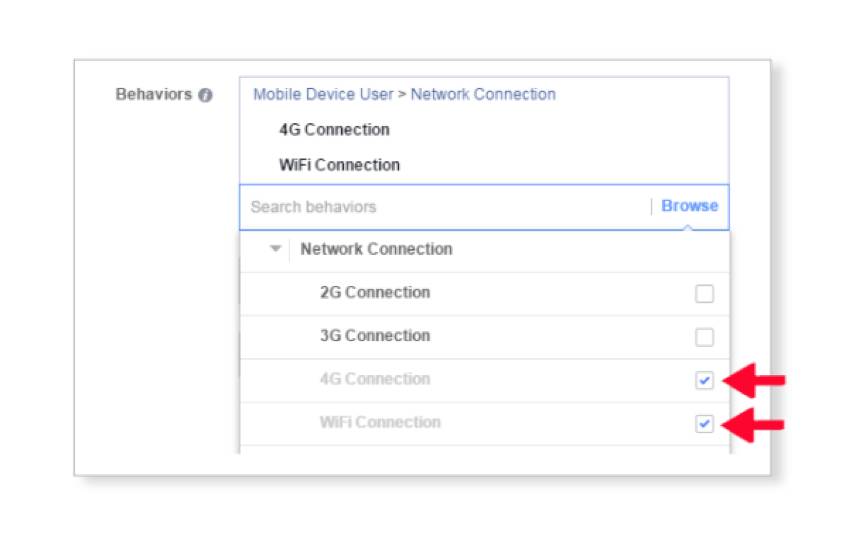 Select only those who use 4G and Wifi
If you're worried that the landing page is too large to be a bad way to load, try an AB test between 4G and 3G. This helps you determine whether load times are an important factor.
Segment your audience through your browser
The user's browser type can also reflect a lot of user information, so that you can better target high conversion targets.
Some products attract more Chrome users, and others attract more Safari users. For example, choose all browsers except Internet Explorer unless you are for recent users or a senior audience. Doing so helps improve every aspect of your ad campaigns.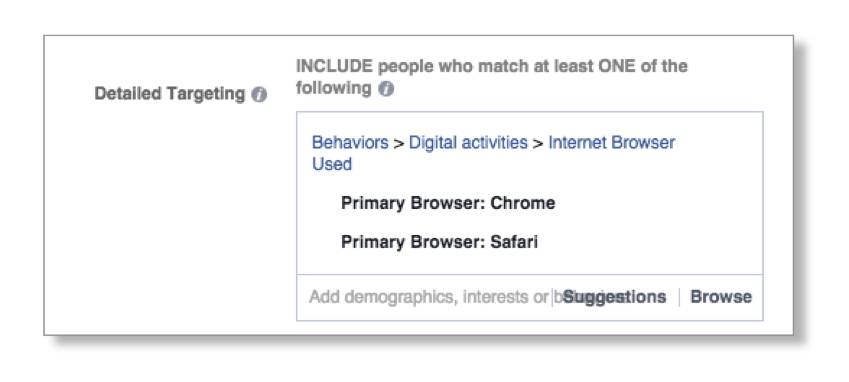 If you're running widgets, choose Chrome and Safari
     Create separate mobile and PC device advertising campaigns
In theory, if you show an ad on your mobile and PC devices, the CPC for each platform is the same as the CPC for an ad campaign that appears on only one platform. However, this is not the case in practice.
CPC sometimes drops when you create the same ad campaign for both platforms. Facebook doesn't evenly distribute the show through the platform, and in most cases, more than 95 percent of its ads are now on mobile devices.
We did three different tests: the first set of test ad placements to select mobile and desktop devices, the second group of tests to select only desktop devices, and the third group to select only mobile devices. The results may be a big surprise.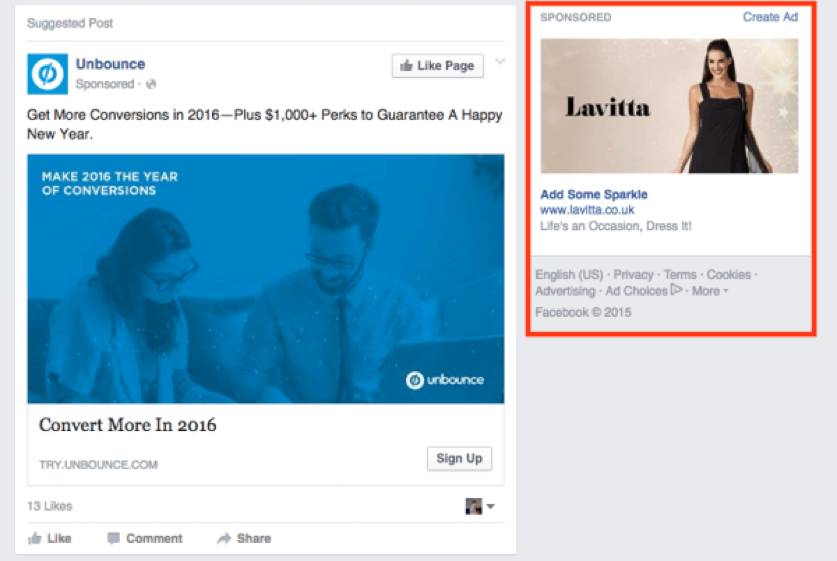 Run tests in different ad locations on mobile and desktop devices
Don't forget that consumers use desktop and mobile devices differently, so this segmented ad campaign also lets you better deliver specific information for each audience. This can be done in two.
How to test Facebook ads ad
To understand which optimizations apply to you, you need to test your ads abystify and make sure you test only one thing at a time. Here are some tips you'll need:
Don't run too many tests in parallel. If you advertise to different audiences (by country, age group, interest breakdown), or do every test at different times, you can avoid competing with your campaigns.

Always create a new ad set. Do not adjust the existing one. Previous results always affect the current result. For example, if your low click-through rate results in a higher cost per click, even if you're optimized, it might be more expensive than the ads on your new ad set.

Test at least 24 hours at a time. Thanks to Facebook's algorithm, you should run at least a full day if you want the test results to reflect future results of future ad campaigns. Of course, the longer the better.

Create a budget big enough. I usually get at least 50 clicks from the budget. For example, if your average click cost is $0.50, your budget is $25.






A successful Facebook advertising campaign (http://www.socialmediaexaminer.com/create-an-effective-facebook-campaign/) is usually the result of dozens of optimizations and tests. Testing can help you identify every fine-tuning in your ad campaign settings that could have a huge impact on your results.
Run some new tests every week and you'll see positive results right away.
What do you think? Do you use The A/B test to optimize your Facebook ads? What tips can you provide? Share your thoughts in the comments below.
Author Iris Shoor :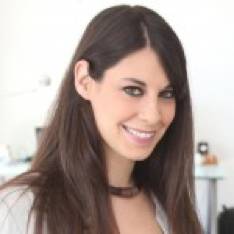 Iris Shoor is CEO of Oribi, a new tool for Facebook's ad analytics. Prior to creating Oribi, Iris created two successful venture capital-backed start-ups (VisualTao, acquired by Autodesk and Takipi).
About the Translator
Lu Dongxuan, network marketing analyst, advertising designer. Good at SEM, SEO, advertising design. iCDO translation volunteer.
Introduction to the review
Dong Liang, ICDO Translation Volunteer.
---
About Internet Data Officer (Internet CDO)
iCDO is the first industry-neutral platform in China to focus on Internet data analysis and applications.Internet Chief Data Officer。 iCDO旨在为Internet data practitioners, enthusiasts, service providers and users provide the world's most cutting-edge, freshest, and most valuable industry.Promote and promote the overall development of The Internet data analysis and application industry.
iCDO will continue to share industry news, technical knowledge, enterprise products and technology solutions in global Internet data analysis and applications, provide information on important issues, events and recruitment, and host industry-sharing conferences and events.
Currently, we are recruiting original and information team volunteers. If you are willing to become a member of the iCDO volunteer team, you can add the iCDO founder Song Xing teacher's micro signal: sxwuda2nd, look forward to data analysis enthusiasts to join!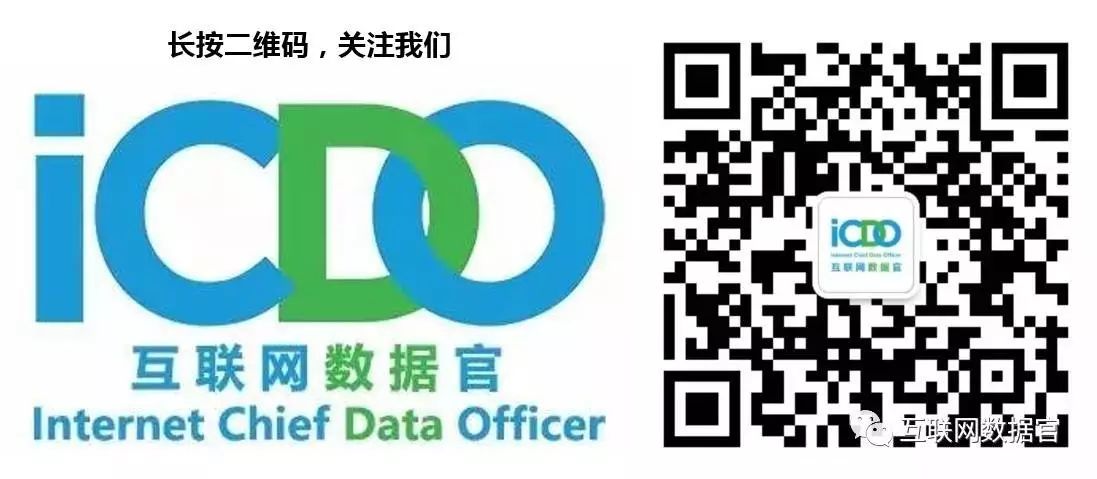 ---