A few tips for Facebook's creatives and copy
I have been mentioning the stand-alone station model, and I think the importance of the product accounts for 70%. Most people start hard because they can't find or develop good products, so I share more thoughts about selection.
When the finish is running ads, let's talk about the most Facebook ads we've used.
A good ad run, many factors, audience, placement, bidding and so on, these are very important. Previous articles I also mentioned that the platform's algorithm has become more and more intelligent, everyone's running method is more and more consistent, almost no black technology, I personally do not recommend to pursue what black technology, this thing can not be asked for.
So in terms of advertising, the only thing that allows us to use our imagination and reflect our competitive advantage is actually the material and copy of the advertisement.
Share a few tips today about creatives and copywriting.
Sections 01 and 02 need to give an overview of the mechanism of Facebook's advertising platform, as well as some basic principles of advertising. If you don't want to see, you can skip, look directly at part 03.
01
A brief look at the mechanics of ad platforms
Facebook's ad platform is a bidding system, an ad campaign, and is mainly influenced by "ad bids, projected action rate, ad quality and relevance." I'm basically using automatic bids, which is already very useful.
In addition to the above three factors affecting the auction, there are many factors like audience, placement. As I've said in my previous article, advertising platforms are now smart, or fooled. Automatic placements, automatic bidding, and even naked running (no audience) can also get a good result.
When we run ads, if we choose to use shopping as our conversion goal, it's oCPM's bidding mechanism.oCPM: optimizedcost per salsa impressions, oCPM means by optimized CPM。 These nouns are bluffing, as long as you remember that advertising is not simply CTR high, can run well, and conversion rate and other factors related.
Aford Quality and Relevance mentioned above: Ad Relevance Diagnostics, which includes three indicators: Quality Level, Rate Rate Ranking, and Conversion Rate Ranking.

These three indicators are necessary to understand, which is helpful for us to optimize advertising. As you can see in the report:

Quality Ranking: Quality Ranking. This is the ad quality ranking that Facebook helped us calculate after the ad started running.
Engagement Rate Ranking: Ranking of Audience-Ad Engagement Rate. This is a better understanding, of course, users of our ads like, comments, share more the better. Conversely, the less negative, less reporting, the better.
Conversion Rate Ranking: Ad conversion rate ranking. It's also understood that we're basically shopping as a transformation goal.
Are all three indicators all good, advertising performance or effectiveness will be good? Not necessarily. Is that the three indicators not performing well, advertising results are very poor? Not necessarily. There will always be a gap between ideal and reality, running advertising is not a rocket- and "there is no need for anything to be true." It depends on the actual performance.
However, we can refer to these indicators, targeted advertising optimization, of course, the higher the score, the better.

This table can be referred to: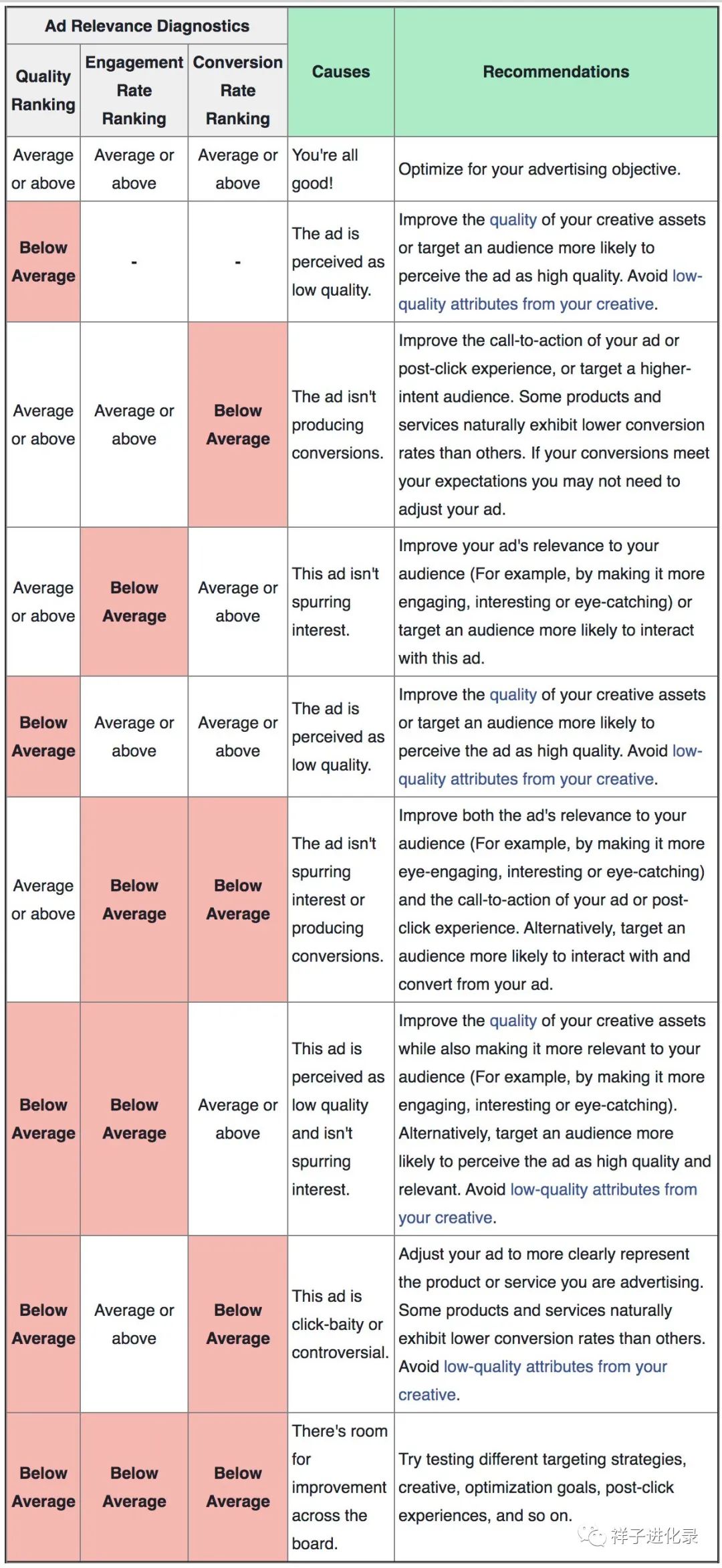 02
A brief look at a few basic principles of advertising
Here's not talking about the theories of the weaknesses of human nature that market, but about some of the basic principles that Facebook ads need to pay attention to.
1, a very important function of advertising is to filter the audience. We are a regular product, so there is no need to induce behavior in advertising. For example, a typical hanging sheep head selling dog meat, click-through rate may be high, but the conversion rate does not go up, the result is the same. It is likely to also result in a seal.
2, the most important indicator of advertising is ROI, the others are secondary. Because what we're doing is direct-effect ads that are looking for conversions, not branded ads that are exposed. For our small players, for the time being, we do not consider what "product effect is one" and other tall targets. So both the material and the copy should serve for conversion.
3, about the footage: video or pictures, depending on the product. For example, selling a simple T-shirt, a floor plan is enough, making a video doesn't make much sense. If you say that the video than the picture has any priority, CPM lower or something, really not, test it will know.
4, the angle of advertising is very important. That is to say, in which way to get the audience's attention. For example, a new energy vehicle, from the style of novel, or from the acceleration capacity, or from the ability to continue, or from the comprehensive performance to advertise?
03
A few practical tips
Know it, but also know it so. Understand the judgment criteria of good advertising and notes, we do advertising, you can be targeted. That's why it's been so long.
We first unified caliber, this part of the advertising, refers to the material and copy, material including video, pictures.
Here are a few practical tips.
1, use the target audience's "language" to write copy and prepare material
Advertising is to our target audience to see, if not the target audience, come and no use, we want to use advertising to the real target audience "filtered" in.
Be sure to dig deepinto into your audience, and theyIs there any commonly used jargon? jargon"Slang slang" or logo? These are the things we use to be noticed in your ads:
Catch the eye of your audience


Quickly close your distance from your audience

Increase trust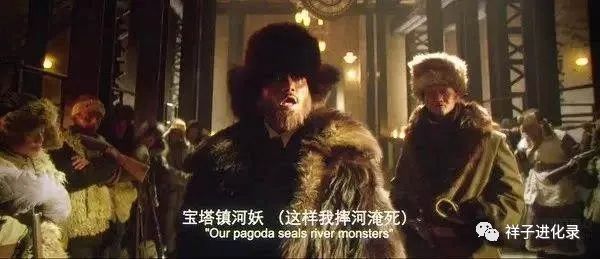 For example, our target user is cat lovers, we can use the word "cat" to quickly catch the eye of the target audience, close and their distance. (Of course, cat lover must be cat owner, this is another topic)
2, video ads must have subtitles
Because the video is silent by default. It cannot be taken for granted that users can understand the display in the video. This is very understanding, it is not much to say.
3, original more effective
Observe other people run good ads, what places are worth learning, which are to be promoted, and then their own to shoot ads.
Whether it is video or pictures, as long as the product can solve the user pain point, or touch the user's place to shoot out, may not shoot as professional advertising companies, but the effect is not necessarily poor. And now the phone shooting is very convenient, buy two cheap light boxes, enough.
4, ads to guide the user to discuss
The goal is to increase the rate of interaction with advertising. Copy, material, can consider whether you can guide the user to discuss. Some of the guidance is more obvious, some of the high-level guidance is quiet.
Brush inge to a post, which is a simple and direct guide.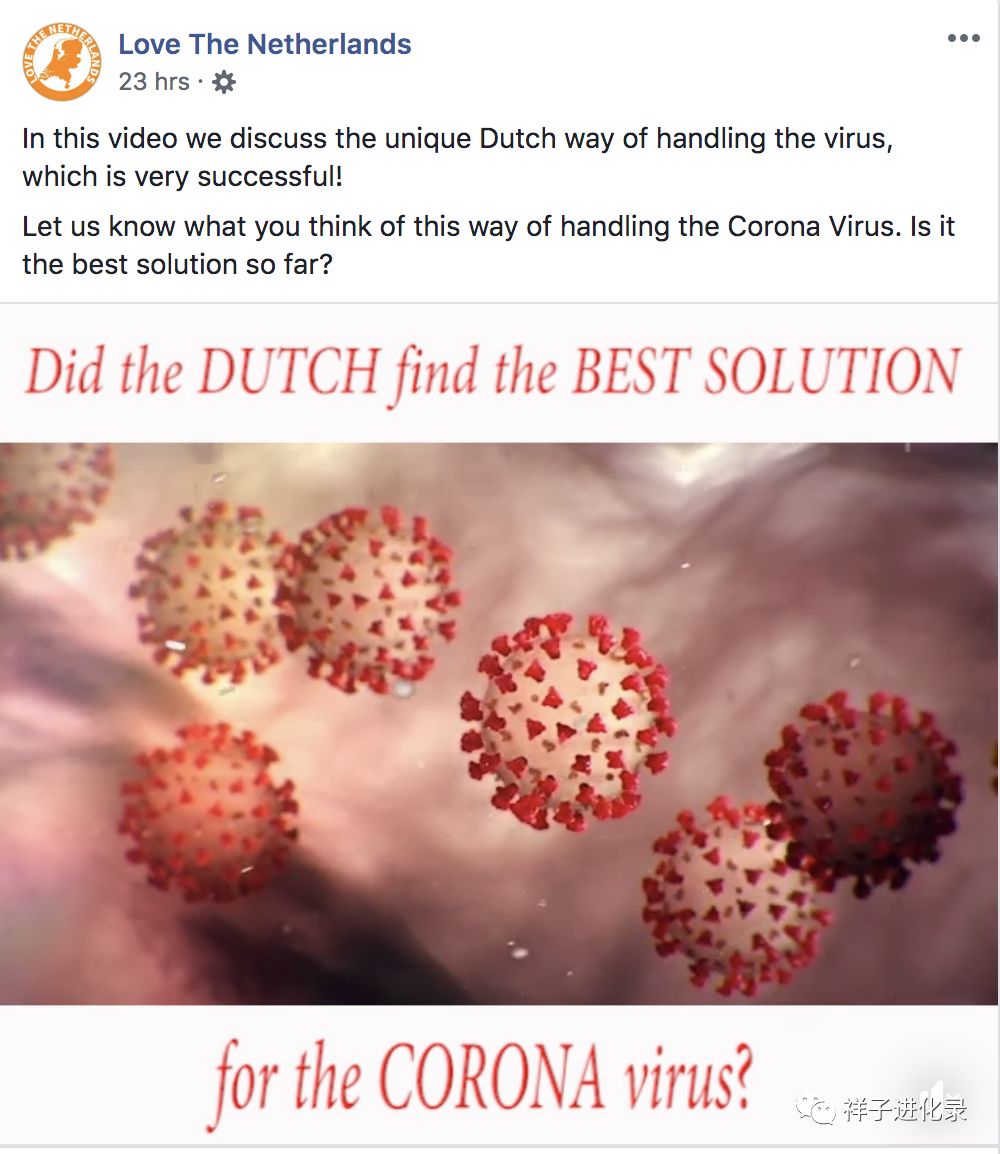 5, hot spot
The hot spots are different from induction. Hot spot is the concept of catching people's eye, borrow hot spots, increase the audience's stay time, attract more potential users.
For example, the current worldwide hot spot is the new crown epidemic, we can see if our product ads are related to the outbreakAngleIf so, this approach will now apply in any country.
6, extract copy inspiration from user's comments
Like my English level, sometimes I really don't know how to write a copy. There is a better way, is to the user's comments, extract the copy inspiration, and even directly quote the better sentence. For example, Amazon product reviews, or user reviews collected on their own websites.

I mentioned a Shopify APP in a previous article (ReConvert post purchase upsell), you can set up a questionnaire to ask the user why they bought our products after placing an order. The information gathered here is more valuable than comments, usually the most real inner thoughts left by the user after they have just placed an order. From it can be extracted from a lot of good copy, as well as user needs.
It is highly recommended to set up an after-sales questionnaire.
7, direct lying with user comments to do long copy
Directly quote the entire paragraph of comments to do the copy, simple and effective lazy method. This is also the theory of using to win the trust of the audience.
8, in the case to add a link
There should be clear call words and links such as order now, get yours here and so on. Long ad copy, preferably in the middle of the copy, the end, are linked. Don't think too smart about users, some users really can't find a point where to buy.
9. Storytelling
Shopify的APPThe market has a very hot collection of email raffle carousel APP, the name is wheelio, presumably everyone is familiar with. The app's boss is Karlo. His blog is a treasure trove, but now he's updating less. This man is very nice, I once privately asked him a question, a word does not agree to give me a long time.
An article he wrote in 2017 was very enlightening to me.The article mentions:
"Be creative, dont follow blindly, test stuff out, call shit out, call me out if you dare.. dont be a sheep, be a fu*cking WOLF. " 
Original: https://conversionpirate.com/sheep-of-ecommerce-marketing/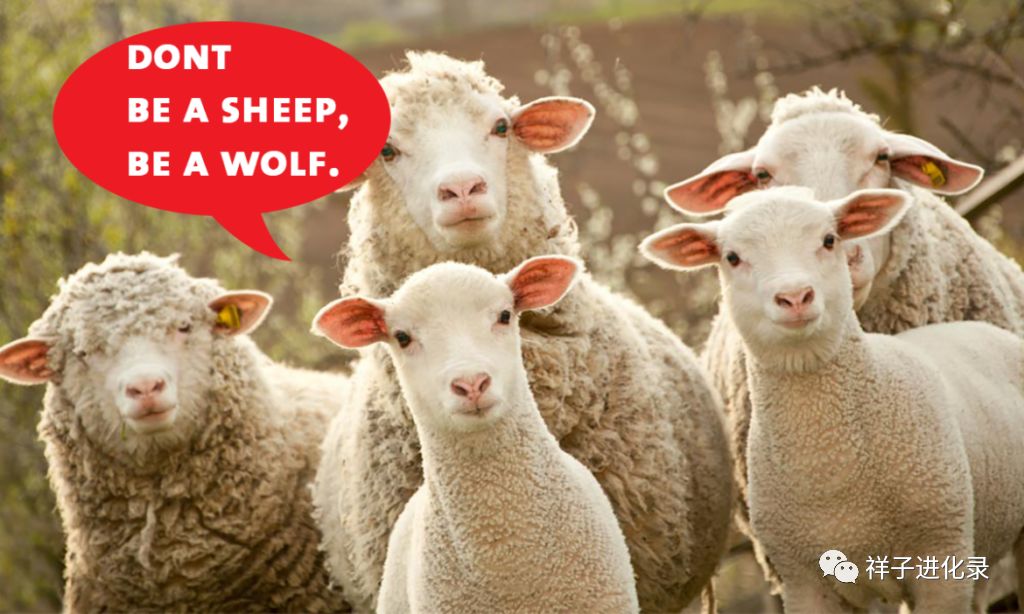 Be creative, not just listen to others, simply imitate others, otherwise you will never get a big breakthrough. To be as aggressive as a wolf, it's not just testing new products, testing ads.
For example, people like to offer discounts in ads, usually in style: 50% Off Today! Or this: 24 Hour Flash Sale!
The purpose of this is to urge users to order and create a sense of urgency. But why 50% off? Why a limited-time promotion? Is to user guess, want the user's own products, fine products? Or is it wayward, no reason for discounting?
It's too pale, isn't it? It's more effective to tell stories to users and provide a reason to increase trust.
Two examples:
1, for example, to promote a Van Dijk T-shirt, you can check what day Van Dijk's birthday, if it happens to be recent, that can not be better, for example, June 15, then we say: "WeThe owner, a fan of Van Dijk, celebrated Van Dijk's birthday and is now on sale, with a 50% discount sale that ends on his birthday. "
2, or celebrate Mother's Day, celebrate National Day, or the boss's mother ran the road and so on, is a reason. That's much more real.
3, you can also directly in the advertisement with a long copy to tell a story, gain a sense of trust and cause interaction.
Finally, these methods are for reference only, and we are pursuing ROI. Don't be lazy, test more, do more A/B Test, talk with data.
04
Two books highly recommended
What I said is inevitably wrong. Advertising is a too profound field, materials and copy is also the top priority, I learn and practice, may not even be the fur. What's more, I'm still half-way out of the house half-suspended, any questions, welcome comment area criticism is right.
The above method is not a new trick. Only continuous learning, deliberate training, in order to continue to progress, harvest more ideas. So in the end, there are two books that are highly recommended for everyone. The experience we have learned from our predecessors gives us direct access to the possibility of standing on the shoulders of giants.
1, "Scientific Advertising"
"No one can advertise without reading this book seven times," said David Ogilvy, the pope of modern advertising. Hopkins changed my life. "

Some of the basic principles of advertising established in this book, after nearly a hundred years, are still valid.In addition, this book also teaches us a lot of philosophy of life, such as this well-known words:
"If a person in a line of work in the crawl and roll a lifetime, this line of good, he has a responsibility to tell these ideas to the later." He should record the results he has groped. Every pioneer should open his own path, and that's what I've been doing.Later I found out that every young man who struggled was also warmly helped by his predecessors. When a person succeeds, he wants to see others succeed. When one tries, he wants to see others work hard. "
The author Claude Hopkins is really worthy of my generation's admiration and learning example.
On the Internet there is his "Science Ads and My Advertising Career" set, recommended to read together.
2, "Textbook"
The book covers almost every aspect of advertising copy writing, from theory to method.
The most impressive thing I've learned from this book is the slide theory: a good copy is like sitting on a slide, allowing users to start with the first sentence of the copy and read it all the way to the end, and never stop. His copywriting is also very simple, is seven steps:

Step 1, become an expert on the products or services you plan to sell

Step 2, know your target customers

Step 3, write your title and subtitle

Step 4, write the first draft of the copy

Step 5, edit the copy, browse the spelling of the copy, grammar, punctuation, sentence structure, etc.

Step six, brew, stop editing, do some other thing

Step 7, modify refining, perfect molding
Just like the name of the book, write a good copy, there is no shortcut, only "training".

I hope today's sharing will inspire you.

Accidentally wrote fast 4000 words, to point a "look"↘↘
---