Ad review column - Facebook ad release policy content updates and interpretation
Hello everyone! I am a "checker" with nearly 5 years of experience in media and information flow advertising review. Recently, Facebook updated the advertising policy restrictions, today for everyone to bring financial and insurance advertising policies and considerations, and GPA advertising publishing policies and Facebook community code to do an in-depth interpretation, I hope that we can also ensure the smooth running of FB ads during the outbreak.
I. Facebook Ad Release Policy Content Update
On January 29th Facebook updated its ad launch policy to explicitly limit the age limit for advertising for certain health, beauty and medical procedures, including: laser hair removal, tattoo removal, skin treatments, plastic surgery, body shape, hair implants and dental implants, and to target people under the age of 18.
(1) Cosmetic surgery and weight loss products/services
★ policy:
Ads promoting weight loss goods and services can only be served to audiences over the age of 18.
Ads promoting cosmetic surgery and programs can only be served to audiences over the age of 18.
★Example:
Ads promoting non-urgent procedures and surgery, nasal plastic surgery, hair implants, and skin grinding are only available to audiences over the age of 18.
Second, financial and insurance advertising policies and precautions
(1) Prohibited financial products and services
★Policy:
Advertising may not promote financial products and services that are often associated with misleading or deceptive promotions.
★Ban:
First token offering, binary options, CFD trading.
First Token Offering: Initial Token Offering (Initial Coin Offering, or ICO) is also known as first token offering, blockchain crowdfunding, which uses blockchain to combine the use of the right to use and the cryptocurrency to finance the development, maintenance, exchange of related products or services.

Binary options: Binary options, also known as digital options, fixed income options, is one of the simplest financial trading instruments. Binary options have only two possible outcomes at maturity, and determine whether to earn a return based on whether the closing price of a underlying asset is lower or higher than the execution price for a specified period of time (e.g. the next hour, day, week, etc.).
CFD trading: CFDs are a contract between the buyer and the seller, based on the difference between the current value of the seller's assets paid to the buyer and the value of the peace warehouse (conversely, if the difference is negative, the buyer pays the seller).
(2) Financial and insurance products and services
★Policy:
Advertising to promote credit card applications or financial services by an official authorized institution must be clear and fully disclosed, including information such as the annual interest rate, fees, interest rates and the real address of the issuing entity on the landing page of the advertisement. Ads promoting credit cards, loans, or insurance services can only target users over the age of 18. Advertisements promoting credit cards, loans, or insurance services may not directly require the user to enter personal financial information, including credit card information.
★Ban:
Advertisements may not promote misleading or deceptive student loan consolidation, waiver or reorganization services.
(3) Precautions in the financial loan industry
To promote financial and insurance products on the Facebook platform, the following conditions must be met:
1) You must fully disclose information on the login page, including:
•Clearly indicate the APR or interest rate on the landing page;
•Any associated costs such as fees (if zero must also be clear; if fees or other fees change due to changes in the amount of the loan, it is also necessary to clearly write out the percentage or amount of the floating upper and lower limits);
•Indicate the address of the company entity that provides the product on the landing page;
•Term of the loan (not applicable to mortgages)
2) You may not request personally identifiable information from users on the login page (PII-Personallyable Identifi Information)
For example: personal credit card numbers; government identification (social security numbers, license numbers, passport numbers, military ID cards, etc.) for specific bank details (bank accounts/route numbers), etc.
3) Advertising of all financial and insurance products and services must only be for users in the age group over 18 years of age.
4) Promoting lending products requires the completion of SensitiveTargeting certification for the relevant advertising account.
With regard to the issues of sensitive targeting and non-discrimination, there are the following types of ads that need to be applied for:
•Financial type
•Dating Type
•Housing, job recruitment
•Gambling Type
Certification links:
https://www.facebook.com/certification/affinity
https://www.facebook.com/certification/nondiscrimination/
(4) Financial and insurance advertising violations
× "Quick Loans"
•Guarantee24 hours/30 seconds approval to get loans, quick loans
•"Quick registration and obtaining a loan", no loan terms description
•"Quick Loan" loans do not need to fill in any information, immediately get the loan
•"It's so easy to take money" to get a large loan without having to review specific user conditions
•3 minutes to get a loan
•Quick cash loan quick loan
× Presence on the landing page or requesting personally identifiable information from users
•A photo of a user holding up a personal ID appears on the loan app's landing page
•Virtual user ID cards and photos appear in ads
•Description of requesting sensitive information directly from the user (e.g. scanning identification documents, asking users to provide bank accounts)
× Misleading users
•The ad itself promotes the loan software, but the app promoted by the landing page has nothing to do with the loan
•Appear in the loan app to only need a phone number to loan / scan avatar can be loaned and other creatives
•Default minimum and maximum loan amount per applicant
•By default, each applicant can get a limited month's loan (six months or nine months, etc.)
•The specific user's name appears in the ad video, assuming this user can borrow $XX
•Real money appears in loan ads, suggesting that users can make successful loans
•Direct screenshot of loan success
•Anad for an interest-paying type on installments
ThreeGPA Advertising Policy
(1) Advertising on social issues, elections or politics
GPA(Government、Politics、Advocacy)
★Policy:
Advertisers must comply with all applicable laws and the authorization process required by Facebook to run ads on social issues, elections, or politics. Facebook may restrict the delivery of issues, elections, or political ads, as appropriate.
For ads about social issues, elections, or politics, advertisers must complete the authorization process required by Facebook if the advertiser or target audience is in a designated country, with the exception of the news media identified by Facebook. This applies to any of the following ads:
•The results of elections created by, or related to, or in favour of the results of the elections of current or former candidates, political figures, political parties, political activities committees, or those of public office;
•In connection with any election, plebiscite or voting initiative (including "mobilization of voting") or electoral information campaigns;
•relating to any social issue in which the advertisement is placed;
•Managed as a political advertisement.
Advertisers who serve such ads must comply with all applicable laws and regulations, including but not limited to: and below, regardless of their location, audience targeting, or access to news exemptions:
•Advertising sponsors, disclosures and advertising labels;
•Advertising blocking period;
•Intervention by foreign forces;
•Cost cap sits and reporting requirements.
(2) Sponsor labels for social issues, elections or political advertisements
★Policy:
If your country is already implementing Facebook's ad authorization process, in addition to complying with our Community Code and Advertising Policies, the ad sponsor tags you submit for social issues, elections, or politics must comply with the following guidelines. You will need to provide this information in the ad authorization process and the information will appear in the title of your ad.
★Ad sponsor tag guide:
•The Sponsor label must accurately state the name/name of the entity/individual responsible for the advertisement.
•The ad sponsor's label must not contain URLs or abbreviations unless they are consistent with the organization's complete official name and must accurately correspond to the relevant information provided on the website.
•The ad sponsor's label must not contain offensive, offensive, or hard-to-identify words.
•You may not inappropriately imply in the Ad Sponsor's Tag that Facebook is the publisher, sole sponsor, and representative of one of the sponsors or more of the ads.
•You may not inappropriately imply that a foreign leader is responsible for the advertisement in the ad sponsor's tag.
•The ad sponsor's tag must not contain the words "Sponsor" or similar copied from Facebook.
(3) Social issues
Social issues may be topics discussed or debated at the national level that may affect the outcome of the election or lead to/correlate existing legislation or legislative proposals. Social issues vary depending on the country in which advertising for social issues, elections, or politics is run.
★The following are some of the most important social issues in some countries for reference: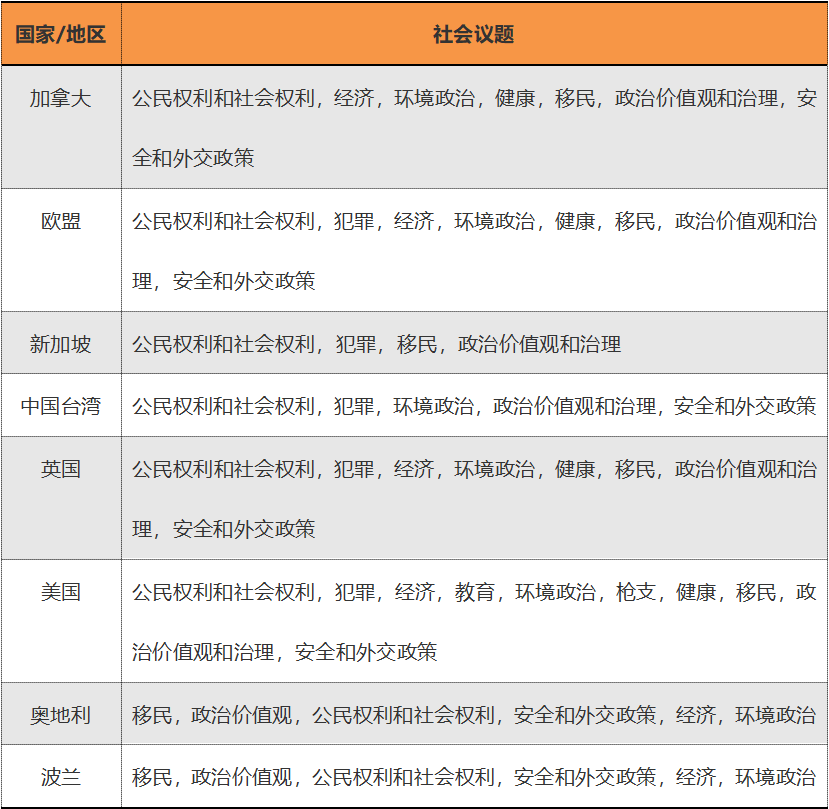 ★Advertisers need to judge whether an ad touches on social issues, and here are two examples:
•Educational advertisements encourage overseas students to come to China to attend training courses or participate in online training, and will not touch on social issues.
•Citing national policies, inculcating values or using policy language, the advertisement will be identified as addressing social issues such as: "We encourage overseas students to study Chinese and strengthen cultural education in Chinese learning".
Focus:To distinguish between whether advertising is for purely commercial purposes or for policy advocacy.
(1) Ad content and communication management checklist:
1)NoEncourage customers to leave personally identifiable information
× disclose personal data, such as home address, license plate number, company address, etc.
√Children are one of the key protection objects of FB, prohibited in any news children's identity information, face close-up, etc.
2)Do not encourage customers to make extensive and repeated comments on their own content;
3) AvoidA large amount of publishing, especially in multiple different group Pages and profiles;
4) When you add an admin and change the name of your pageAll-throughPrinciples;
Description: The Community Code is more important than the Advertising Policy.
Cases:
•When reviewers review ads, they first determine whether they comply with the FB Community Code, so it is likely that the ads to be shut down or deleted may be a violation of the Community Code, not an ad policy.
•The removal of ad content may be due to an invasion of privacy principles, whether it is an advertisement or in any region, may be monitored.
(2) Facebook Community Code is detailed:
https://www.facebook.com/communitystandards/introduction
————————————
The above is the "checkLength"Personal sharing, if you want to see more about FB's advertising policy, keep an eye on Cheetah Mobile, Facebook's official authorized agent. We are a highly international professional services team, based on our in-depth reading of Facebook policies and rigorous review of creative sethes, to help advertisers regulate advertising. We alsoMore willing to the usual in the actual operation of the problems encountered and relatively effective solutions to sync to the "advertising review column"To help advertisers to go to sea smoothly
If any questions about the content of this issue or related related requirements, you can leave a message on this public number, we see the first time to reply to everyone!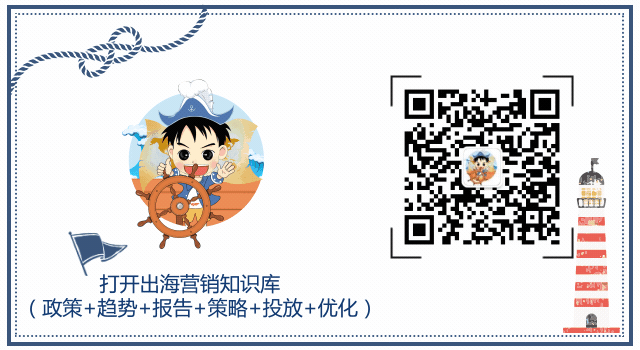 ---