"Budgets are burning" and Facebook ad spending is tied to these eight factors...
Click on topHugo.com, don't miss cross-border e-commerce size
Run Facebook ads, you have to "fine-plan."

If you want to set a more realistic and reasonable ad budget, you first need to understand "what factors affect Facebook's ad spending."
Arguably, there are eight factors that determine Facebook's ad spending:
Audiences
Advertising budget
Advertising auction
Advertising goals
Where the ads are placed
Advertising quality
Season
Industry
Next, we'll tear down the effects of each factor.
Your target audience has a big impact on advertising spending. A specific age, gender, or interest you choose will affect your advertising spending.
For example, if your ad targets a female audience, your CPC may increase by $0.55, and if you target a male user, your CPC will be $0.15 higher.
When you put your audience's filters on your age, ads for people 55 to 65 and older tend to cost much more than ads for people between the ages of 25 and 34. Because on Facebook, there are only 26 million users between the ages of 55 and 64, and that's a good number, but there's still a big gap with the more than 58 million users between the ages of 25 and 34.
You can also target your audience based on their interests or attribute characteristics, such as:
Outdoor leisure
Meditation
Philanthropy
College football
- Office workers
Settings for these user attributes may also affect your ad delivery costs.
Because you have the potential to target both users with high-value attributes and users whoare to engage in a wide range of interests. For example, if you're targeting "frequent travelers" rather than "frequent international travelers," the former is broader, and you may have to pay extra for it.
Targeting users with high-value attributes can help you get into a particular market, but targeting interests that are too broad can cause low-value users to "mix" into your target audience. These people only click on your ads frequently, but don't perform your call-to-action (CTA), so targeting them may make your ads less effective.
Whether your budget is $200 or $800 a month, it can affect your ad bids, the performance of your ads, and the overall performance of your social media ads.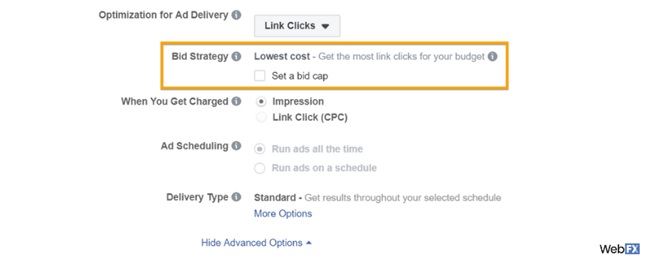 For example, if your ad budget is $100 per month, you might set the CPC cap to $1. But the data mentioned above points out that the average CPC for Facebook ads has reached $0.97, so it's not hard to tell if your bid is less competitive and is likely to lead to lower impressions and clicks.
According to industry experts,It is recommended that you limit your daily budget to more than $5.But if you spend $5 a day on your campaign, you'll run out of $100 budget in 20 days and run out of $100 budget for a month.
But a higher advertising budget gives your business more flexibility, and you can plan your budget on that basis. Because the budget is too low, will certainly limit the performance of advertising, and thus affect the conversion, which is also you have to be conscious and psychological preparation.
The facebook bidding strategies used by advertisers include:
Minimum cost bidding strategy:Also known as automated bidding, it helps your business minimize the cost per click or conversion and use your budget as effectively as possible, which is why most advertisers choose this strategy.
Target fee bidding strategy:Also known as manual bidding, you can make bids reach the CPC or CPA you want. If you want to adopt this bidding strategy, we recommend that you use it only for app installation ads, conversion ads, lead ads, and catalog sales ads (product sales, similar to Google Shopping ads).
Depending on your bidding strategy and the amount you bid, your Facebook ad may be expensive or high or low, but in most cases manual bidding can result in higher advertising costs, while automatic bidding will take advantage of a limited budget.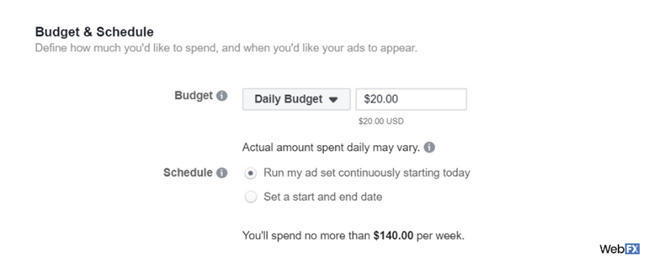 Before you decide on your bid strategy, you need to optimize your ad's success rate in your auction based on three factors that affect your ad rating in your Facebook ad auction: bid, estimated conversion rate, and ad quality and relevance.
In short, if your ad gets the highest total value (based on the three factors above), you'll be able to win the auction and successfully show your ad to your target audience on Facebook, not your competitor's ad.
"Offensive" bids can increase the total value of your ads, but they can also increase your ad spending. So you can start by improving the quality of your ads and then trying to figure out your bid strategy and your bid budget.
The general purpose of serving ads is nothing more than the following, and you need to choose one of them as your ad target:
Awareness (Awareness)
Purchase Intentions (Cog)
Conversions

Once you've set the general direction for your goals, you need to choose a specific goal:
1) Visibility
Brand awareness
- Reach rate
2) Purchase intention
Transportation
App installed
Participation
Video playback
Leads (generating leads)
The number of private message sessions
Product catalog sales
3) Conversion
Physical store traffic
Conversions
In most cases, more valuable advertising goals, such as in-store or product purchases, incur higher advertising costs. This is because these actions, such as the purchase of products, are likely to be realized directly. For example, catalog sales can bring you revenue immediately.
Brand awareness and buying intentions help you drive purchases by advertising to increase their interest in the brand and push them further to the next level of conversion, when you connect with early reach erstwhile users at the top of the conversion funnel, which is early-onset users. It can provide real and tangible value to your business even if it doesn't translate immediately.
In short, the difference between them is only the length of the conversion cycle.
Currently, your Facebook ads can appear in 6 locations:
•Instagram
•Instagram Stories
Facebook Desktop News Feed
The right sidebar on Facebook
•Facebook Messenger
•Audience Network
1)Instagram
Instagram's CPC is relatively high when it comes to Facebook's advertising spending. Its CPC is typically $0.80 higher than the corporate average, while Instagram Stories' CPC is $0.78 above the average level.
2)Facebook
The average CPC for Facebook ads is about $0.30 less than Instagram.
3)Audience Network
With Audience Network, you'll be able to run your ads in an environment other than Facebook. This means you reach your target audience on websites and apps on a variety of devices, including computers, mobile devices, and smart TVs.
Audience Network uses the same targeting, measurement, and delivery tools as Facebook to ensure that every ad delivered helps advertisers achieve their advertising goals at a good price. It is understood thatAudience Network's CPC is lower than Facebook and Instagram. In most cases, it's typically $0.20 more than Facebook's average ad spend.
While you can modify the placement of Your Ads, Facebook recommends that you use its Placement Automatics feature to get better ad performance on the basis of how well you spend your ads.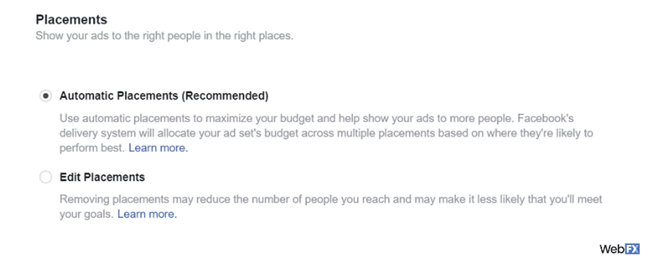 But if you want to reduce Facebook's advertising costs appropriately, you can choose to turn it off.
The quality and relevance of your ads (rated by Facebook) also affect spending on your Facebook ads. If you can create ads with high relevance and engagement scores, your ad spending will also decrease.
This can be demonstrated in a recent study by Hootsuite. The company produced two versions of the same ad: one with a relevance and engagement score of 2.9 and the other with a score of 8.
As a result, the average CPC for low-score ads was $0.14, while the CPC for high-scoring ads was $0.03.
Relevance and engagement scores range from 1 point to 10. Facebook will configure the score based on feedback from your ads.
You can access your relevance and engagement scores by following these steps:
Entry to Ads Manager
Select the ad you want to view
Select the drop-down menu in Columns
Click on "Columns(Custom Column)"
Select Relevance "Score"
Click on "Apply"
View your Relevance and Engagement Score
Note that your ad needs to get about 500 impressions or playbacks before Facebook will rate you.
As long as your ads are run in real time, Facebook keeps monitoring your user interactions to determine if they're relevant.
In the shopping season, corporate advertising spending will also rise. As demand for ad space increases, companies tend to win fierce competition by comparing "aggressive" bids and increasing their advertising budgets, driving up the cost of Facebook ads.
During the year, the most "money-burning" days on Facebook include:
Thanksgiving Day
Black Friday
Network Monday
Christmas
•Boxing Day
New Year's Eve
New Year's Day
While seasonal factors can increase your Facebook ad spending, consumers' shopping needs will also increase. As a result, you can increase your high season advertising budget, or review your advertising strategy to improve ad quality.
Although the average CPC for Facebook ads is $0.97, you can see the average CPC for your industry by segmenting them below to create a more reasonable advertising budget.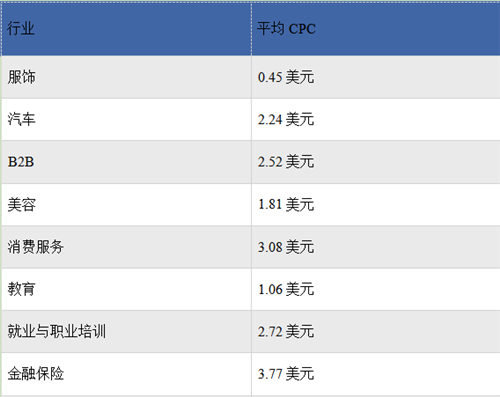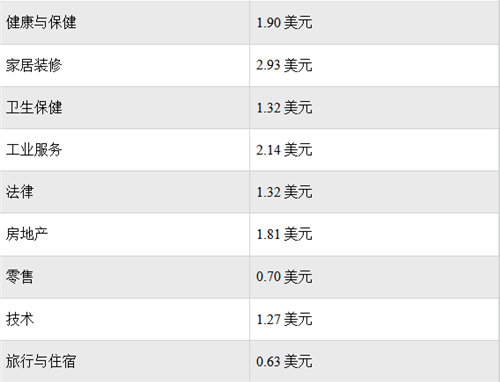 (Source: WebFX)
Hugo Network is committed to providing quality dry goods to sellers
Sweep code attention

Add a star, look at the text every day

▼
---