Can Facebook ads still explode? Actual case sharing
Following the above$1 million a month in sales is not a dream . . . Full set of video ads dry goodsAfter that, we want to continue talking about how Facebook ads play.At present, the general understanding is that Facebook ads have been very difficult, in fact, we want to tell you through the case of Facebook ads combined with other channels can still explode.This is really the Facebook video ad we want to talk about.
So, why do you want to do video in the first place?

In our own case, we have a customer's products, when the real situation is a lot of market competition, supply chain advantages are not obvious, homogenization is also more serious, but the demand is very large.Written in Ada.Brand omnichannel marketing system map free big release and brand out-of-sea real-life project case sharing!The case has been very clear, want to know can be looked at carefully.So how to make a product stand out in the market in such a situation gives us a big challenge.
The transformation from product to brand
There was one problem we faced at the time of this case branding:Low marketing budget constraints.
So in this case how to enhance the brand's communication power, we think of a very appropriate way to ---- video content marketing, the use of video to spread.
The data show that:
Add product video on landing page, Conversion rates increased by 80%, and 74% of people bought products after seeing the video.
Eighty-three percent of businesses said video ROI output was high.
57% of consumers say videos to themTrustTo buy products.
Google for video-friendly , the video hasHelp WITH SEO. 
Video is more mobile-friendly90% of consumers watch video on a mobile phone.
Video marketing can better explain all product informationAs a result, 98% of users learn about the product by watching video.
Video interaction is the favorite of the most lazy consumers, 68% of consumers would like to see a guided video.
Video enhances social sharing, 60% of social operators used video in 2015, up from 73% in 2016.
In addition, based on numerous experiences and exchanges in circles, we agree that:Video ads work better.
We have a friend from Padmate, Xiamen, and one of his products, the brand Pamu Slide, has raised nearly $5.5 million on the crowdfunding platform Indiegogo, combining Facebook video ads with creative video content. It has the support of nearly 70,000 people in 156 countries.
When a product is crowdfunding $1 million, basically the product is also the biggest degree of brand exposure.Here, of course,Crowdfunding , Videos , Facebook AdsThe greatest value of this set of portfolio marketing is ---- this is aMost effective PR activity。
Why do you say that?
First of all, in Indiegogo, Kickstarter and other well-known crowdfunding platforms, whether it is credibility, influence and so on are very good.

Second, imagine how a start-up, without the accumulation of resources, can quickly get countless well-known dealers to represent your brand?Whether it's our crowdfunding friends or our own cases, we're telling us,Crowdfunding is most likely to attract the attention of well-known agents.In addition, the media exposure is detonated.
Take our $600,000 power project, which we've made:

Successfully attracted to a cps charge (ROI commitment 10, less than 10 no money!) ), the well-known overseas Facebook launch team, and the initial roi up to15! The contract is shown below: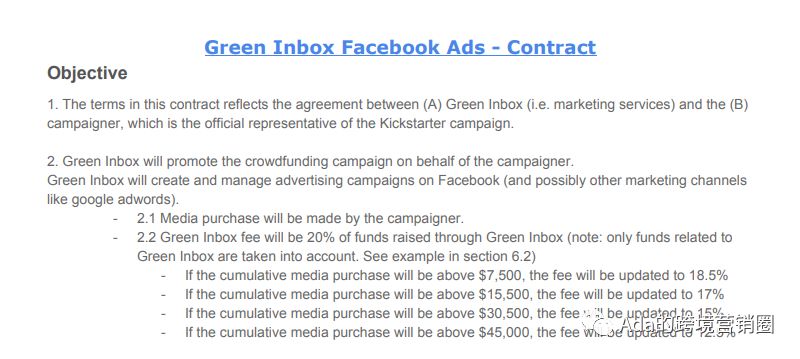 A variety of large-scale well-known media rush to report
Attracted some well-known agents from Korea and Japan
This crowdfunding campaign we have done a number of other marketing activities before and after, the detailed process can be found in the figure below: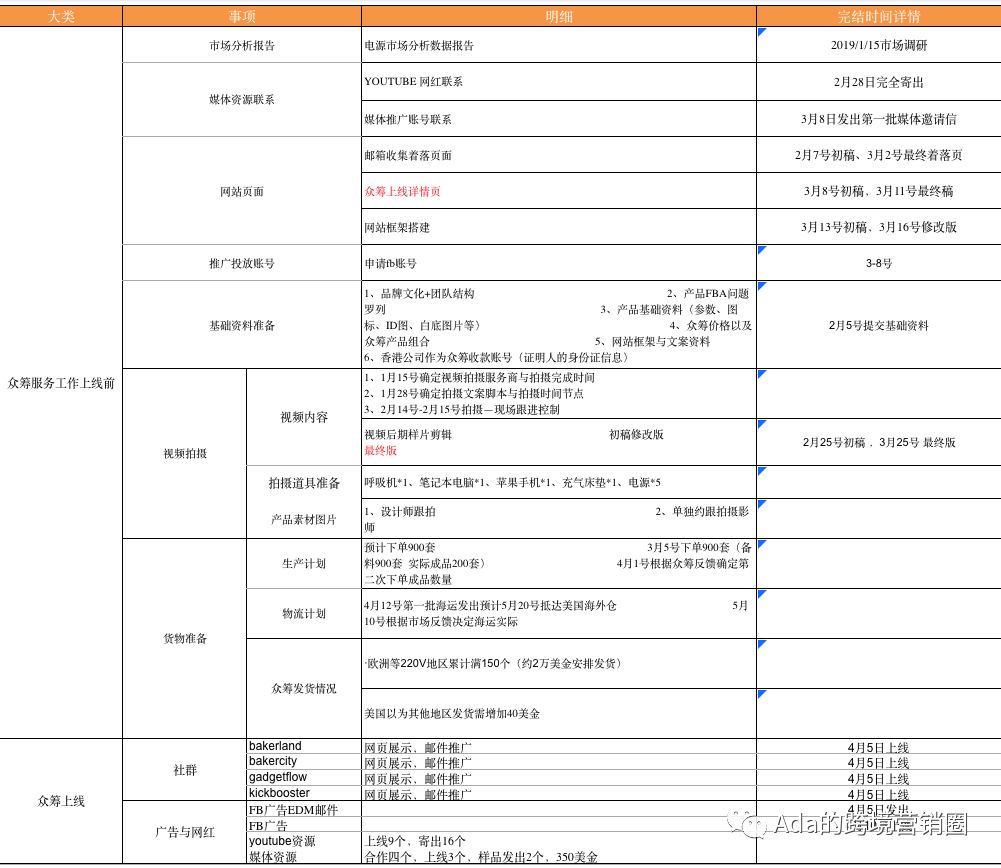 Above, one of the most important part of the video, we shot the video before and after busy for several months, in order to shoot the product as much as possible, because in the case of limited marketing budget, we know the key to content marketing, and then the entire video shooting cost plus invoicing about 90,000 yuan or so。
But then we found out that we spent a lot more on video shooting. Later we found a very large number of overseas shooting team, very cheap, and at the same price video planning and production level far beyond the domestic, plus local models, local scenery, local voiceover, and 2 weeks of production cycle. It's so cool. These resources are available for personal testing, and those interested can find Ada to help introduce.
So, exceptCrowdfunding , Videos , Facebook AdsIn addition to this set of boxing, video marketing there is any thing else to do homework?
FirstGood Brand Name and Slogan。Lang Lang mouth, linked to the product but not special ambiguity.
SecondShoot short videos, have warm-up and follow-up, and continuously produce content points.Principle:Let the pain point and demand more obvious, no pain point to create pain point, there is pain point to make the pain point more obvious.We see a lot of excellent short video production ideas, such as shooting product application slots, enhance the value of product use and so on.Also if your product has a look at the operation you can also make a lot of How To videos, DODIY videos, because these content on social media has very good programs and retweets.
Third, combined with the features of video playback on Facebook,VideoRecognize the silence, then font subtitles are mostly capitalized, the key color prominent, the first 5 seconds to introduce the product.

Finally, let's mentionWe have a group of Ada., there are a lot of marketing experts, the group will regularly organize offline salons, next week we draw up to invite a Facebook marketing master to share marketing dry goods with us, the theme is initially set as video marketing-related, interested, you can add Ada private WeChat, she will add you to the group after the review.

Private WeChat: 👇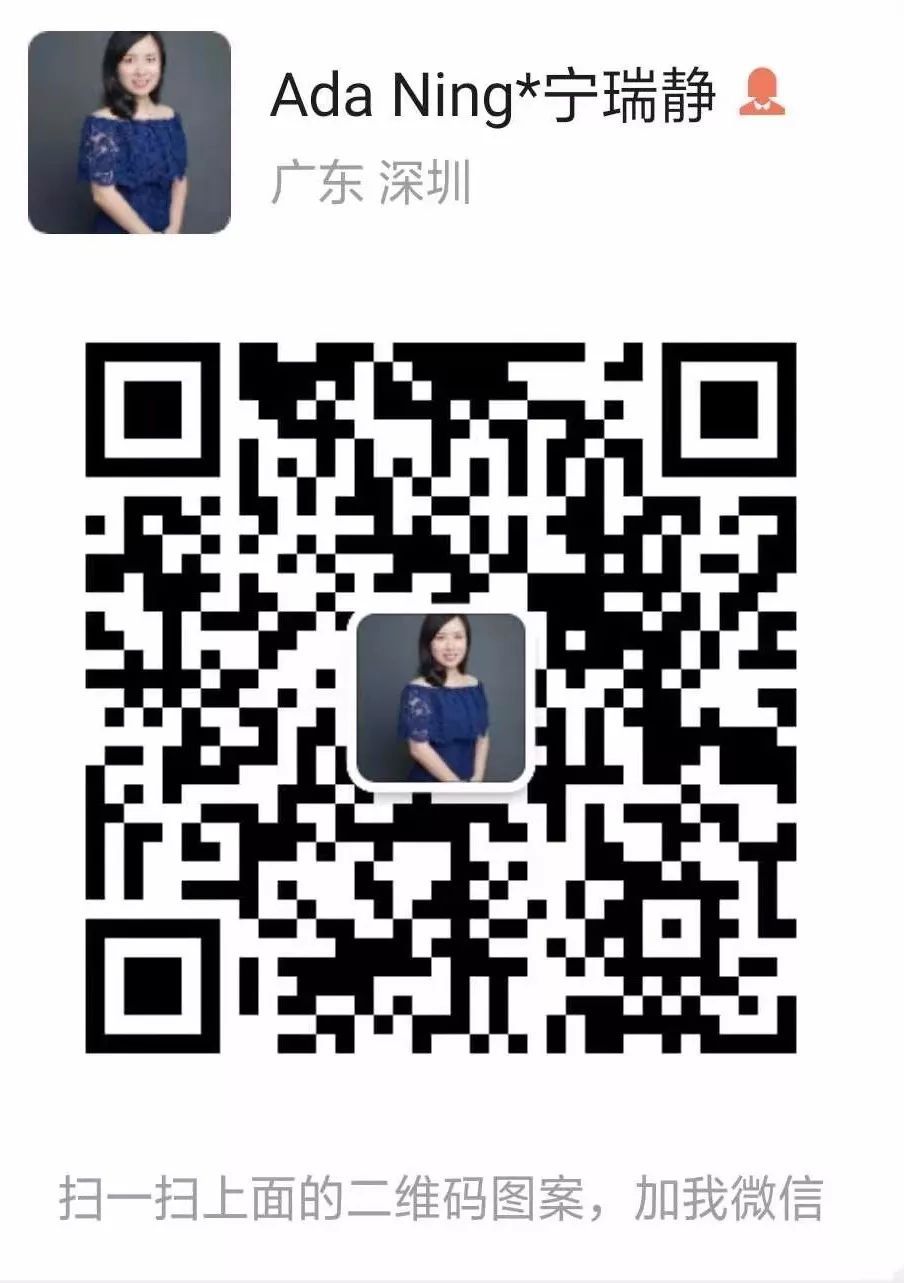 The article was posted onModify
---