Explore the price of Facebook's ads in 2019
Today, Facebook has nearly 7 million active advertisers.
And, according to data, 26 percent of users bought the product stoaded by clicking on Facebook ads. Even more, up to 76% of consumers by the brand's social media posts successfully "planting grass" and purchased the same product.
So, so many companies are choosing to invest in ads on Facebook, but what's the current trend for Facebook's advertising costs?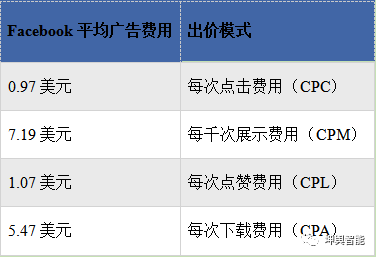 The above figures, which were based on AdEspresso's assessment of nearly $300 million in Facebook ad spending, are only average and are based on a number of factors, such as where ads are placed, target markets, industries, etc., for informational purposes only.
How does a Facebook ad auction work?
Before we explore the factors and optimization methods that affect Facebook's ad spending, let's review how Facebook's ad auction works.
Here's a general look at Facebook's ad auction:
Advertisers log in to Facebook Ad Manager to create campaigns and ads
Select your daily budget (or the maximum amount spent per day)
Select conversion stakes you've paid for, such as views, clicks, or downloads
Build your ad audience with demographics, interests, and device targeting
Add creatives, such as ad copy, images, and videos
Confirm and advertise
Once there's an opportunity to show ads, Facebook's ad auction takes place:
Facebook rates each ad's bid, estimated conversion rate, and ad quality
Facebook uses estimated conversion rates and ad quality to determine the relevance of your ads
Facebook generates the total value of your ads based on bids, estimated conversion rates, and ad quality
Facebook's ads that win the auction or the most valuable ads
According to the process of advertising auction, it is not difficult to see that your ads and their costs are affected by the following factors:
Advertising bids
Estimated conversion rates
Advertising quality
Ad relevance
If you can optimize these metrics, such as improving the quality of your ads and making them more relevant to your users, you can reduce the cost of Your Ads. Facebook has also said that the more relevant the ads are, the lower the cost, and the more opportunities they get to show.
Facebook Ad Spend FAQ
1. What are the factors that influence Facebook's advertising spending?
Audience:Audiences will influence your Facebook ad spend in several ways, depending on how much you want to increase or decrease. In order to be able to make the advertising budget as "targeted" as possible, you create a wide audience should not be too broad, to be targeted.
Advertising budget:Your monthly ad budget can also affect your Facebook ad spending. A higher advertising budget provides more flexibility for advertising strategies, but it is also capable of achieving advertising goals if the budget is limited.
Ad auction:Ad auctions may directly drive up your overall advertising spending. However, you can reduce your ad bid costs by choosing an automated bid strategy and maintaining a high ad quality scores.
Advertising goals:Specific advertising goals (awareness, purchase intent, conversion, etc.) can also affect your ad spending. Conversion-related goals tend to be relatively costly.
Where the ad is placed:The location of ads on Facebook, including Instagram, Facebook and Audience Network, can also affect your ad spending. You can choose automatic placements or choose where you want to show.
Ad quality:The relevance score for your ad has a greater impact on ad spending. You need to design ads that match your users' expectations to dramatically reduce your advertising costs.
Season:During the shopping season, such as Christmas, your advertising costs often go up as competition for advertising bids increases. You can reduce the impact of peak season by modifying your ad budget and bidding.
Industry:Advertising costs also vary from industry to industry. The CPC is usually higher in sectors such as finance, insurance and consumer services. If you're in an industry where advertising is competitive, pay special attention to controlling and improving your ad quality and setting competitive bids.
2. How much is it appropriate to spend running Ads on Facebook each month?
Facebook AdvertiserSpend an average of $200 to $800 a month on Facebook ads。 Depending on the size of your business and your ability to invest in social media advertising, you may be above or below this range, and there are a lot of people who are "sic" $5,000 a month.
Although you don't have to catch up with averages, budgeting is in the middle of this range and competitive. Burning money is not necessarily associated with the success of your ad (and possibly with factors such as bids, ad copywriting, or target audiences), but it does bring some benefits.
Simply put, with a higher budget, you have more capital to spend on CPC advertising, resulting in more conversions and revenue.
For example, A has a monthly advertising budget of $100, while B has a budget of $200. Bid at $0.97 on Facebook's average CPC, which means A will be able to generate 103 clicks, while B will get twice as many clicks.
3. How much should you "golden" be advertised for Facebook each year?
On top of a budget of $200 to $800 a month, the average annual spend on Facebook ads is $2,400 to $9,600. Even if you're a small and medium-sized business (SMB), you can spend more than $9,600 on Facebook ads.
For example, e-commerce brands with large active fans on Facebook may invest more in Facebook ads because they can drive order growth. By contrast, they may reduce advertising costs appropriately because well-known brands already have a very stable brand awareness.
---