Facebook Ad Account Problem, See this is enough
Click on the blue word to follow us
In the previous Shopify Store and Facebook Ad Launch Basics series, I believe that you have mastered the most basic knowledge of Facebook profile, page, Facebook store, etc., then from this point on, will officially enter the Facebook ad campaign series of articles.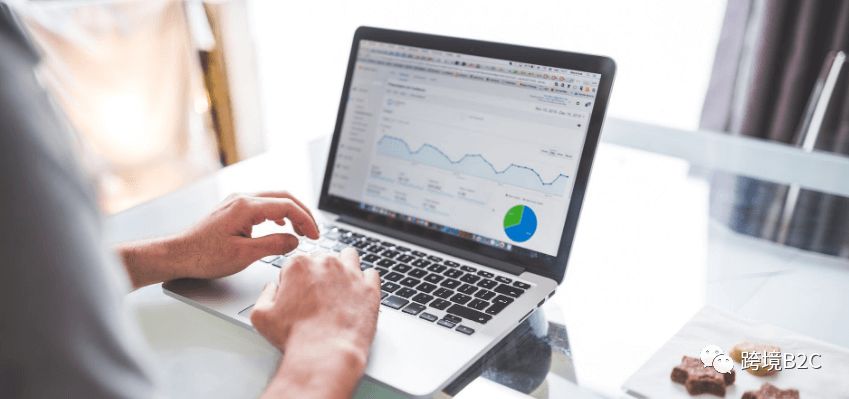 For New sellers of Shopify stand-alone sites, who are usually just starting to learn about Facebook ads, might be concerned about how Facebook creates an ad account. Can an individual run an ad? Is there a risk that your ad account will be blocked? FB advertising account was sealed how to do and so on, Ok, this is also this article today with you to learn more about the content, first look at the article directory:
Facebook Ad Account Category

The process of creating a Facebook ad account

Why Facebook's ad account was blocked

Solutions for Facebook Ad Account Blocked
Generally speaking, Facebook running ads accounts are divided into two categories, one is personal ad accounts, the other is corporate advertising accounts.
As the name suggests, an ad account is applied for in our own name, and when we sign up for Facebook, we bring up a personal ad account that creates ads through Ads Manager. We can also open a personal ad account through Facebook's Business Manager.
What is a Business Management Platform?

Business Manager-Business Manager is a free Facebook tool that says all of our subsequent Facebook ads are run on BM, allowing us to manage our Page, create ad accounts, create ads, analyze audiences, View ad data, track ad performance, and more.
Corporate advertising accounts
In the name of their own company opened the account is enterprise advertising account, in mainland China, the opening of Facebook enterprise advertising account can only find agents through the business management platform to open, and agents are usually divided into the top generation (also known as a first-level agent) and secondary agents.
Direct cooperation with The official Facebook called a first-level agency, get the first-level ad agency on Facebook is usually a background, the strength of the stronger companies, such as Cheetah Movement, Flybook Interaction, Blue Cursor, Papaya Mobile, Inpotong and so on.
See Facebook's official level 1 agent s
https://reachtheworldonfacebook.com/reseller/
Usually the threshold of first-level agent requirements will be relatively high, the first ad account recharge is not less than 2000 dollars, and the subsequent quarterwill will have a higher advertising spending requirements, so it is more suitable to do mobile games, do app, as well as the company committed to brand promotion.
Secondary agents typically refer to companies that connect tier 1 Faebook ad agencies to provide ad delivery solutions to get rebates by working with official Facebook agents.
There are a lot of secondary agents, such as yeahmobi, Madhouse, and so on.
See the Facebook Ad Secondary Agent (part):
https://reachtheworldonfacebook.com/agency/
Most of the small and medium-sized Shopify sellers are through the secondary agent to open an account, the most important link is of course, the selection of reliable agents, we can identify themselves, here I do not recommend ...
What are the benefits of finding an agent to open an account?
 1) Free to help you open a business account at BM (business license required, promotional Shopify website, built public page)
2) Help you top up your Facebook ad account (we need to transfer the ad fee to the agent, and the agent to top up)
3) Advertising account swasleted can help you make a timely claim, as long as you do not violate Facebook's advertising policy, generally can be successfully unsealed.
4) Serving service, is to let agents help you run FB ads, usually the service charge is not less than 10%, (of course, you can also choose to serve, do not need to pay a service fee)
5) Usually FB agents will provide some training materials on advertising, for novices, is also a learning path.
Is it necessary to find an account with an agent?
As mentioned above, individuals can open an account through the business management platform to run ads, then there is no need to find an agent to help us open a business account?
Undeniably, relative to FB corporate advertising accounts, personal advertising accounts do have poor stability, it is easier to be targeted by Facebook and other issues, and once because of improper operation was sealed, although it can be claimed, but in most cases are also eggy ...
If you are new to Shopify stand-alone station, want to use Facebook ads to test products for small amounts (5-10USD per day), in the early stages of learning FB advertising, I personally recommend the use of personal advertising accounts, but only if you learn to maintain the number, login IP address to always be consistent, Serious lying about Facebook advertising policy, to ensure that Facebook registration name, credit card account name, etc. , to do these words Facebook personal ad account is not so easy to be sealed, in other words, even if it is blocked, as long as you do not violate the advertising policy, most can also be claimed back.
After the follow-up familiar with the relevant knowledge of Facebook advertising, you can find an agent to open a corporate account, there is no doubt that the stability of the enterprise account is much better, and the most important point is that if your account is blocked, there is really no violation of the operation, the agent can basically help the appeal unsealed.
Therefore, whether to find an agent to open an account, we choose according to their current actual situation.
Personal ad account creation process
Let me take ExportB2C as an example:
1. Access business management platform, use our Facebook personal account to register a business management platform, click 'Create account'

2. Create a Business Management Platform account, fill in the following information and click 'Continue' to move on to the next step.
Account name: subsequent can be modified in the BM background settings section

Name: fill in truthfully, format is: first name and last name

Business mailbox: fill in the common mailbox can be, I fill in info@exportb2c.com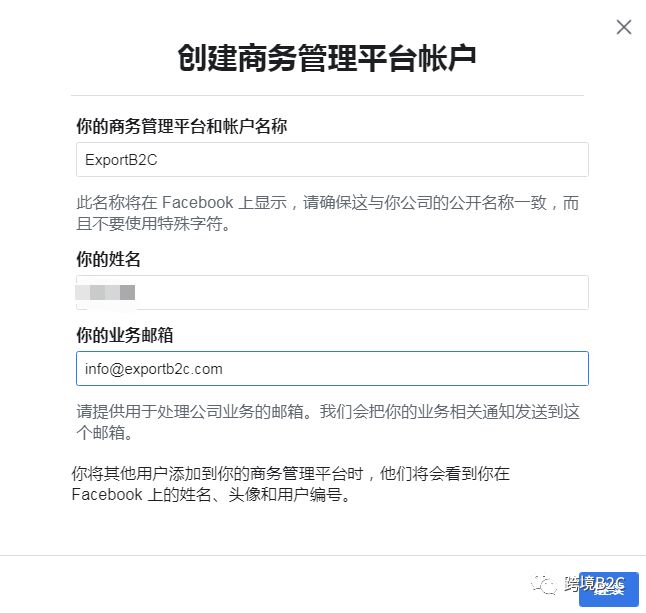 3. Add business details, fill in the information can be, the website to fill in the Shopify store URL to promote (I here to exportb2c.com demo), commercial use selection: promote their own goods and services, click 'submit'.
4. The account will be prompted to be successfully created, verify the mailbox, and obtain full account permissions.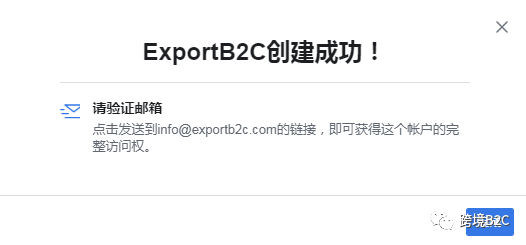 5. After clicking on the previous 'Verify Now', we can enter the Business Management Platform Settings section.
Business Management Platform Settings section just started to set up the main 3 sections, add ad accounts, add home pages, add payment methods, I say in turn:
1) Click on the 'Ad Account' under the left column account option, considering that we don't have an ad account, here's the 'New Ad Account', as shown in the following image: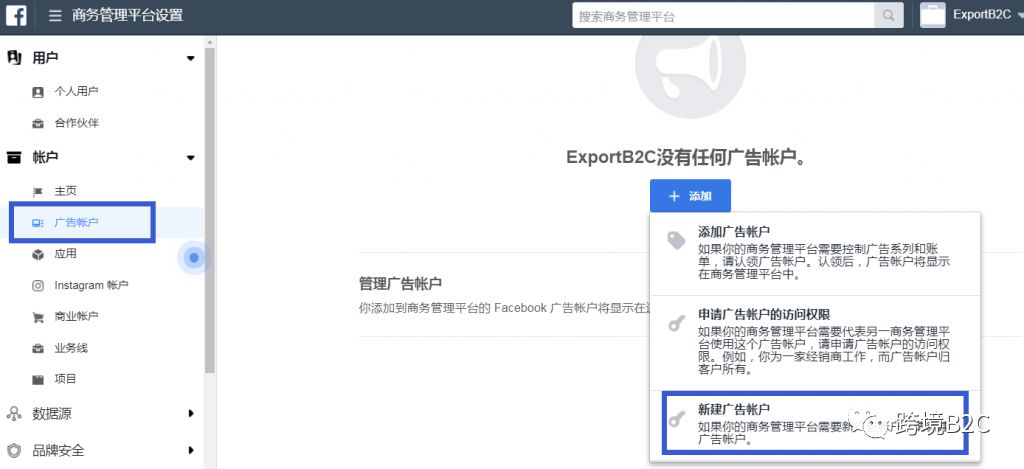 2) Enter the ad account name, usually fill in the Shopify store name, domain name or product name here, convenient to remember, currency selection USD can be, click 'Continue'.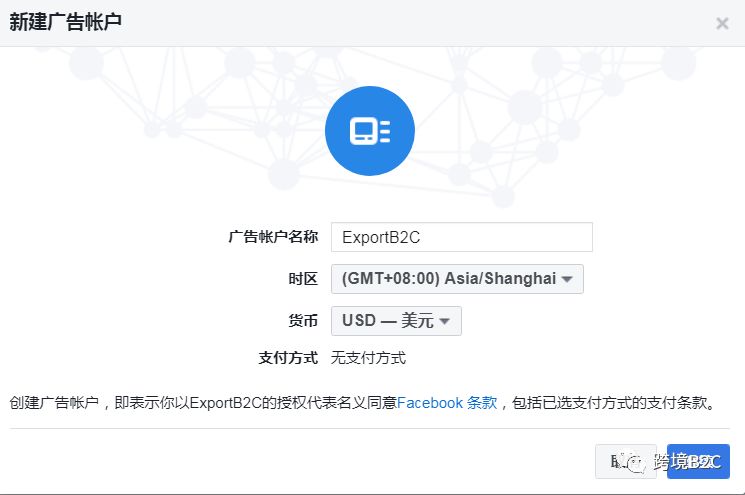 3) Select the ad account service object: Myself (ExportB2C).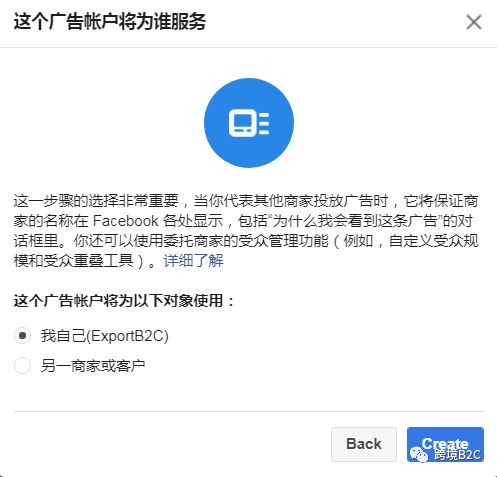 4) Set permissions, user plate to select themselves, ad account permissions to open management campaigns, management of advertising accounts.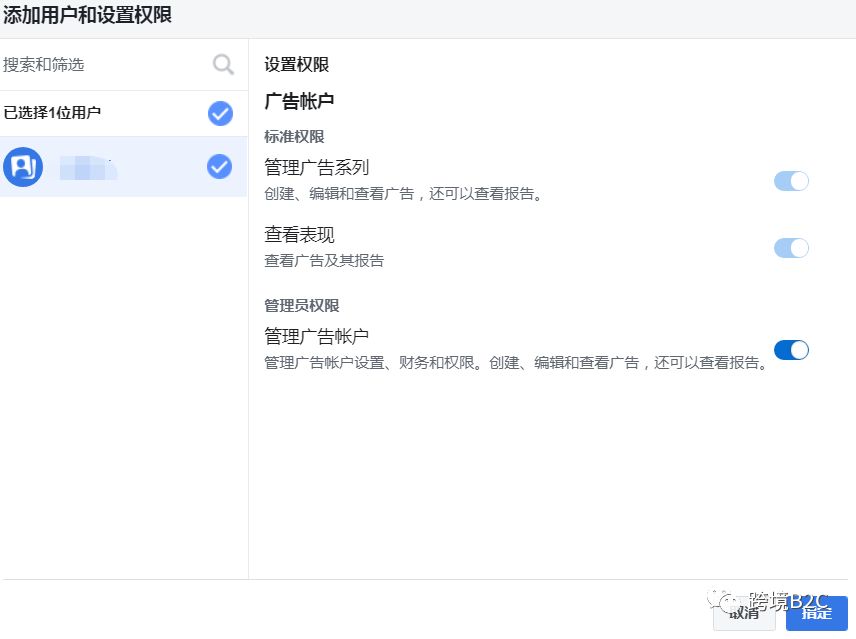 5) Personal ad account was successfully created and added to the Business Manager account.

As you all know, all business practices on Facebook are done through the page identity, and running FB ads is no exception, so we need to add a Page inside the BM, and adding the page to the BM platform will help us manage it better later.
1) Click the 'Home Page' button under the left bar account option, if you have already set up the home page, directly select 'Add Home' can, if not, you can also create a new home page on business management platform, which is the same as we did before the Faceboo home page to create Page.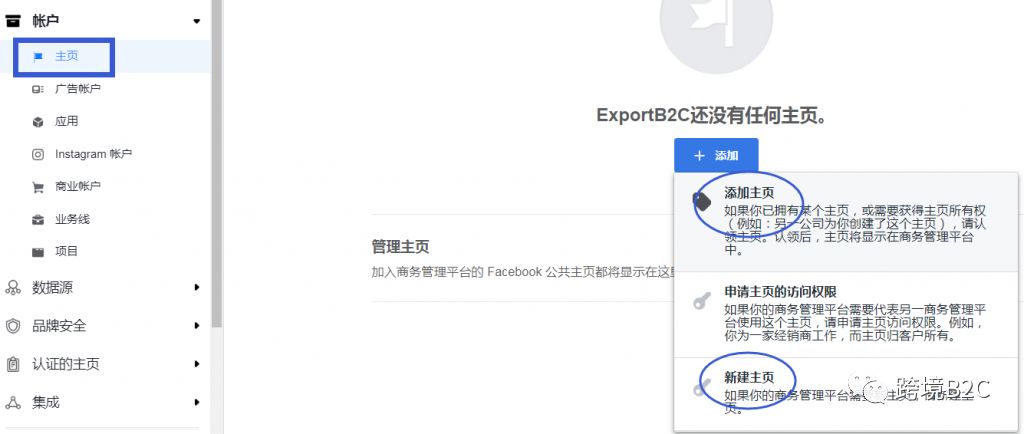 2) I'll add the built ExportB2C home page as a demo.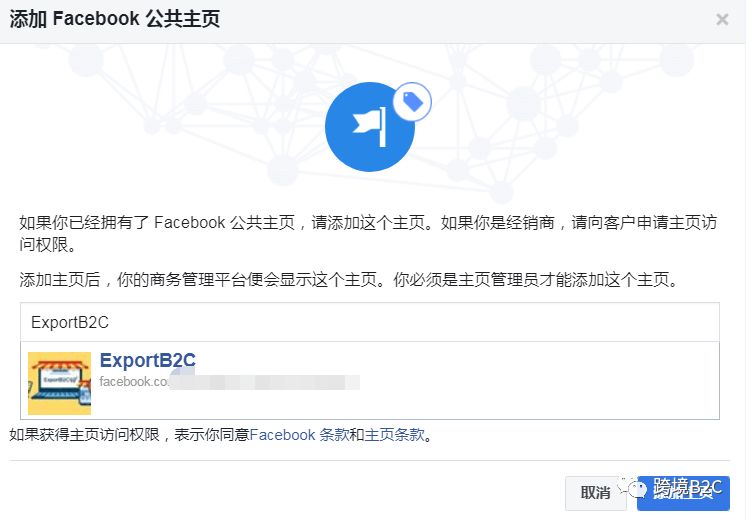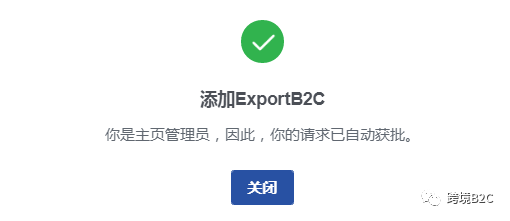 Prepare a VISA or Master Card credit card to pay for Facebook's advertising, as shown in the figure below, and fill in the appropriate credit card information.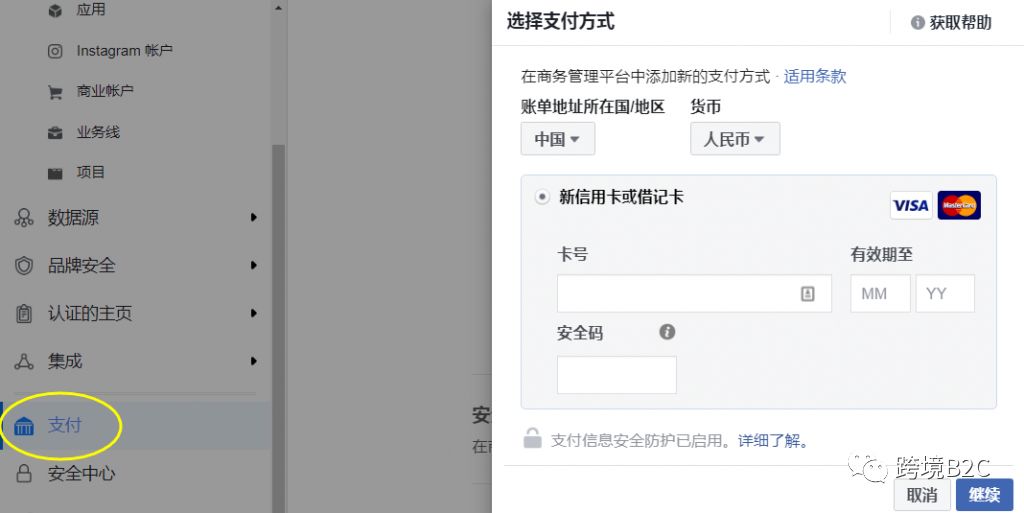 At this point, the preparation of The Facebook personal ad account is complete, we can click from the BM home page into the Facebook ad account, we can do the ad operation.

Enterprise Ad Account Creation Process
As mentioned earlier, when opening a Facebook business account needs to find an agent, usually the agent requests information including the company's business license (must be a mainland China business license), the promotionof Shopify store URL, The Facebook page link, the information is no problem, The next process is to be operated by the agent, the normal 5-7 working days can be opened down.
Notes on submitting information
1. The scope of business license needs to match the promotion of shopify shop website business.
2. Avoid using myshopify.com as a second-level domain name as a store URL, if you do not already have a first-level website domain name, you can view the article:Shopify Domain Name Selection and Binding Operations
3. Shopify store addresses should be consistent with the business license, if the website writes a foreign address, Facebook will ask for verification, if the information is not true account is very likely to be rejected.

4. About Shopify website, must be a complete content, user experience is better site, what do you mean?
The complete content of the website refers to each of your product catalog must have at least 1 product, and there are detailed product pictures and text description, while the website privacy policy privacy policy, return and refund policy, logistics information, contact us page, etc. are also essential.
Good user experience refers to the website each link button can be opened normally, users can be barrier-free to add products to the shopping cart, payment settlement and so on. To be clear, even if we don't run Facebook ads, these are all the things a qualified Shopify store should have.
5. Usually the account opening period will not exceed 7 working days, of course, provided that we submit the information without any problems.
6. The submitted Facebook Page needs to be published.
You need to consult the agent when opening a business account
1. Account opening fees
Well, this doesn't really need to be asked, usually agents are free to open an account.
2. First recharge fee
Usually the first-level agent requires at least 2000USD, the second-level agent requires at least 1000USD, specifically can consult the agent.
3. Advertising expense consumption requirements
For the first-level agents, a quarter of hundreds of thousands are relatively normal, for the second-level agents, high and low different, but generally still require 2 months must have advertising consumption, specific consulting agents can.
4. Service charge
If we run our own ads, the agent does not charge a service fee, the agent is usually charged 10%-15%.
5.Corporate account recharge method
Usually we transfer advertising fees to agents, by the agent to complete the top-up, at the same time need to pay taxes, specific consulting agents can.
Why the account was closed
Whether it is a personal ad account or a corporate ad account, if the operation is not possible to be blocked, the general Facebook account is no more than the following reasons: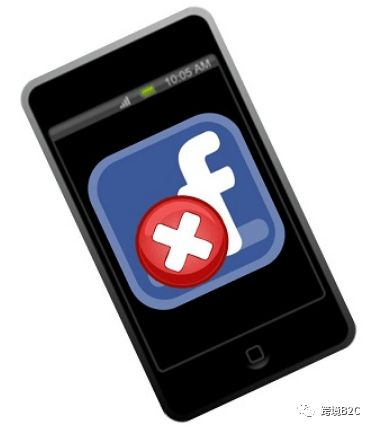 1.IP login issues
This problem does not need to say too much, the domestic is the need for scientific Internet access to log on to Facebook, if the line is unstable, you will switch server nodes at will, IP will certainly change frequently, in other words, a normal person's account can not be a second before the login in Singapore, the next second to the United States, the next second to the United States, A few minutes later i switched to Hong Kong... In this case, FB will think that there is an anomaly in our account, for account security reasons, will be blocked your account.
Of course, because of IP problems lead to account sq, often through the statement can be successfully unsealed, (I first ran Facebook when because of frequent IP changes personal advertising account was blocked, and then successfully recovered through the claim) but in order to avoid trouble, we still want to ensure the line stability, Conditional and hands-on ability can build VPS, small white words on a treasure to find reliable scientific Internet tools on the line!
2. Violation of FB's advertising policy
If it's blocked for violating Facebook's advertising policies, even corporate accounts opened through agency can't claim success, let alone personal ad accounts, and for new Shopify sellers who are just getting ready to run Facebook, read Facebook help documents. Another very important one is the FB advertising policy.
FB advertising policy is detailed at the link below:
https://www.facebook.com/policies/ads
3. Advertising payment information does not match registration information
To run a facebook ad, you must bind your credit card, first of all, you need to make sure that the credit card does not appear in default and other records, and second, the name of the credit card holder should be exactly the same as the name you registered with the FB, otherwise you will not be able to pass the FB audit.
4. Pre-no-breeding number, come up to cast advertising
The previous Facebook ad campaign series basic section has been said many times, the latter want to run FB ads, the need to raise a number, do not worry too anxious, to put it bluntly, Facebook is a social platform, you have to act like a normal person to play social.
So what's not normal? For example, you have just registered a number, account information is not perfect, personal Profile is also very simple, never send state, do not like, do not send pictures, but also in a short period of time plus friends, crazy group, then it is difficult not to let FB suspect that you are a robot or marketing number, this time even if you do not run ads will have a great probability of being sealed ... Experience, you need at least a month to run your profile, your homepage, and you'll take a little idea of preparing your creatives before you think about running ads.
Here mainly said that the next personal advertising account was blocked solution, as to the enterprise advertising account was blocked problem, find the corresponding agent to make a statement.
It says why facebook accounts were blocked.In addition to paying special attention to some of the above points, we should pay particular attention to the following:
1. Facebook identity information must be true.
The first to write the Facebook registration section also mentioned, be sure to fill in the real name, birthday (with the information on the ID card consistent), so that the follow-up once sealed, as long as it is not illegal operation, through uploading documents can generally be recovered.
PS: Personal home page photos can be used as far as possible on the ID card, usually using personal front life photos.
2. Add multiple admanagers in the BM background, jointly manage the page and ad account, the process is relatively simple, here is not to say, the advantage of doing so is that once your personal ad account is blocked in the process of claiming, other ad managers can still operate to manage the page.
3. Enhanced security - Add 3-5 friends as trusted contacts so you can securely retrieve your account when you can't sign in.

4. Turn on the two-step verification function (go to the Facebook page-settings-security-login section to find) and enhance account security.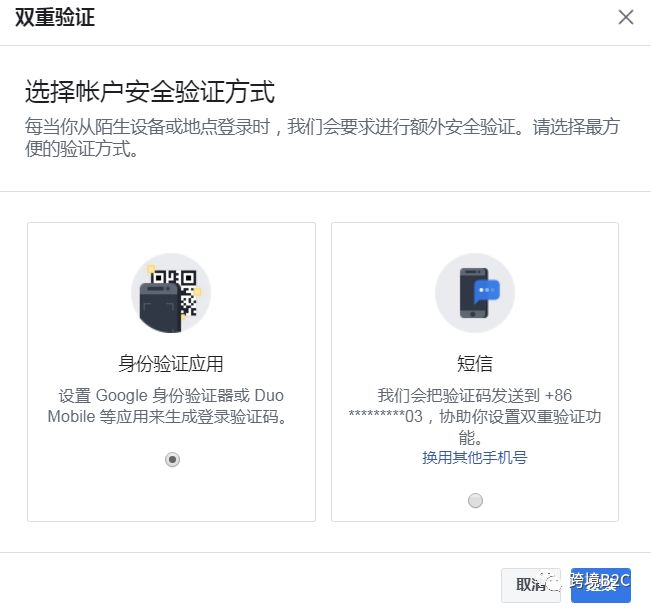 5. Regularly download a copy of personal information, should be responsible for the security verification after the account problem, as shown in the following image, in the 'You Facebook information' section to find the 'Download personal information' option.

Ok, after the above point of attention, if our personal advertising account or unfortunate, how to do?
Well, to be honest, there is not much to be done other than to make a statement, and the way of representation is usually as follows:
1. Usually after a personal ad account is blocked, Facebook will give a corresponding system prompt, you can follow the system prompt step by step to make a statement.
2. Fill out the form to make a claim at https://www.facebook.com/help/contact/1582364792025146
If your personal account is disabled, the link to the claim is: https://www.facebook.com/help/185747581553788
Finally, you are welcome to visit the cross-border B2C website for more exciting content: https://www.exportb2c.com
Cross-border e-commerce original knowledge sharing platform
Click on "Read the originalVisit the cross-border B2C website to see more exciting content
---