Facebook Ad Audience: Why is Facebook ad serving so accurate?
As the saying goes: "Know who knows yourself, can not fight a hundred", want to advertise the effect is good, must first understand the advertising audience, to know that the audience and our advertising is closely related, choose the right, accurate audience can not only help us save a lot of advertising costs, but also greatly improve the effectiveness of advertising.
First look at our marketing model, users are step by step through the goal of screening, and eventually become our real customers. (Remarketing is an important way for Facebook to make orders)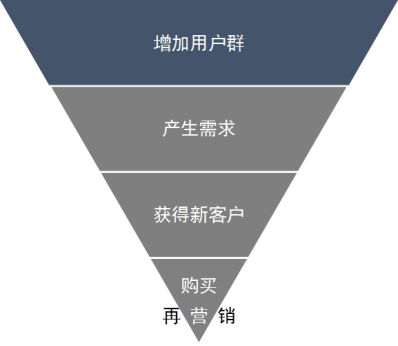 Full Funnel Marketing Model
There are three categories of Facebook ad audience:Core audience、Custom Audiences、Similar audienceLet's take a look at
Core audienceThe audience that can be understood as keyword targeting is The audience of Facebook data targeting ads, which can be defined by selecting demographic information, geographic location, interests, behavior, and so on.You can create it in the ad group settings stage or in the Audience Manager.
Custom AudiencesIt's also calledRemarketing audiences,is the most valuable target audience for you,There are three main sources, people who already have actions on the site (the site must have pixels installed); old customers with mailboxes (the accumulation of platforms or other channels); and people who have interacted with your Facebook page.
Similar audience: Create a similar audience similar to your existing customer with a custom audience that you've generated, with the same or similar traits that might be reflected in region, age, gender, interests, behavior, and more, so that your ads can reach more people who care about your business.
Note:Core audiences and similar audiences are new customers (no history of conversions), while remarketing audiences are old customers (no history)Have a history of conversion records), in addition, the core audience is currently targeted precisely to the city, county.
AboveIt isFacebook Ad Audiencecontent,If you have any questions, you can leave a message with a public number, or contact Xiaoxiao (micro-signal:yinolink) to provide feedback.We will answer your questions in a timely manner in the Public No.
---