Facebook Ad Case Sharing: How Did Luxury Jewelers Achieve a 1500% ROI Surge?
Click on topHugo.com, don't miss cross-border e-commerce size
The Facebook ad case you want to share today comes from aJewellery RetailerIt has successfully rescued the "near-death" jewelry brand and taken the business to a new level by using only three digital marketing strategies. At present, its online and offline business is in full bloom.
Jewelry Marketing Strategy
First, they opened an online store and put on more than 200 products. They tested 38 campaigns directly from Facebook and Instagram. In addition, they created and optimized four of them based on interest, age, and ad position, thereby increasing their ROAS (return on advertising expenditure). These four Facebook and Instagram jewelry marketing ads make up its marketing funnel: Understanding (awareness) - Consider (product research) - conversion - loyalty - support.
(Source: media.com)
Second, they developed a content marketing strategy in conjunction with search engine optimization (SEO). In short, attract traffic from Google with different types of keywords for target customers. For example, gold earrings, diamond earrings, citrine earrings, Art Deco Earrings, and more. Currently, they have 500 keywords, each of which serves as a "content point" for a blog post.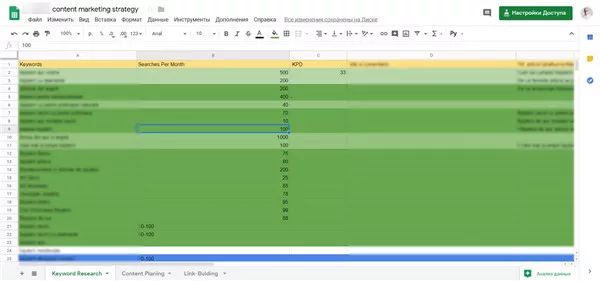 (Source: media.com)
Earlier, they created nearly 100/500 blog posts, or 25 percent of their content marketing strategy, to help it target customers with a higher willingness to buy.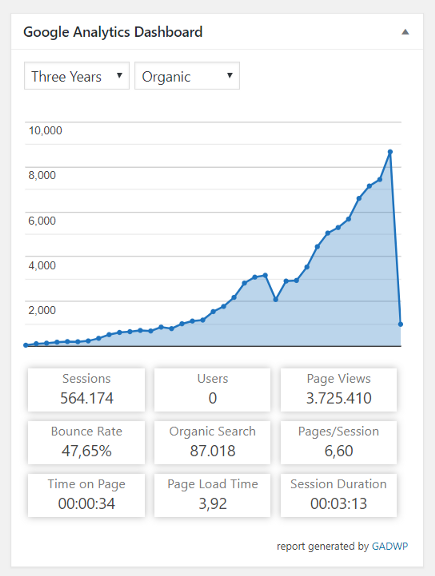 (Source: media.com)
As you can see from the chart above, Google searches alone have increased from 0 to 8,000 per month, and by this time they have completed only 25% of the content strategy, and they plan to triple those statistics next year, with an estimated 25,000 to 30,000 visitors per month.
And Facebook and content marketing strategies complement each other.
Those from Google will see remarketing ads on Facebook, and these Facebook users are pushing for the content to be ranked on Google's homepage.
▲Why is that?
Because user behavior, such as spending time reading, browsing products, and accessing and forwarding your social media posts, signals to Google's ranking algorithm that the site can appear on the top page of a search result for a topic.
Also, when users enter the exact brand name in a search engine (which is a big ranking factor), Google will increase the weight of the content accordingly, helping you easily beat your competitors' keywords to get to the top of the search results page.
And Facebook Ading can help you a lot. Because when people see your ads on Facebook, they naturally use Google Search to find out more about your brand.
What's more, if you can make good use of Google, but anyone who mentions keywords about you in a search, you can use it as an opportunity to attract them to the store. Google treats each keyword as a reference and shows potential customers where you are: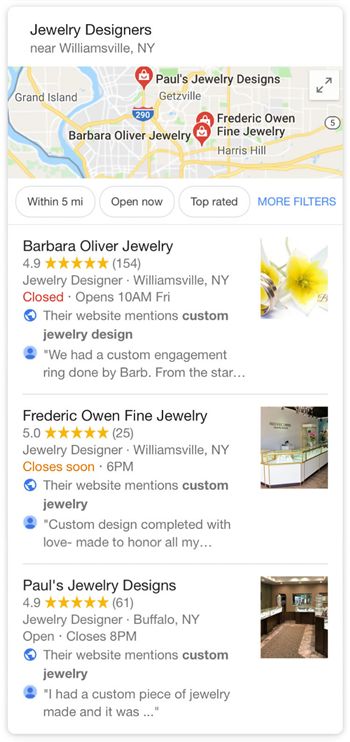 (Source: media.com)
Developing an effective content strategy has helped them greatly increase retail and online jewelry sales. If Facebook and Instagram bring them an average roI of 1000% (roI), the other 500% ROI comes from content marketing strategies.
▲At this point, the strategies they have adopted include:
1, Facebook ads and Instagram ads
2, content marketing
3, Google Local Business Mentions
As for what inspiration can they give us in terms of target audience targeting, CRO (conversion optimization), AOV (customer unit price) optimization, and marketing channels?
Audiences you need to target when executing jewelry marketing strategies
In this case, their target audience is the audience that frequents their store. Their consideration is that these audiences are more likely to have a need to buy gold and gem jewelry:
Doctors (doctors are the highest customer base among their loyal customers and the highest in generating Lifetime Customer Value (LCV), and therefore contribute the most to their ROI.

Lawyer

Business owners

University Professor

Artist

People interested in other jewelry brands, such as: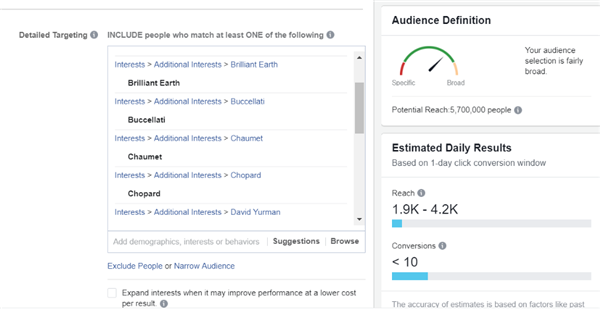 (Source: media.com)
Each ad channel has its own way of targeting. It is recommended that you create an audience based on their search behavior, reaching all users who enter search terms such as diamond earrings, gold rings, and cartiers in Google Search as your "custom audience."
Now you can use a simple jewelry marketing funnel to convert these users:
1, show video ads to "Custom Audience" users on YouTube;
2, draw 50% of the video users, and use the ubiquitous banner ads for their remarketing;
3. Use Google Dynamics Ads to remarket users who have visited the site but have not made a purchase until they purchase from you.
It is understood that for lower-priced jewelry, potential customers often need to interact with the brand 7 to 10 times to make a purchase decision. For luxury jewelry, there are more than 1,000 interactions before a customer buys it. These interactions need to be achieved through remarketing.
40%-60% of sales from remarketing
If your website is visited with a lot of traffic and you don't use any remarketing, you'll probably make 40%-60% less money. For example, if you make $100,000 through an online store, and if you don't use remarketing, you'll make between $40,000 and $60,000 less.
ROAS depends on jewelry design and price
It can be said that the guarantee of ROI is jewelry design. If your jewelry design is routine, standard, and you don't expect to get a higher ROI, more loyal customers, or brand support, you can hire a professional jewelry marketer to help you with your marketing campaign.
In general, for a good jewelry design product, you should get more than 300% of the ROAS from your marketing campaign. If the whole line of products ROAS are higher than 400% is very beautiful results.
Both Facebook and Instagram can be used as tools to test the profitability of your product or product line. The primary role of marketers is to help you find these products and optimize your ROI.
The mistakes jewelry sellers make a lot of
Marketing campaigns when your budget is not set or too high.

The goal is large, but it is not ready for long-term testing and optimization.

Give up marketing too early.

Desperate to achieve, want to profit before the brand does not grow

Smash money for marketing without evaluating and optimizing the results.

No optimization for ads or brick-and-mortar stores for better conversion rates and customer unit prices
Conversion Optimization (CRO) and Passenger Unit Price (AOV) Optimization
For the jewelry industry, every 1% increase in conversion rates is a significant increase in earnings. And each of your product and ad details needs to be optimized and tested to improve conversion rates. Examples include product descriptions, product maps, videos, advertising, unit prices, and email marketing.
It is understood that the unit price is optimized, can help you to increase the average income by another 10%-20%. Here's what you can try:
Upsell on the product page.

Upsell on the shopping cart page.

Post-purchase.
E-mail marketing is simply dividing the customer base of different characteristics (creating an e-mail list) and distributing different types of e-mail based on the customer base. Among them, the more common division is based on the behavior of customers in the shopping process to group, send mail for each shopping link, such as: give up the shopping cart, win back customers, Thanksgiving customers, browse exit, cross-selling, welcome new customers and so on.
Each customer segment has a set of applicable patterns, so you can do this with the help of email marketing automation software tools. With the right use, the email marketing channel can guarantee you an additional 20% of your revenue.

(Source: media.com)
In short, in order to maximize ROI, your CRO, AOV, and e-mail marketing all need to be empowered. At the same time, when you invest a lot of money in advertising, your ROI drops. This is normal.
At this point, this article stories convey several messages:
Remarketing: Helps increase revenue by 40-60%.

CRO: You can double your income with the same marketing budget.

AOV: Able to increase revenue by 10%-20%.

Email marketing: Helps increase revenue by 20%.
More sales channels for jewelry marketing campaigns
If you also want to be able to upgrade your current jewelry marketing strategy, we recommend using the following channels:
1、YouTube Ads
2、Google Shopping
3、 Google Network
4, Google Search Ads
5, Bing search ads
6、Pinterest Ads
7、Linkedin Ads
8、Twitter Ads
9, net red marketing
10, e-mail marketing
11, strategic partnership marketing
12, local advertising
13、Facebook Messenger Bots
14、Snapchat Ads
15, Alliance Marketing
These channels are especially good for sellers selling luxury jewelry, but if the average seller is worried about the cost, it's recommended that you use Google Ads or Facebook for remarketing, both of which are relatively low.
In fact, each channel has the potential to bring you a different audience, and the channels that target your target audience are good channels.
Yu Wen/Hugo.com Xie Xinxin
Hugo Network is committed to providing quality dry goods to sellers
Sweep code attention

Add a star, look at the text every day

▼
---