Facebook Ad Delivery Tutorials: Facebook Ad Development Strategy and History
Today to introduce the development strategy and history of Facebook advertising, as well as its commercial application value, Facebook's advertising in the last two years has achieved very rapid development, there is a reason behind this.
1, what is called mobile information flow
Why did you introduce him? Because of the importance of his first, he has more than 66% of facebook's mobile advertising revenue.
Let's take a look at the growth of this facebook ad, the main reason is the information flow ads, the following picture is mobile message flow and PC computer-side advertising display.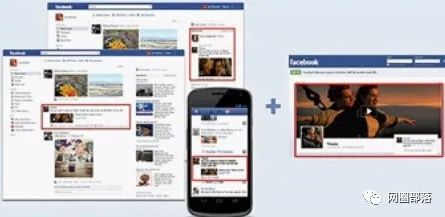 This mobile-side message flow ad has a click-through rate of 87% higher than the traditional pc end, while the cost of clicking is 22% lower. That is to say, Facebook's advertising revenue has grown rapidly in the past two years. Why is that? Because this click-through rate has increased and the cost of clicking has decreased, this means that you are willing to choosefacebookMore and more businesses will be used as advertising platforms, so that's why they'll have a high growth in advertising revenue.
So how did all this happen?
2, a decision to change the fate
Specifically, that is, at the end of 2011, this time smartphones began to rise, then Facebook before the advertising revenue is always also growing, but can only say that it is not warm ah, then with the rise of mobile phones, Facebook more feel their own crisis.
In the end he took this crisis. has become a development opportunity for oneself.
With the rapid rise of this smartphone, Facebook is aware of its own, this is a big challenge in advertising, because in such a small screen, if you are a priority user experience, then your advertising location, then the advertising location is bound to be affected, then the advertising location is reduced, That means a further reduction in your advertising revenue.
In 2012. Zuckerberg, the founder of Facebook, made the amazing decision to put the ad into the information stream, and when he made the suggestion, it was a shock.
Because no one could have imagined it before, because the flow of information was first proposed by Zuckerberg.
This is the equivalent of saying that we, in the newspaper's front page did not put this news, but put an advertising-like concept, then this way of thinking for people is a great challenge, the traditional thinking is a great challenge.
So when Zuckerberg came up with the idea, it was said to be silent, which was indeed a vision of a leader.
With the official start of this information flow ad in January 2012 began to test on the pc side, slowly extending to the mobile end, the fate of this ad, including the fate of the entire back and the fate of the company has changed from then on ah, this is really no exaggeration.
It was because of this decision that facebook accounted for the majority of the mobile advertising market in just three years.
3, the rapid rise of mobile advertising.
We know that Facebook's mobile is growing very fast, so as this user grows, so does mobile advertising, a central factor in driving overall revenue.
So let's look at this chart to launch and mobile advertising revenue in the third quarter of 2014 was nearly $2 billion, or 66% of total revenue.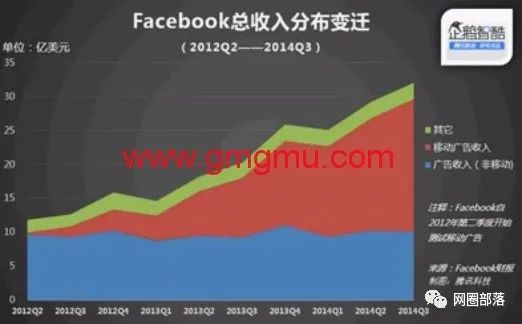 From this growth can be seen, this blue is non-mobile advertising revenue has been very stable, if Facebook is still stuck in this, non-mobile advertising revenue, then it can be said that he is now slowly moving towards a mediocre company.
But because of that amazing decision, let's take a look at this red, which represents the revenue of mobile advertising. That growth curve is actually quite high.
4, mobile advertising location: information flow
Balance: User experience and ad return
Mobile ads are not easy to do because he is competing for the user's eyeballs, he is competing with this normal information to compete for the user's eyeballs, which means that Facebook must find a balance between the user experience and advertising returns to find a balance.
Then you can't let the user get tired of your ads, and then have the idea of getting rid of Facebook, and at the same time, you can't let advertisers feel that the return is too low, that's such a balance, it's really not good to do,Facebook AdsA series of algorithms and rules have been adopted, the most important of which is to match, that is, these ads must be served to match the target customer precisely.
Then this can minimize the user's antipathy.
All of our advertising optimization principles, the core of which is also here, then facebook, also does provide us with this optimization space.
Because he improved offers up to 9 ad types:
Content (post) promotion

Home Promotion

Click to promote

Conversion promotion

App download promotion

App Interactive Promotion

Promotion of the event

Voucher promotion

Video promotion
Bid method this piece, is also a variety of, CPC, CPM, OCPM, CPA charges.
5, the value of mobile advertising core: precision and relevance
Then the core value of mobile advertising, all the premise is precision and related, and then we go to the advertising when we have to grasp these two points at all times. Is the audience and precision, what kind of ads do you want to do, then you first consider your target customer group, and then through screening to find the most accurate customers, and then all your material around the design, must be around your target customers, precision and related, this is the core of all your facebook and ad delivery tutorials.
You have to remember the ad blocking rate, Facebook for the user experience to do the best, that is, this parameter is the most important indicator of the success or failure of all ads.
What is advertising blocking?
Here's the picture I'mToClick on this ad, here there is a small arrow drop-down box inside, there will be such a few tips.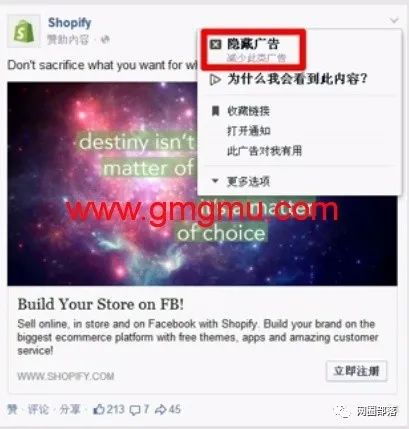 The first is to hide ads, if your ad is ordered by the user this option, that means your ad is blocked, then this directly affects your future impressions and your click-through rate ah.
That is, your ad will be reduced by the system, and because of the reduction of display, because you are blocked by the user, which means that your ad, with the user's match is not enough, or your material design is not attractive enough, let the user have a lot of disgust, then the number of times this blocking if more, You'll find that your ads rarely show and click in the background.
That is to say, no matter how you adjust to modify ah, the price is higher, then you will find that your display will be less and less, that is, the price is not to determine the success or failure of our advertising, the most important factor is the user experience, or the user, you advertising after such an action.
This is Facebook as much as possible to reduce the user experience, as far as this guaranteed user experience to take, this one of the biggest action.
That means we're talking about an ad block
He will also give you a hint, why do I see this ad content, so that you have a better understanding, see Facebook for the user's experience to what degree, then point in, what will happen this? Because I Chinese interface, dot this image has not been displayed, then I changed to this English interface, this display came out.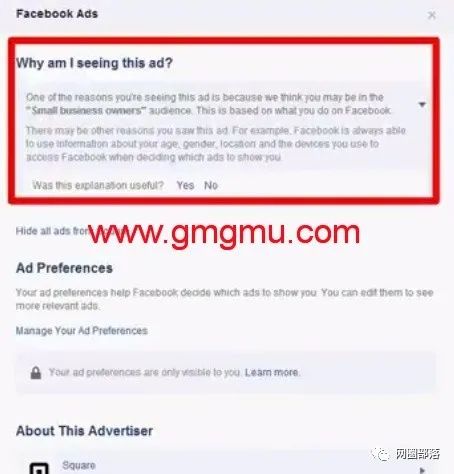 6. Facebook Ad Future
If some users do not want to see ads, then he can actually take the initiative to choose to block most of the ads, but most of thePointsPeople are willing to see ads on it, just like we watch TV, in fact, we are often also in order to obtain advertising information, some people also slowly get used to, facebook will be based on my interests and hobbies, give me recommend useful things, I am interested in advertising information, that is also a demand, Now the information is more and more fragmented, so that such an advertising form, in fact, by a considerable number of users welcome.
We're going to talk about a future for Facebook ads, because Facebook has done so much, and his users haven't fled because of the increase in ads, but instead there's a growth in Facebook users, and there's a rapid growth in ads. It cannot but be said that this is a huge success for Facebook.
That is to say, he found the balance between the two between the user experience and advertising returns, should be said to have reached a level, at present is reached a state of best.
So to his future, we are full of expectations, because mobile Internet has begun to enter our lives, this development speed than the previous few years of this pc Internet era, the pace of development is much faster, that is, mobile Internet will be completed in a very short period of time on the PC this traditional Internet as an alternative future.
It is also hoped that everyone will seize the mobile cross-border e-commerce through facebook advertising as soon as possible, such a huge market opportunity.


---