Facebook Ad Guides and Practice
Free advertising doesn't exist, it's the only truth in the advertising world. You can simply understand that if you're willing to spend money to create extra value, you'll obviously save a lot of effort. Bear's paw and fish can't be combined Everyone understands that if you spend most of your time promoting your product or brand in a free way, it's clear that you can't spend more time creating other value. Advertising is the way to create extra time and space for you.
Origin
Some time ago, i put together aHow B2B uses Facebook to develop users' textThere's not much in the text about the advertising section. Facebook advertising, which is critical and important in marketing, is not involved in simple community operations and key presentations of certain elements. At work, however, there is often a need to explain to people who haven't been in contact with Facebook what a Facebook ad is, so you have the text that needs to be sorted out.
This text is limited to Facebook ads and is relatively simple, and this article is intended for the following groups:
I've used the Facebook platform and know that Facebook has advertising capabilities

What you know about Facebook ads isn't clear, but you're willing to want to know

Non-Facebook ad operators who want to understand different ad systems across platforms (e.g. Ali International, Google Ad Operations)

Advertisers who are using Facebook ad marketing but only know the simple way to tweet
However, this article does not apply to the following groups, if you are one of them, then you do not need to waste time, you can close the page, go to other pages to see if there is appropriate content:
Be familiar with the operation of Facebook ads and have a long experience

No interest in Facebook.

Think Facebook ads must have a conversion effect

I don't think advertising needs to cost money.
If you already know if you're worth the time to read this, you can get to the point next.


Is Facebook ads really necessary?
If you've been in touch with advertisers or affiliates, they'll tell you that Facebook's ad marketing is currently hot, and even boasted that "no facebook ad overseas marketing is a three-dimensional." So is Facebook ads really right for every business?
The answer is obvious: No.
That's sure to ask: Which businesses apply to Facebook ads?
A: Advertisers who want to use the ad system and are willing to pay.
This is not a simple question-and-answer session. Just as each brand has its own business territory, they have their own independent personality and reach, and for all-encompassing Facebook, it may be possible to divide a territory at any time. However, if your money is limited to the platforms you use and a very small audience, many advertising systems are redundant for you. SoWhether it applies depends on your business purpose 。
The reason many businesses get to Facebook isn't because they know facebook, in a way, just knowing what they want or because they don't know what they want, so catching a platform is a lifeline. Both of these causes will also lead to two outcomes.
However, you can't ignore such a huge advertising system.The most amazing thing about Facebook ads is not that it brings you revenue, but the overall technical logic behind it.。 Facebook has its own surveillance system, and when every user logs on to Facebook, it empowers them to monitor themselves. Many people accidentally consume Facebook's ad content, even if they never think about why they appear in front of them. Does that sound scary? In fact, most advertising systems operate like this. Something bad for users is good news for advertisers, who can buy a lot of people's personal information and display their ads to them for just a few dollars because of Facebook's behavior.
Based on Facebook's system, Facebook ads are not perfect. If someone is selling you a product and tells you that there are no defects in the product, congratulations, you're about to be cheated. Facebook's advertising system also has its own natural flaws.
First of all, we can look atWhat's the advantage of Facebook ads?It's worth the money you're spending here to develop the market:
Facebook has a powerful and intelligent ad targeting system.

Facebook ads are relatively cheap.

Facebook ads have a wealth of ad types, and can be used to select ads based on actual needs.

Facebook ads can help you engage people in content interactions.

Facebook ads can pay off. Obviously, this counts as one.

Facebook ads can help you open up new markets.

Facebook ads can develop potential users.

Facebook ads can boost your SEO. If you don't know why, check out Google's RankBrain algorithm.

Facebook ads can help you close a deal.

Facebook ads can help you get to know your people better. After all, you're using a highly subdivided ad targeting system.
If these advantages are attractive, don't rush to pay, because you need to know more about the full picture before deciding whether to spend it.Defects in Facebook AdsThere are these:
The success of Facebook ads depends on the quality of the ads. Good content determines good returns. As for the bad stuff, it's a waste of money.

Competition is everywhere. It's obvious that a place with meat must have wolves, so you need to spend more time on advertising.

Facebook ads can give you negative reviews. Users have a good or bad review of a brand, and you always get messages you don't want to receive that you might pay for.

You need some time to learn about the advertising system. There is no doubt that anything has a learning cost.
If these basic analyses can make you feel as if Facebook ads are worth the money, go ahead and read on.


What you need to know before you create your first Facebook ad
The next part will be boring and boring, because I'm going to be ready to intercept some of the common Facebook words to tell you what's really there in Facebook ads.


The Basics of Facebook Ads
These are some of the simplest text explanations, and you can understand exactly what it means by the text itself.
| Keywords | Analytical |
| --- | --- |
| Schedule  | The total length of time the ad runs. |
| Budget | The maximum amount you want to spend on an ad group or campaign can be an average of an average of expenses per day, or the total cost during the delivery period. |
| Bidding | You want Facebook users to spend the most on concrete action. You can bid for shows, clicks, and even lead development. You want more behavior to produce, and you should pay more. |
| Place | The placement refers to where the ad appears. Ads may appear in Facebook Mobile News Feed, Desktop News, and right-hand bar. You can also show up on Instagram, Audience Network, I.E., Read And Messenger. |
| Equipment | Select a mobile device or a desktop device. |
| Audience targeting | Audiences are people who might see your Facebook ads. You can target people by age, gender, region, and other key elements. |
| Creative | Creative media content (images or videos) used to promote your ad. |
What do I need to pay attention to when creating an ad?
Once you understand the general meaning of these basic key names, get ready to enter the world of advertising. So, what do you need to prepare for?
First, focus on why you're running your ads. A clear and clear goal can give your ad conversion a great chance of success.

What are your specific targets? You just want to bring traffic to your site? You want more people to know your brand? Or do you want the post to be active? Or even, you want to develop potential customers?

Why do you need to know that? Because your ad optimization is based on your advertising goals.

Try to get to know your customers

If you want to maximize your return on investment, you need to find the best audience for your product or brand. There is no doubt that this is the most important link.

Should I advertise to new users or do a secondary marketing first?

Obviously, you need to know how much budget you have to do with these ads, and you should know where your marketing is at. Facebook's ad targeting system will give you a clear way to target the people you want to show. If you already have enough older users, secondary marketing is obviously the best way to try advertising, and if you've got a clean page without any visitors, try getting to know your potential users and start advertising.

Continue to learn about some of the basic advertising terms

Understanding ad terms is necessary to help you run your ads, and only by knowing them will you know exactly where your customers are coming from and where your money has gone. You can learn any term you want from this link.


How does Facebook's advertising system work?
If you've accidentally touched Facebook ad courses or you've been harassed by a lot of harassing calls, you probably already know that Facebook has a lot of people and creates a lot of ad resources based on it. Facebook users load different pages when they browse different types of content on the platform, which can be used to display ads. This is the distribution logic of the resources of basic Facebook ads.
However, most harassing phone calls or gimmicky sales don't tell you about the extras you need to know when you step into the advertising system, as if they'll just tell you that if there are so many places where people buy things, they're going to make money. Unfortunately, every year there are shops closing down in hypermarkets, and many e-commerce companies close down every year. This proves that the logic of a single attribution is extremely false.
To understand how Facebook's advertising system works in its entirety, that's not possible for advertisers who use it. But it's okay to learn about the system from some advertising platforms and use these features to create value.
Bidding System
First, the bidding system is a very basic system of Facebook advertising. You may not be unfamiliar with the word bidding, because most advertising systems are based on bidding.
Facebook reviews your targeting criteria and matches the other targeting criteria of all other advertisers, and once they find advertisers for the same type of population, they'll see how much you're willing to spend on each click. Finally, compare these bids to other bids, and then allocate the ad's resources. Of course, these bids are real-time, meaning that every minute is changing.
The benefit of the bidding system is that advertisers' ad bids may overflow, but the system has a daily spending cap setting. So, in theory, your competitors spend their expenses early on, and then your ads may be shown at a low price.
Of course, Facebook won't be so stupid to get you cheap advertising, so you're actually taking the risk of spending on your competitors and having advertising resources available after you've spent their expenses.
If your targeting market is very narrow and segmented, there may not be much advertising resources to compete for. In this case, competitors may take advantage of virtually all of their advertising resources, and your ads may not have an opportunity to show them. So how to set your advertising spending is a game.
Increase your daily maximum advertising spend
Based on the bidding system, Facebook is naturally asking advertisers to increase their daily budget spending. In short, that means that if you just raise the maximum ad spending limit per day, you can beat competitors who bid lower than you. But that doesn't mean you'll always pay the highest fee.
The real effect of this is that you'll lock in a portion of your ad show inventory. Of course, it all depends on the actions of the competitors and the accuracy of your traffic positioning.
Different forms of paid advertising
Understand that the ad bidding and bidding systems described above apply to all ads. Whether your ads are on the mobile side or just on the promotion of the information flow. These are paid ads. Therefore, they are suitable for the bidding system.
Factors that affect the value of each click
After each ad click, what factors does Facebook determine that are the amount you need to pay for each?
Of course, when an ad is clicked, it's bound to pay, but here, there are some other factors, the most important of which isIntensity and quantity of competition。
If your competitors are highly motivated, they will basically beat you in every way through a high-priced budget at each time. However, in all other cases where all the conditions are the same, the most important factor affecting pricing is the country of origin of the traffic.
Another key factor that affects your click-through rate is the type of audience you're looking for. If many advertisers compete in the same audience, you may need to pay more for advertising.
In addition, placing ads in the main locations on Facebook's screens can have a big impact on spending. The more prominent the ad, the higher the price. "Highlight" refers to the part of the screen that people usually click on these things.
Finally, your click-through rate plays an important role. If a lot of people see your ad, but very few click, your ad will pay more. How's that? Facebook takes a lot of opportunity when it comes to showing your ads. If it shows ads that get more money, it can make more money.That's facebook's bottom line.。
In order to encourage advertisers to publish more effective ads, click-through rates are an important factor in determining the price per click. This means that if you're running ads that work very well, you'll pay less per click because Facebook has already made a lot of money from your ads. It doesn't have to spend a lot of time showing to get enough clicks.
On the other hand, if your ads are so bad that almost no one wants to click, you can almost be sure that Facebook charges your biggest budget every day. In many cases, Facebook will even stop showing your ads because it's so bad it's not worth running.


Create your first Facebook campaign
If you don't have a monkey to jump over some boring content in front of you, thinking about jumping here immediately, I can tell you that you don't look at the content in front of you and there's really nothing to lose.
Simply say how to use your Facebook Ad Management tool to create and publish ads requires a few general steps:
Step 1: Create your Facebook page and public page
Step 2: Visit Facebook Ads Manager
Step 3: Create Audience Targeting
Step 4: Create a Facebook campaign
Step 5: Create ads and run campaigns
Step 6: Follow and optimize your ads
It's simple, isn't it? If you think so, congratulations, you've learned how to create ads.


Create your Facebook page and public page
One of the prerequisites for Facebook ads to run is that you first have a Facebook account. If you want to create a Facebook page for marketing, of course you also need a personal account. The Facebook page can only be counted as a display subject, and page management will have a personal account. You can create and post ads on your Facebook page, but only if you bind a personal account.
By creating a personal page and publishing your Page, you're ready to get into the creation and run of your ads. After you post your Page, you might see "Push Post" or "Get More Page Likes." Click on these tips and you'll be able to go to Facebook Ad Management.
How do I prevent my profile from being blocked?

You've probably heard a lot of people say there are many ways to avoid being blocked by Facebook, and you've probably been blocked by Facebook many times. In general, the average person will tell you some of the following:

Note that your IP should be fixed, the login device and the login location should be fixed, avoid off-site login

Sign up to use your real identity

Stay active and don't do too much on the first day

Add a certain number of friends, don't bulk, don't add too much

Have an interaction after you add a friend

Are these effective? In theory, it works. In fact, Facebook's account closure is a bit like the Turing test, which is how to determine whether you're a normal human being or a malicious robot. If you think from this point of view, there are many ways to protect your account security.
When you create a personal account, you can sign in and create a Facebook Page. This is simple, just click directly on the "Create Home" tab located at the top right of your personal account.
If you already have a business, creating a Facebook page for your business isn't complicated. You just need to fill in the listed content: home page name, category, company name, etc. If you already have a website, you can post a link to your website or a blog link on your home page.
After choosing the type you were creating, take the key step: give your Facebook page a name about your business page.
Once you've completed the relevant information, you can click Continue to get into the creation process. It's all very simple and straightforward. Facebook will only gradually ask you to enter the information and start populating your Facebook page.
But I suggest not doing this in a moment. If there is no other better way. Instead, you have to plan to do it.
First, make sure you have a decent Facebook page cover. Then it's a good idea to have a bit of decent text to fill in the content and create a matching, engaging picture for your Facebook page. Please note that your Facebook Page is really a launchpad for your brand. However, you can't reuse something that you've already used. Make sure that when you set up your Facebook page, it should be as professional as possible.
What is the setup method called professional? The simplest point is to put yourself in an outsider role and ask yourself if the content value of this page is not worth trading with. The so-called profession is the foundation of creating trust.


Learn about Facebook's ad management tools
To some extent, if you've created a home page, you can basically do whatever you want to do with your pages and ads. But best of all, take a look at Facebook's ad management tools. It's something worth taking your time to learn about.
If you don't know where to get into Ads Manager, you can look at the top right-hand side of your Facebook page and see a drop-down option. Then you click there and you'll see the option to "Create an ad." Then, you click on it and you can go to your ad account page.
On this dashboard, you'll see some options for setting up your account. Click on the ad account you're about to manage, and then click on Account Settings. This option can be seen in the top menu bar. Then fill in your address and business name.
If you have an assistant or you plan to have one more person to manage your ads, you can choose "Add Ad Characters." Click there and you can select Add a user. You can also set the role of the new user. The form will ask them about their email address or full name, and then enter it and click Confirm. The best thing about this system is that it doesn't put your account in secure because the person you hire doesn't have permission to view all the details.
Click on "Payment Methods" in the Ads Managers panel. Then you'll see "Add a payment method." Fill in the payment method you want and fill in some of the details of it.
Next up is about audience targeting. This is the core function of Facebook's ad management tool. If you don't analyze and target your audience, there's no doubt that your ad will fail. It's not a joke, it's a fact. As you can imagine, if you show a very good ad in front of the wrong person, it will be pointless.


Action Audience Targeting
Audience targeting is at the heart of the entire Facebook ad, and you can follow these steps to familiarize yourself with the process.
See your existing followers. These people are following you because of your content, and the content you post later will reach them. Open your Audience Analytics dashboard to see what your audience is and see who follows you. You can also see what they like more.

Next, create an audience. When you open the Audience Analytics Dashboard, you can find that it has two columns. On the left, it's the feature you want to position. On the right, it is the user information that matches these elements.

Facebook will automatically match those facebook audiences. That is, how big is your ad's audience on Facebook likely to be the largest pool of users. Optimize the audience you want to target based on your existing audience insights and consumer intelligence.

For example, you're a local small business, and then you already know that the people you're targeting are between 18 and 24 years old, and then you choose this audience age. Select the location at the same time. Of course, you can select two positioning conditions at the same time.

If you know your competitor's main battleground, you can also save a lot of money by excluding that position, so you don't have to spend anything to compete for the eyeballs that have been taken away. Next, you need to select your audience's points of interest.

In this case, you've targeted your intended audience by doing some consumer intelligence analysis. You should be able to see that the area can be divided into many details as well as smaller nodes. You must make the most relevant guesses based on the interests of the customer. If that's what your competitor or niche market is, use it.

Finally, you may want to refine your choices by using more advanced features. With this option, you can make further choices through the cultural circle, job position, different offices, educational levels, and emotional states.

Understand the preferences of the audience you already exist for.

Go to the Page Likes tab. You can see the interests and pages that the selected audience generally likes. This information is based on the fact that they are actually using Facebook. This is a valid message.

When you get a better picture of which pages they like, then go into the main class purpose links, and then you'll see their general preferences. The key here is that starting with facebook's general interests, you may find interest in your target market.

First test these situations, and then check the performance of your ads to refine your points of interest further. Keep in mind that when you click on the Page Likes tab, you may already see pages on Facebook that already appeal to your audience.

Check out the device language and region. In the regional options in Audience Analytics, you can see where your brand fans might live. This also lets you know what language they are speaking. Click on the Activity option to see what devices they're using.

Reach your audience with your first ad. As long as your home page has more than 1000 followers, you can test the results by running an ad. In general, your first ad can be targeted at people who already follow your page. If your page doesn't have a fan, guess what your users will be interested in, how relevant they are to the product or service, and then look at the user's behavior through the fan's point of interest, and then perform your first ad.

Create the first test ad. Click the "New" button to create an ad. Confirm the people you want to reach, and your Ads Manager will automatically populate those details to target your audience. Those data are the ones you've chosen. Run a test campaign to see if you've achieved the return on investment you want, or if you've got valid information. Be clear when you reach those who have followed you with an ad, generally, get preliminary information and get a quick look. In other words, it's just a familiarity with the facebook advertising system and getting some basic target data. Don't expect your first ad to win.


Create your first campaign
The title of this article is related to the Facebook ad, and the text ends there is no description of any ad action, which may already be boring. So, start now, go to the action section that creates your ads. In the previous section, we focused on how to define your audience. Keep in mind who your user base is, it's not a one-off. This is something you need to keep paying attention to and adjusting to optimize to achieve optimal results.
Don't think you've used audience analytics tools and you've got more than 1,000 Page followers, and then you think your audience is the same. As you can imagine, as your page becomes popular, your audience profile grows. It may attract some other crowd and then these individuals may be more suited to your ads.
In this section, we'll use Facebook's ad management tool step by step to create an actual campaign.
First, you need to go to Ads Manager, click Create campaign tab, and then click Create. Then you can create a new campaign.
First you'll see 11 different campaign goals to choose from. You can look at the relevant descriptions to explain what these goals are.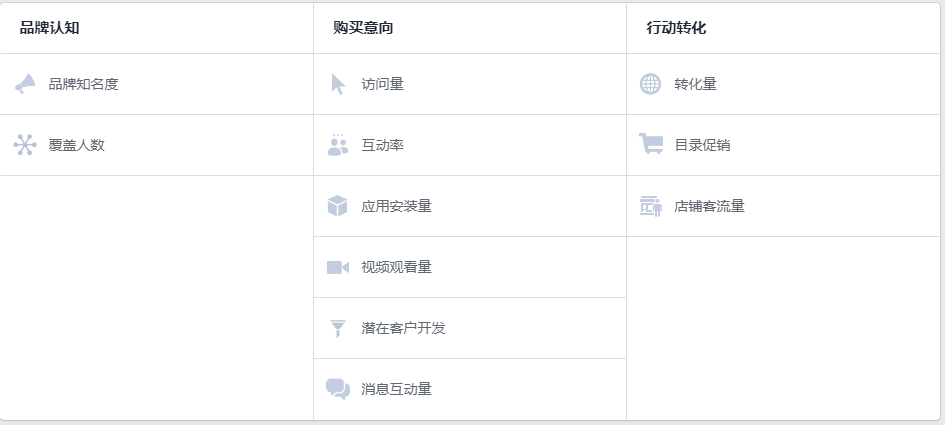 Let's first look at what benefits these goals can bring.

Goal
Analytical
Brand awareness

Inspire

interest in goods or services.

The core of raising brand awareness is telling users about the value of your business.





If you want to launch a new brand, the goal may be to show them to those who don't know you yet

Product

Card

Existing

User.




Or you already have some users, but you have a new brand or product.




Your brand is in the same market as your audience.

Or it could be the opposite.

Number of coverage
It's advertising exposure. The key is to show as many ads as you want to the audience you're targeting.
Visits
Campaigns direct users to click into your target site.
Interaction rate
The goal is to show your ads to a large number of users, to guide them to participate in your content,
For example, post interactive, like the home page, or pick up a promotional voucher or use a coupon to generate a purchase and so on.
App installs
When people click on an ad, they will have a guide to download and install your app.
Video views
People click on your ad and watch a video. The goal is to get more people to see your video content.
Lead development
These ads try to get people to sign up to your mailing list and then apply them to individual sales channels.
Once people are on your mailing list, you'll basically send them messages and eventually try to get them to convert.
Message interaction volume
You can get people to interact with you about this goal.
You can set up automatic replies to send them promotional messages when you're not online.
Depending on their response to the promotional message, they can be sent follow-up information.
Conversions
This is a fairly broad type of target that indicates that the ad clicker is performing specific behavior.
This could mean entering an email address in the form, or buying a product that is being sold.
Catalog Promotions
You can connect directly to your online directory by running Facebook ads.
So if they like it, they can be purchased from your store.
Store traffic
Choose this to promote your physical store to the surrounding crowd.
Once you understand these goals, you need to start choosing an ad creation that best fits your target output.
The first thing to understand is that the so-called most consistent is not always consistent. If you're trying to get people to focus on your brand by using video, you'd better choose video viewing as a target rather than a brand awareness ad.
Once you have selected the target, slide to the bottom of the page and choose whether you want to do an A/B test. A/B testing is important because you can run two ads at once and the system will choose the best ad rendering. Obviously, you can see which ad gets the most clicks and results. This is a great way to test different designs. Of course, you can choose budget optimization. With these two feature choices, you can run different ad groups and see which ads perform better when you're using those audiences.
The good news is that you don't have to spend a lot of money. It has a budget optimization feature. You can view the final numbers and spend most of your budget on the best-performing ads. Of course, that ad must meet the minimum ROI you'd expect, or a return on investment goal.
You've chosen to participate in the engagement goal, you can choose the message response, the page like or post interaction, etc. In general, people who use interactive targets are pursuing page interactions, so their fans will increase, and the number of people who will see their pages updated in the future is also increasing.
If you haven't set up your ad account yet, at this point you can click Set Up An ad account and type your payment information, and then Facebook can show your ad.
Further down, choose your ad layout. The ad placement indicates where your ad will appear on Facebook. In general, it can be displayed on the desktop and mobile side. This ad location will include the right-hand ad space and the information flow itself on the desktop side, or the information flow on the mobile side. If you choose the mobile end. Your ads can also be presented on Instagram. Of course, when you use Ins, your ads will appear there. Of course, Facebook operators are an ad network called Audience Network. These mobile programs and web pages can display ads. You can also choose to show your ads on this extended network.
Next, you set your budget and schedule. Once you've finished targeting, then you can set up your ads. The next step is to choose your budget. This will give you an estimate of how much you will spend each day. You can choose to run the ad right away, or you can end it at a specific time.
If you're just getting started with your facebook ad marketing, you'd better use the default settings provided by Facebook. Facebook will continue to show your ads. You can monitor and optimize your ads at any time, you can pause or stop your campaigns at any time and run other campaigns. If you want to maximize control of the process, you can set the start time and end time of your campaign.
Then be prepared to pay for your campaign. Here are some of the ways you can pay for your ads. You can use Paypal or credit cards, and alipay if you are a mainland user. Be clear that you'll be paying for the performance of the type of ad you choose to run. You can choose to pay for a single click, or CTC. In this case, only those whose ad is clicked will pay. Another option is that you can run a thousand impression campaigns. Facebook will charge a fee based on each of your thousand sons. Understand that display ads can present the same ad multiple times to the same person.
It is not normal for a person to see the same ad over and over again. So be clear, within a certain time frame, the person may be counted multiple times. So even though you're paying for a thousand impressions, it doesn't mean a thousand different people have viewed your ad. As it turns out, this may be a small number of people who have read your ads over and over again. You can change the recommended price per thousand facebook impressions at any time. If you have a bid system that remembers the previous mention, you will know that this is your bid, and if your bid is too low, Facebook may not show your ads because other ads bid higher under the same circumstances.
Once you're familiar with Facebook, you can use advanced budget settings to customize or optimize your bids and budgets. If you are satisfied with the above settings, choose your advertising ideas. This will start the process of actually creating ads.


Start the first ad creation
Perhaps the only purpose of your reading was to create an ad, and you probably didn't think it would take you so long to get to the sign point where you created the ad.
When you start creating ads, you may have a lot of weird ideas that you want to show to your users. However, you can choose not to be so anxious, because you can see how others do it first, if you are a rookie. Facing your competitors, you can look at what they're doing, what ads they're casting, or what posts they recommend, and see which ones work and which aren't.
It would be a good idea to check out all of their posts, but be aware that there is a type of post on Facebook called a "dark post." This type of post won't appear on your Timeline, but you can look at the ads and other Page posts they post to see what they're doing. You'll see simple indicators, such as how many fans, how many likes, how many comments, etc., which, while seemingly meaningless, are better than not.
You don't do it the same when you create your ad, but you've certainly got some ideas and can approximate your ad. If you don't have any idea to go into the ad creation process at all, and you don't have a user audience for your Facebook ads, your chances of failure are very high. So, a little bit of advance preparation may take you further.
The next step is to look at your niche. Some niche markets are doing very well on Facebook. It's also easy to see who your competitors are. Many of them show ads on their timeline, so you can figure out who they really are. But 90% of the niche market is not there and you have to make an effective judgment. Just because some of your competitors are on Facebook doesn't mean they have the best ads or they know what they're doing.
This part, you're going to start actually creating ads, but there's still some way to go before you end up effectively transforming. But you have to have a good advertisement before you can have the next step.
When you create your ad, remember to focus on your information. It is a common mistake for many advertisers to believe that ads must exist for a particular product or service. It's important to remember that in most cases, people have to browse a brand multiple times to build some familiarity before buying anything online or offline. If your ad is focused on one product, it may not work very well. In fact, in many cases, people forget about the product. A better approach is to focus on the overall message your brand represents.
You want to help people sleep better? You want people to live a more comfortable life? Or is your business designed to help people save money on shopping? You must operate from this level. It's about your brand's vision and goals, not a one-product gimmick.
Of course, you can see what your competitors are doing, or you can create some ad stos in their way to try it out, and we've said a while before that A/B Test makes ads more cost-effective.
Next, you'll start creating your ads.
As with ad goals, Facebook's ads have a variety of ad types based on their goals, and you need to create ads based on your own needs. You can come here to find out what the ad formats are before you create the ad.
Once you've chosen your ad, you're starting to design and lay out your ads. This is based on the type and format of the ad you choose. In this section of Facebook's Ads Management Tool, you can choose to promote many different products that fall into the same category, or only specific products with specific images. After you select a picture or video clip or a single content, the next step is to select the media you want to use for your ads. You can choose between videos, slideshows, or pictures. Facebook will guide you through the process of creating carousel or multi-product ads and prompt you to add images.
Here are a few simple principles to follow if you don't know how to handle your media material:
Multiple is better than one dollar

Change is better than constant
Simply put, when you create an ad, you only have one image to advertise the product and match some fixed text, so you can imagine that the effect of such an ad will be very average. Facebook ads offer multiple images and video placements, and you can increase the probability of multiple clicks. That is, the probability of a graph click is only 50%, and when 6 graphs, the probability of being clicked is increased.
At the same time, don't have just one ad in the running. You can never judge the effect by an ad, you need a test to come to a more precise conclusion. Is the 1% click-through rate high? Or is 10% normal? There's no way to test the results of an ad, you need more material and ad copy to test it, and it helps you spend your money on more effective ads.
For details of the processing of the creative material, you can refer to the official recommendation. A lot of people will tell you what material is better to use, or which material is more effective. This is not absolute, because there is a clear difference between the industry, the audience, so the official is the most appropriate.
If you're going to ask me, I'll say, the image size of the ad uses 1200 x 628 pixels, preferably in PNG format, using a very lively background. Your ads appear in a bunch of messagestreams for users, and if you want to stand out, you need something to attract attention.
Of course, the presentation of images must be relevant to the product or service brand you are promoting, which is only critical. Because people come to your home page through your ads, they may not immediately generate a purchase, but it may bring you attention and likes, so don't be surprised if you find that you don't have anyone to buy your stuff, but someone is still paying attention. In theory, the more things you post, the more likes there will be. If not, it's something wrong with that.
Then we're going to start working on the text section. A picture wins a thousand words, it seems that the text does not have much meaning. If the text really doesn't make any sense, then there won't be it. In Facebook ads, the importance of text and images is consistent, and the survival of your ads depends entirely on how they fit together.
Facebook's ad images are limited to text, so you'll need some extra text to illustrate what your image means. If a person misunderstands the picture, it will be a sad thing, then the loss is not only a customer, but also possibly a brand image.
How should the graphic fit? Remember a simple question:What does this thing mean to me??
When people see ads, it's a very short question, and they need to get answers from the graphics. Most people don't see an ad and see more information behind it because they want to see a friend's dynamics rather than ads. So you have to make sure that every word and symbol of your ad focus solves this problem to meet the needs of your target users.
The text contains the title and body, and obviously you need to control the number of words. What is the most appropriate number of words? You can use the best results for previews as a reference.
You may be looking for some writing techniques. In fact, for most ads, mediocrity itself is the norm. If you want to stand out, it seems to require some technical expression and creativity.
As for the title writing, you can be as simple and direct as possible, so that your audience can understand what you mean at once, and choose the most appropriate expression based on the primary language of your target audience. So one of the tricks of the title is thatSimply express your core goals in the most authentic way。
With regard to the body, it is generally a place with operating space, because this part is the whole of the ad. The body part still follows:The simplest expression conveys the most accurate information。 You certainly can't have typos or use wrong punctuation. And you can add a compelling language to the text to increase the likelihood of conversion.
Facebook ads themselves also provide some default call buttons, known as CTA. These buttons lead the customer through specific actions. Of course, there will be a lot like Get Now, Buy Now, and so on. You can make choices based on the goal conversions you want, and direct customers to your page for specific behaviors.
Come here and you've basically created your ad, so let's see if your page has an error message. If you need to direct customers to your site, you may need to add a Facebook pixel to track the results and accumulate data for future ads. Of course, How you install it depends on the platform on which you're on and how you build it, Facebook will have guidelines.
If everything's okay, you can click the "Publish" button to post the ad, and then wait for Facebook's approval to pass, and the ad will be presented to the customer you want to present.


Track and optimize your ads
I'm sure you'll be very clear that advertising doesn't mean the end of the ad's work. The next step is to track the effectiveness of the ads and optimize them.
As mentioned earlier, you may need to do some A/B Test to ensure that your ads can quickly get a profitable answer at a slower cost. Because if you only have one ad, or if the ad has only one image, you may think the effect will work. However, you don't know if it would work better if the picture had been replaced. Alone evidence, in the advertising industry, is not a good evidence.
Advertising optimization content, mainly covers the audience, budget, creative aspects. In this process, some do subtraction, some do addition, but the core content is: maximize the benefits.
Audience level, as far as possible to do subtraction. You can test the effectiveness of your audience level with different ad content, material, title, text, CTA, and even filling out forms, and add to the audience's constant subtraction to get the most accurate. Maybe your data will be less beautiful, but you'll find that every click will lead to effective conversions.
Above the budget, consider adding. If you've come up with the best solution from A/B Test, you can spend more on this ad and expand its reach. Of course, in the process, you still need to constantly adjust the advertising content information, this is a process of constantly doing dicheed.
Creatively you need to be prepared effectively. After testing, you've got a valid ad type and footage. At this point, you need to do a new library of footage to handle the new ad test. Don't think a picture can win the world, this is not reasonable. You need to continue to optimize your material to improve your click-through rate and conversions, because that's the first thing you're spending on advertising.
You may care about how to look at the data, how to analyze it, which is not the focus of this article, and the opportunity to use another article to explain how to do effective data analysis of Facebook's data.


Some tips that may be valid
If you've come to some conclusions in the process of constant optimization, that's the best. If you still think you have some fog, you might consider trying the tips you'll give next.
Let the winner win until it loses. Effective ads are worth spending more money because they will pay you more.

It makes sense to justify what you want to do before you spend your money. If your post is not warm and you don't even give it up yourself, don't put it on, it's a waste of money.

Make sure your money is effective and sustainable. Advertising is not a once-in-a-lifetime thing, it requires a process, so when you run, consider your budget and look at the schedule. In case the advertisement is rising, the lack of gold and silver, have to stop.

Ask yourself if you've done your best before you pause your ad. An ad doesn't work, it fails, and you should consider taking it off the battlefield. If you're not doing well in the optimization process, you should ask yourself what skills are wrong and what works. Try more ways to keep you from turning off an otherwise good ad.

Multiple ads match the effect. This is the repeated emphasis on the content, not just to compare an ad with itself, this is meaningless. You need to compare the ads to different ones and see if there are any discrepancies in them. These two ads may be different campaigns, may be different ad types, and these can be compared. Because, one is right.

Don't stick to the material you like. There is no material that is omnivantable, and the advertiser's preference is ineffective. Some people would say that video must be better than pictures, but this sentence is a judgment, it does not necessarily match the facts. If your ad is in trouble, you may want to see how your footage is performing, whether the video is really working, or whether the click of a picture really works. There is no material to prove the best one, you need a library of materials to prove the best one.

Don't forget, why do you run ads? You may buy a squealing chicken because you're bored, but if you're running an ad for boredom, it's really boring. The ultimate purpose of all Facebook ads is only one, and that is conversion. Whether you restart an ad or pause an ad, ask yourself a question: Does this help with conversion?

Level your mind. If your ad works really badly, you don't have to be depressed because it has a probability of happening. It's just proof that this product or service isn't working on this platform or that your ad optimization capabilities aren't enough. The essence of advertising is an investment, investing in a place that fails, you should think about what you get and where you want to cover those losses.


Some meaningless endings.
If you've read this article from beginning to end, read the links in the middle, and even accidentally tried to create an ad yourself, you should get a general idea of what a Facebook ad is.
Obviously, everything has the cost of learning and opportunity, and Facebook's advertising also takes some time to adapt and learn. All you have to do is use this opportunity to do better about your possible business opportunities, or, of course, because the advertising system is embarrassing you.
You've probably heard a lot of lecturers or "experts" talk about how Facebook ads work and how much money they make in a day. I can't say they're all fake, but at least, can someone really manipulate an advertising system that doesn't belong to them? If you want to pursue a shortcut, the best way to do this is to learn from your own advertising costs. Maybe you've seen a lot of videos, you've heard a lot of lessons, and you might even think about why the text seems to be familiar. Congratulations, because the basics are all the same, or even the same. If you need to learn systematically, start creating your ad and observe its results.
Finally, the essence of advertising is investment, no one can guarantee that advertising must be effective. Therefore, investment needs to be cautious.
For a better reading experience, visit the original link to view.
---