Facebook Ad Optimization: How do I raise the magnitude?
Enjoy Out to Sea - Mobile Developer Shipping Service Platform
Advertising problems, in a word, either "too little", or "too high price", and this article mainly for "too little" this problem to expand.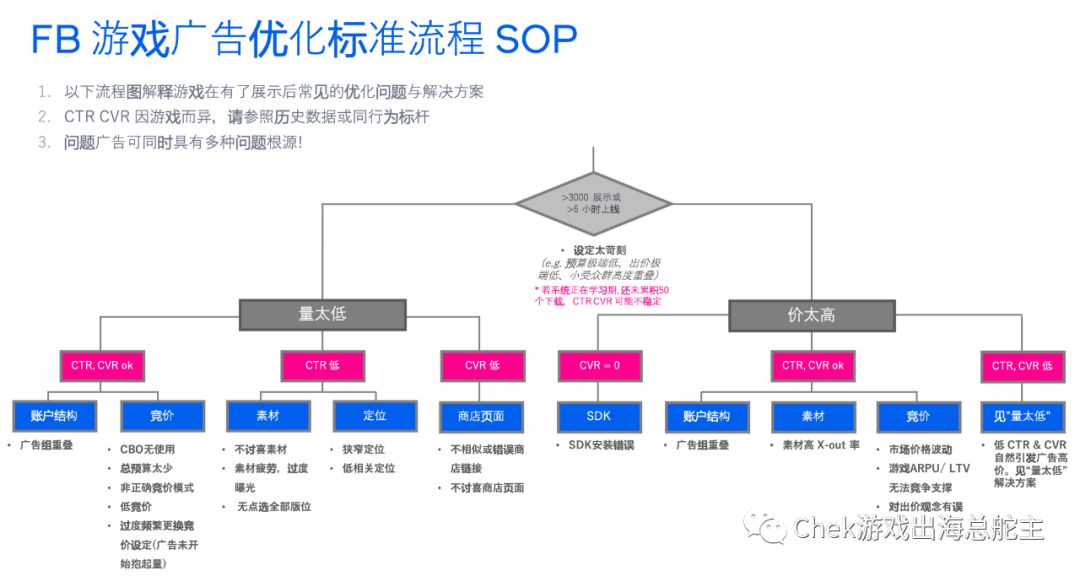 Scenario 1: Although CTR and CVR performance is GOOD, but the amount is too low
Optimization Scheme 1: Start with account structure and avoid duplication of ad groups
When audiences overlap, better-performing ad groups tend to "steal" the chance to show for overlapping audiences in another ad group, resulting in the ad group's performance always not getting better. In case of unaffordable delivery, first check your ad group, if there are two ad groups of audience overlap between 20-30%, you should consider merging or excluding.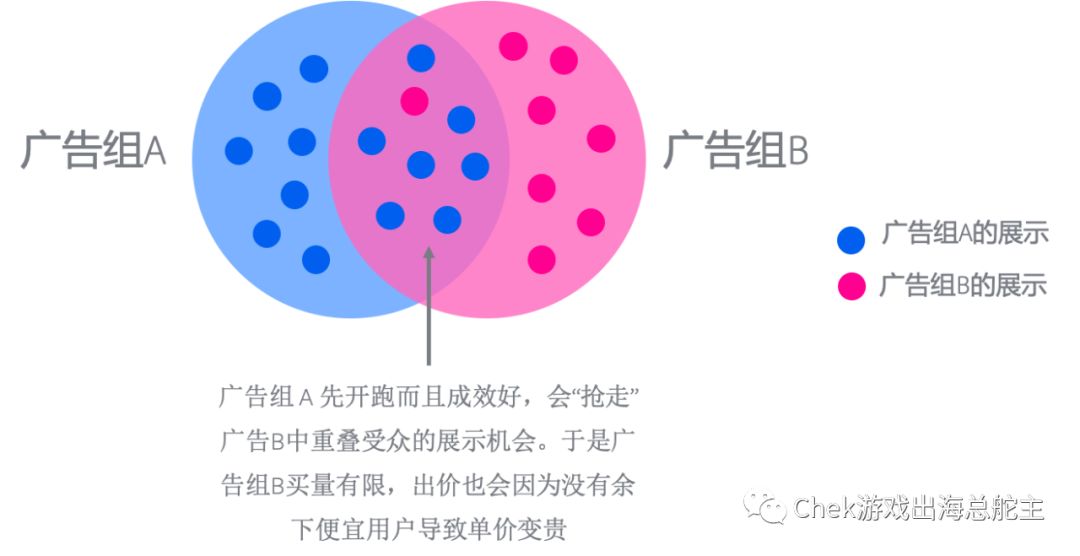 A good campaign audience setting should be done without overlap or omission. The simplified ad account structure below can be used as a case in point, not only to increase flexibility, but also to add information data to ad auctions to help the ad system move faster away from the learning stage and achieve better ad performance.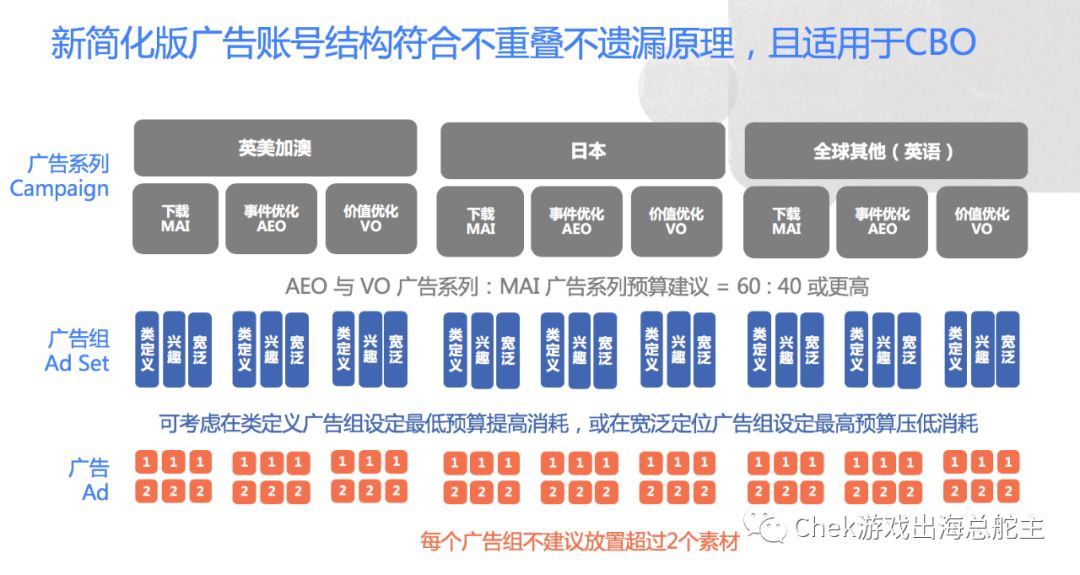 Optimization Scheme 2: Start with the auction, eliminate the problem according to the following steps, and optimize step by step
Have you used Campaign Budget Optimization (CBO)?
The ad group's delivery is not ideal, it may be because the system can not show its hands, intelligent allocation of budget, and Facebook's previous launch of CBO, is everyone's saviour. With the Use of CBO, Facebook continuously monitors the performance of individual ad groups and automatically allocates budgets to the best performing ad groups in real time, enabling the entire campaign to achieve the most conversions and maximize marketing effectiveness.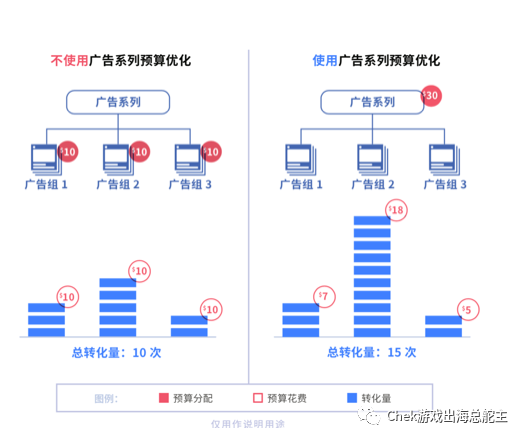 Is the total budget or bid too low, and is the bidding mode correct?
A total budget or low bid, or an incorrect bidding pattern, can prevent your ad from getting it running successfully. It is recommended that we use automatic bidding, do not set a bidding limit to get more downloads, with 50 conversions after adjusting the auction, so that it will do more with less. If you really have to bid manually, you can use a spot ware: Cost Cap (cost cap). This bidding strategy maximizes cost-effectiveness by controlling costs and enabling as much transformation as possible.
One diagram shows the advantages of Cost Cap.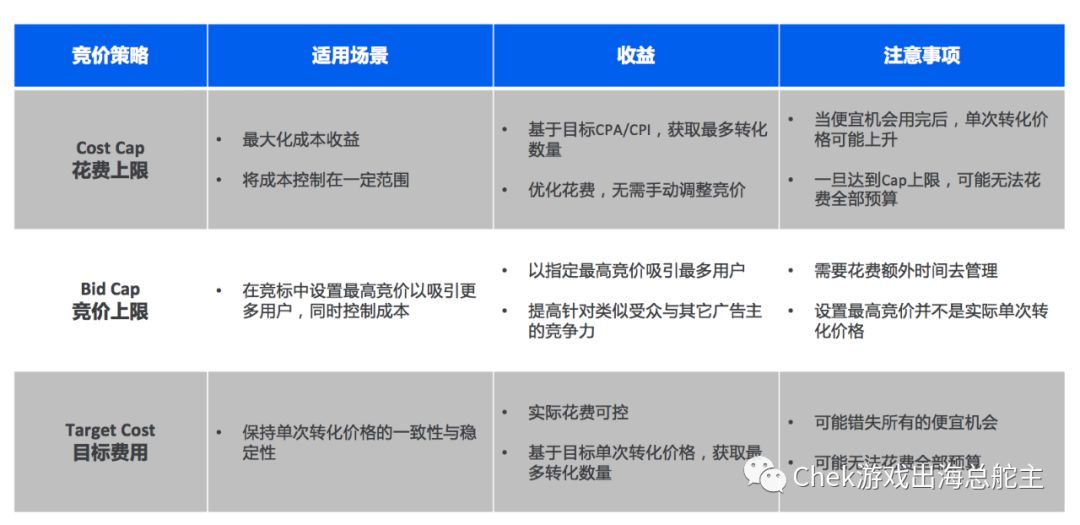 Are bid settings replaced too frequently?
Facebook's machine learning requires 50 conversions in seven days to get enough data to complete the learning phase and automatically optimize your ads after that. Changing your bid settings too often can cause ads to keep re-entering machine learning, and the ad's performance will naturally fluctuate.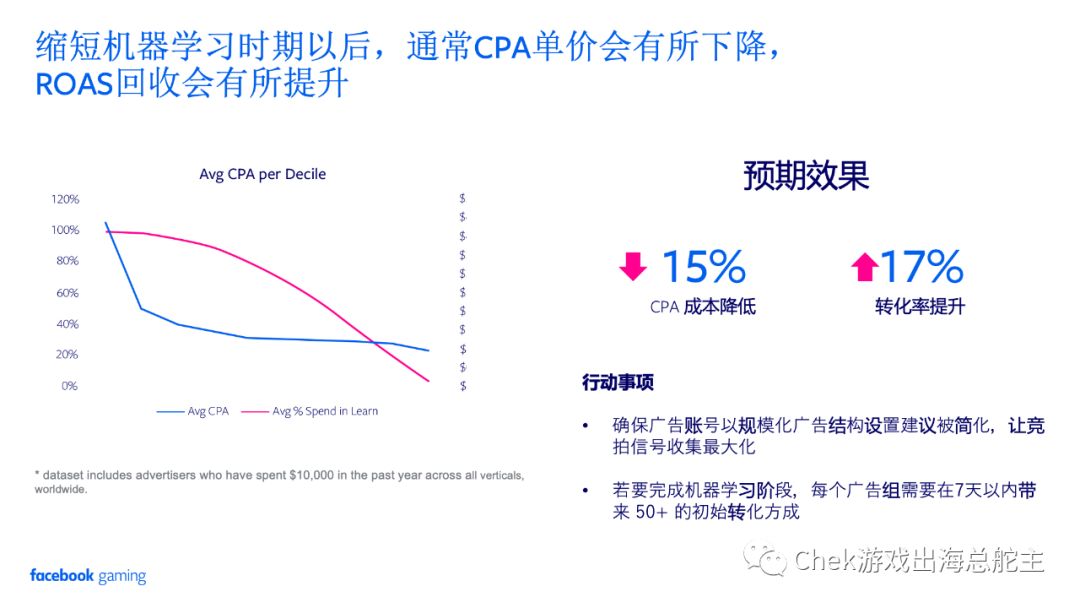 Scenario 2:Not only is the volume low, the CTR is also low.
Optimisation Scenario 1: Start with Creative
Optimize material and discard elements of distaste and irregularity
Is the so-called "cheng also material, defeat also material." Don't underestimate the damage caused by unflattering material. The material is boring, using still images instead of dynamic videos, material containing misleading or deceptive content, using low-interest pornographic and violent material... It's possible to make your ads run in a slump. Also, remember to read Facebook's ad delivery policies in detail to make sure your ads follow the policies.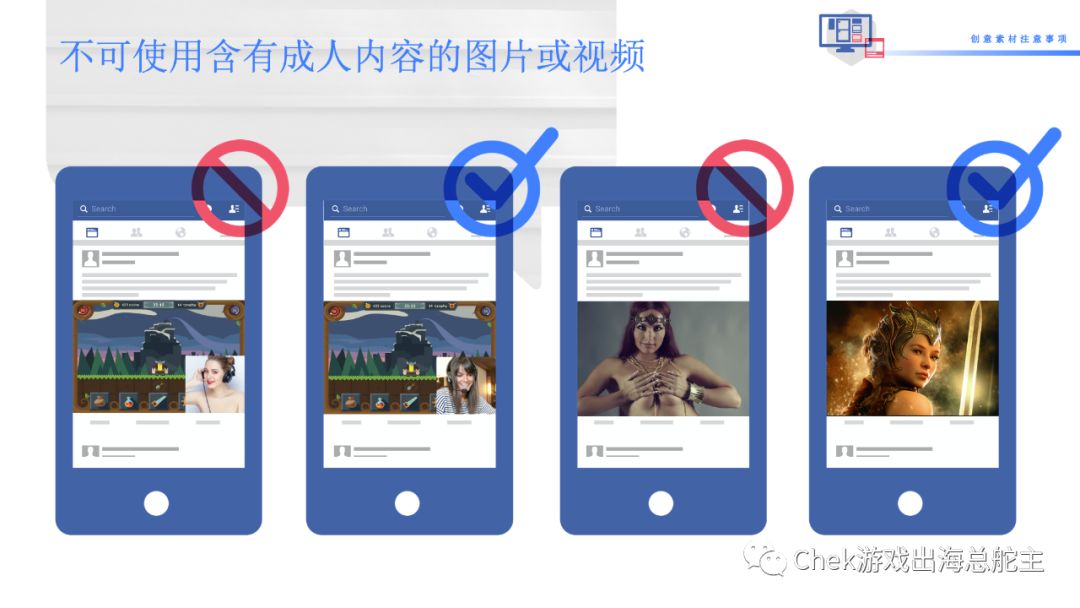 Avoid material fatigue and overexposure
Overexposure of the same footage can cause information fatigue and affect ad performance. Remember to go to the Ad Manager report to check the display frequency, avoid the display frequency is greater than 4 times.
Tap all places and use layout optimization
When is it better to spend a heart than to be single-minded? The answer is when you choose a Facebook ad. If you select only one placement, you are likely to face a situation where the price is too high or the delivery is not ideal. It's recommended to use Facebook placement optimization to tap all the placements so that you can reach your ad audience to the maximum extent possible and automatically optimize your best-performing placements.
Optimization Scheme 2: Start with Positioning
Expand your target ingress range and reach target players
Too narrow an audience can limit the flexibility of optimization, causing the system to fail or expand machine learning. It is recommended that you adopt a combination of three positioning schemes to cover all players efficiently and comprehensively.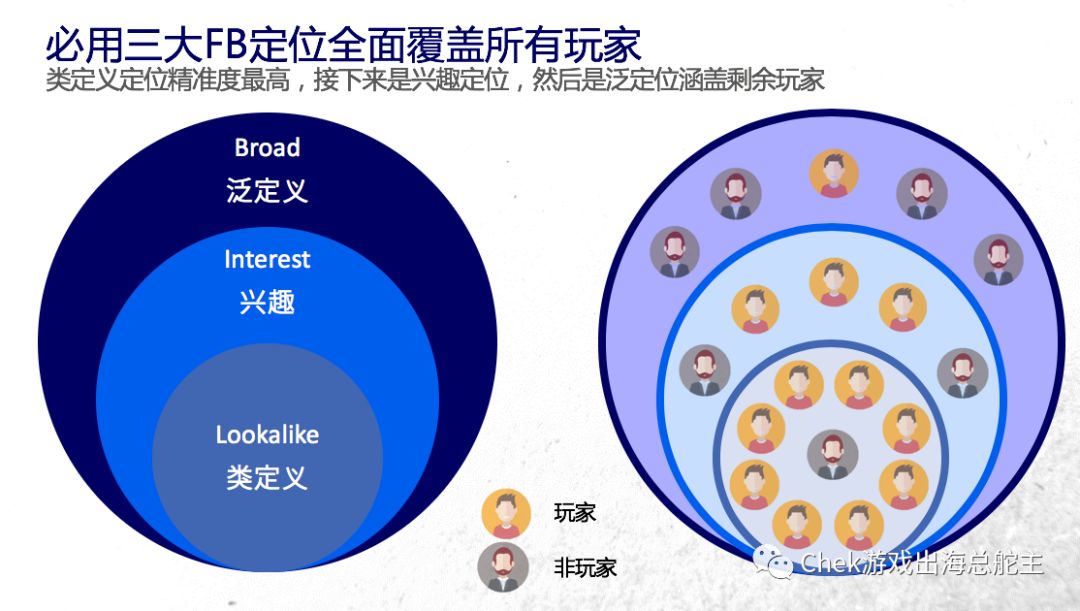 Increase positioning relevance and get quality players
Although the quantity is important, the quality can not be ignored. Common mistakes include no language targeting distinction, resulting in ads being shown to audiences who don't understand the language, or targeting low-interest audiences with too low ad relevance. A great helper for improving the relevance of targeting, in addition to similar audience targeting (LAL), but also value-oriented similar audience targeting (VBLAL), can efficiently access the highest contribution to game revenue of high-value players.
Scenario 3:The volume is too low and the CVR is very low.
Optimization Scenario 1: Check if your ads don't match the actual game
Ad content and actual games are different, often resulting in users clicking on ads, jump to the game download page will not take further action, so it is important to provide a realistic and accurate description.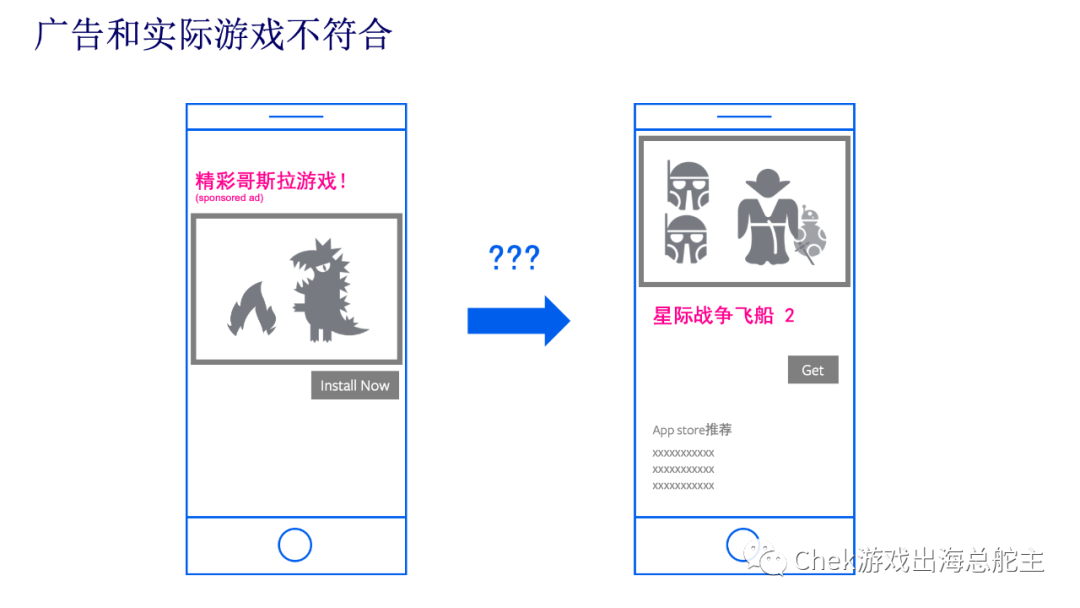 Optimize Scenario 2: Optimize game download pages/app stores to manage user ratings
The user evaluation and ratings of the download page often determine the first impression of the game and the willingness of potential users to download, and certainly deserve high attention. Remember to respond to low-scoring user comments in a timely manner and provide personalized responses, indicating that the company's concern for players and the improvement measures taken, is definitely a great bonus move.
Source: Chek Game Head of The Sea, Micro signal: masterchek
Enjoy Goes out to sea(enjoyglobal.net) mobile developer shipping service platform, for applications, games and other products to provide:
1.Tool services(Extreme speed out to sea SDK, one-click access to overseas Google Play, Huawei, Samsung and dozens of other platforms)
2.Information Services(Sea-going college, policy interpretation)
3. Growth Services(Professional advertising and growth strategy)
Sweep to join the out-of-sea community
Talk ingress, we're professional.
I know youLooking at it.Yo
---