Facebook Ad Performance Analysis

If you're running ads, you're sure to care if your ads help you achieve your business goals, whether your ad delivery strategy is effective, and whether your ads will give you a highRoi. Performance analysis is the best way to answer these questions, and through performance analysis, you can effectively measure your ads, but also help you optimize your ads, and today YinoLink Inno will introduce you to Facebook's performance analysis. This time it's about Facebook's ad management tools, ad performance analysis tools, and audience analytics.
Facebook Ad Management Tool
We can use the ad management tool to view the ad account's data in real time, so that we can keep abreast account's overall performance up to date. Here's a brief introduction to you.Facebook Ad Management ToolHow to use. You can also watch video learning directly (Click on the original for more courses)
First, we need to open our business management platform and clickAd Manager, select the ad account we want to view the data. And thenwill jump toAccount overviewInterfaceIn this interface, we can see the overall performance of this account over the selected time frame. You can see the following:

Number of campaigns runningand the results they bring.

Details of the audience reached by your ad deliverysuch as their gender, age, and the amount spent on each dimension, and the number of audiences they reach.

Amount spent on ads per time periodand the number of people covered.In this tree diagram can clearly see which period of user activity is higher during the ad serving period, in the process of late ad optimization, can be used as a reference.

See your covered countries。 Covering a larger area, the color is darker, and in a smaller area, the color is light blue. White areas, representing areas that have not yet been covered.

A few tips on using ad management tools
1.Make good use of the contrast function, compare the results of two specified time periods
At the bottom you can view the ad account's delivery data for a selected time range.We can also compare data for two time periods by clicking the comparison button. For example, choose the 30-day data from May 2totou to May 31, compared with the 30-day data for June.
2. Segment data by date to see how the data changes over a specified period of time
We can select a time period and clickBreakdown dataClickDate, you can view the data for each day during that time period. For example, I select the time range from June 1st to June 7th, and then select the date, and the system will present daily data for the day from June 1st to June 7th.

3. Use the custom bar to view the data selectively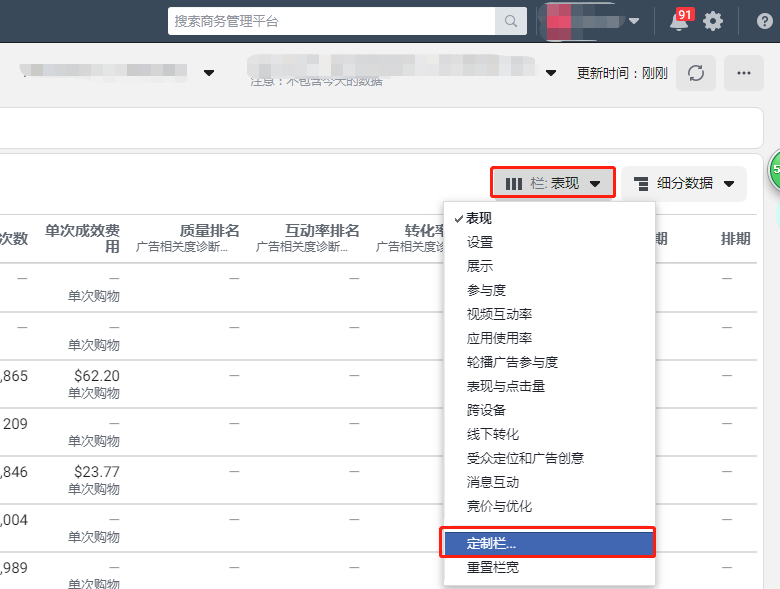 There is another option on the right side of the segmented data"Bar"click on the bar and select"Custom Bar", we can tick the dimensions we want to see among the many options under the customization bar.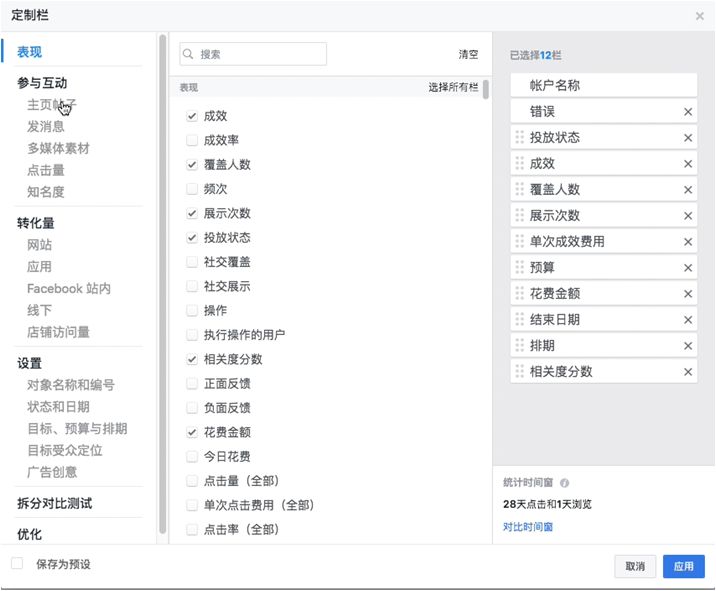 Some of the data dimensions commonly used by B2C customers are:
Coverage, impressions, thousand impressions, link click-through rate, link click-through rate, single link click-through charge, spending amount, add-on, purchase cost, initiated checkout number, initiated checkout cost, number of purchases, shopping cost, shopping conversion value. When you're done, click Save as a preset to name your set of dimensions for the next direct selection. Finally you need to clickApplication。
In addition, if you want to export data from your ad account for analysis or write a data report, checkTimeand select the dimension you want to see in the bar, and finally click"Report"SelectedExporting table datayou can export the data.
Ad performance analysis tools
Use performance analysis tools to see your ads work out and help us adjust our ad delivery strategy. BelowYinoLink InoTake you to see the ad effectiveness analysis tool, youYou can also watch video slearning directly(Click on the original for more courses)

First, we need to know that the Ad Effectiveness Analysis Tool needs toAd groupview in . We're going to log in first.Business Management PlatformClickAd Manager, select the ad account we want to view the data. Once the page is taken to the account overview screen, select theAd group"。

In"Bar"In, we need to check"Performance"and put the mouse in theDrop statusIn this column, a floating window will pop out, and an entrance to view the delivery performance analysis will appear, and a click can be made to jump the page.
Note: In the last 7 days (excluding today), this ad group has been given at least500After the presentation, the delivery effectiveness analysis can be displayed.
On the Performance Analysis Tool page, we can view three dimensions:Auction overlap、Audience saturation、Auction Intensity。
1. Auction overlap
When our ad account is running low, we can see our total auction overlap rate. In the figure, for example, the total auction overlap rate for the day of April 7 was 17.3%, while the highest number of ads had a 46.36 percent, and we could reduce our auction overlap rate by reducing the audience overlap rate.
2.Audience saturation

What do you mean audience saturation? When you continue to show ads to the same audience rather than to new ones, or when people no longer respond to your ads, it means that your audience is saturated.

Audience saturation may result in a decline in ad performance. In the figures, for example, if our target performance and first-time impressions drop significantly, such as a 15.4% drop in first-time impressions from April 6th to April 7th, we can consider showing new ads to our audience or replacing our audience. The first show on April 2nd was 95.99%, which means that most of our ads are first-time.

3. Auction Intensity

Bidding intensity allows you to understand where you are in the market and monitor whether the intensity of competition is rising, which reduces your chances of winning the show.
When the intensity of competition increases, it means that other advertisers are also trying to deliver ads to the same audience and are willing to pay more for it. Especially during the holidays, as more advertisers are trying to show ads to the same audience at the same time. When the intensity of the auction exceeds20%is a significant change. So we can adjust our ad budgets in a timely manner by looking at changes in the intensity of our bids.
The role of audience analysis:
Recognize trends and user preferences and habits in different markets 

Master ethnic characteristics that are interested in your product/business 

Targeted selection of regions and groups 

Develop corresponding marketing strategies, content and materials
Understanding the power of audience analytics, let's talk aboutHow audience analytics are used,YouYou can also watch video slearning directly(Click on the original for more courses)
First we need to log in.Business Management PlatformClickAd ManagerChooseAudience Analysisto the Audience Analytics page.
When we go to the Audience Analytics page, a pop-up window appears, and we need to select the audience you want to know, and we can chooseAll users of FacebookOr the person who connects with the Page.
Note:
1. If you want to select People who connect with your Page, you must be an admin on your Page, or have even higher-level permissions for your Page's ad executive.
2. The data you see in your Page performance analysis may differ from the data in your audience analysis. Because Page Performance Analytics measures the number of people who like your Facebook Page. But audience analysis is the number of people who have logged on to Facebook in the past month and have been in touch with your Page.

Suppose we choose"All users of Facebook", jumps to the page as shown. On the far left you can see that there are 6 dimensions to choose from. They are: Region, Gender and Age, Interest Tags, Relationship Networks, Home, and Premium Options.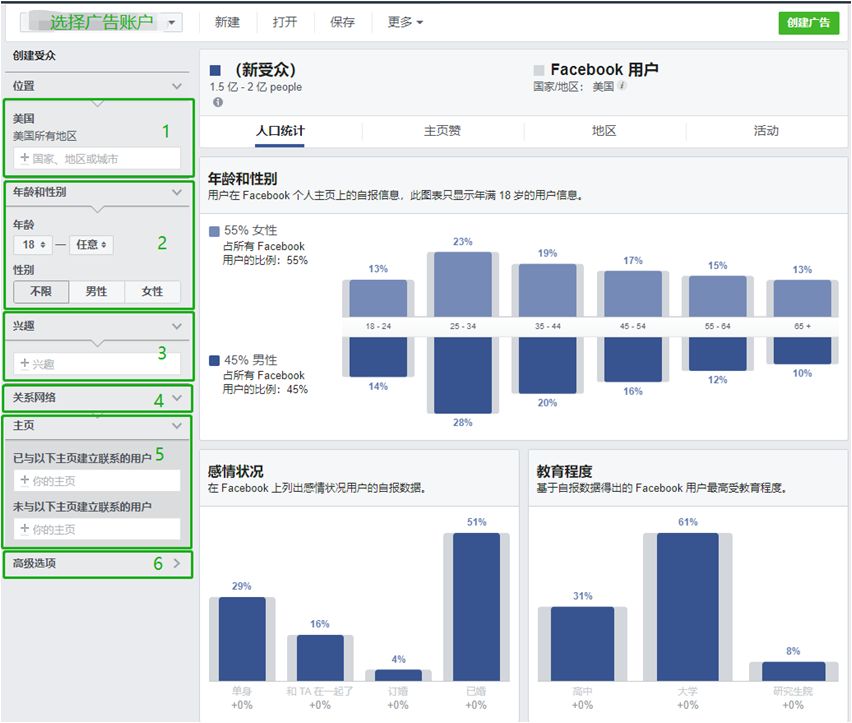 The data on the right is the system that is selected in the region by default, so it is a statistic for all Facebook users in the United States. We can see that the number of Facebook users in the United States is between 150 million and 200 million. Of this large number of users, 55 per cent are female, and the largest number are 25-34 years old, at 23 per cent of all female users. Among male users, the same 25-34-year-olds accounted for the largest proportion, reaching 28 per cent. In addition,We can also see the audience'sEmotional situationAndEducation。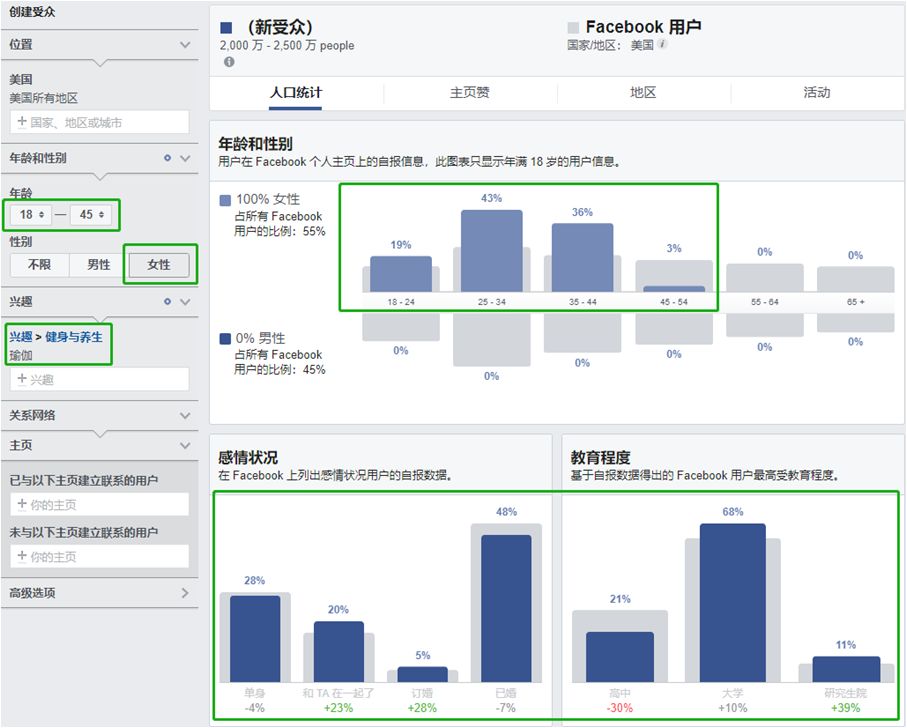 eg: Suppose we choose here in the regionUnited States, set here at the age18-45Age, SelectWomenUser, the interest tag isYoga。 The data for the right test changeaccordingtosomething. We can see that the corresponding audience size is20-25 million, with the largest audience25-34years old women, accounted for44%。
The gray section means that female users make up the percentage of total U.S. users when no other labels are selected. So we'll see a comparison of user scales. "Similarly, we can see the proportion and change of the number of users with "emotional status" and "education level".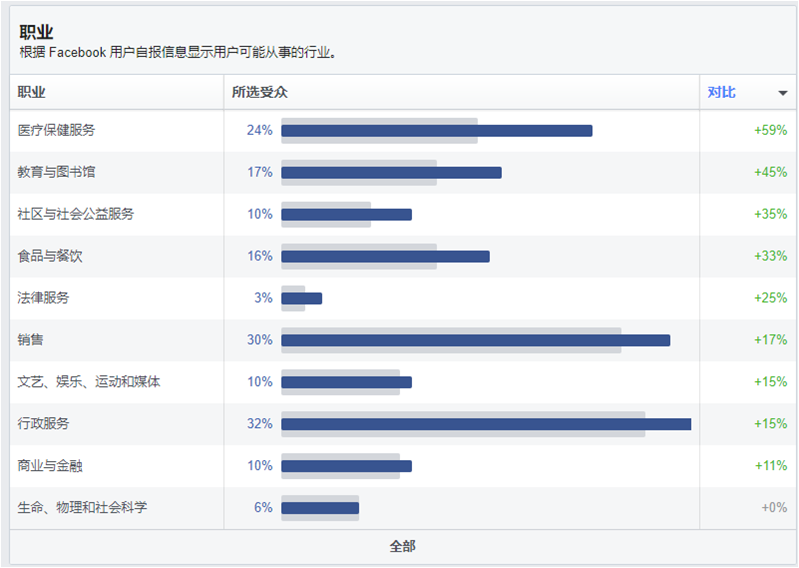 In addition, below the page, we can see a comparison of audience data for each occupation. Among 18-44 year olds, the largest percentage of American womenAdministrative Services, followed bySales and healthcare service personnel。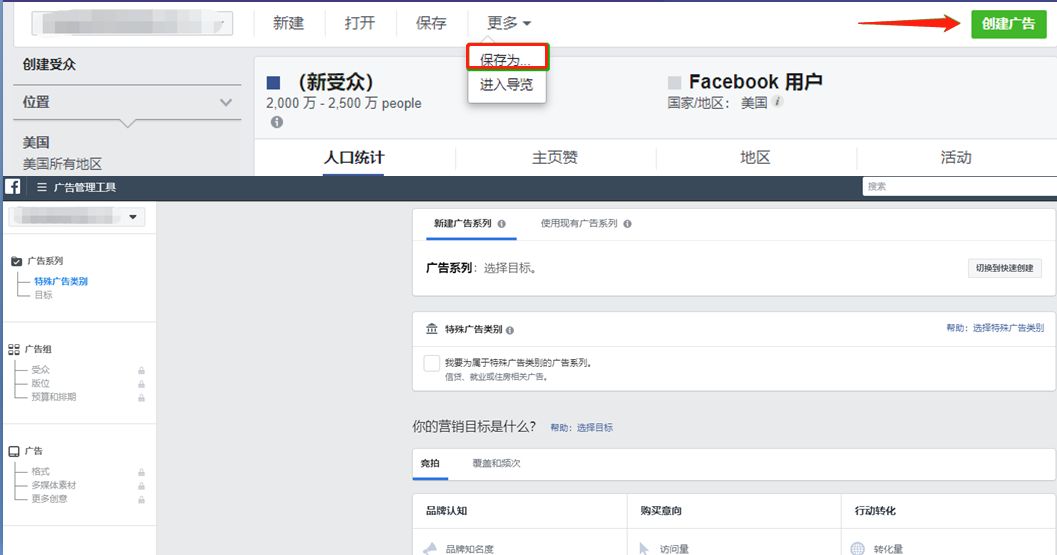 Once you've selected your audience, we can click on topSave。 This lets you use this group of audiences directly when you create your ads later. On the right side of the page, we can also click directlyCreate an ad, you'll jump to the interface that your ad creates.
AboveFacebook Results Analysiscontent,To learn more,Click on the originalOrScan QR code, registrationStand-alone Advanced Course - Deployment of Traffic】Course!Every FridayWill be updated regularly!
If you have any questions, you can leave a message with the public number, or contact WeChat: yinolink for feedback. We will answer your questions in a timely manner in the Public No.
Poke the original text, free to listen to the lecture!
---