Facebook Ad Production and Launch - 21-Day Shopify Cross-Border Foreign Trade Stand Explosion Single Growth Day 17
Follow Sydney Liuge and let's make a happy money together
Hello everyone, Sydney Liu ge's piglet swashes on the line. Thanks to the two friends who gave me a point of view yesterday, let me burn a lost fighting spirit, well, today is still the "21 day Shopify independent station growth" series, the first day of the content has been put into the group, today mainly said a Facebook ad, Hope to help you. Brothers who need Shopify's explosive template welcome the V of "Domestic Violence" Liu Dove.
Attention:
In the first few rounds of advertising, you are actually buying data from potential customers. Don't expect sales to be generated immediately. You have to be patient and give Facebook pixel time to "warm up" and get to know the right audience for the store. This may take at least a few weeks and a few hundred dollars or more.
Today, the main issues are:
1. Learn the basics of Facebook's advertising strategy
2. Install Facebook Pixels on the website
3. Use Facebook's split test feature to serve the first round of ads
Facebook Ads Policy Overview
It takes time and money to learn to become a Facebook Ads expert. (To be clear, it's the silver of the white flowers that burned out)
Amanda's little sister asked.
"How do you avoid wasting money on advertising?" "
Answer: To find a viable method, a lot of testing is required. However, there are a few things to keep in mind about your Facebook Ads strategy:
1. You need to run at least 10 ads over a 2-week period to warm up the Pixel.
2. You can run 2 to 3 ads at a time in each round, each with a budget of $5 to $10 per day. (As a result, a total of $10-30 per day.) )
3. The purpose of this initial approach is to "buy data" to understand the ideal customer and then use that data to adjust the next ad. May not lead to a large number of sales.
4. For each Round ad, change an element between each variation, such as ad copy, visual effects, or call-to-call (CTA). This is called an A/B test or split test. By changing only one element, we can know exactly what factors affect the performance of each ad - if you make all the changes, we won't know which elements are causing different results.
5. The first round of ads will target "View Content" conversion targets, followed by "Add to Cart" and finally "Purchase".
Install Facebook Pixels
Facebook defines pixels as "analytic tools" that help evaluate the effectiveness of ads by understanding the behavior of people who visit the site.
Think of pixels as a "smart" tool that can step up to understanding people who are more likely to buy and then show ads to people who match these characteristics.
Install, in the upper right corner of the Facebook menu, click the down arrow and go to Create Ads.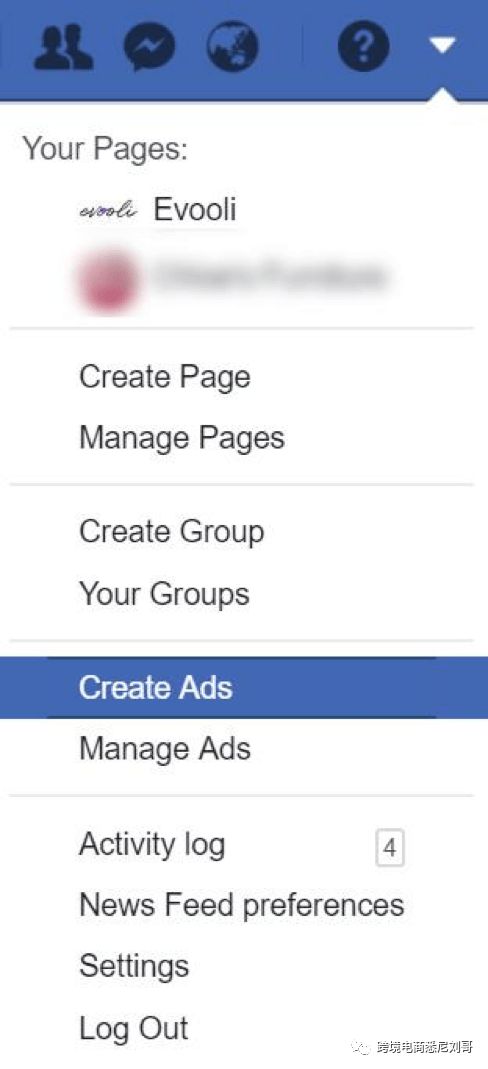 Click on 'Ads Manager' to select 'Pixels.'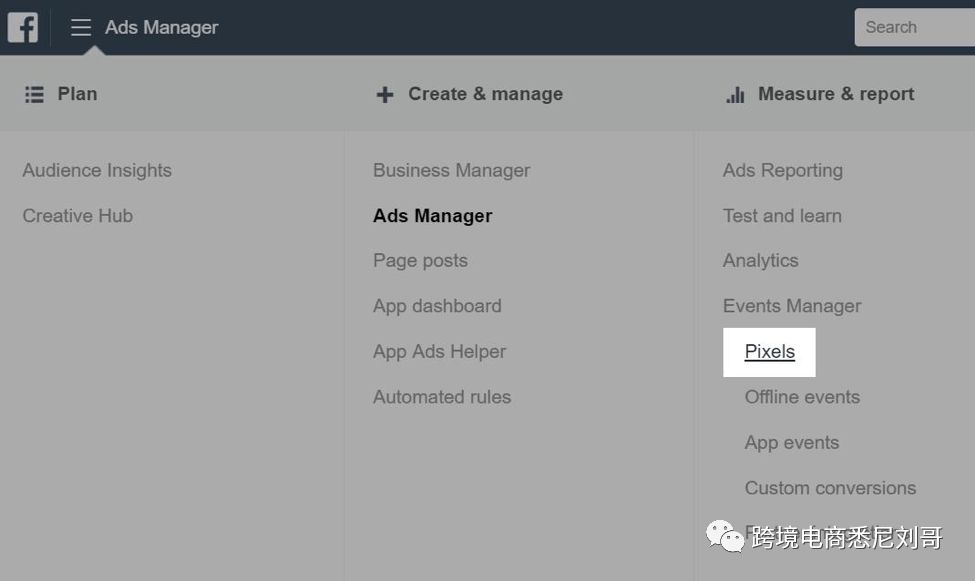 点击'Create a Pixel' .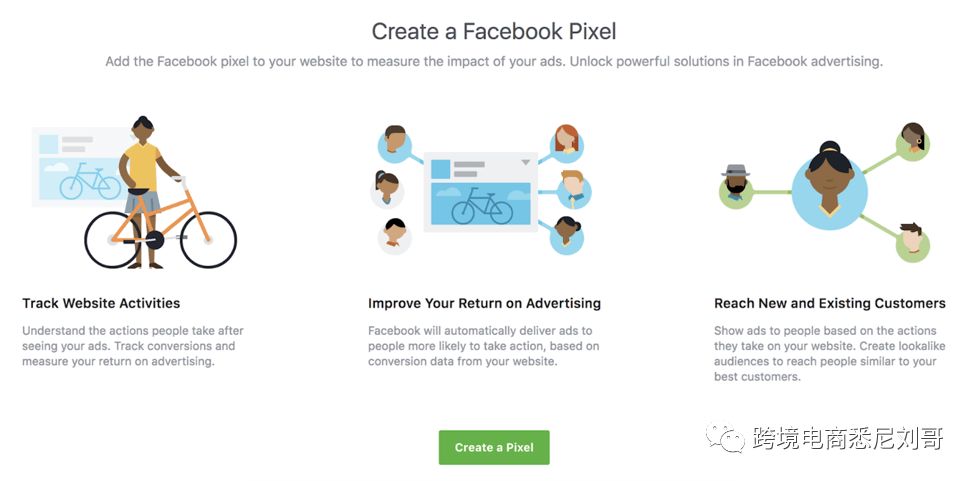 Name pixels. Click on 'Create.'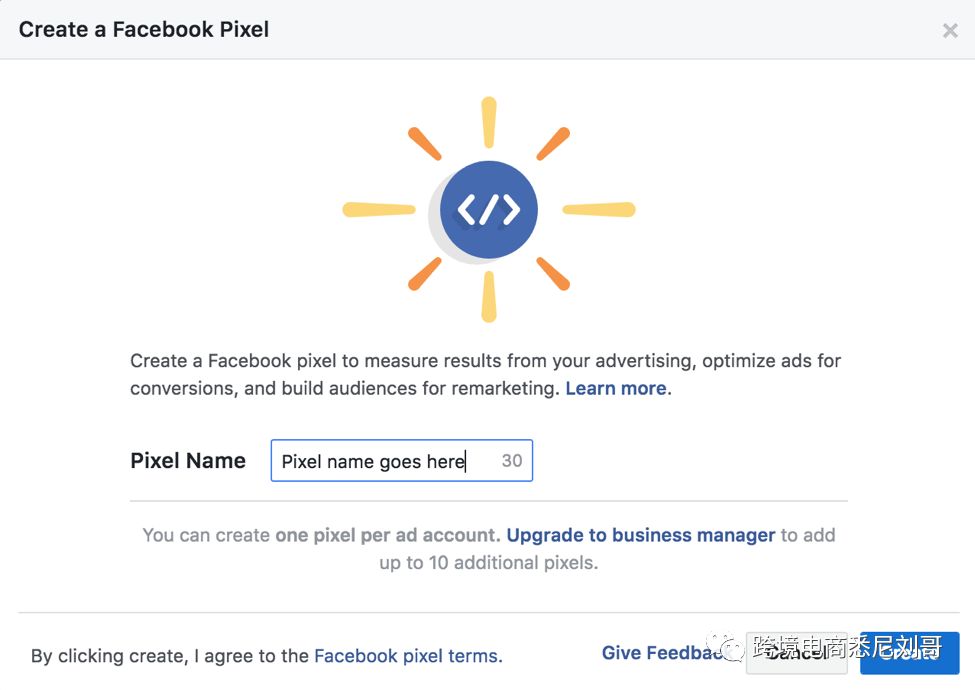 Next, if you want to log in to Shopify with your browser, select Set up Using Shopify.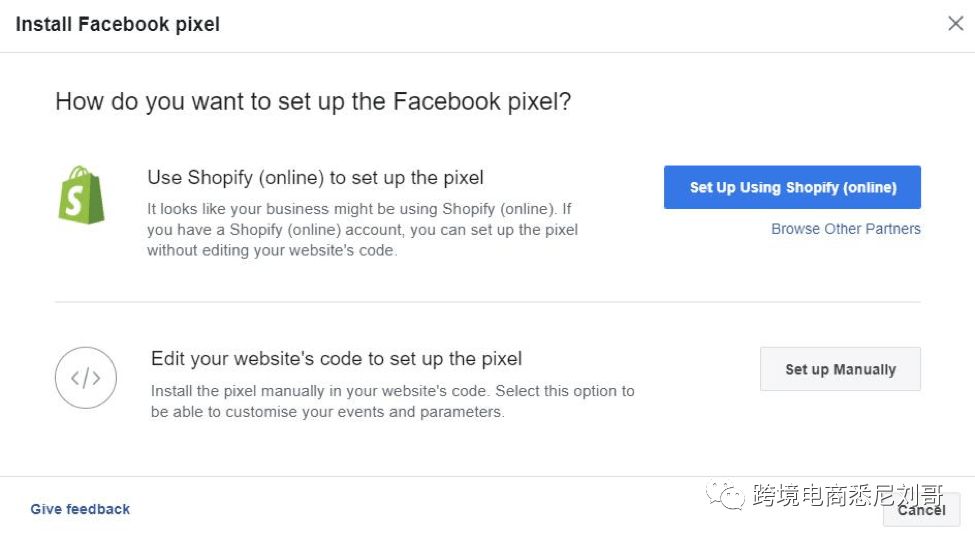 It will provide a pixel ID, which is a numeric code.
Copy the code.
Now, paste it into Shopify - just like we did with google Analytics. Don't turn off Facebook.
In another browser, go to Shopify dashboard. Go to Sales Channels" and "Preferences."
Below the Analytics section, you can see the Facebook Pixel. Paste into the code and tap Save at the bottom of the screen.

Now back to Facebook.
Ask for "send test traffic" to ensure that the pixels are working properly. Enter the store's URL, click "Send test trafic" and wait for the red dot "No activity yet" to change to "Active". This may take a few minutes.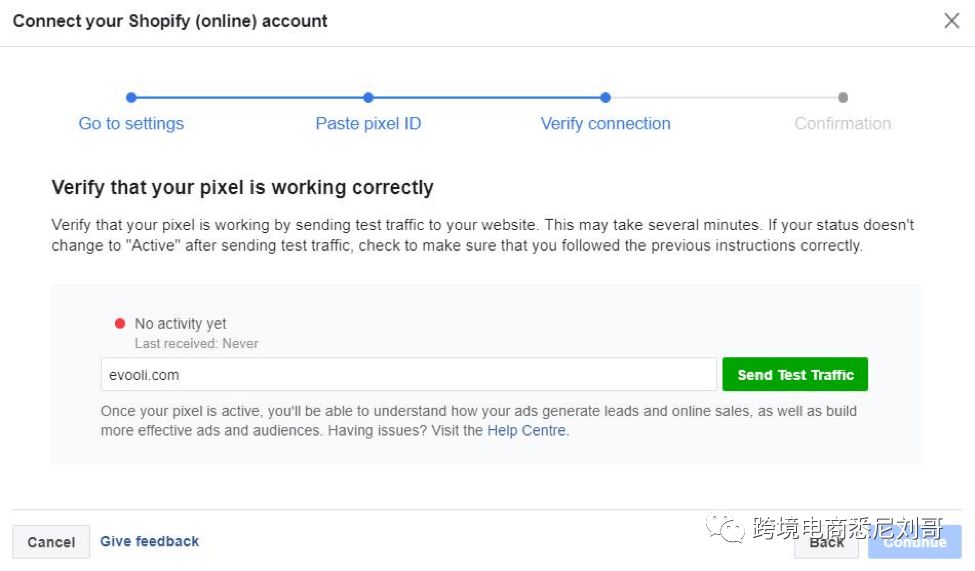 Tip: Disable all ad blockers because they block pixel activation. 
Once the red dot turns green and "Active" is displayed, click "Continue".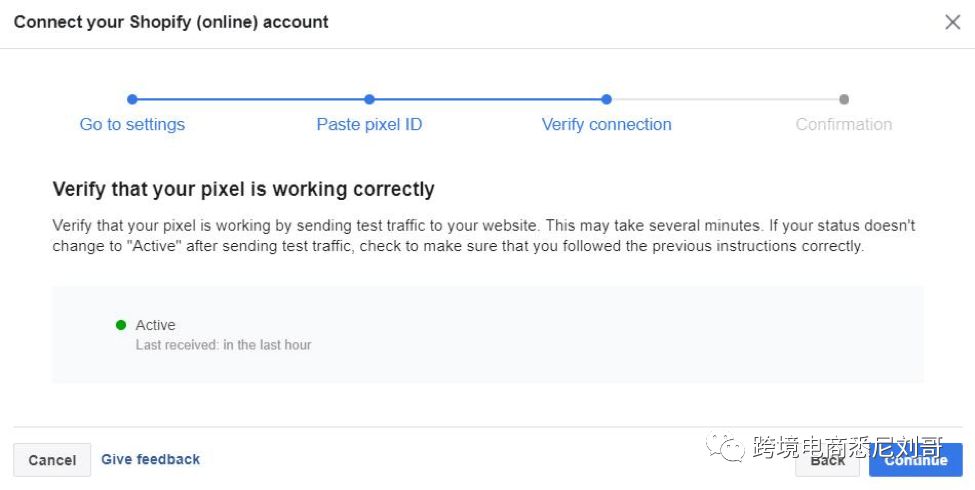 Now we're ready for the first ad.
How to design your first ad
As I mentioned, the first few ads are unlikely to work, even with the biggest Facebook ad experts.
However, there are some better general guidelines for advertising:
1. Use very good visual sia If your product doesn't have good photos or videos, please find free (or paid) photos. Believe me, it's worth a $12 investment.
2. Don't add too much text to your creatives. Facebook does not recommend this strategy, which is typically a poor response to a lot of text on visual sons.
3. Try different types of creatives - one photo, a "carousel" (allowing users to swipe between multiple photos) and videos are all valid.
4. Write a clear, compelling copy. Just a few words. Clearly communicate product value and use the customer language.
5. Focus on one product. The more specific the information you get, the easier it is to build value and create potential channels that attract them to click and eventually buy. Also, if you focus on more items or offers in a campaign, this confuses the results and disrupts the split test.
6. Each URL should be linked to a specific product page - not a favorite page, or a home page. Amanda was wrong to link to her blanket scarf collection page in the first ad, and she spent a few wrong sums of money because visitors didn't immediately see the item in her photo.
In Amanda's first round, she chose to focus all her ads on the "buy one, give one" of a blanket scarf. She ran three ads, used exactly the same text (also known as a "copy" ) and changed only three photos.
Here are three of her ads: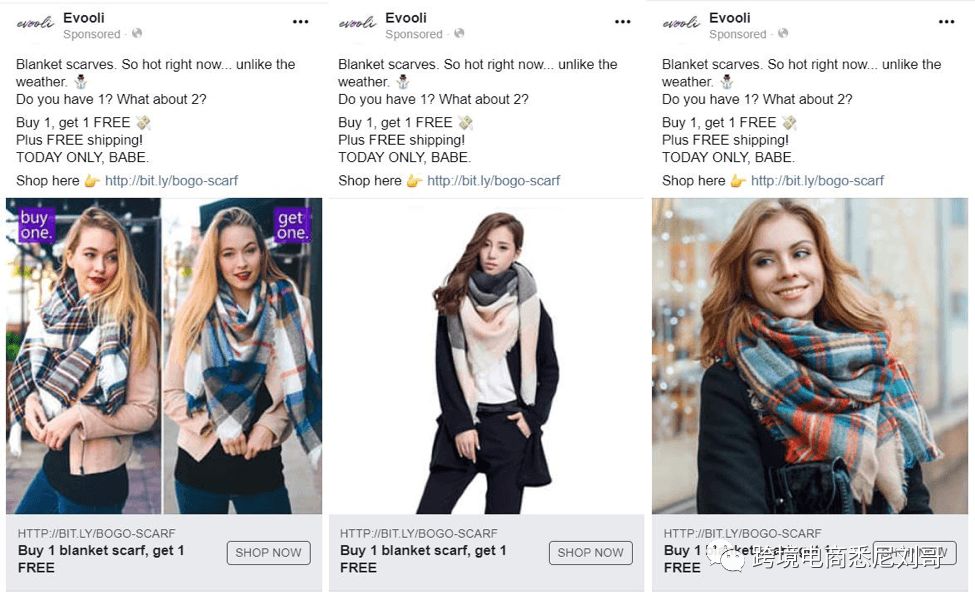 1. A "split screen", a woman wearing 2 different woolly scarves, which read "Buy one to send one." Her logic is that this clearly conveys the offer.
2. A nonchaling woman wears a fur scarf and looks very clean with a pure white background, with the image of "high fashion".
The beauty smiled warmly and wore a fur scarf that looked like a close-up photo of the street. Note that the flashing lights in the background match the holiday season.
Which ad do you think works best?
Amanda thought first place would win, but she was wrong. The winner is the overwhelming . . . . . . . . . . . . . . . . . . . . #1实际上表现最差!
That's why we do these tests. Can't follow assumptions - you have to be open, try new things, and let data guide decisions.
Build your first ad
As I mentioned earlier, the first Round ad should contain two or three ads at the same time, and there is only one difference between each element.
Let's take a look at Amanda's process of making the first round of 3 ads.
On Facebook, go back to the Manage Ads section.
Go to the menu at the top left and click Ad Manager.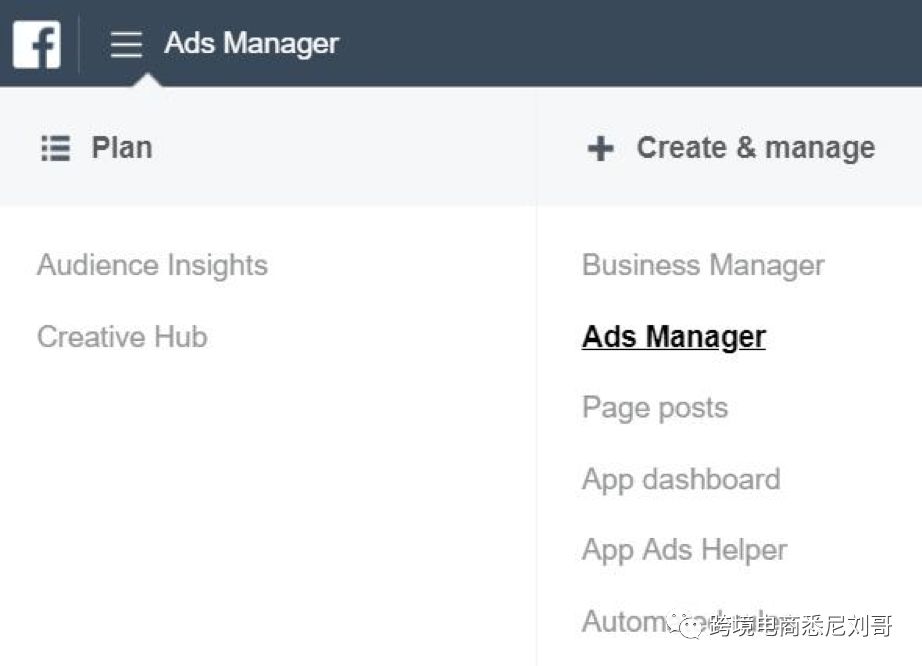 On "Campaigns," click "Create"

Click Select GuideD Creation to advertise.
In "Marjetubg objective", click on "Conversions"
Give your campaign a special name so that after a large number of campaigns, ad sets and ads, you can easily distinguish them for easy reference. Amanda named her "VC - BOGO Hair Scarf" because the campaign will be set to "View Content" and she plans to test only BOGO's quotes.
I suggest naming the name "View Content - "s-you want to focus on". "
"View Content" means that Facebook will try to display ads to the type of person most likely to click on a link to visit the site (view the site's content). This is because of their past interactions with other Facebook ads.
Once you have some important data here, you should relocate your content customers to view them. This time, you can use the Add to Cart conversion to target the people most likely to add products to the site's shopping cart.
You should then target the Purchase conversion.
Next, click on the "Create Split Test" option, and then click "continue".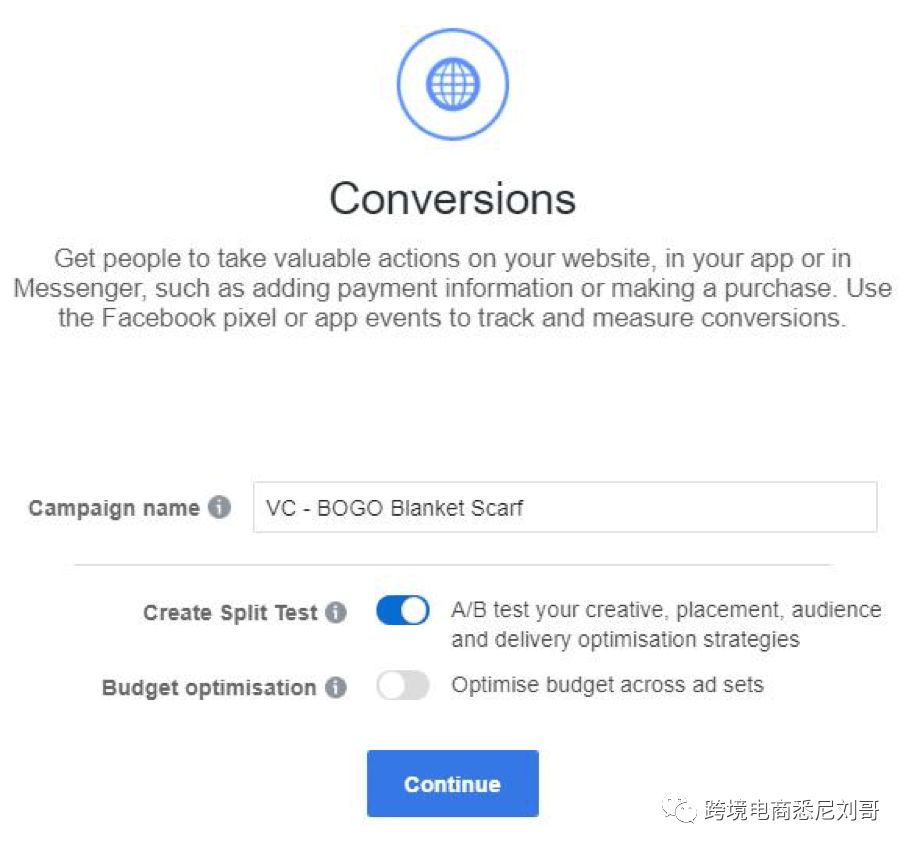 On the next page, go to Website, and click View Content from the drop-down menu.
(Don't worry about "events received" in the screenshot, Amanda has had some ad campaigns before.) Your ad won't show. )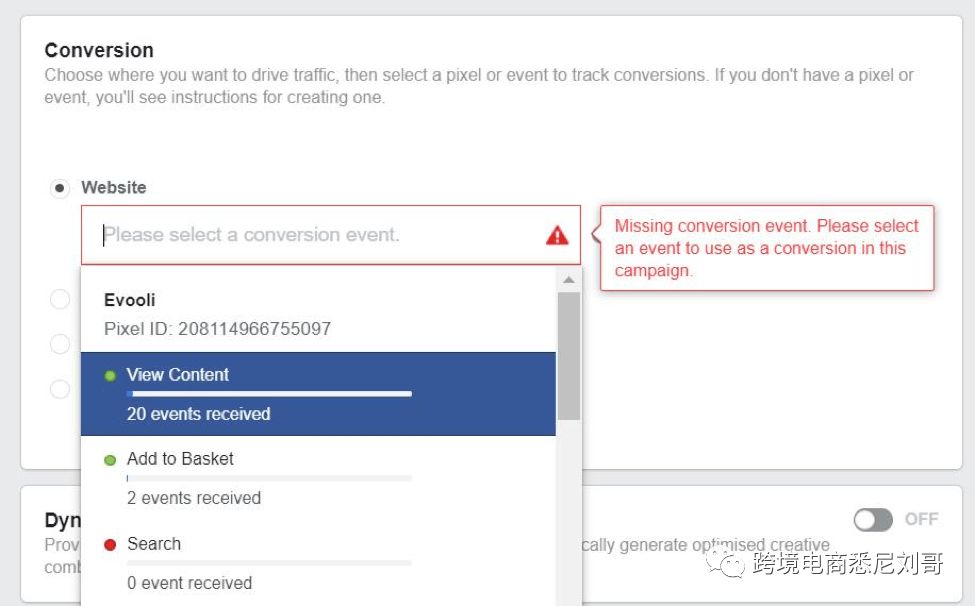 Then, in the "Variable" section, select Creative from the drop-down list.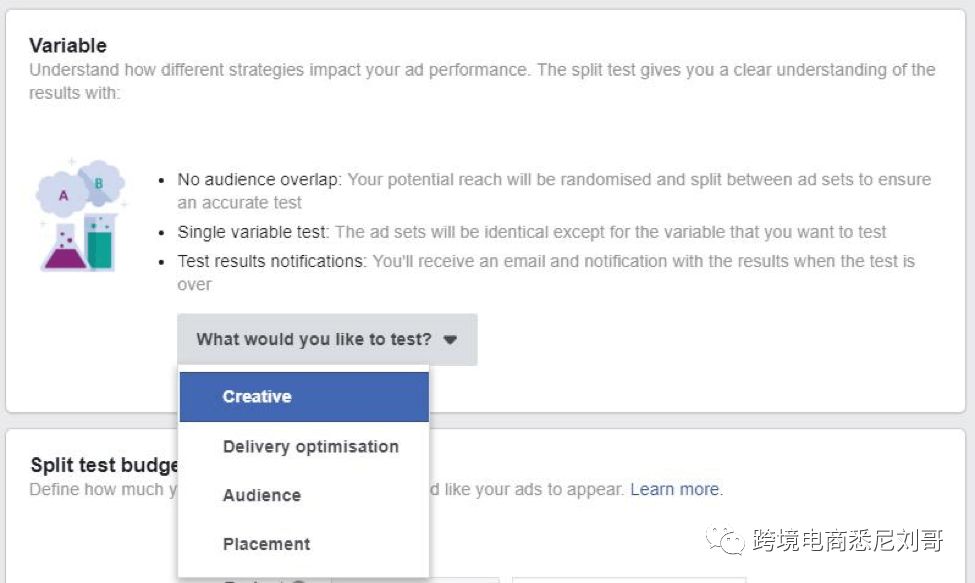 Next is audience targeting.
Choose:
1. Where you want to locate - If you're not sure, select more than one
2. Age - Keep a wide range so the data can tell you (for example, Amanda predicts that her main audience is 18-35 years old, but she expands to 45)
3. Gender - If not sure, please keep "all"
Notice on the right, where the location shows the size of the audience for each new audience you add. Ideally, your first ad should be between 200,000 and 500,000. Therefore, continue to increase interest until this number is reached.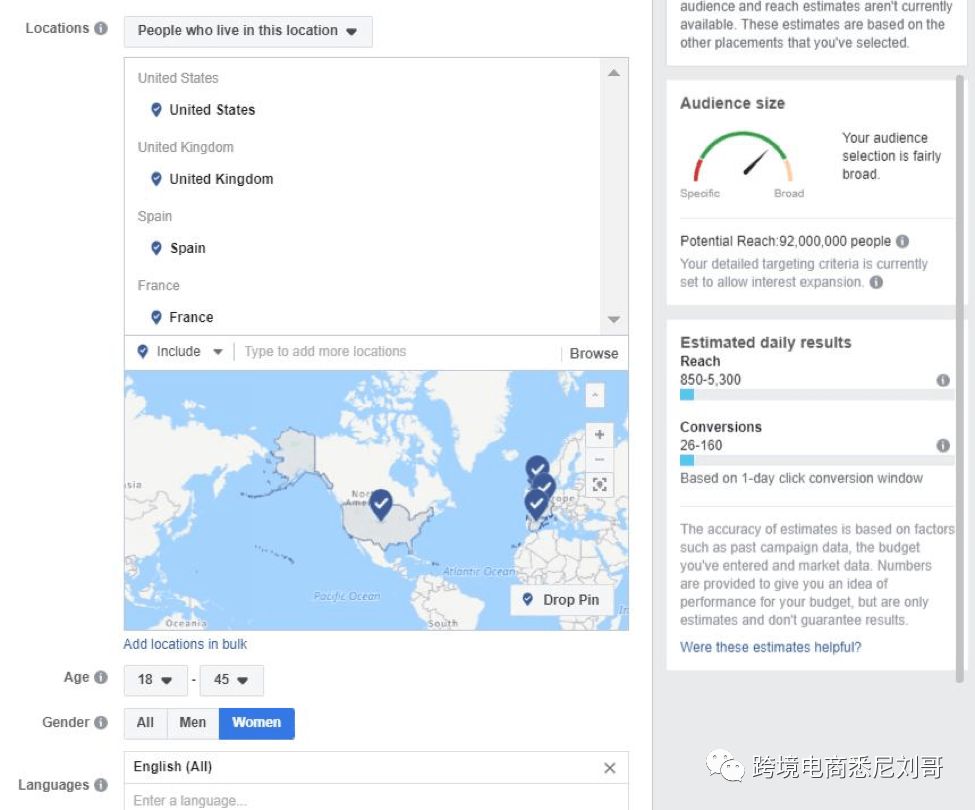 Next, we'll use the research we did yesterday to reach an audience.
Enter about 10-20 of the interests of yesterday's query and consider all that you've seen so far in your research on niche and products. Guess what it's good to add some extra and get Facebook to do.
Under "Placements," select Edit Placements, and uncheck all boxes except Feeds on Facebook and Instagram.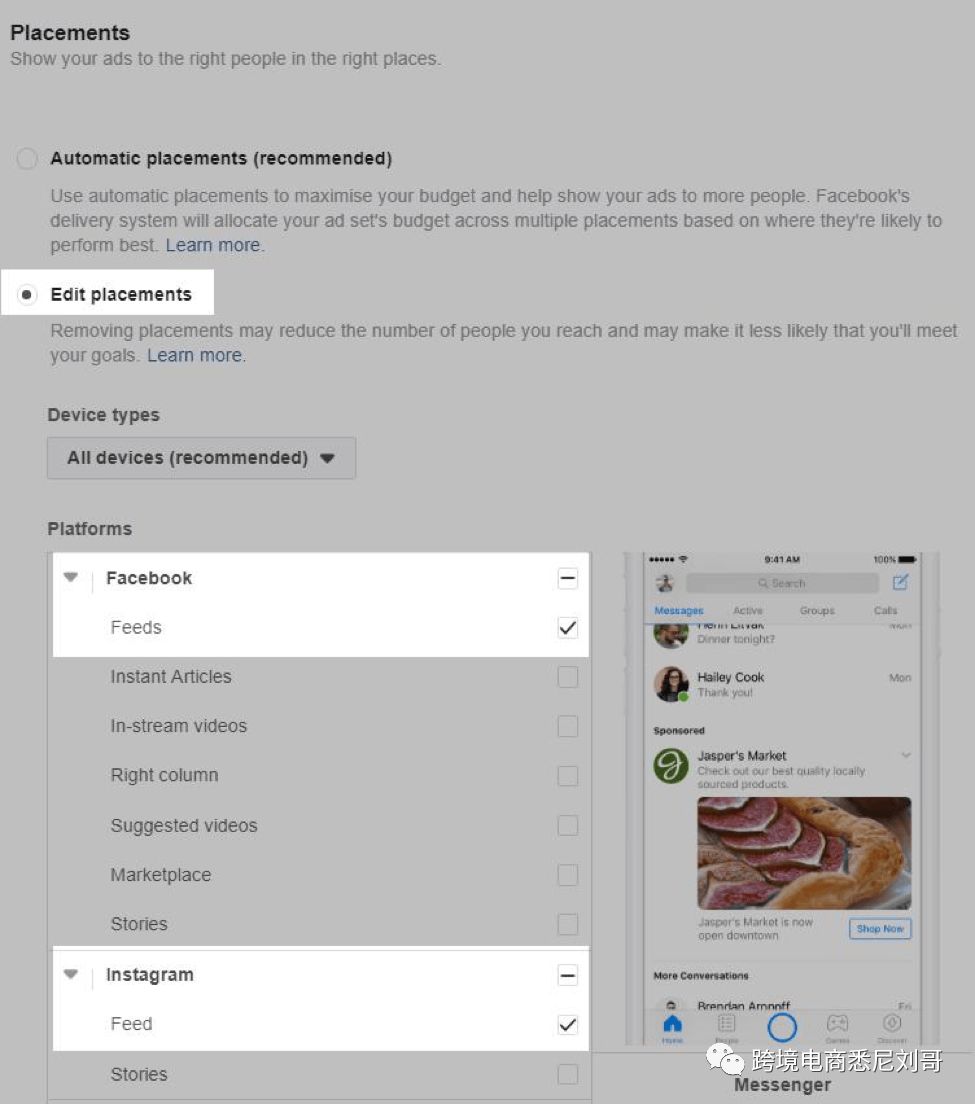 In the "Delivery optimization" section, select:
Optimization: Conversions

Conversion window: 7 days after click

Bid strategy: Minimum fee, and then set the bid limit to $5 per day
Then select the total budget (basically total expense) that you spend each day or throughout your campaign lifecycle.
Amanda chose to spend $21 a day, on an equal basis. So, $7 for every 3 ads. (Facebook advises you to spend more money... But if there's no money, that's fine. )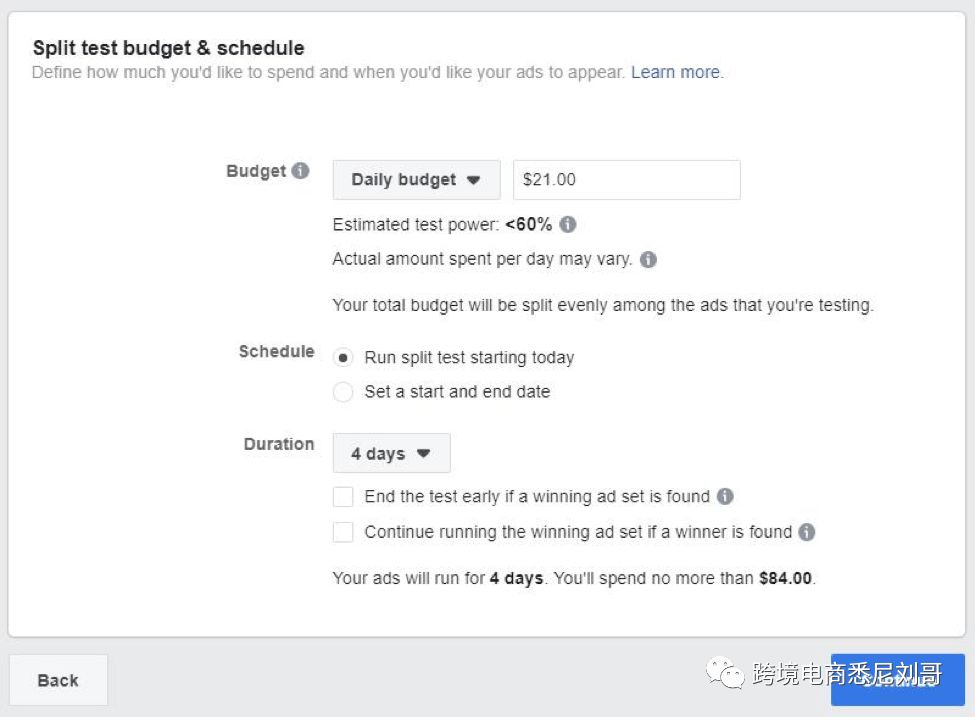 Click Continue.
On the next page, you can start designing your ads.
Amanda called her "Advertising A - The Woman in the City" because she knew what that meant.
Select the ad format. This is a picture.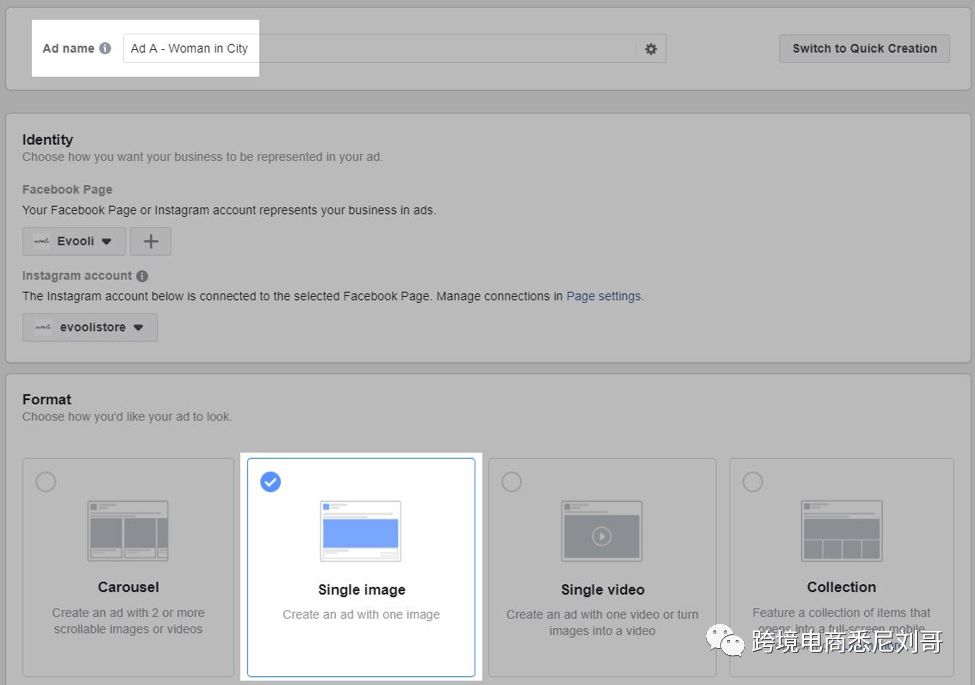 Then upload the first picture.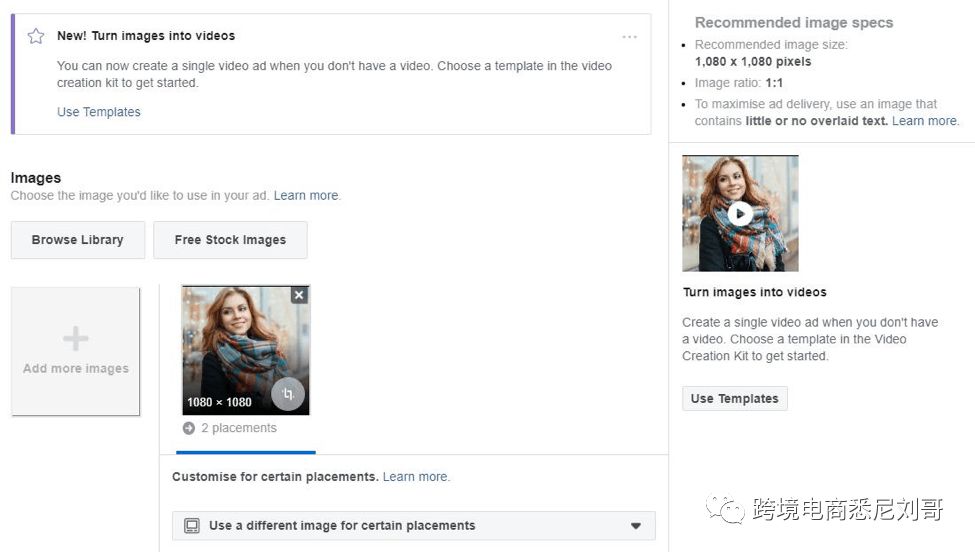 Fill in the details of the ad in the next section. Note that this is a live preview, so you can see what it looks like after each change. You can also see how it appears in all placements. So in this case, you can see how others see it on mobile devices, desktops and Instagram.
Add to:
Text: The main text of the post. You'll link the button to the URL on the website, but you should also paste a short version of the same link into the body. You can use bit.ly for this purpose.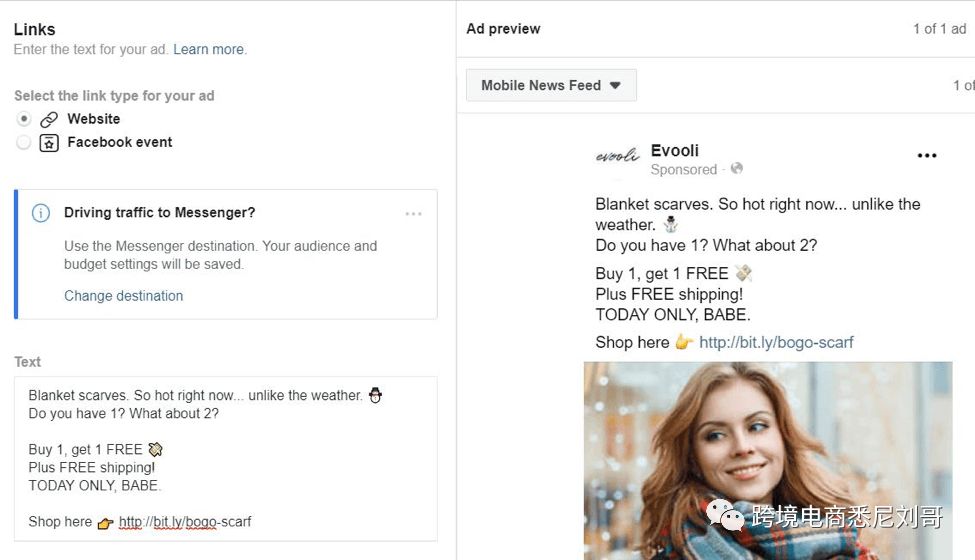 Then add:
Website URL: To point to the page -landing page should directly reflect the quote, otherwise the ad results will not be good.
Title: They'll see the message next to the call-up under the photo
Call-to-call: Choose what you can click on a button
News subscription link description: Other text - displayed only on desktops, not on mobile devices.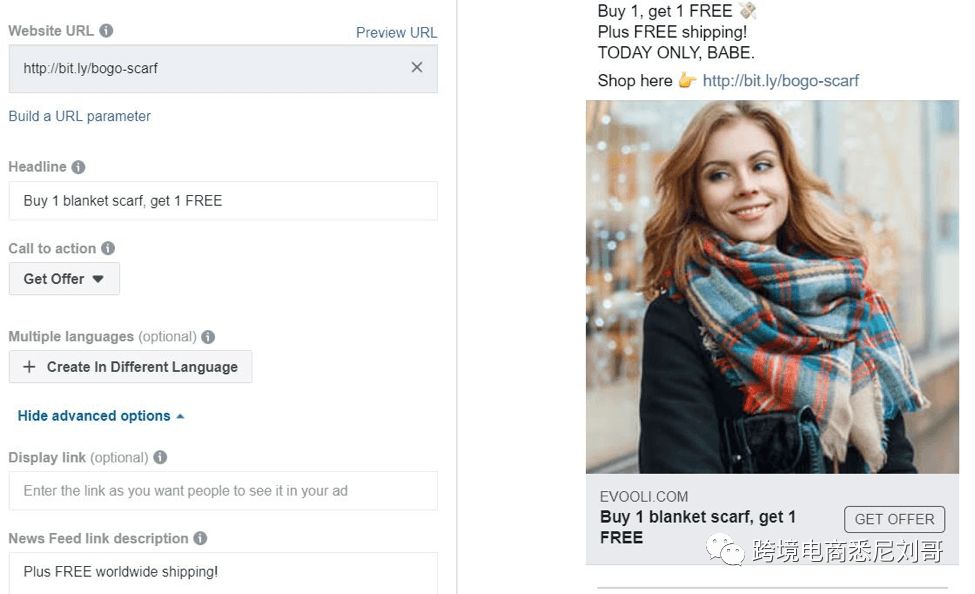 Then click "Continue to use Ad B" at the bottom. Fill in the second name and scroll down again.
You can see that Facebook copied the settings in Aad, so you only need to change one element to test.
When you're done, scroll to the bottom, and if you want to do 3, click Test Another Ad, and if you've completed 2 times, click Confirm.

It is recommended to keep these for at least 3 days. Facebook may take a few days to stabilize, so the results of the previous few days could be misleading.
We will review it again on the 21st day and discuss the options for the next step after some results have been obtained.
More information about Facebook Ads will be explained in more detail in the future in the Sydney-based Liugo course.
That's the 17th day of advertising.
Please clickin the look at the look at the look at the look at the lookConvenientlyForwardLet's go, thank you!
"Looking at it."Forever 18 years old
---