Facebook Ad Targets
Facebook Ad Targets
Although Facebook AdsIt's very diverse, but they're only going to work when you're focused on what you want to achieve. So Facebook has designed a variety of advertising goals to clearly define the marketing goals of the entire campaign and even a single ad. Advertising objectives are specific and can be divided into the following broad types: brand awareness, engagement, and action transformation.
01.Target Classification
Categories
Facebook's ad goals fall into the following categories:
Brand awareness: Although your business is diverse, but the popularity can open up the market, and the first thing to start awareness to attract the attention of the audience. Raise awareness with these Facebook ad goals.
Engage: People know your brand, but they're not customers yet, so engage them to understand, focus, and explore the goods and services you offer. Increase engagement with Facebook's advertising goals.
Transforming your business with a lot of followers, and then you need to tap into value from them. Attract users to buy, register, etc. These Facebook ad goals help you easily get a conversion.
02.Brand awareness
Brand cognition
Putting brand awareness ads on Facebook and Instagram can help you market to more people who are likely to be interested in and impressed with your ads. A large number of users go every day Watch videos and explore new things on Facebook and Instagram. With these two platforms, you can easily interact with these users and gain brand awareness.
1. Brand awareness: in people to explore new things on the platform to promote business.
(1) Get your audience's attention with great ads: from Video Ads to Carousel Ads to Full Screen Ads, Facebook and Instagram brand awareness ads include a variety of compelling ad formats.
(2) Expand video ad coverage: Facebook's single-day video viewing time has exceeded 100 million hours.
(3) The goal is to increase recognition, not clicks: our ads can help you increase your reach and ad recall, both of which are the best indicators of brand awareness ad success.
2. Coverage: To enhance the local market visibility of the business.
Reach people ads allow you to:
Connect with users around multiple business locations
Avoid advertising costs for people who don't live in the target area
Find interested customers based on language or network
Find customers based on demographic data, interests, or behaviors
More precise control over your budget and schedule
Get creative with tools such as Canvas
Push users to take specific action with the Call-to-Action button
3. Video views: Video Ads for highly active Facebook users.
(1) Design time to consider the silent playback environment: display video subtitles, logos and merchandise to help convey information in a silent environment.
(2) Use video to truly present a business image: use color, themes, and images with business characteristics at the beginning of the video.
(3) Quickly capture your audience's attention: It's important to quickly connect with your audience and attract their attention.
03. Participate in the interaction
Interaction
The next step in gaining popularity is to turn users who are interested in your business into customers. Attracting potential customers to sign up for more information, or spending more time on your app or website, can spur them to buy or take other actions. Knowing who you're interested in buying helps you connect with them again later and get them to complete a deal.
1. App installs: Mobile apps play an important role in business promotion. Facebook App Install Ads helps businesses connect with people who are more likely to install apps, increasing the actual number of users of apps.
It also allows ads to run on Facebook, Instagram, and Audience Network at the same time. Ads can be linked directly to the App Store, Google Play, and Kindle Fire App Store, making it easy for people to download mobile apps right away.
2. Access ads: easy for users to understand your goods and services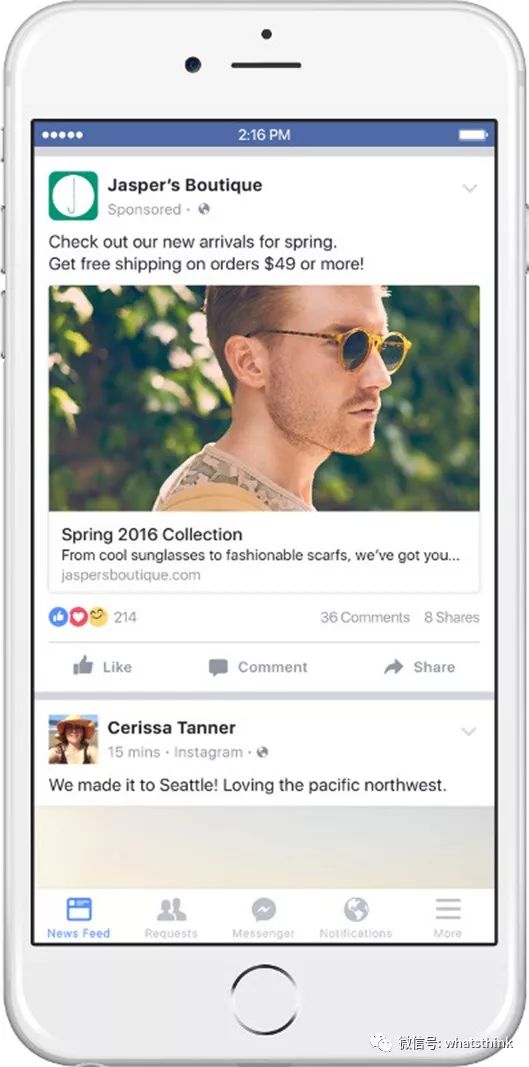 (1) Website click-through ad: can help you attract users to interact with your site. You can direct your audience to specific product pages to increase sales, or you can link them to the home page of your site to view your brand stories and business information.
(2) App usage ads: Attract users who have already installed the app to use the app again and take action. With app usage ads, you can direct people to specific locations in your app, such as product pages, journey searches, or the game start screen.
3. Potential User Development: Although many users want to receive a business reply, using a mobile device to fill out a form requesting details can be a bit laborious. Facebook Lead ads simplify the lead development process. Users tap the ad and pop up the form, which has pre-filled them on Facebook The contact information shared will be sent directly to the merchant when the form is completed. This allows users to get the information they need, and merchants can find high-quality prospects.
4. Participate in the interaction: Users will usually take small actions to indicate their intention to buy before converting, such as posting a mood to a post, responding to an activity, or claiming a offer. You might want to engage them with Facebook's engagement goals to engage them in these actions.
(1) Home Post: Facebook Interactive ads on your Page can help you share business information with your users. You can use such ads to promote Page posts to entice people to take action. With performance analysis such as ad likes, shares, or comments, page posts interactive ads can also help you understand what your audience likes and the types of content you're liked to create more of their favorite posts.
(2) Campaign Response: Create an event directly on your Page and then use your Facebook campaign to respond to ads to promote your campaign to ensure it's a success. You can select the audience you think might participate in the event based on parameters such as age, gender, interest, or location. When people join your event, the information is added to their Facebook event calendar.
(3) Offer: If you want to boost store or online sales, discounts or promotions are a good practice that can help you attract attention and get them to take action. With Facebook Offers, you can create and launch time-limited discounts and promotions for your target audience to get them to buy products.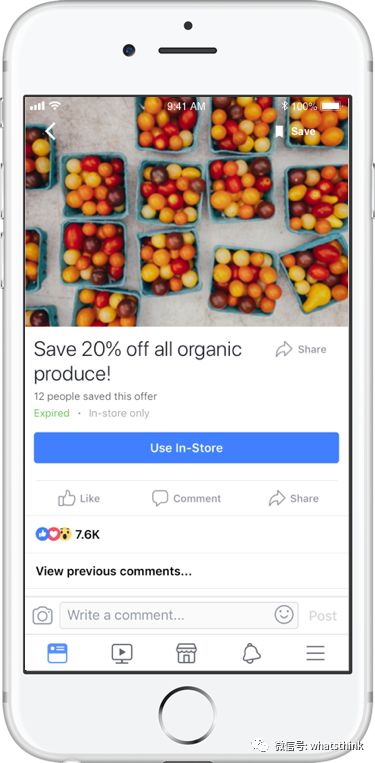 5. Video views: Facebook's single-day video viewing time has exceeded 100 million hours. Get your audience's impression of your business with a short Video Ads that captures and interests your audience, or more complex marketing messages such as longer, unskipable video interstitial ads.
6. Message Interaction: After using the message interaction target to serve the ad, the system will optimize the ad serving for the number of responses, improve the possibility of user interaction with the merchant, and then attract the intended users to take practical action. This goal currently supports two types of ads.
(1) Messenger direct ads: These ads are now shown to people who are more likely to respond to the business, and Messenger will be turned on when the customer clicks on the ad conversation, merchants can take the opportunity to translate the customer's intentions into actual transactions. With message engagement targets, Messenger direct ads boost Messenger more efficiently traffic, thereby increasing the marketing value of such ads.
(2) Sponsorship Message: Through the message interaction target, merchants can use the sponsorship message to re-open the existing dialogue, easily promote the large-scale growth of the volume of dialogue.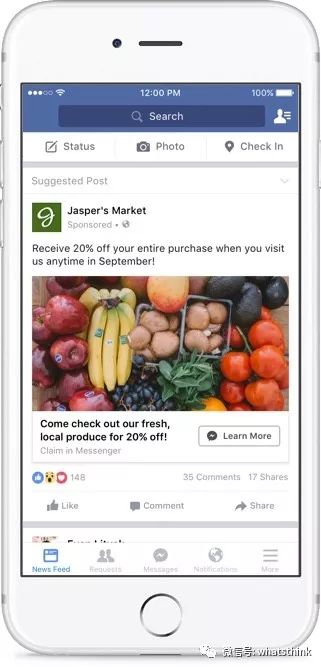 04.Action Conversion
Action transformation
Connect with your prospects, app users, and other audiences to engage them to take actions that are valuable to you.
1. Conversions:
(1) Site conversions: Facebook site conversion targets help you expand your website business. Whether you want to increase page visits, increase sales, or want users to take any thing else, site conversion ads can attract users to your site and take valuable action.
By combining your use of site conversion ads with Facebook pixels on your site, you can not only show ads to visitors to the site that are most likely to do what you want, but also track how many conversions you're aware of.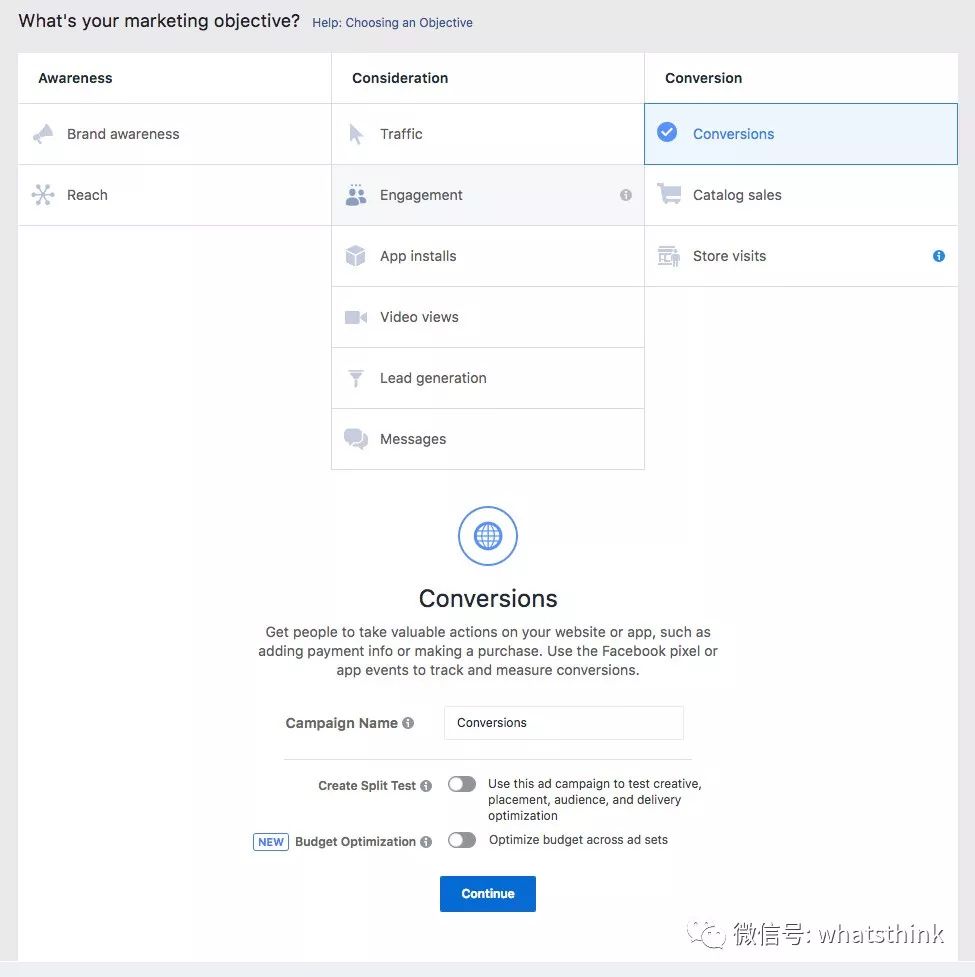 (2) App Usage: Facebook App usage ads help you increase the amount of action users can take in mobile apps. These ads are designed to help you reach mobile app users and engage them to re-use the app and perform actions such as shopping, playing games, or booking a trip. You can direct users to specific locations in your app, such as product pages, journey searches, or game start slots, by applying usage ads.
2. Catalog Promotions: Facebook Dynamic Ads, which serve catalog promotion targets, automatically promotes products they exhibit interest in. Simply upload your catalog and create a campaign to start promoting the right product to premium buyers.
3. Store Visits: Facebook Store Visits Advertising Targets can help bridge the online and offline shopping gap and help retailers increase store visits, sales, and other valuable operations in the store.
4. Offline Conversions: Facebook Offline conversion data allows merchants to use offline event data, such as in-store purchases, phone bookings, and qualifying leads, to improve the effectiveness of online marketing campaigns. Merchants can associate their customer relationship management database or point-of-sale system to Facebook account to track offline events that are not captured by Facebook pixels or the SDK.
---