Facebook Ad Violations Collection s/A-Shelter Guide Live Review

In the latest episode of the live broadcast, YinoLink inn explains Facebook's ad violations and pit-avoidance guidelines to cross-border sellers.ToThe following is a review of the highlights of this live broadcast.
I. Facebook Ad Serving Product Restrictions
1. Prohibited products:

Facebook bans the following four categories from running on advertising platforms:
A. COVID-19 Epidemic Prevention Supplies: All advertising accounts that promote COVID-19-related products and services with misleading strategies are considered MSCs. Masks, protective clothing, alcohol disinfection wipes, etc. can not be put;
B. Medical supplies: contact lenses, thermometers, food/drinks that claim a health or medical function, kits for the detection of medical conditions or diseases;
C. Infringing products: forgery, imitation or reproduction of branded products, and unauthorized copying or theft of copyrighted works;
D. Dangerous products: firearms and firearms components, fireworks, anti-wolf spray, Swiss army knives.
A. Liquor: Books or DVDs, glasses, coolers and racks can be sold for alcohol. the promotion or reference of advertisements for alcoholic goods must comply with all applicable local laws;
B. Financial: Real money betting, national lotteries require a license and comply with local policies. Selling cryptocurrencies and services requires a whitelist application.
C. Dating dating class: Ads for adult dating centers or dating services that contain sexual content are prohibited. If it's social social products, you don't need to apply for a whitelist. If you're dating, you can start a Facebook ad account and then apply for a whitelist. Dating dating products are available in strict compliance with the orientation requirements: 18 years of age and over with emotion (Single or En-Sym) plus gender (either Men or Women)
Second, Facebook advertising policy
1. Ad text: Products/services provided in a clear and unambiguous manner should not express or imply the user's attributes or personal characteristics, refrain from using offensive terms, and not use misleading or deceptive content and claims;
2. Creative material: Do not use images or videos containing adult content, do not use misleading buttons in images, do not add too much text to the image, do not use scary or frightening creative material, creative material should not focus on a particular part of the human body, and advertisements should not violate both brand guidelines when referring to Facebook or Instagram;
3. Landing pages: Landing pages must clearly and accurately reflect the products or services promoted in advertisements, landing pages shall not contain any prohibited content, products or services, advertising shall not contain landing pages that cannot regulate the operation;
4. Audience targeting: Targeting options may not be used for the purpose of discriminating against, harassing, soliciting or defaming users, and no predatory advertising methods may be used.
Copy link to view the full official versionFacebook Advertising Policy:
https://www.facebook.com/politicies/ads/prohibited_content(science-required)
Third, Facebook ads to avoid the pit attack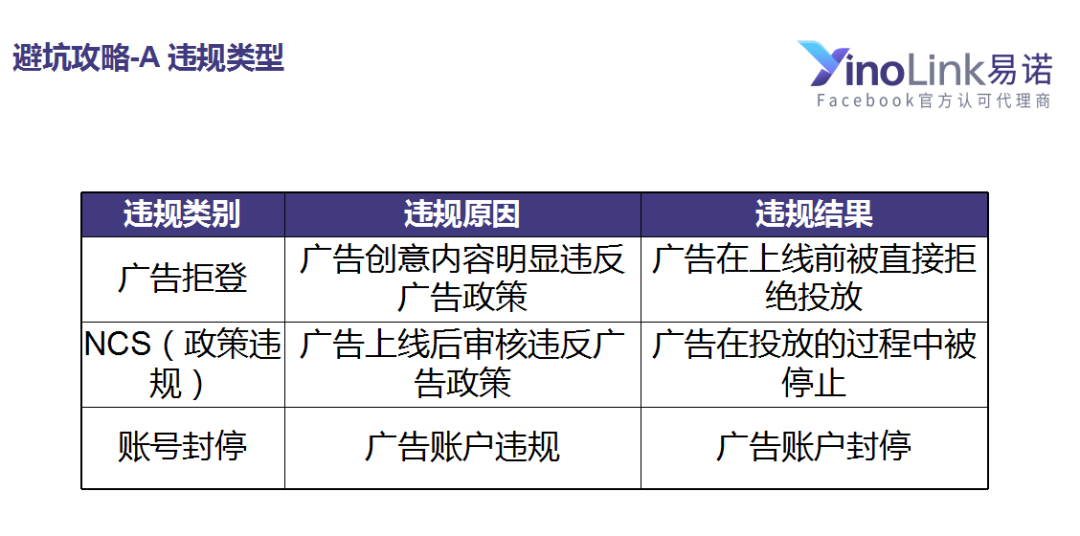 B. Reason for the closure: Ads may or may cause distrust by users, false publicity in the ads themselves, and low-quality advertising content.
C. Complaint Process: When the above violations occur in the ads, it is recommended that advertisers of Facebook's corporate advertising accounts look for the agency's informants to resolve the issue, or they can file a CCteam complaint.
Fourth, Facebook ad violation case analysis
Copy the link below to view the official Facebook ad violation, and you can compare it with your business to see if there is any violation.
https://

www.facebook.com/politicies/ads/prohibited_content/tobacco (science-access required)
5. Facebook Ad Optimization Recommendations
1. Consider the four most important factors that multinational consumers value when buying: transparency, product authenticity, transaction privacy, and price competitiveness.
2. To ensure the true price, can clearly explain the use and characteristics of the product, to be honest about the time and cost of delivery, to establish clear customer service expectations, including timely and effective communication, clear return and exchange policy and a credible payment platform.
Live Preview
Over the next three weeks, YinoLink will also launch a Facebook campaign guide course to provide advertisers with a more comprehensive learning.
Live time: 10 April - 24 April 2020, every Friday at 15:00 PM
Live content: Facebook campaign courses, covering ad account practice, violation cases, market interpretation and more
How to sign up: Swipe or click to read the original text, you can sign up for free.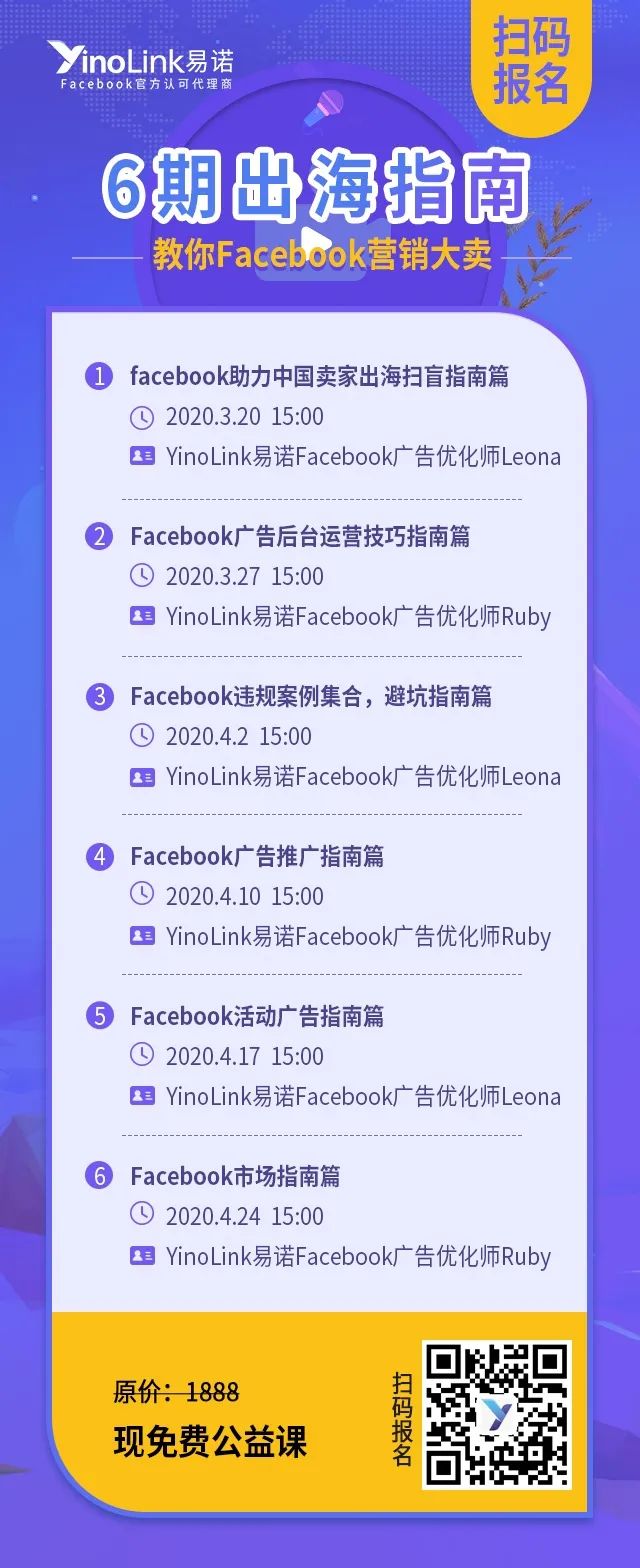 YinoLink Ino
Here's a review of Facebook's ad violationcases and a shelter guide.If you have any questions you can leave a message through the public number, or contact WeChat: yinolink contact us Oh
Poke the original text, free registration!
---