Facebook ads are blocked again? The problem may be in these 5 places!

Do you want to make sure your Facebook ad account isn't turned off? In this article, you'll discover common reasons why your Facebook ad account has been suspended, and learn how Facebook's tools can help you better monitor your account status.
1, multiple non-payment
If your ad account fails to pay multiple times in a row, Facebook sees it as a red flag, and if that continues, your account may be suspended. Too many late payments or denials can put your ad account at risk.
2, the quality of the Facebook page is poor
Repeated violations of Facebook page guidelines can result in a low quality score, putting your ability to advertise at risk. Sharing misleading content such as fake news or inciting anti-social behavior may result in your ad account being banned.
You can find a complete list of Facebook community guides. Note that community guidelines differ in the same standards as advertising policies, and advertisers need to understand both.
Check the status of your Facebook page
To check the quality of your Facebook page, click the "More" menu at the top of the page, and then select Page Quality from the drop-down menu.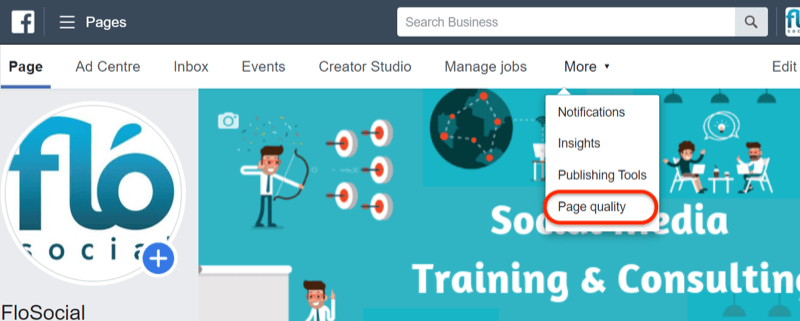 You can then see if the page is marked as having a quality issue.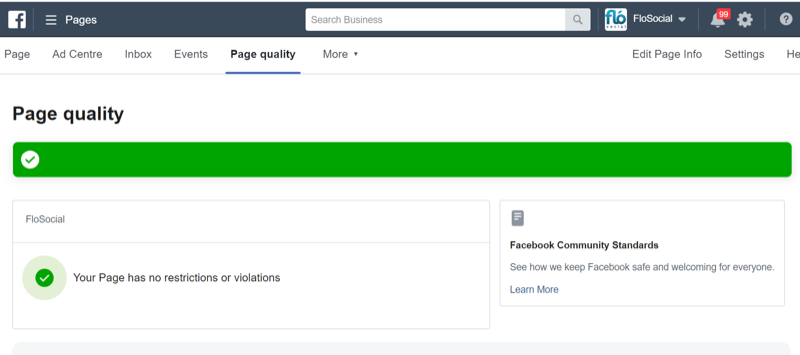 3, Facebook and Instagram ads have lower quality ranking scores
Your ad will rate the accuracy and relevance of your target audience. Ads that are approved but considered poor quality may also cause your account to be blocked or take longer to get approved later. The quality of your ads is affected by:
· Title Party:Using a copy that doesn't convey all the information or using a headline party's copy to engage with users can be considered poor quality.
· Too much text on the picture:Facebook allows ads to run more than 20 percent of their text on images, but it says the quality of the ads is low, which reduces coverage and ad quality scores. To see if the scale of the image Chinese this is too high, use Facebook's Image Text Check tool tool.

Ads blocked by users or users clicking on Hide All Ads From This Advertiser can also affect your ad quality score.
View the quality score of your ads
You can check your ads' quality scores in the Ads section of Facebook Ads Manager.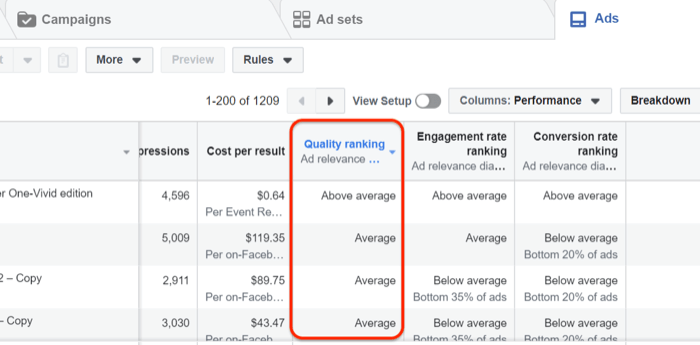 4. The quality of the landing page is not good
Facebook filters any links to websites or downloads to make sure they follow the same advertising rules. Facebook will scan your target page and apply the same filtering tool to it. Low-quality experiences on target pages include:
· Pop-up or excessive interference;
· not enough information or too much advertising;
· Misleading or unadvertised content;
· Lack of function, bad chain, low image quality, video can not be played, etc.
Check your landing page with Facebook Link's My tool
Facebook's tool allows you to view information facebook gets from links or landing pages. If your landing page complies with Facebook policy and is still rejected when you use it with your ad, use this tool to ensure that the information you get is correct and that there are no labeling terms or policy violations page descriptions or metadata.
If you make changes to align your landing page with Facebook's advertising policies, this process will also force Facebook to clear a cached version of its content.
To use this tool, visit https://developers.facebook.com/tools/debug and paste your URL into the search box. Then click "Debug."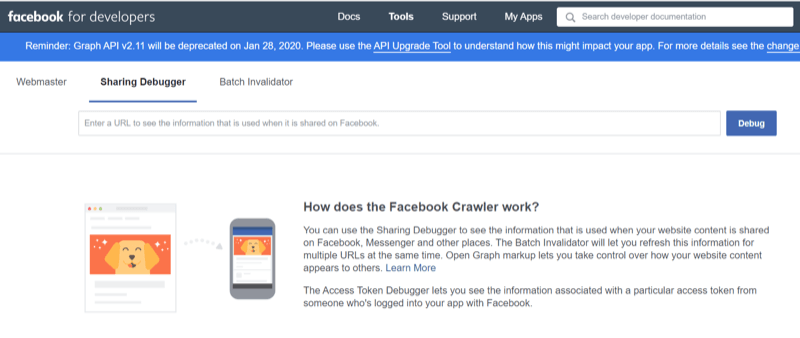 If the URL is a new URL, you'll need to click "Fetch Information" to ask Facebook to get the URL and populate the information for you.

Facebook will then populate the information.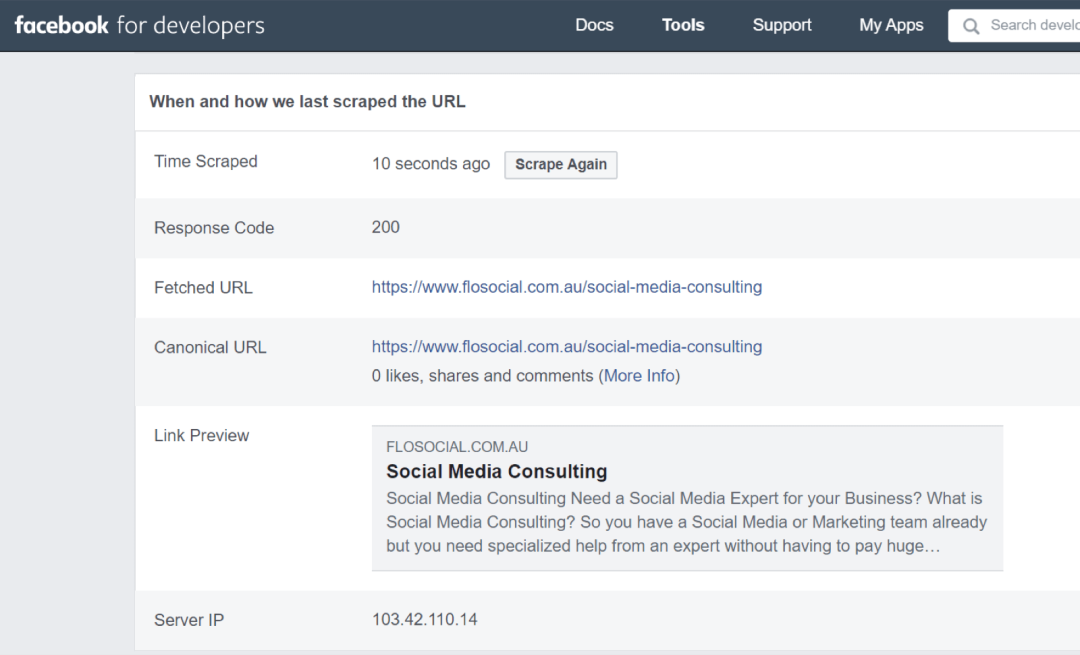 Suppose you have a landing page for a weight loss product that uses words that violate Facebook policy, so you updated the landing page to remove them. You can use the tool to check the information Facebook is reading about the page. Double-check whether you've updated all the words, and Facebook will now allow the landing page to be used.
5, repeatedly violated Facebook advertising policy
All advertisers are flagged as violating ad policies from time to time, but if you frequently violate the rules and are rejected by ads, you may be at risk of your account being shut down. If you don't follow the rules, Facebook will only block you.
View violations of Facebook's advertising policies with Account Quality Tool
Facebook now allows you to view previously rejected ads to see what policies you've violated and why your ads aren't approved. You can also view the history of your ad account and monitor all ads that are being reviewed or complained about.
To do this, open Facebook Business Manager and select Account Quality in the Create and Manage section.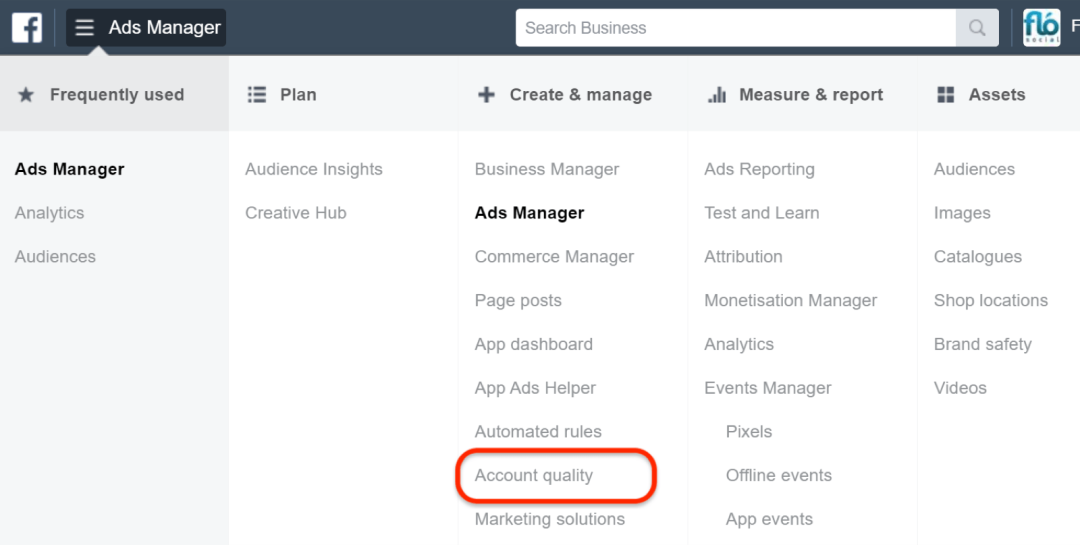 On the next page, select the date range you want to view from the calendar in the upper right corner.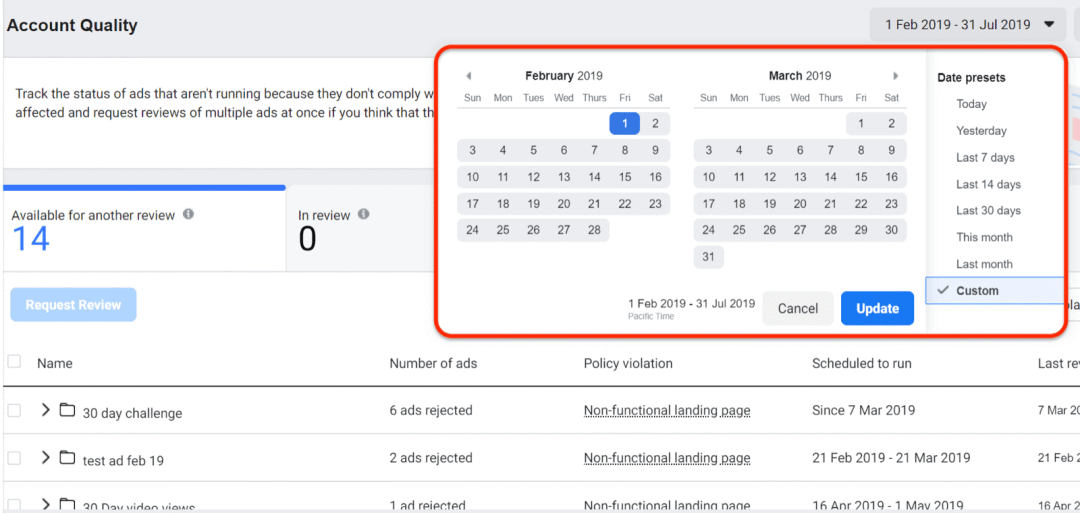 Facebook will display each taged or disapproved ad. You can also see exactly what policies these ads violate.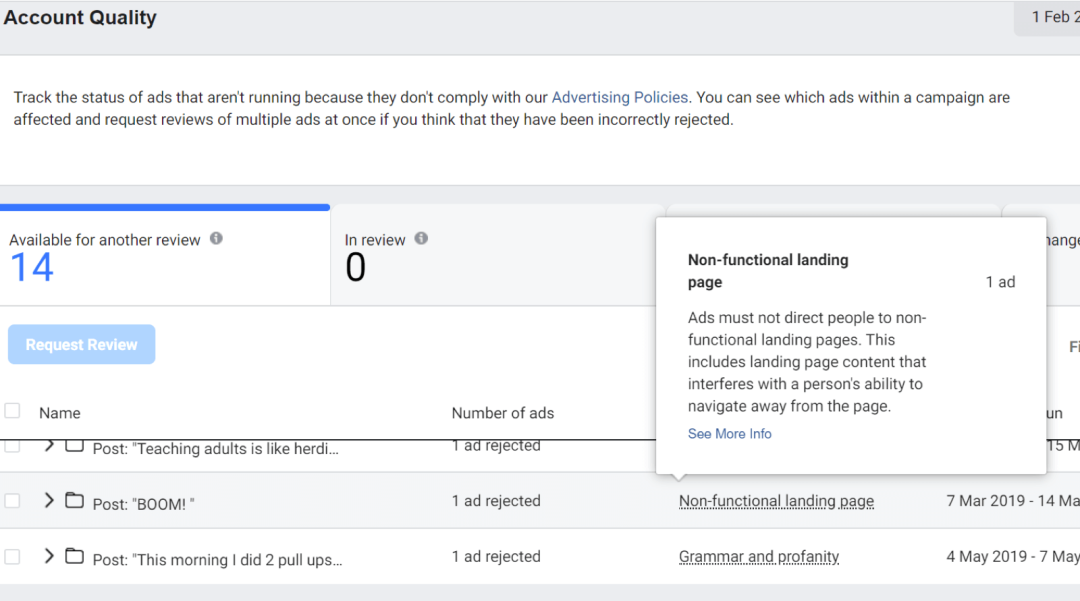 If you want to request more than one ad review again, check the box next to each ad, and then click Request Review.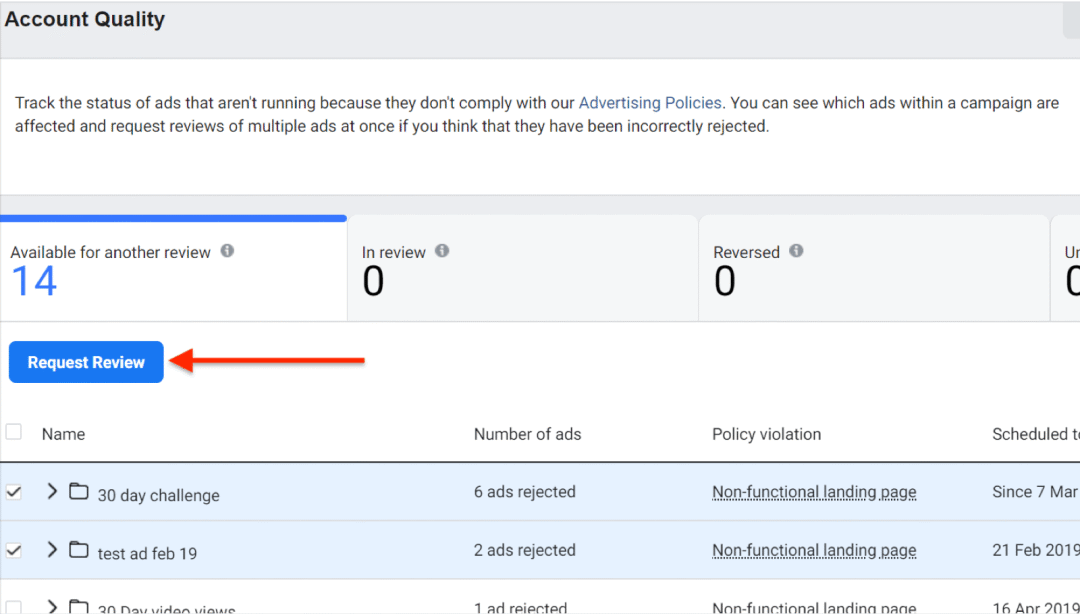 Conclusion
If your customers or your own account are often disapproved without a good reason, you may have been blacklisted by Facebook. This means that you are now under more scrutiny than others because of previous errors.
Fortunately, Facebook has tools that let you see where the problem is and why policy violations are reported so that you can avoid them in the future.
Facebook is simply protecting the user experience and requiring businesses to follow the rules and deliver quality, relevant experiences when serving ads. Despite the frustrations at times, the advertising policy is designed to help protect everyone, including advertisers.
Make sure you're familiar with advertising policies that affect your industry, check for common pitfalls and policy violations you may encounter, and have a plan to avoid such behavior.

This article is from WeChat Public No., cover: Instagram ideas
---