Facebook Marketing 5: Learning to Use Ad Delivery Tools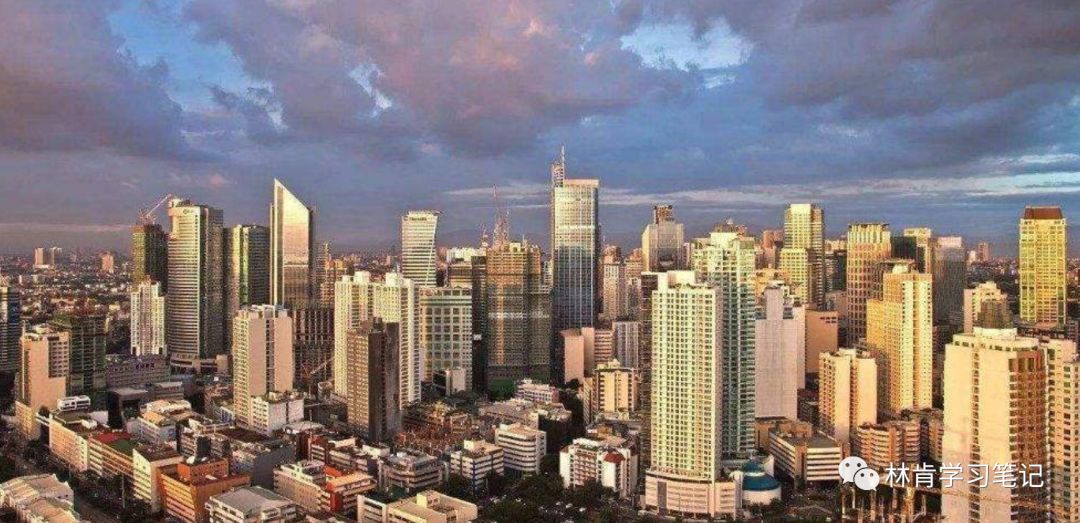 Photo: Manila Philippines
In this article we learned about the process of creating facebook ads. First, open the ad management tool for your business advertising platform: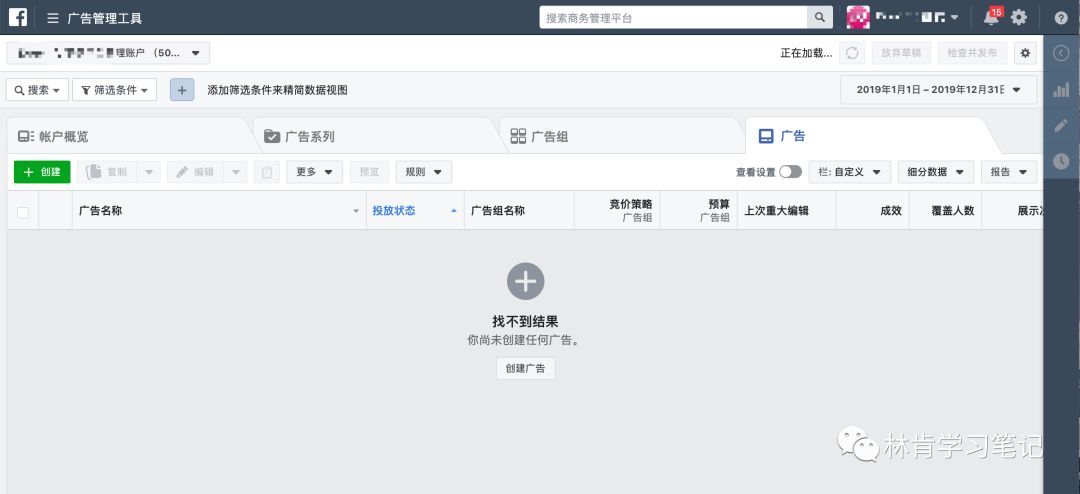 Click "Create" in the upper left corner or "Create an ad" in the middle:

Since we're creating an ad for the first time, we chose New Campaign: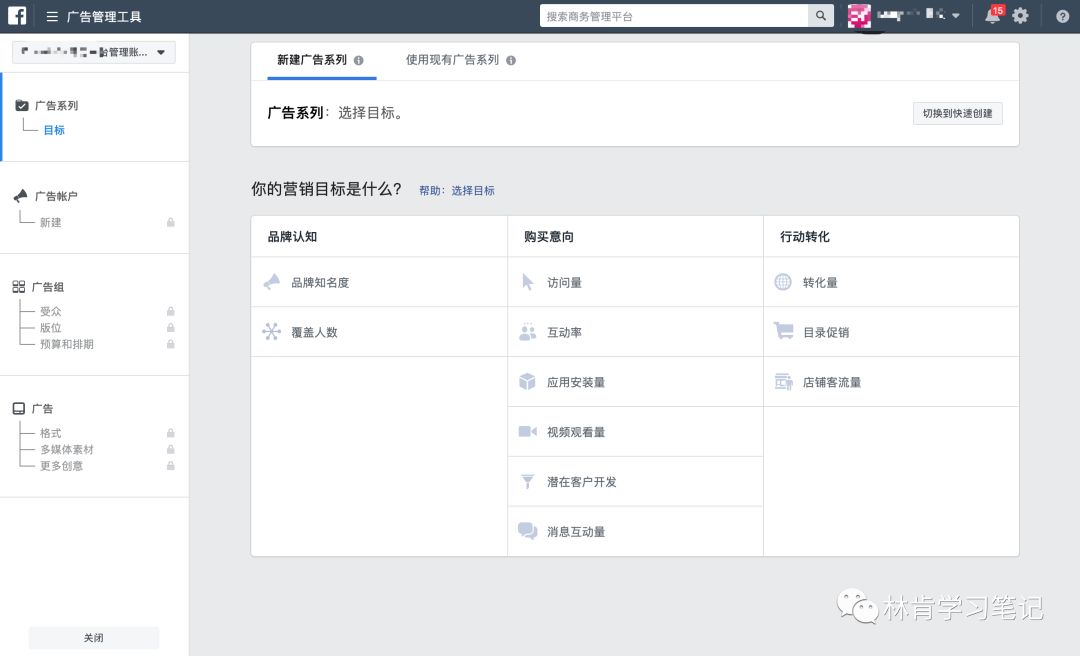 Before you create an ad, consider what our business goals are. To choose the right advertising target, you must understand the business goals we want to achieve. Ad goals are actions that we want our audience to take when they see an ad. Facebook divides its marketing goals into three broad categories:
Category 1:Brand awareness
| Goal | Business objectives: |
| --- | --- |
| Brand awareness | Raise the profile of your business, brand, or service. |
| Number of coverage | Show ads to as many target audiences as possible. |
The second category:Screening considerations (purchase intent)
| Goal | Business objectives: |
| --- | --- |
| Visits | Direct Facebook users to any URL of your choice, such as landing pages, blog posts, apps, and more. |
| Interaction rate | Reach the people most likely to interact with the post. Interactions include likes, comments and sharing, as well as take offers on your page. |
| App installs | Attract users to the Store to download business apps. |
| Video views | Share videos with the people most likely to watch your business videos on Facebook. |
| Lead development | Attract potential customers for your business. Create ads that collect information about people who are interested in your product, such as the information left when you sign up for an email newsletter. |
| Message interaction volume | Connect with Facebook users, communicate with potential or existing customers, and stimulate interest in the business. |
Category 3:Action conversion
| Goal | Business objectives: |
| --- | --- |
| Conversions | Direct users to take specific actions on your corporate site, such as adding items to your shopping cart, downloading apps, registering websites, or making purchases. |
| Catalog Promotions | Show items in the e-commerce store catalog to boost sales. |
| Store traffic | Promote your brick-and-mortar stores to the surrounding crowd. |
On how to pick a marketing target, according to facebook:
If you want to promote your site to people who are interested in your business, you can create ads to attract users to your site.Your ad goals may fall into the following three broad categories (that is, goals).
Brand awareness:Motivate your audience's interest in goods or services.The core of raising brand awareness is telling users about the value of your business.For example, Jasper's Market is preparing to launch a small regional grocery chain.They can use brand awareness goals to create campaigns that highlight fresh organic produce to local users.

Filter users who are interested in buying:Engage your audience and start thinking about your business and learn more about your business.Jasper's Market, for example, uses the site to tell your own brand story and showcase some of the unique items in the store.They can use the traffic target to create campaigns that entice users to visit the site for more information.

Action conversion:Attract users interested in your business to buy or use your goods or services.Jasper's Market, for example, has opened several new stores.They can use store visits to create campaigns that attract potential customers to stores.
As the business grows, so does the goals of your campaign.At first, the campaign's main goal may be to gain popularity and attract new customers.Next, the goal may become to attract users to buy or sign up for an event.
Suppose I'm doing B2B, first I need to find the target customer and then get their contact information. We can choose "lead development" in the purchase intent. Lead development, which collects lead information from prospective users, is an hourglass sales model.
Click on "Lead Development":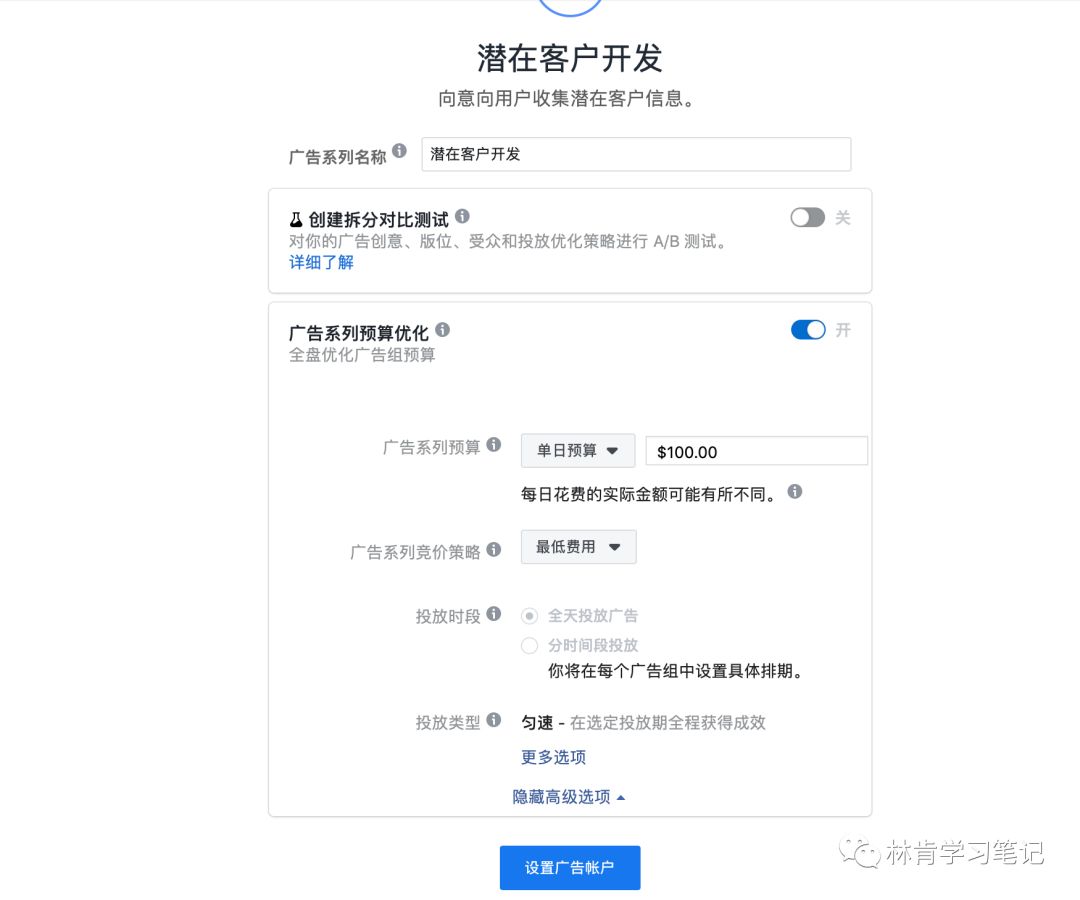 The first thing you need to name your campaign is. A campaign can contain multiple ad groups, and when the campaign is named, you can use that name to create more ad groups, and each ad group can create multiple specific ads below.
Facebook lets you choose whether to create a split comparison test. This feature is to test your ad ideas, placements, audiences, and delivery optimization strategies.

What is an A/B test: Select one or more variables to compare the performance of different ad strategies and optimize subsequent ads. For example, we might assume that a custom audience policy would be better than an interest-based audience policyBetter for promoting business.With the A/B test, we can quickly compare the two strategies to see which one works best.
A/B tests are also available, and you may write a separate article later.Here are some very useful information:

The variable selection for the A/B test:
https://www.facebook.com/business/help/1962159924052051
How to create an A/B test:
https://www.facebook.com/business/help/1159714227408868
Then you need to optimize your campaign budget.

Depending on the optimization plan and bidding strategy you choose, Budget Optimization will allocate budgets to each ad group in your campaign for more results.Introduction to campaign budget optimization:
https://www.facebook.com/business/help/153514848493595
Campaign budgets have a one-day budget and a total budget.If you choose the total budget, your ad will not cost more than that amount. If you choose a one-day budget, the one-day spending may fluctuate up and down, but the overall level will remain at this average.
The way we use advertising money on Facebook is through bidding. The fees are dynamic, not fixed. Facebook charges a bidding model. The people we serve, the time, and the other advertisers' targeting of similar audiences are related. So we also need to consider the level of competition of the selection, choose the level of competition of the audience.

About the bidding aspect of the content, is also very much, the specific content can be seen:

Facebook's Bid Policy Description:
https://www.facebook.com/business/m/one-sheeters/facebook-bid-strategy-guide
Bid Guide:
https://www.facebook.com/business/help/1619591734742116
Launch time:It can be available throughout the day or at a certain time period.
Type of delivery:It can be a constant speed, or an accelerated delivery. Uniform delivery controls your spending by adjusting the budget usage rate. Budget usage rate adjustment prevents budgets from spending too quickly, which is the preferred setting for most advertisers and is recommended for use. Accelerating delivery helps to promote time-sensitive. You need to set a bid cap to use accelerated delivery.
Next, set up an ad account.

Currencies can be selected in US dollars or RMB, and we can usually choose RMB. Time zone selection Asia/shanghai, we follow edit the financial data. Of course, currency choice dollars, time zone choice Los Angeles is also possible.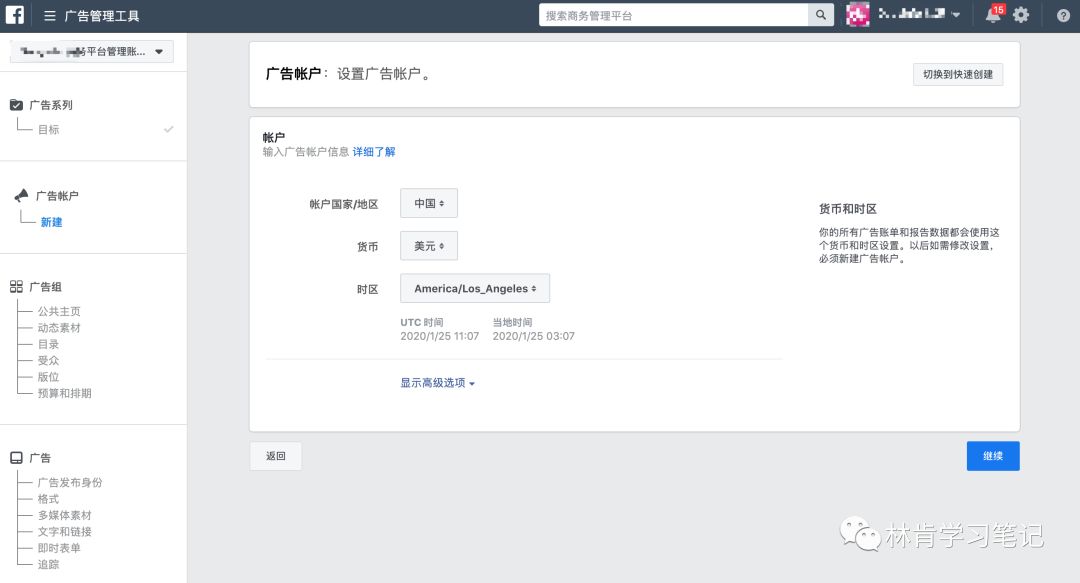 Click Continue to go to this page: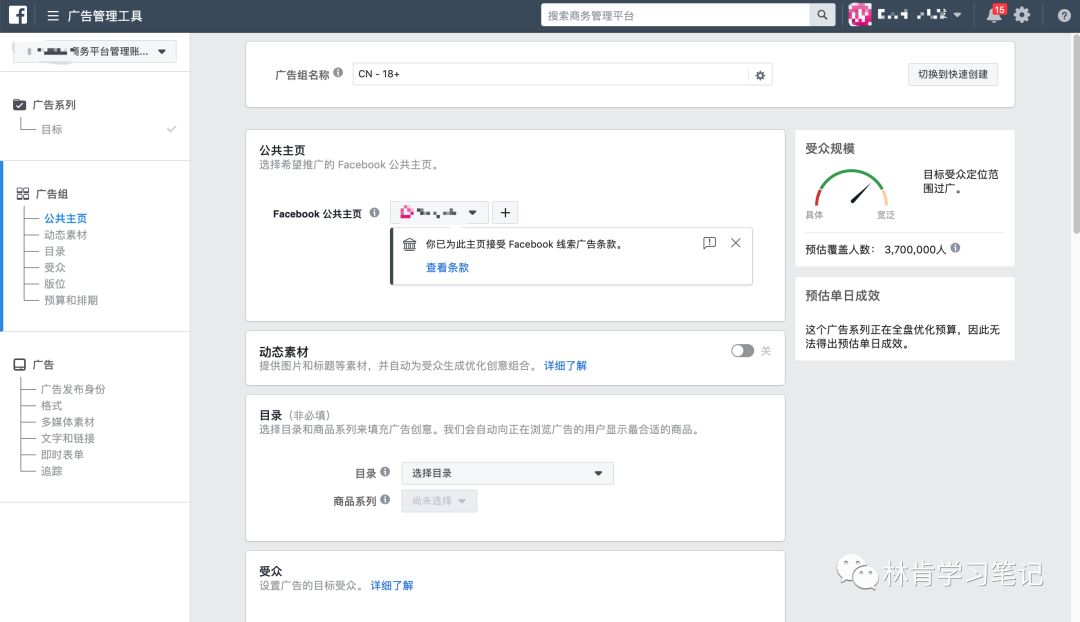 We need to set up the ad group, and then set the specific to the ad.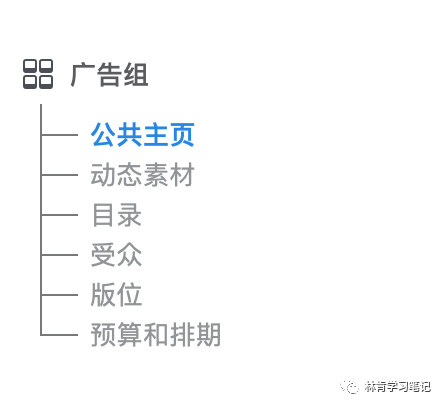 Your Page: Choose the Facebook Page you want to promote.




Dynamic footage: Provides footage such as pictures and captions, and facebook automatically generates optimized creative combinations for your audience. Dynamic footage picks up multiple ad components (such as images, videos, titles, descriptions, and call to action) and then optimizes for the ad components that have achieved significant results in each show. These features help us create personalized and outstanding creative versions for people who watch ads. Dynamic footage tools are a good choice if we're not sure about the ideas that resonate with different audiences.




Catalog: This is non-mandatory, select catalog and product series to fill in the ad ideas. Facebook automatically displays the most appropriate product to people who are browsing the ad. Before you can use this feature, you need to create your directory. The facebook system works very well and you can upload your product manually or import it directly from our website, which is quick.




Audience: Set your ad's target audience. You can create a new audience, or you can use an audience that you've saved before. We recommend using Audience Analytics in ad planning to build and save your audience.




Place: Select the correct placement, and display your ads efficiently. The system recommends that we use automatic layouts. Use automatic placements to maximize your budget and help you show your ads to more people. Ad groups may perform better in different placements, and Facebook's ad delivery system allocates the ad group's budget. We can also manually select a placement, such as advertising only on facebook desktop.
After setting up the ad group above, we're up to setting up specific to the ad:
Ad publishing identity: Select the ad publishing identity for your business. You can choose to post ads on your Facebook Page or Instagram account. Instagram ads will use facebook Page name and profile picture, as well as details such as descriptions and number of fans.
Format: Select the style your ad renders. There are 2 formats, which can be carousel/video/slideshow, or individual pictures/videos
Once we've chosen the format, we'll need to create an ad.
First we look at the carousel picture: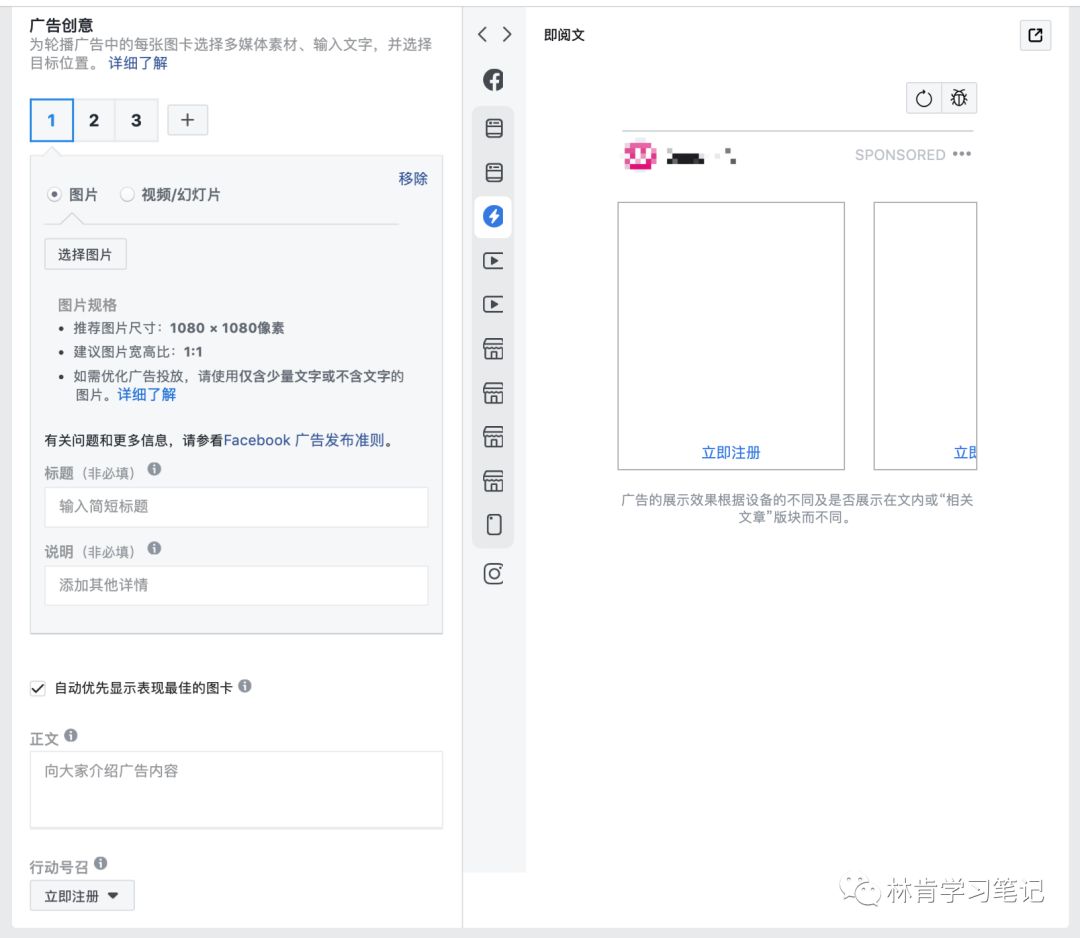 After each small step, Facebook will show the ad effect (i.e. reading) in the right column, and we'll adjust that.
Facebook prompts picture specs:
Recommended picture size: 1080 x 1080 pixels

Suggested picture aspect ratio: 1:1

To optimize your ad delivery, use a picture with only a small amount of text or no text.
Then we look at the carousel video/slideshow: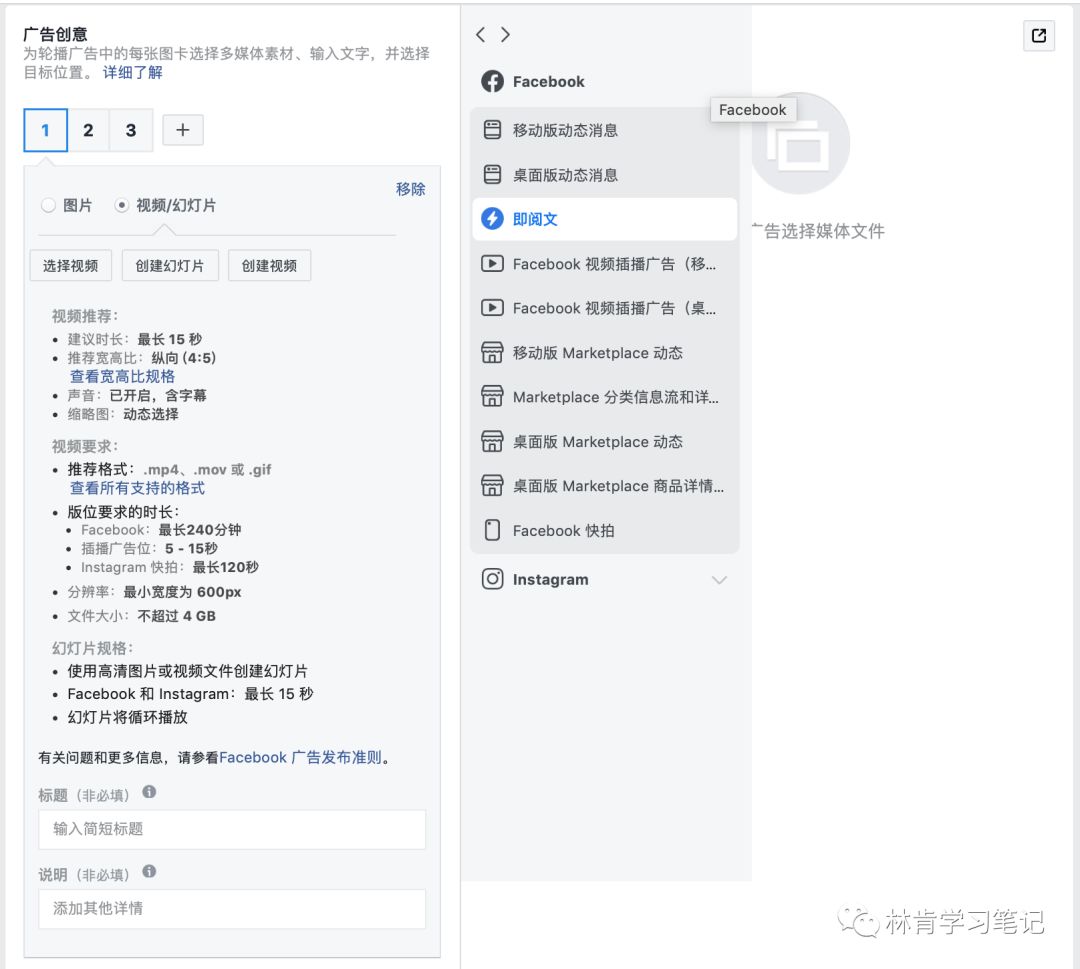 Some data on facebook:
Video recommendations:
Recommended duration: Up to 15 seconds
Recommended aspect ratio: portrait (4:5)
View aspect ratio specifications
Sound: Turned on with subtitles
Thumbnails: Dynamic Selection
Video requirements:
Recommended format: .mp4, .mov or .gif
Length of time required for the layout:
Facebook: Up to 240 minutes
Plug-in ad space: 5 - 15 seconds
Instagram Snap: Up to 120 seconds
Resolution: Minimum width of 600px
File size: No more than 4 GB
Slide specs:
Create a slide show with hd pictures or video files
Facebook and Instagram: Up to 15 seconds
The slide will play in a loop
Once the ad idea is ready, the next step is to create an instant form to gather information about potential customers: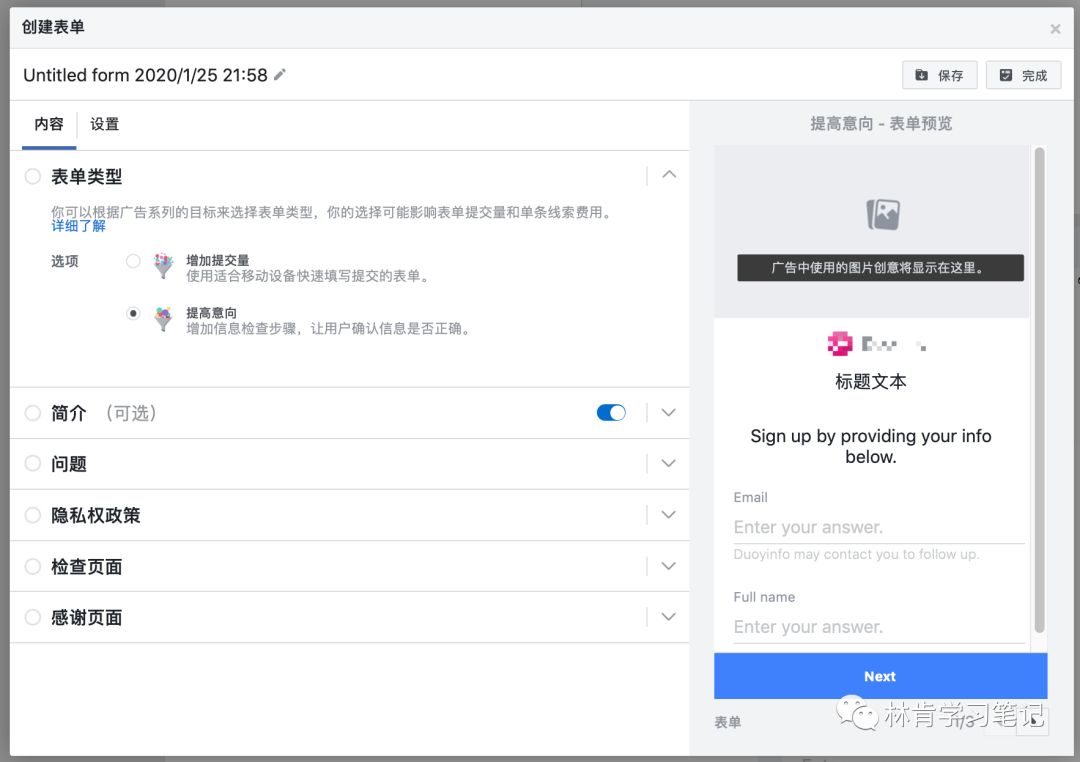 Follow the form's prompts. Note in the collection of customer information, it is best to control within 5, too many options will make customers worry, give up filling out.

Finally, pick a pixel to track this ad run.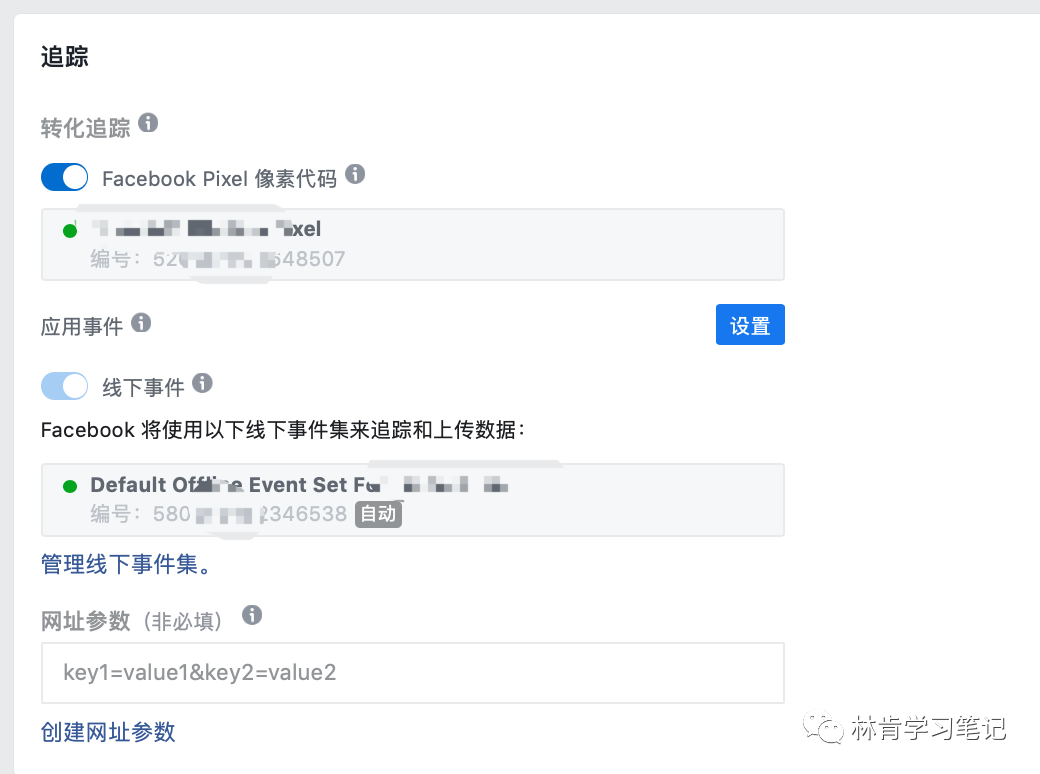 Finally, click Confirm. Once facebook is posted, we can see this ad in Ads Manager and click View to see the status quo.


That's the process setting for facebook ad delivery. It should be noted that there will be some differences in settings when choosing different marketing objectives.

The key to this link is the preparation of marketing materials and advertising ideas. To more operation, mature can be made smart.

It is best to have 2 people in charge of the operation:
One person is responsible for audience analysis and setting, system operation and advertising optimization analysis;

One person is responsible for advertising creative and marketing material.
At present, it seems that the operation of this system is more complex, the real use of not many people. But that's how we compete. We have a chance to do what others do less and don't understand.
Next article: How to write an ad copy
---