Facebook's Ad Literacy and Success Story Live Review

In the latest issue of the live broadcast, YinoLink inn explains Facebook's introductory literacy guide to advertising to cross-border sellers, as well as YinoLink's success stories.ToThe following is a review of the highlights of this live broadcast.
Facebook is the world's largest social media platform, with ins, Messenger and many other products, with more than 2.8 billion monthly users;
How Facebook Ads Are Displayed: Image ads, carousel ads, video ads, 360-degree panoramic ads, boutique bar ads, full-screen ads.
2. What do You need to pay attention to when i., I'm not icing on Facebook Ads?
1. Independent station website detection / shop detection
3. Create a business management platform
Third, the logic of running Facebook ads?
Facebook pixels can record standard events during shopping
Facebook's ad account tier is divided into campaigns, ad groups and ads, each of which corresponds to its own settings
Facebook success story sharing
Howing Electric Vehicle
: By using Facebook ads, sales quadrupled in three months, with the channel having a maximum ROI of 20 during the promotion period, and YinoLink uses Facebook ads to turn Howing into the benchmark for the electric car industry.
Pinter Bluetooth Headset
Three crowdfunding stakes in two years, raising $11 million through crowdfunding and using Facebook ads, and YinoLink helped transform Pymet from a foundry into a star brand in the audio space.
Live Preview
Over the next five weeks, YinoLink will also launch a Facebook campaign guide course to provide advertisers with a more comprehensive learning.
Live time: 27 March to 24 April 2020, every Friday at 15:00 PM
Live content: Facebook campaign courses, covering ad account practice, violation cases, market interpretation and more
Registration method: sweep code click to read the original text, you can sign up for free.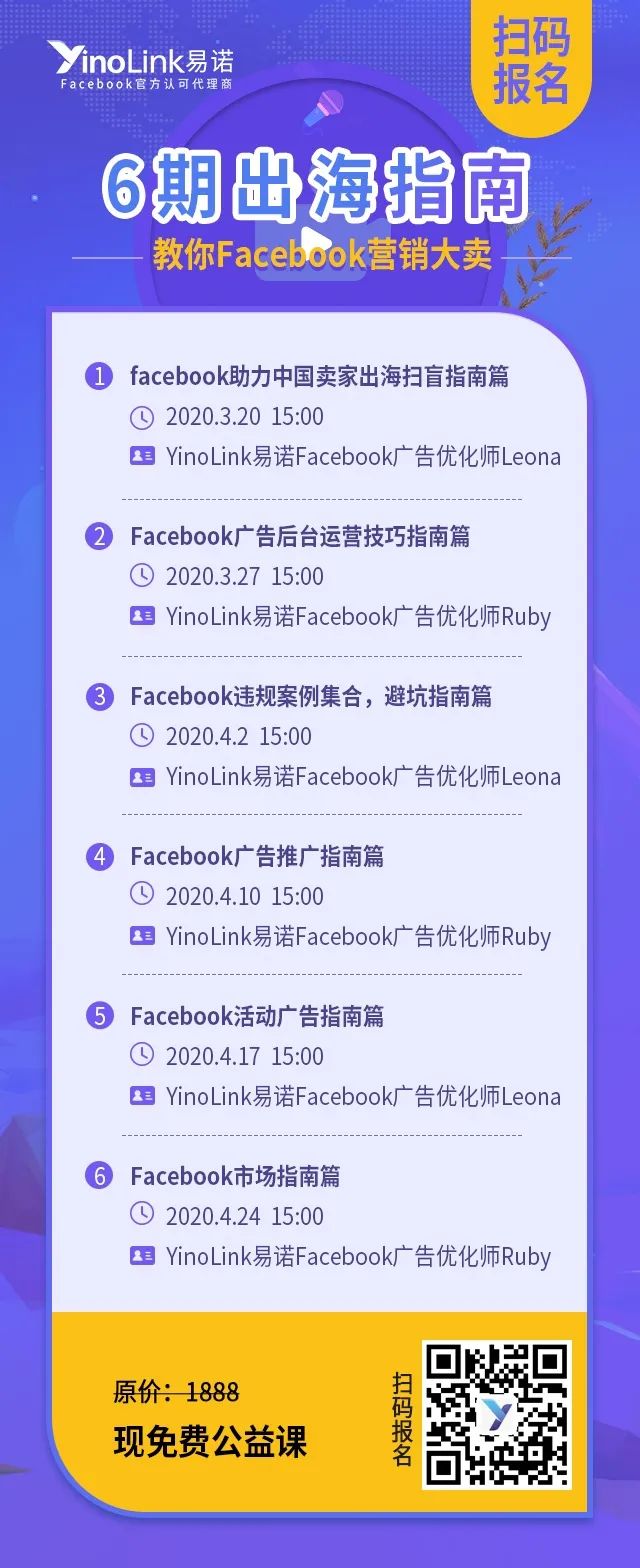 YinoLink Ino
A review of the above Facebook Ad Introduction Literacy Guide and YinoLink's Case to the Sea,If you have any questions you can leave a message through the public number, or contact WeChat: yinolink contact us Oh
Poke the original text, free registration!
---