Facebook's Hard Core Ad Optimization Strategy Guide (with Special Period Selection Recommendations)
COVID-19 The world's high in 179 countries and regions outbreaks, people's production and life has been seriously affected.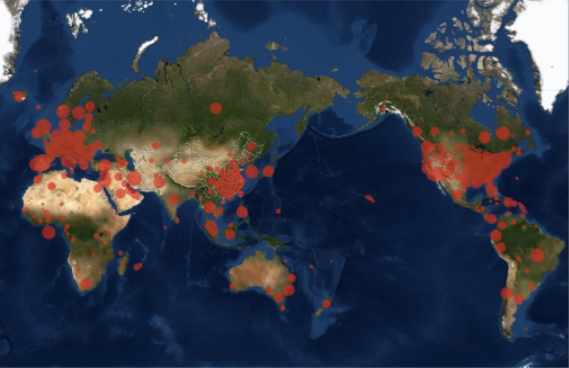 Although the domestic epidemic is becoming more and more stable, but the global epidemic is gradually heating up, cross-border e-commerce in international logistics, advertising conversion rate, short-term consumption demand decline and so on have been affected.
In the resumption of work, while facing a severe situation abroad, Facebook combined with products, policy teams, data experts, for the recent policy, advertising optimization gave detailed delivery advice and delivery skills strategy guidance, papaya mobile has done a detailed combing for the vast number of e-commerce friends, to help everyone through this difficult situation.
This article is full of dry goods, it is recommended that you collect after reading in detail
1, account optimization
Introduce the account optimization techniques available to cross-border e-commerce advertisers during the recovery period, and restore the status of the first two or three months of suspension/low investment as soon as possible.
2, inventory catalog management
Help quickly get back to management with a few tips on Facebook. Resolving the causeFactors such as pre-stock ingress and factors affected by the plant cause inventory to be poorly managed.
3, product use
Boost your ad strategy with Facebook Machine Learning products.
4. Policy guidelines
Facebook's business protection policy notice for the outbreak.
5, product trends
Global consumer habits have changed, spawning different hot-selling goods. List of the latest product trends and hot products during the outbreak.
Facebook Ad Strategy Advice
What quickly do you want to make in terms of Facebook ad serving and policy during the outbreak?
Account optimization
The status quo:Stop/less investment for a long time, the account to maintain low traffic low conversion status, how to quickly return to normal account status?
Facebook suggests that the goal at this stage: not considerROI, use account optimization techniques to achieve a shorter period of timeExpandthed conversionsis the primary goal.
Specific practice
1, budget:

When considering total value at the budget level, the competitive value needs to be increased to allow the total value to increase.
The suggestion here is that when setting the budget value for recovery delivery, you can refer to the budget for campaign when you are not affected or set a higher setting.
2, bidding strategy
With Facebook's powerful machine learning capabilities, the machine is flexible to find the right advertising opportunities to transform and reduce human control. Because, in the recovery phase is prone to encounter two states, one is to increase the budget resulting in too much spending, and the other is because the long stop to invest causes the spending too slow.Facebook recommends a minimum-cost strategy for automated bidding.
3, optimize the target selection
In normal times, we will focus on optimizing the purchase, the goal of optimization is also to target these people to optimize. But at this stage, consumers will be more or less affected, the so-called number of purchase events conversion can not be accumulated in a short period of time to a certain amount of data.
Note:Select to optimize for the goal of increasing the number of conversions (if there are fewer purchased event conversions, select the marketing funnel upper level of the event to optimize), and expand your audience to increase conversions
Examples: initiating checkouts, adding shopping carts, browsing the upper level event-level funnel s --
4, audience targeting
Extendthed remarketing time window
Ensure remarketing time windows match site visits
Expand the proportion of similar audiences

Examples: 0-1%, 1-2%, 3-5%, 5-10%
Combine highly overlapping interests and behavior target audiences
Ensure that the creative strategies for each segment of your audience are the same
Minimize audience overlap
Use the right audience exclusion criteria to ensure that customers who have purchased in the past are excluded
Tip: Want to restore the normal state of your ad account for a period of low or long-running
Recommended using Facebook's star portfolio: CBO Campaign Budget Optimization plus Automatic Layout, allowing the machine to complete the best ratio.
The above are tips that can help you recover quickly and expand quickly in a short period of time.
How to manage inventory catalogs
For the supply chain inventory has just recovered, product inventory needs to be updated. How to keep up-to-date with Facebook tools.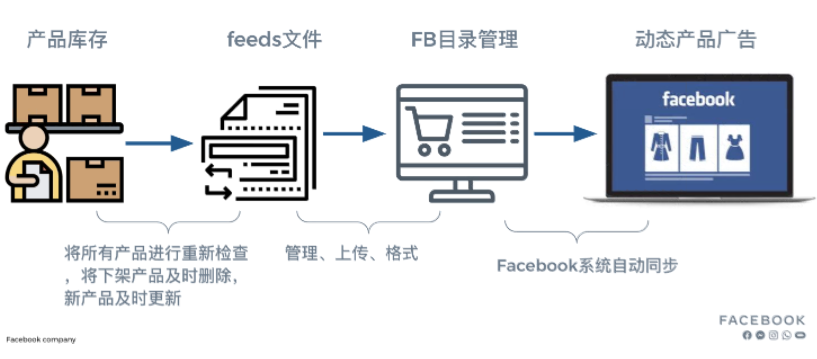 As shown in the figure, you can see intuitively what's going through everything from the product library to Facebook's dynamic product ads.
Specific practice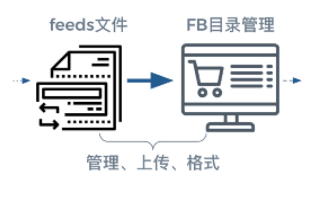 1, debugging/testing tools
Feeds File Debugger County

Facebook产品(catalog manager)
2, upload
The upload method is selected:
1).Add products manually in U (slower, only for small customer users)
2).Feeds file upload
a. Upload feeds files regularly (the system will crawl feeds files regularly to the specified url)
b. Manually upload feeds files in the UI
c. Regularcrawling of feeds files through the API
3).Pixel builds a product library
4).通过API直接上传产品(/product id>)
3, Feeds file format
csv/TSV/XML(RSS/ATOM)
4, management

Due to the number of product replacements/updates, in the process of uploading from feeds files to Facebook Directory Management Tool, to ensure that the product is the most updated status
Example:The product in the feeds file is ABC, and the newly generated feeds file product is CDE
Update option: catalog product is ABCDE

Replacement option: Product in catalog is CDE
Note: Due to a long period of time not to manage inventory/product catalog, Facebook recommends selecting "replace" for the first feed update, followed by optional "update" for partial updates
Facebook Advertising Product Solutions
The status quo:The impression left by the outbreak is gradually diluted, so the order problem is accumulating day by day, consumers will pay close attention to their goods logistics, business inventory and other issues.
Goal:Use Facebook's rich products to get closer to consumers, including addressing the problems that really occur during the outbreak, including building a brand image during that period.
Specific practice
1, interactive - rich advertising forms to increase customer stickiness
Tips:It is recommended to use more interactive forms of advertising to bring consumers closer together, increase customer stickiness through rich forms of advertising, and achieve expansion.
Use Facebook to research ads, live ads in the form ofHave more in-depth communication with users and strengthen ties.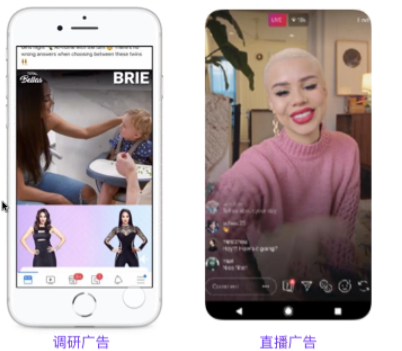 2. Integrity-Messenger completes all marketing steps
For consumers to think of timely understanding of the order situation, access to promotional information, recommended useFacebook messenger。
Note:Promote products through messenger, communicate issues with users in a timely manner, update logistics/product information, and more.
Advantages:
1)Marketing for "pre-order" and so on
2)Timely understanding of the user's current pain point, to convey the "safety" of the product
Policy: Important notifications for Chinese shippers
Facebook has a policy to protect merchants because of the impact of the outbreak and the uncontrollable home page rating.
1, shipping business important notice
1, in view of possible delivery delays, Facebook will delay sending feedback questionnaires to customers and increase the time to delay sending questionnaires by two weeks.
2. If you have managed the customer's expectations but the home page is still punished for the delivery delay caused by COVID-19, please"Applying for review"and select the reason for "temporary interruption of business". and provide documentation that the respective business has been interrupted to prove it.
3, it is recommended to set up the time of questionnaire sending, and timely monitor product inventory, pay attention to logistics and traffic, timely communication with customers and provide refund / product cancellation and other services.
2, set the delivery speed
The delivery speed is the average time consumed from the time the goods are purchased to the time they are delivered to the country or region in which they are developed. After the delivery speed is set in the system, Facebook investigates the speed of delivery when the customer receives the item.Due to the effects of COVID-19, we have been extended from the original maximum can be set to 8 weeks to 9 weeks greater than or equal to.
At the same time, Facebook strongly recommends proactive measures to protect the consumer experience
1, timely and timely view inventory situation, to ensure the quantity of orders
2, for any possible delivery time and other issues, actively communicate with consumers and set expectations for consumers in advance
3, according to the situation, appropriate refund / return policy
4. Prompt questions or important updates that may arise in a prominent location, on the Home page/app, mail, Facebook page, Messenger and other communication channels to keep consumers informed
To protect the rights and interests of users of the Platform, we on Facebook prohibit all bad behavior taken by the COVID-19 crisis, including ads related to COVID-19, sharp price increases, extortion and misleading information.
From 23 March 2020, a total ban on outbreak-related products such as COVID-19 will be implemented worldwide on all Facebook Family platforms(Personal behavior s ad act), including:
Medical masks

Wash and wash your handsLiquid/sterilizing tablets

COVID-19 Test Kit
Facebook has introduced the ability to "go off the shelf" in the catalog manager, using keyword search to locate mask products in its catalog.
Product Trends
The status quo:Global consumer habits change, spawning different hot-selling products
Suggestions:Consider short-term/long-term options from the life scenario
Changes in consumer habits from the outbreak
Facebook surveyed 2,000 respondents aged 14-73 living in the U.S., Canada and the U.K. (the market with high cross-border e-commerce concerns) and observed some of the changes in consumption and marketing trends that followed: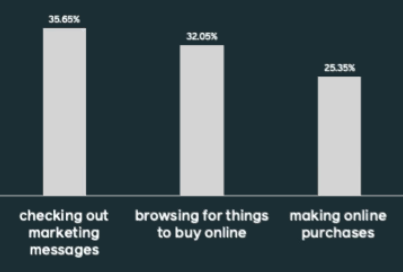 Changes in major consumer goods categories since the outbreak: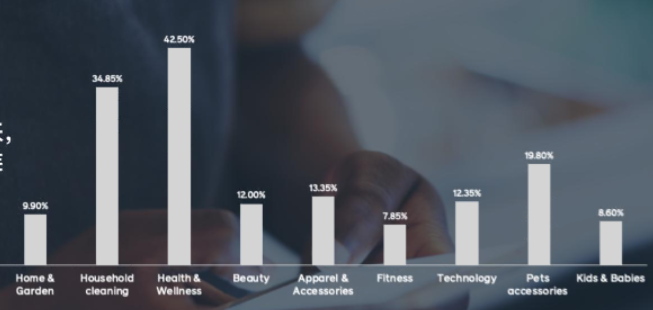 Focus on health category products up to 42.5%, the second largest category is home cleaning products.
As a result of the outbreak, consumers are becoming more cautious about offline shopping, with more turning to online platforms to buy essentialgoods. The following are short- and long-term strategies for recent consumer changes.
Selection Trends
Short list:
Household items, home cleaning, kitchen supplies, personal care, pet items, home sports, children's items, clothing
Long-term list:
Home cleaning, home/gardening, home apparel
Small note: Because the outbreak affects consumers to choose more online shopping;
Marketing strategy
First, short-term:
Multi-dimensional solutions need to be developed to improve the impact of the outbreak, please refer to the following three dimensions
1, marketing
Flexible, responsive to Facebook's ad delivery platform

Reprioritize marketing channels to avoid removing all ads during an outbreak.

Plan ahead of time for the "bounce-back consumer" campaign, which quickly increases advertising spending after an outbreak.
2, brand
This stage should pay attention to establish the brand in the eyes of consumers, timely adjustment of communication information to track consumers
Demonstrate a "reliable" brand image with PR
Write about how brands can help social heal and rebuild
围绕"home&healthy"打造产品故事并创造新的卖点
Build a positive image and continue to win customer support
3, for the hot-selling product line pre-demand production planning.
Second, long-term:
Need to enhance their core competitiveness.In the past, much of the focus has been on competitive products and competitive low prices, butThis special period recommends that we focus on enhancing core competitiveness from the following four dimensions。
1, social marketing:
Stay engaged with social marketing and effective CRM.

Build stronger relationships with eco-system partners for better data sharing, co-marketing efforts, and more.
2, product/innovation
Closely monitor consumer trends and the emergence of new demand spaces/occasions

The launch of packaging updates to meet new demand, i.e. occasion-based inventory bundles.
3, the use of omni-channel situation
Transfer resources to digital/O2O/eComm channels and enhance channel operational capabilities

Increase omni-channel omnichannel touchpoints and improve cross-channel coordination: supply chain and inventory management, use of channel strategies.
4, expand the potential market
Establishvisibility of supply sources and diversify them

Transition from concentrated European and American markets to potential markets through diversified markets
---
That's an important part of this update, and Facebook has been working hard to provide users and advertisers with a better product experience, focusing on Papaya Mobile to learn more about what's next.
For more information, don't forget to follow Papaya Mobile
Professional sea platform, understand more than a little
Match the best marketing plan for you, accompany you to start the journey out to sea
Click to read the original text,
Free account opening application
---