Four factors contributing to Facebook's decline in ad performance
Follow and will be "Everyone is.OptimiserSet as a star
Early every day 07 : 50 Delivered on time
Autonomous first5Days
Indoor Fitness1Hours
Read1Hours
The public number has released the No.283Article
The full text 797word, reading needs 1 Minutes
—————— BEGIN ——————
1, user "too tired"
How do you say that?Let's first look at the next metric, first time impression ratio, which is what percentage of an ad group on a given day
Exposure is the first time it's been shown to your audience.
When you create a new ad and add a new audience, the indicator is theoretically 100%, but when your ad runs over a long period of time, the indicator will slowly come down and get a timely understanding of the relevant
The influencing factors are necessary.If it's less than 50%, you'll want to consider replacing new footage or a new audience.
Find delivery insights at the ad group level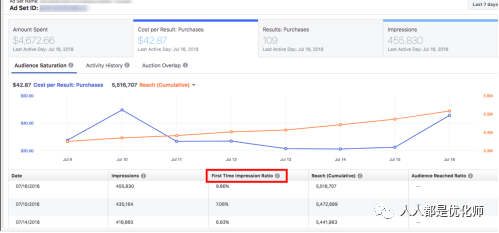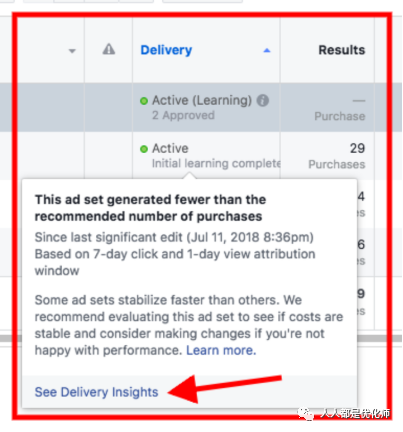 In the screenshot you can see the corresponding information, the case here shows that nearly 90% of users have seen the ads, only about 10% is the first time to see.
Another 7 days of frequency, frequency has reached 4-6 times, which has shown that many users may not be interested in your ads, then you know how to do it.
2, footage is not updated in a timely manner
He asked three questions:When was the last time the footage was updated?When was the last test material?Is there a clear targeted test program, picture video or carousel?
Don't go with the flow, for example:Who ever heard of a carousel will always perform well.Sometimes it does, but for most companies it doesn't produce stable results, maybe just
More clicks and not enough to generate more purchases.Be sure to focus on ideas and products, not just in advertising.
It is generally reasonable to test and update the pace of material testing and updating once a week.
3, place limited
Most people tend to invest their budgets in facebook feeds, which can not be said to lead to better transformations, but with it comes the heat of competition.
Therefore, several stable-performance plates can be recommended to focus on:
facebook marketplace
messenger
instagram news feed
instagram stories
Extended placements can effectively reduce acquisition costs and reach more potential audiences.
4, the delivery optimization window closed too tight
Many advertisers in this place usually have the default option of 1-day click window.If you're running a performance ad, that means you want to tell

Facebook, looking for a similar audience, is a sample of people who click on ads and order in a single day.
First, it is recommended to open 7-click or 1-day view first, and then observe the behavior of subsequent users to determine whether it can be adjusted to 1-day (do not exclude the same-day payment rate is high).
---