Four general concepts of Facebook ads
"No social, no marketing"We do cross-border e-commerce, presumably all understand Facebook ad marketing, then how to play Facebook marketing, and watch The Universal Cloud Academy bring you the Facebook advanced courses . . .
1. Advertising objectives
3.Advertising layout
4. Advertising form
1. Advertising objectives
Facebook ads offer multiple marketing goals to help you achieve your business goals.Marketing goals are actions that you want people to take when they see ads.
When you create a Facebook ad, the first step is to choose a marketing target. The marketing objectives chosen should be aligned with the overall business objectives.
Facebook campaign goals are divided intoBrand awareness、Intent to buy、Action conversion。
So, how do you set the right campaign goals correctly?How do different ad goals affect ad optimization? How to determine the principle of advertising goals?
The above questions about Facebook's advertising goals, detailed in this article, can be read by clicking:How does Facebook Ads Choose the Right Marketing Target?
As the saying goes: "Know who knows yourself, can not fight a hundred", want to advertise the effect is good, must first understand the advertising audience, to know that the audience and our advertising is closely related, choose the right, accurate audience can not only help us save a lot of advertising costs, but also greatly improve the effectiveness of advertising.
Ad audience category: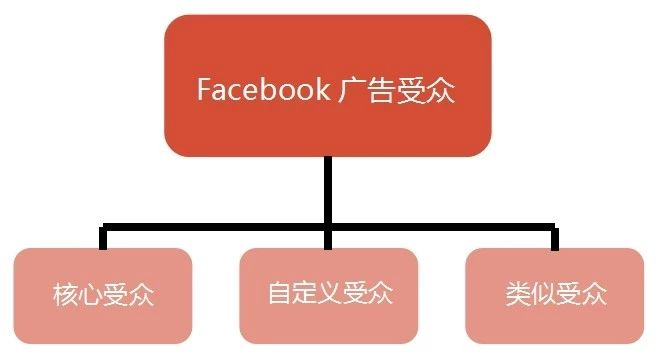 Core audience (choose the people you want to reach):Market to your audience based on demographics, regions, interests, and behaviors.

Custom Audience (contact with known users):Through the data crawl, master the customer's list data.
Similar audiences (find similar people to known users):Look for and connect with people who have similar characteristics to existing users.
Video tutorial:https://study.51microshop.com/study/106-129
So how do we determine the type of audience we want to set at different stages?
Settings for Facebook's ad audience
When you don't have the relevant data to create an ad initially, Facebook Audience Insights can find a core audience for you;

After installing the Facebook pixel, you get a certain amount of user data, this data for you to build a custom audience;


When your ad needs to reach more similar audiences, you can seed your existing custom audience to create a similar audience.
For more tips on how to set up a Facebook audience, click to read:How Facebook ads set your audience
Facebook's ad placement is your platform and network for your ad display. Facebook's ads aren't just on Facebook, they'reFacebook、Instagram、audience networkAndmessengerThese four editions.
When advertising on Facebook, ad layouts have a huge impact on advertising costs. Data show that, depending on the ad layout you choose, the cost of a single click may vary by more than 550%.
So how do You choose your Facebook ad? Currently, you can see in the following images that you have more than 10 different Facebook ad locations available:
Facebook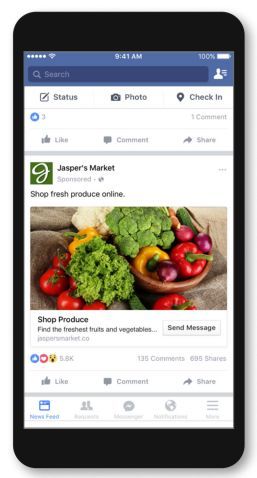 1.Dynamic
2. I.e. reading
3. Video placement
4. Right bar
5.Recommended Video
6.marketplace
7.Quick Shot
Instagram
(Instagram is a popular picture social tool for young people that Facebook has acquired in recent years)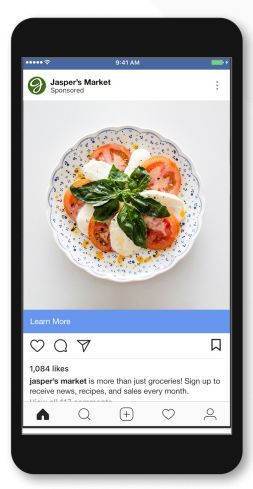 1 Dynamic
2 Quick beat
Facebook Audience Network
(Some apps, websites that Facebook collaborates on)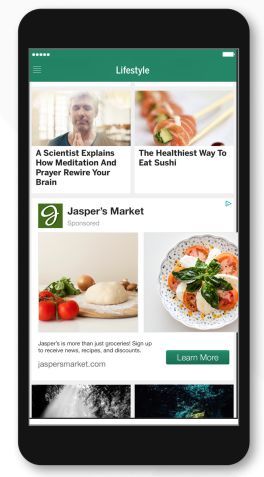 1 Native, Banner, Plug-in
2 Video placement
3 Reward video ads
Messenger
(A Facebook chat tool)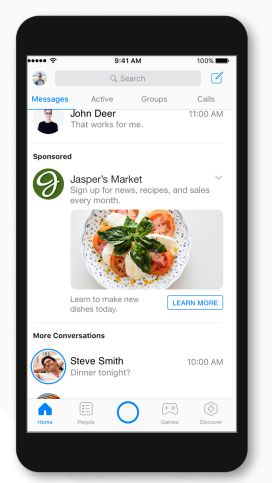 1.Inbox
2. Quick shot
3. Sponsorship message
Note: Fast shot is similar to our latest weChat updates and weibo stories, is a 15S limit, save 24H video form. Facebook, ins are currently available。
Advertising forms are divided intoCarousel Ads、Boutique Bar Ads、Video ads、Full-screen ads、360 Panorama AdsA variety of advertising forms, with different forms of advertising will receive different advertising effects, so in the advertising must choose the appropriate advertising form, fully take into account the psychology of the user audience, so as to receive better publicity results.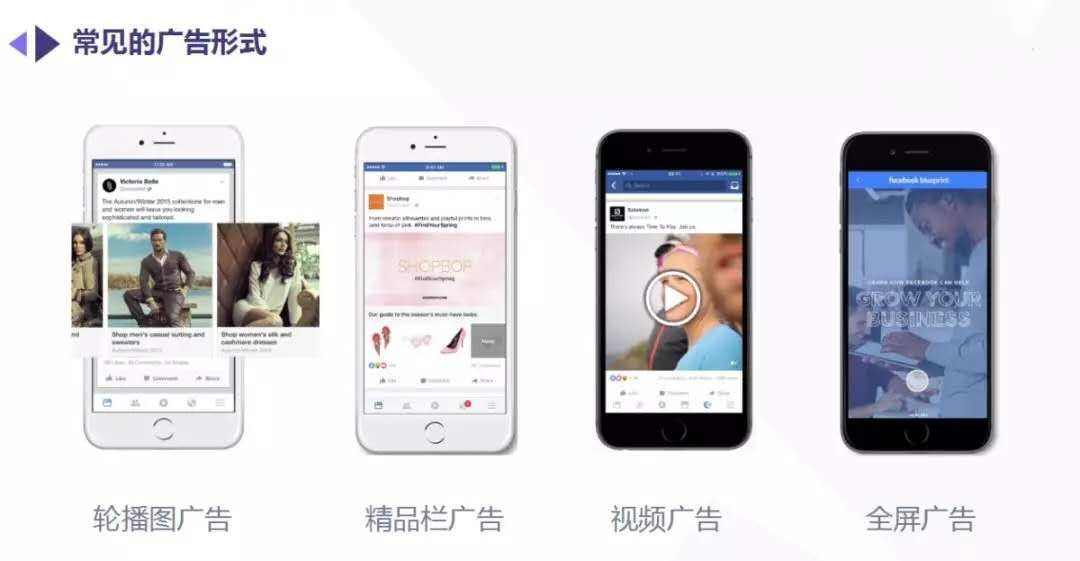 First, let's see how users browse items on Facebook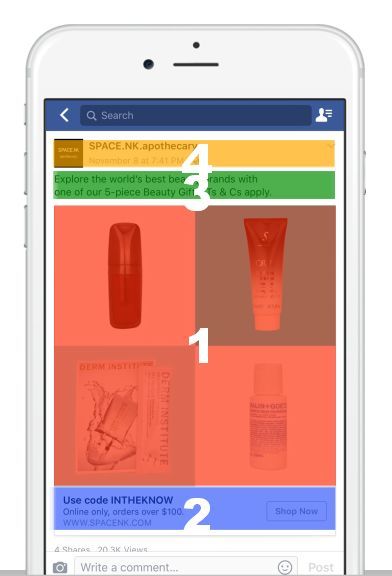 1. Vision is the most important element to catch people's attention when browsing.
2. Visual lying is the most important copy of the description of the product e.g. pricing/discount/exclusive offer, etc.
3. The title above the vision is the location of the auxiliary text, which is concise and provides additional information, creative packaging or expression of brand personality
4. If users are still interested in this, they will look at which brand/page the content comes from and consider clicking on the Call of Action.
Here's a look at the form and considerations for advertising:
1.Carousel Ads, a single ad space put 3-10 images or videos to display products or APP, users can choose to slide pictures or videos to view products, and video ads compared to the advantages of multiple landing pages, can display multiple products. (The image form required for carousel ads must be square, and the recommended size format is 1080 x 1080, 600 x 600 or 800 x 800 is also a more common format.) )
2.Boutique Bar Ads, the ad will show a picture or a video, and then the following display of more than one product picture, so that users can see the ads, but also can see the details of the product information, which can increase the conversion rate of the ads, boutique bar ads more suitable for the mobile shopping experience.
3.Video ads, in the form of video to express advertising, favored by users, easy to accept, can vividly tell brand stories, greatly improve brand awareness. Will be the form of your page creatives in the future.
Video ads allow you to display goods, services, or brands with video. You can create video ads in Ads Manager or tweet posts that contain videos from your Facebook Page.
Facebook video ads are displayed on Facebook, Instagram, Messenger, and Audience Network, with a 4:5, 2:3, 9:16, 1:1, or 16:9 ratio, 1min, and unlimited tweeting.
In addition, there are Instagram video ads, Ins video placement in the ins story, Ins dynamic this part, the aspect ratio is 1:1, the video length is 15s.
4.Full-screen ads, refers to the combination of pictures , videos , buttons , text blocks , and merchandise series , however this form of advertising only supports Facebook mobile use . Note that the full-screen format only supports Facebook Dynamics (Mobile) and uses at least two carousel series or videos.
The above is the full content of The four general concepts of Facebook, if you have questions, welcome to leave a message under the public number, we will answer you in a timely manner . . .WechatRevision, please starUniversal Cloud MallDon't miss the highlightsWhat to send。)
---