Google and Facebook's share of ads is falling, who's "tiger mouth"?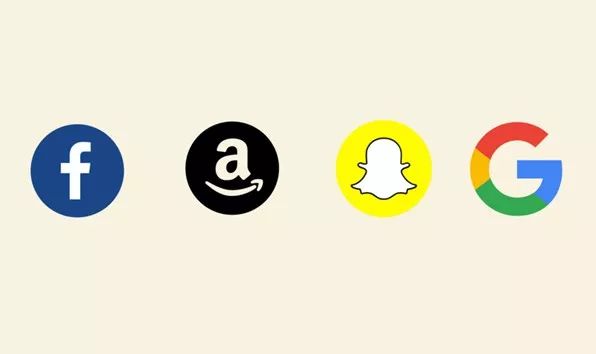 Texts . . . Kristen
According to eMarketer's latest report,GoogleAnd Facebook's share of the U.S. market's digital advertising budget fell to 56.8 percent this year from 58.5 percent in 2017. The report also noted that the share of the two giants in the new digital advertising budget also fell, from 73 per cent in 2016 to 48 per cent.
While Google and Facebook continue to grow their advertising business and remain the nation's leading digital advertising platform, Amazon and Snap are eating into their market share, said Monica Pert, an analyst at eMarketer.
She points out that in the Internet industry, e-commerce is playing an increasingly important role, making Amazon take a bigger share of advertising.On the social side, SnapStory's feature has greatly driven users to life, making Snap's pot full.

New challengers

Amazon and Snap have their own characteristics as giant challengers: more and more brands see Amazon's transaction data as the driving force behind e-commerce advertising; Snap's user base is growing faster than its more sophisticated rivals, grabbing more market share.
But Amazon and Snap now make up a small share of the U.S. advertising market in terms of share. eMarketer predicts that by the end of 2018, Amazon will account for 2.7 percent of U.S. digital advertising, while Snap will account for 1 percent. Accordingly, Google and Facebook will account for 37.2% and 19.6% of the market, respectively.
Amazon's ad revenue is growing fast, despite a small share: Advertising revenue increased 63% to more than $2 billion in 2017.(There is some disagreement on this figure, with some analysts arguing that the actual advertising revenue will be at least $4 billion.) eMarketer predicts,By 2020, Amazon's share of the U.S. advertising market could double to 4.5 percent, or 1.3 percent of total mobile advertising revenue.
Analysts say Amazon is favored because it combines rich customer search information with buying data, which is attractive to marketers who want to sell on Amazon.
Amazon can maintain rapid growth with advertising on its current e-commerce platform alone, while amazon sits on plans to buy Whole Foods, with its own Amazon Fresh and Prime Delivery likely to grow. In addition to e-commerce, Amazon can also expand its ads to a wider range, such as Prime Video.
Another company, Snap, is close to Instagram. Instagram has successfully copied Snap's most innovative Stories features and ad units.EMarketer predicts that Instagram is on track to generate $5.5 billion in advertising revenue in 2018 and a 5 percent share of the U.S. advertising market.
But advertisers are still interested in Snapchat because its users are young people who have difficulty reaching out to other channels. Snap is also releasing new advertising products, to some extent not bad, advertisers are not small enthusiasm.
While Snap's active users are not growing as fast as investors hope, it is still growing faster than other platform users. Analysts say Snapchat is much faster than platforms like Facebook and Twitter, where user growth has flattened.
The report also noted that Twitter's market share will fall to 1 percent this year, down from a Forecast of 1.5 percent in September. eMarketer said the platform will return to the upward trend in 2019 as it develops better cashein tools for existing users.
Analysts say:Twitter's growth has come more from cashing in on existing users than adding new users, and more content is being used to increase user engagement and total volume, thereby increasing ad revenue."

Elephant's Problem

In addition to competition, the two giants are also facing the challenge of their own growth.
As Facebook moves closer to the maximum of Ad load and pricing in its messaging, it will have to rely on Instagram and Watch to keep growing. While Google accounts for a large portion of digital advertising growth, its rising cost of buying traffic is holding back the upper limit.
Despite the many problems with public opinion and content regulation, many believe that increased regulation will affect advertisers' spending on Google and Facebook, according to eMarketer' observations, Advertisers will still mainly choose Facebook and Google as their primary digital marketing platforms.

---