How big is the impact of the outbreak on Google and Facebook's advertising revenue?
Click on the "Blue Word" above to follow this public no.

When the crisis was over, the first cut was marketing spending, especially digital advertising that was easier to adjust than traditional media such as television. As the U.S. economy hits the brakes, like Facebook
Google
, Twitter
Such a large digital advertising platform has felt the "spring chill."
Twitter and Facebook have issued revenue warnings this week, although they have not given up-to-date forecasts, and Google's advertising business is not expected to be spared, according to the channels. Specifically, how does the outbreak affect major digital advertising platforms?
Google: Core Travel Advertising Business Is The Biggest
The impact of the outbreak on the tourism industry is unprecedented, Google is facing a "city gate fire, fish and pond fish" dilemma. Combined Wall Street estimates, travel advertising contributes about 10 to 15 percent of Google's revenue.
Booking Holdings Inc (NASDAQ), the world's largest OTA (online travel platform):
BKNG
It has withdrawn its first-quarter revenue guidance and recently said it would "dramatically" cut its marketing costs. It is reported that the likes of Booking and Expedia (NASDAQ:
EXPE
Such OTAs, which spend hundreds of millions of dollars a year on Google's marketing, each account for about 3 percent of Google's revenue.
In addition, struggling airlines, cruise operators and hotels have had to seek financial assistance from the U.S. government.
RBC Capital Markets describes google's impact: "Do you want data proof?" Enter 'Las Vegas Hotel' in your Google search bar with 0 paid ads in your search results. I can't remember when this happened last time. "
On top of that, YouTube, Another of Google's biggest advertising platforms, is showing signs of optimism. According to a previous report by The Ex-Intelligence, a digital advertising executive said YouTube's cost per 1,000 impressions had fallen by 8 per cent.
Facebook: Brands are cutting marketing spending
Facebook is less dependent on travel-related advertising than Google. Travel ads account for about 6 percent of Facebook's total revenue, according to Bernstein' estimates.
Facebook's risk is brand advertising. Overall, the most risky categories in digital advertising include Facebook's main revenue streams: entertainment, retail and essential consumer goods, plus travel, which contributes about 45 percent of Facebook's revenue.
The average cost per click in North America fell from 64 cents to 32 cents, according to an analysis of about 2.4 million Facebook posts between December and March by Socialbakers, a social marketing platform. Other regions, such as Western Europe, have seen similar declines. Even after adjusting for seasonal factors, the decline was unusual.
Some advertisers reduce or suspend ads because of the need to cut costs, while others may be wary of advertising on news media and social media sites because of the presence of too much negative content on social networking sites, fearing that it could negatively impact brands.
Twitter, Snap, Pinterest: Risks greater than Google and Facebook
According to RBC's estimates, Revenue from Google and Facebook will fall by 5% in 2020, while smaller online advertising platforms, including Pinterest Inc (NYSE):
PINS
), Twitter, Snap (NYSE:
SNAP
), its revenue is expected to shrink by 7 to 9 per cent, saying platforms that rely on branded advertising, with the exception of Google and Facebook, could face a major shock.
After Twitter withdrew its earnings guidance and forecast a loss in the first quarter, pivotal Research, an institution, estimated that revenue could fall by 35 to 40 percent in the quarter ended March.
Snap and Pinterest have not yet adjusted earnings guidance and are expected to be closely watched by investors.
Summary: Revenue decline risk may not be fully included in share price
Since the U.S. stock correction, Shares in Google and Facebook have fallen 25.6 percent and 26.1 percent, respectively, while Twitter, Snap and Pinterest have fallen even more, by 32.0 percent, 35.9 percent and 37.4 percent, respectively. Over the same period, the S.P. 500 fell 27.4 percent.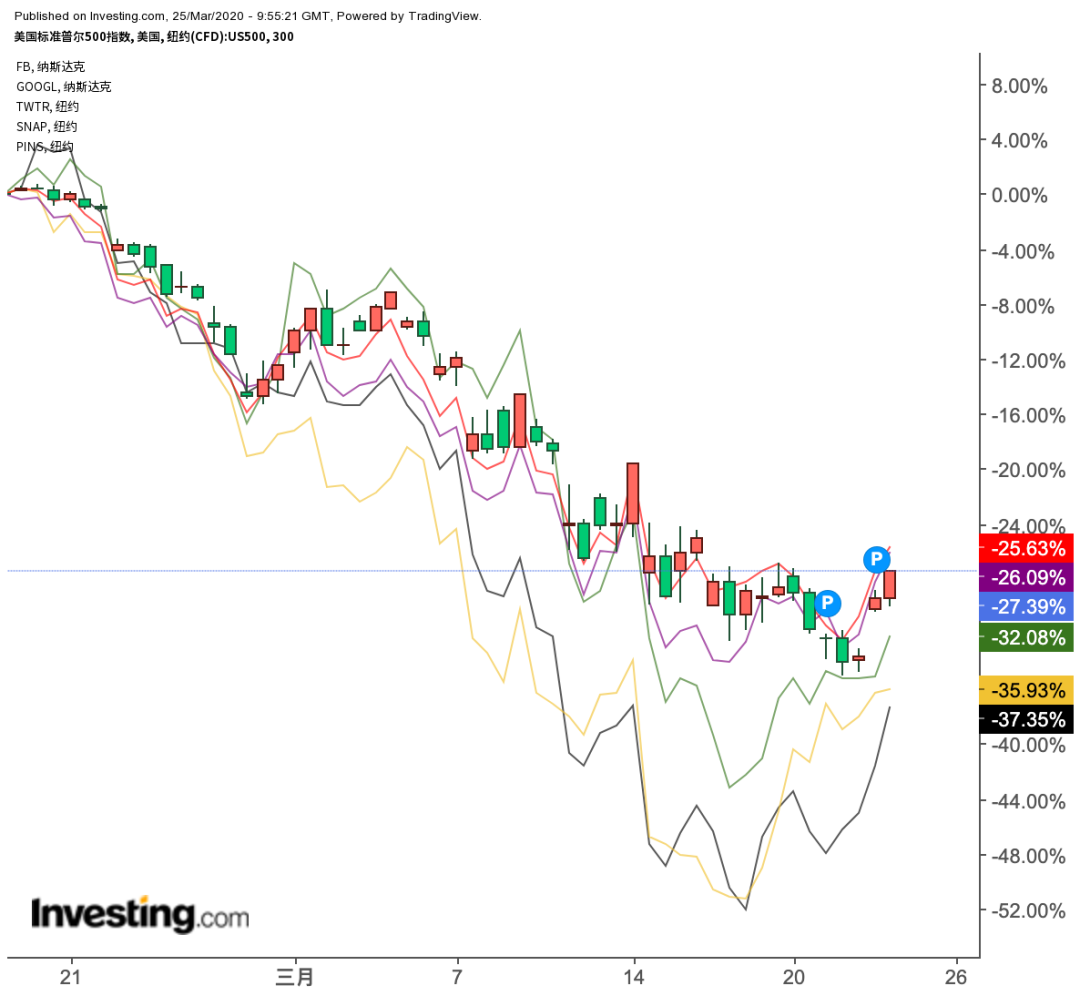 Shares of major digital advertising platforms are compared to the s.P. 500.Source:Instagram
While the stocks fell along with the broader market, taking some risks, Wall Street has yet to adjust its revenue forecasts significantly.
Wall Street's overall revenue forecast for Facebook for 2020 has fallen by less than 1 percent in the past month, according to FactSet, while Twitter, Pinterest and Snap have also cut by just 1 percent. As more analysts adjust their forecasts, there may be further downside in the short term.
Click on the text to view Google's real-time share price.
Add Ying as a small assistant wechatInvesting_cn

Join the "Financial Hero Club" WeChat Group

Hand-in-hand to teach you to use tools, for you to do science, help you find the market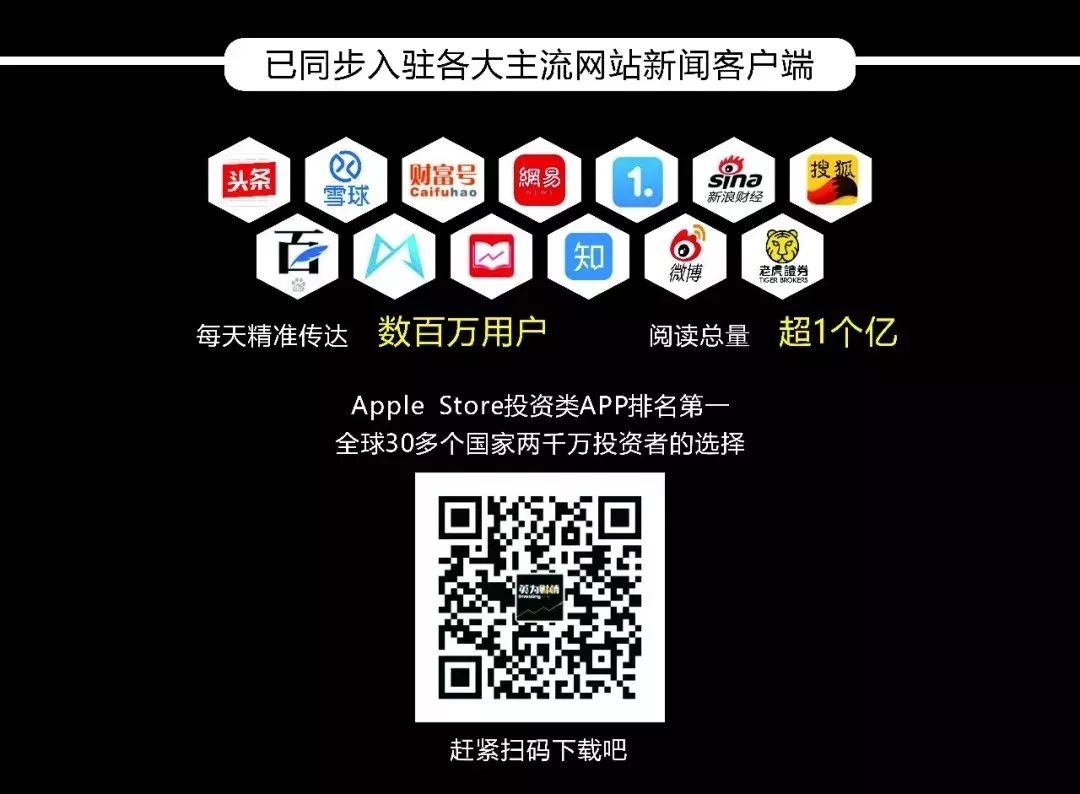 Welcome to reprint and share to friends 

For more exciting pleaseClick on theRead the original】
Poke the original text, more material
---