How can You use Facebook ads to promote shopify stores?

Now that we're a cross-border e-commerce, Facebook is a bumpy street, including instagram, website blogs, and so on, and it's all about getting used to facebook.
Now the Internet society, traffic is really lacking ah.
So no matter how well our shopify store is designed and how affordable the product is, we don't promote it, and people don't see us.
Therefore, active marketing becomes necessary.
This article, just talk to you about how to use Facebook ads to promote shopify stores.
Go straight to the theme!
1. Follow Facebook Advertising Rules
You have to follow fb's advertising rules, and previously, fb also introduced Page's page rating feature, and if your page rating is low, the ad may not let you through.
Therefore, there is no discovery, in the future similar to the problem of the wrong board, it is difficult to survive on FB.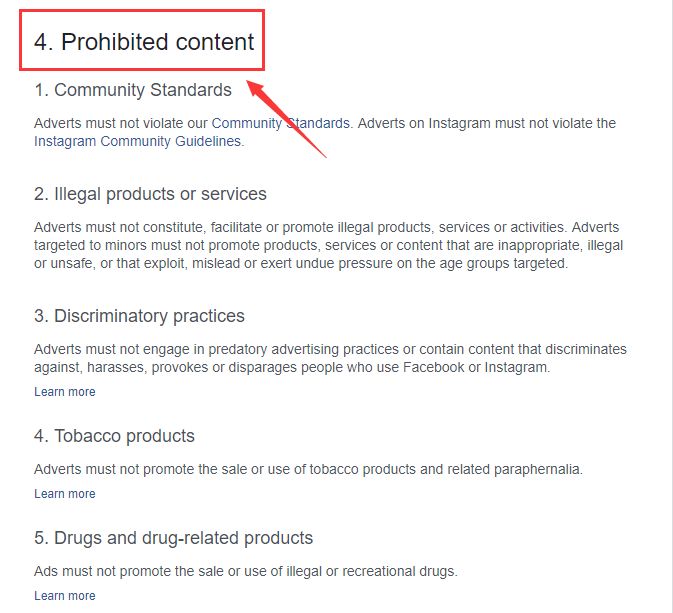 All the ad content is to be checked by Facebook before it is sent, don't waste time, waste money doing content that no one else will accept.
Generally speaking, the review time is 24 hours, but many times it doesn't get to 24 hours...
Here are some ads that Facebook won't accept:
before xx, after xx picture
For example, I sell diet pills, I send some customers before weight loss, weight loss after such photos. This is not allowed.
Include financial information
Include time limit information
For example, I wanted to keep my own post warm for a while, so I deliberately created a suspense and said, after a few days, look at my label and you'll see the answer, and that won't pass the review.
About drugs
About Tobacco
Mistakes, too many grammatical errors
Adult supplies/services
Weapons, arms and explosive stuff.
Sensitive or misleading information
If a user complains about your ad, it can be re-censored or even removed even in the early stages of your ad, and I suggest that you take a closer look at your advertising policies before you do your Facebook ad.
For specific policies, you can take a look at the links and addresses below:
https://www.facebook.com/policies/ads/
2. Storytelling
Even a short ad can tell a small story. Everyone, regardless of age, likes to hear stories, and stories can help us remember things.
So, telling a story around a product can deepen people's impression of the product.
One of the best stories to tell - how a person overcomes all kinds of difficulties in order to succeed. Many movies, TV dramas are actually such a subject, but the people who watch it are happy.
So advertising can also be used in this way, if the promotion of a product, you can talk about how the hero rely on this product to succeed.
For example: fit-stainlaundry detergent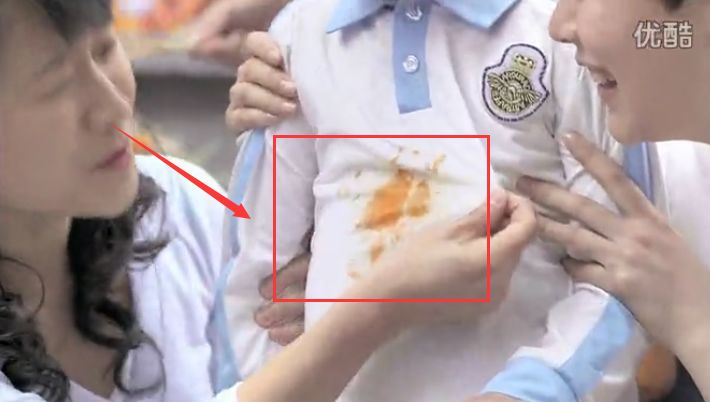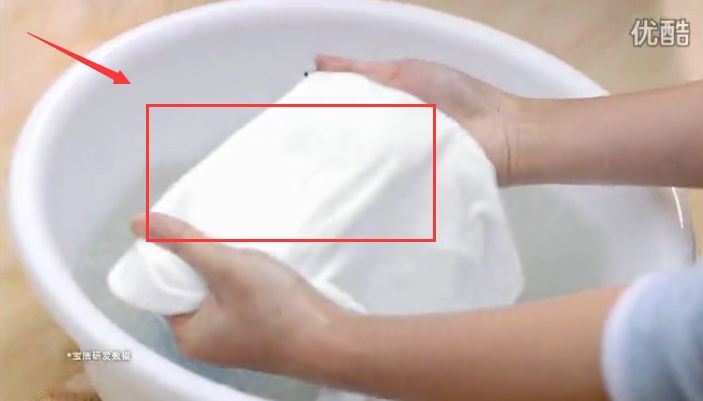 Of course, advertising will have exaggerated elements, but don't exaggerate ah.
Having said that, by the way, we're a great representative of shopify in our industry, phonebibi.
Address: https://phonebibi.com/ Maybe after you open the address, you will be shocked by the price above, My God, how can you be so high ah
Yes, people so dare to buy, but also sell very well.
The point here is that a lot of the description above this site, really seems to be writing a story, this I am very fond of, through the story, very brought in, then the user is very easy to be attracted. And this kind of story, is really in line with the user's usual encounter with many scenes
So storytelling is really necessary.
3. Video
Facebook's algorithm is actually friendly to video content, as opposed to text content. And not only do Facebook platforms like videos, but Facebook users also like videos.
The data shows that more than half of users see videos on Facebook every day, every day. So the odds of them stopping to watch the video are more likely.
We can also use videos to show physical maps of our products, such as: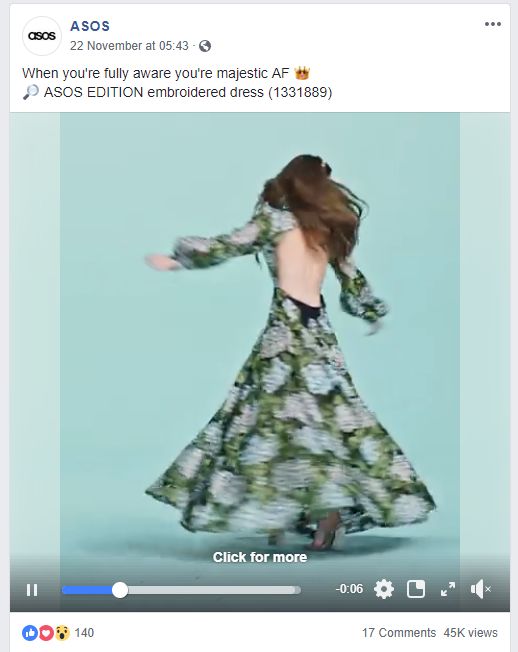 4. Content to be attractive
Many people do Facebook ads very single, that is, put the product in a background, take a video, or take a photo, but the result is that the advertising costs are spent, but not to attract much attention.
To get attention, it's about creating drama.
Finding dramatic points that can be associated with the product, such as a lot of videos now, is very dramatic, sometimes even very exaggerated
Everyone should have seen that ghost story, ok, today I'm going to tell you a ghost story:
There was a man quarreling with his girlfriend, and the man killed the woman in a rage. Afterwards, he was particularly worried about the woman's ghost to find him, he was very afraid, he found a Taoist to find a way for him, The Taoist told him to his girlfriend's blood clothes washed clean.
Must be washed by 12 o'clock.
So the man exhumed his girlfriend's body and took his clothes off and washed them. But no matter how wash is not clean, men are particularly afraid, because the time is coming.
12 o'clock arrived, the clothes still did not wash clean, suddenly a gust of wind, the man's home doors and windows are blown open, his girlfriend with blood in, gloomy laughter.
Then the girl asked his boyfriend, "Do you know why it's not clean?" Men say "don't know."
The girl said, "Because you don't use carved washing powder. "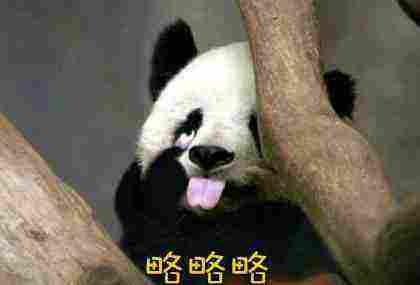 Let's go on to the right thing.
5. Offer discounts
Yes, can have a discount, can save money, the user will not be polite
If your product is better and there are discounts, the chances of others stopping to see your ads, even into your store, will greatly increase.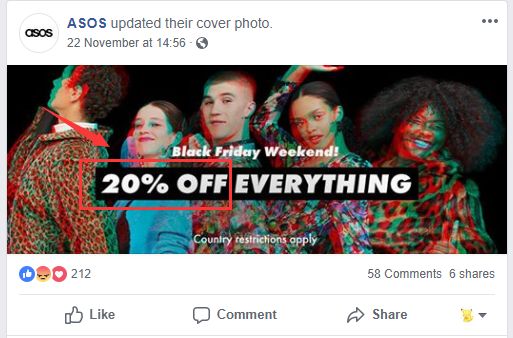 Building authority
Facebook prefers comments and engagementrates, and the comment area is a great place for us to build authority and credibility.
If a user asks a question, answer it.
Remember, to answer a little professional, after all, is our own products, must have authority. When we interact with these users, we are also building our own brand image.
Of course, there must be negative comments, and negative comments are not necessarily bad. Just like when we visit Taobao, if you see a shop, all are good reviews, a bad review, or even a mid-review is not, I always feel not very credible.
Because it's really impossible, is there any product that everyone thinks is good? There must be someone who has an opinion.
Of course, the bad reviews we're leaving behind are more pertinent, but like those that are brainless, it's just deleted.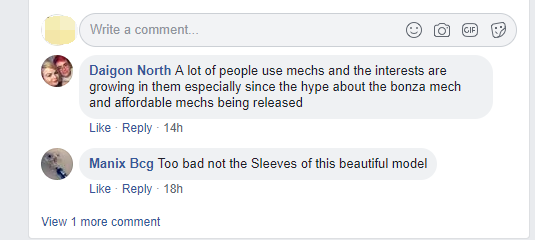 7. From short ads to long ad remarketing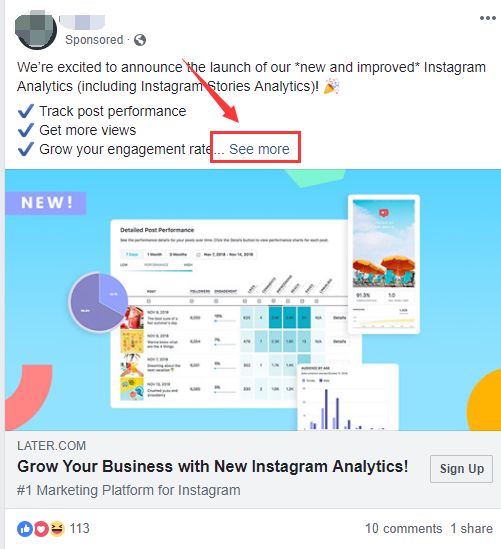 Facebook generally doesn't run long ads, only short ads. Most ads are within 15-30 seconds.
So, if a picture has too much text information, the audit is not accessible. Although Facebook can't put long ads directly, you can put links, we can put links to long ads, from Facebook to the ad page.
We just post a short ad on Facebook and add a "See more" to learn more about the link.
This page, we had better not make hard wide, made soft wide. Then add a call button, so as long as the user believes us, you can click directly to buy.
So if you're doing a product that needs to be explained, or needs more information, but it's not fully included in Your Facebook ads, you can choose this approach. And the landing page of this link is not necessarily text messages, but can also be presented in video form.
8. Gap Ads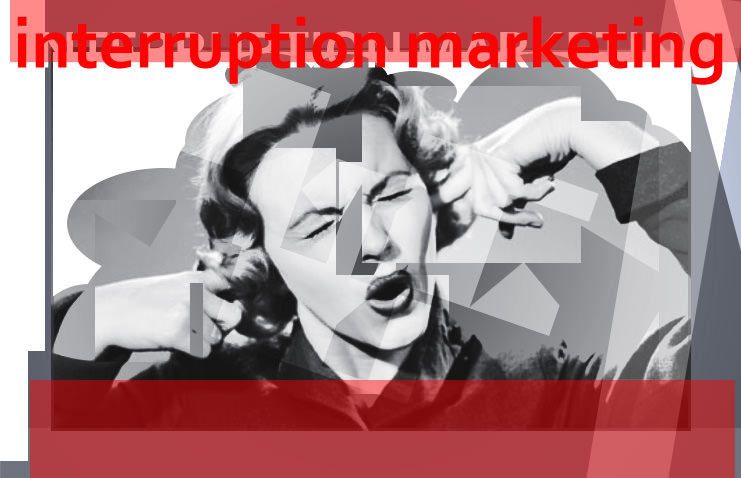 Gap advertising is the same as when we watch TV ads, watching TV, suddenly there are ads inserted in. This is the interrupt ad.
Facebook ads do the same way, that is, it's possible that a user is looking at his friend's post, but our ad pops up in front of him. it's to interrupt him, and to attract him while interrupting him.
But this unmarked interruption requires us to guide him step by step to attract our products, so it's important to guide him to our store.
In other words, in this case, our ads are not to be a guide, our ads need to be more affable, more persuasive. The best way is to provide a solution to the problem. Like, "Always forget to bring your keys?" ..."
Call-to-call button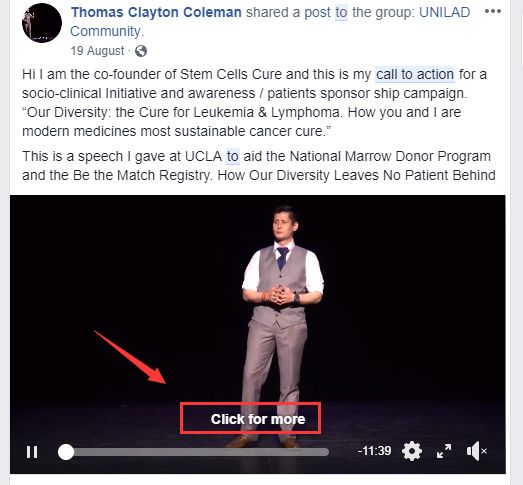 If an ad doesn't even have a call button, it's useless not to be sleepy about how good the ad content is. This call button can be "Learn more" or "shop now". In short, the simpler the path to the user buys, the better, in short, the simplified steps as simple as possible.
Because, every step of the way, the chances of losing customers are a little more likely.
So, if our advertising appeal button is for users to go to Google our store, there will be a part of the user choose to give up, yes, is so lazy. So these call-to-action buttons are meant to be open to the open and go directly to our advertising page or our website.
10. Create a Facebook page to distribute ads
To create a Facebook fan community, we'll need to take the time to set up a Facebook page and post (nonsense).
And it doesn't have to be very long, we can share something that someone else has written, in short, something you think your audience might like. In addition to articles, we can also share some videos, meme ah, or photos and so on.
11. CONTEST
On Facebook, it's still going to be a campaign.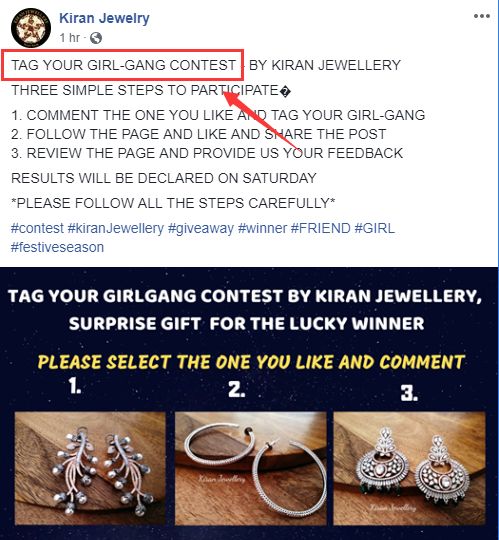 Yes, it's still this, I said this when I was talking about Instagram. It's a great way to get people to talk about us, whether it's our store or a particular product.
We can set the contest to win, you can give away a free product, which can stimulate user participation. We offer them free prizes, they give me free exposure, and it's great to market it, no matter which social platform it's on, Facebook or Instagram.
Before another NBA, which team forgot, did a competition, as long as the friends of their own, share this post on it. Winners get free tickets.
12. Stay relevant
We distribute Facebook to stay relevant to our audience. Because:
If your ad stays relevant to your audience, your return on investment is relatively high
Ads receive fewer complaints than
You can review it (Facebook Ad Policy: All content contained in your ad, including text, images, or other media, must be relevant to your audience)
13. Landing page aligns with Facebook ads
The landing page we link to must be consistent with the content of the ad. It's not just that, I've said in many places before, that the landing page has to be relevant anyway.
But this, really many people did not notice, think to do a Facebook ad, as long as the material to do a good job, I do not know now fb will also review your ad landing page ah
For example, your ads you sell women's clothes, but the landing page you link to becomes a real estate page, it's not inexplicable.
14. Designed ad videos specifically designed for mute
Many users actually use Facebook, like me.
So our videos want them to understand the content even in a silent state, even with subtitles.
For example, in our video, two people stand in an open space to talk, no other scenes, no subtitles. What if someone else is silent? (Don't design such a boring video)
Sound and dialogue can really add a lot to the video, but even without sound, our video is great.
Data show that 85% of Facebook users watch videos in silence.
So we're able to mute our videos and see the best taste, like a demo ad like this: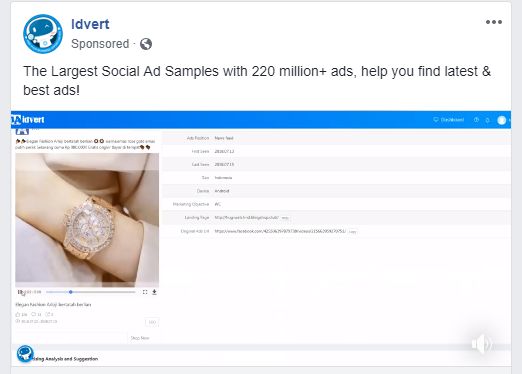 15. User comments
If your shopify store already has a lot of positive reviews, you can completely these users' praise as the text message of the advertisement to show.
If there is really no comment, then make a false comment ah (no way, life forced ah)
People like to see other users feel and recommend, rather than just you a business in their own products how good and good.
But what if you're promoting a new product? What if there's no comment? We can send other people's products and let others evaluate them. That is, the evaluation, now many brands are doing this ah, whether it is a big brand or a small brand.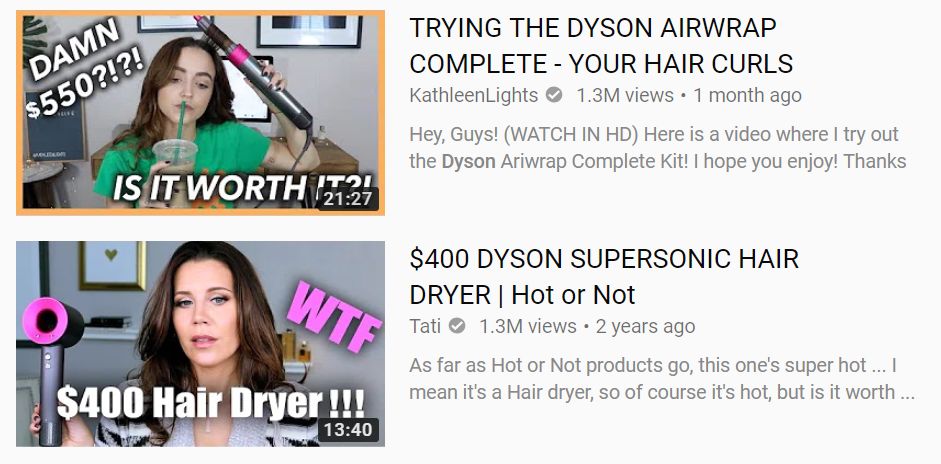 16. Share content other than sales
Not all ads must keep saying, "Come and buy!" Come and buy it! "
Why am I going to vomit when I hear an ad for brain platinum?
But now this society, such a purpose is too strong advertising, others look edited really tired. So, we can occasionally send something that's not that strong in nature. You can promote an event, or share some brand stories ah and so on.
Like what: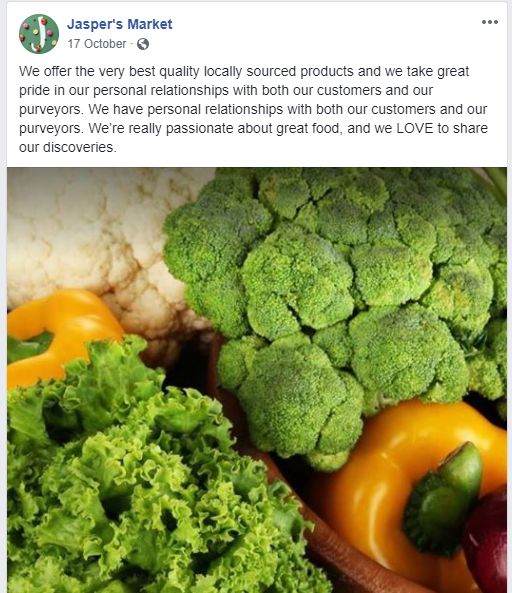 17. Ads track people who have visited our website
A lot of People doing Facebook ads may track new users directly, and the people they didn't reach before are really important, and you're doing the right thing.
However, it would be more efficient to track down people who have been in contact with us before, because they already have an impression of our brand, and even a lot of them have already seen our products, so they are likely to buy them.
So how do we set this up?
The first step is to go to facebook ad management center

Step 2, select Settings, pixel

Step 3, select "create custom custom"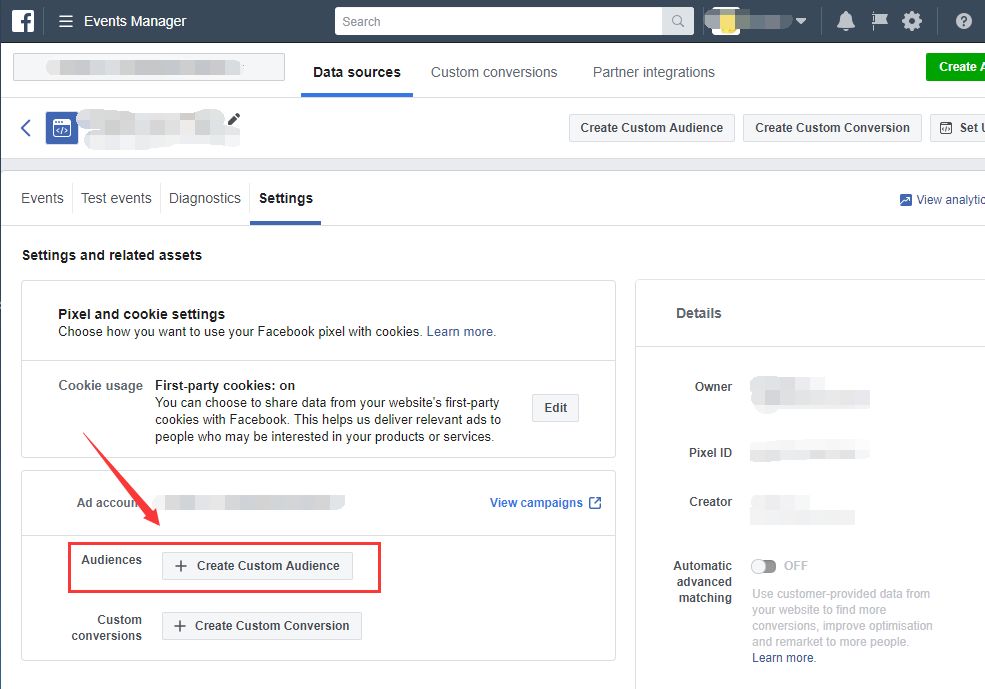 Step 4, select all site visitors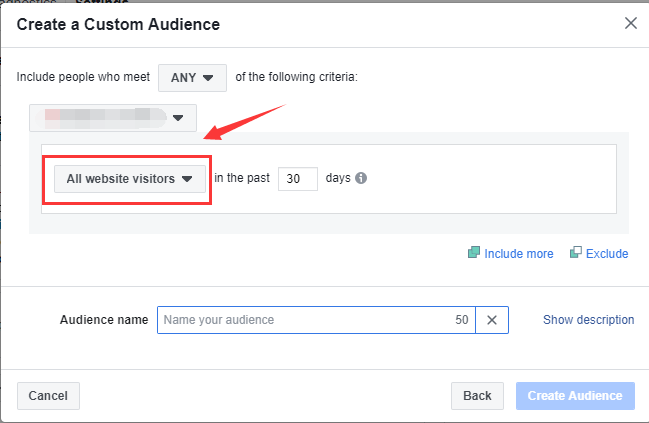 Complete.
Of course, if you have your own ideas, you can choose other options: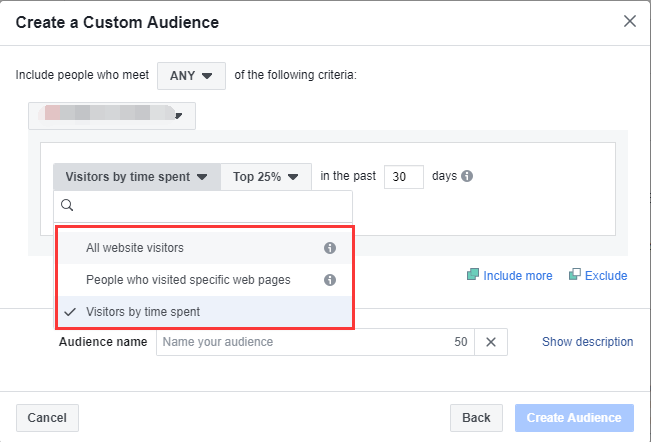 18. Recorded data
Advertising must not just be done with your eyes closed, we also regularly monitor this data. Monitoring data wildflowers is in the Facebook Ad Management Center I just talked about.
First step, select "create custom conversion"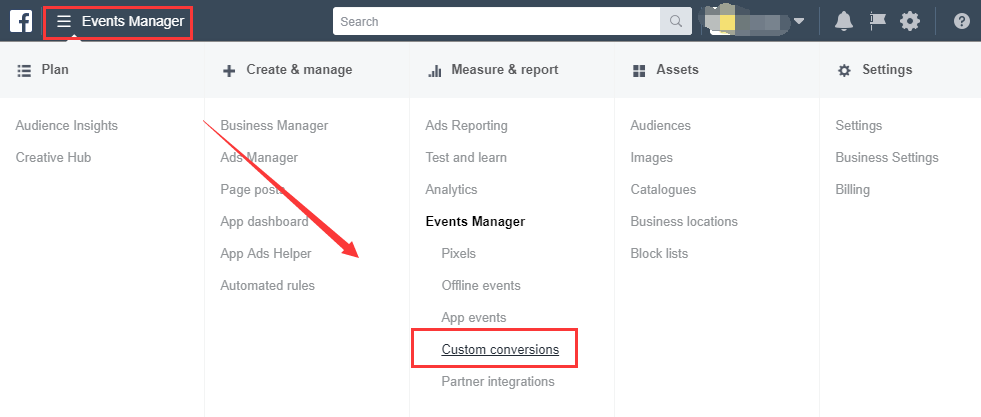 Step 2, choose what you want to track in the category.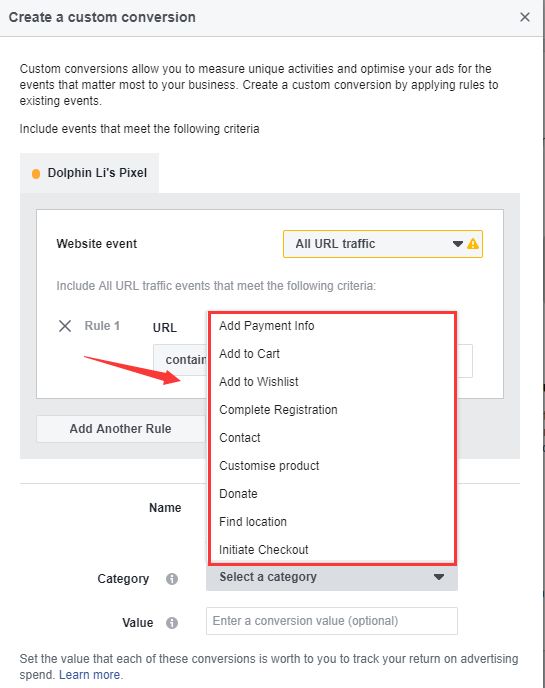 There are many types, and there are also drop-downs, including the entry of payment information in our store, or the addition of a shopping cart, the addition of wishlists and so on can be recorded.
This is part of Facebook's remarketing feature, which, if we can take advantage of, will play a particularly important role in the transformation of our website.
Here, I only say one word, you want in the remarketing stage, the establishment of funnels, sometimes do not rely on a product to make money, this style of play is done by a lot of people, directly into the landing page, and then the user into the LP, either buy, or not sell
This kind of play, or very junior, you have toBuild funnelsTo sell with other products, you can benefit from anything the user clicks to buy or doesn't sell, no matter what button he clicks (except exit)
Throw out a point of thought first, you can think more about this.
Above, the above is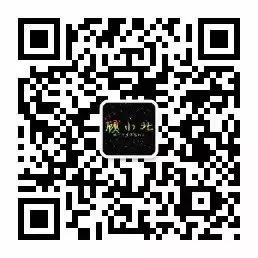 Press and hold the QR code to add attention!
---