How to use Facebook's campaign budget optimization to improve results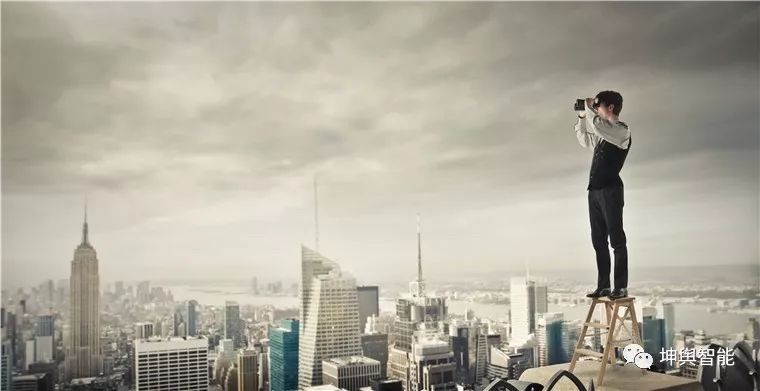 Recently, there's a marketing god that's been crazy about calling - campaign budget optimization (CBO). CBO can divide its budget to the best performing ad groups through automated real-time operations, thereby increasing the number of conversions across the campaign and maximizing marketing effectiveness. Come and talk to you today about CBO this latest explosive marketing tool to help you prepare for the holiday season marketing!
What is campaign budget optimization?
As the name implies, Campaign Budget Optimization (CBO) optimizes budgets at the campaign level. With the CBO, Facebook continuously monitors the performance of each ad group in its campaigns and distributes budgets to the best performing ad groups in real time and automatically, enabling the entire campaign to achieve the most conversions and maximize marketing effectiveness.
What are the benefits of using campaign budget optimization?
Benefit one: Maximize your ad delivery
Ad budgets automatically find the best delivery opportunities across each ad group, resulting in the most conversions, effectively reducing the overall cost of single-performance, and maximizing the return on your campaign's return on investment.
As the following image shows, without cBO, all budgets are evenly allocated to three ad groups, regardless of how many conversions each ad group actually achieves, or the cost of a single performance. This mismatch of resources can minimize the use of the budget.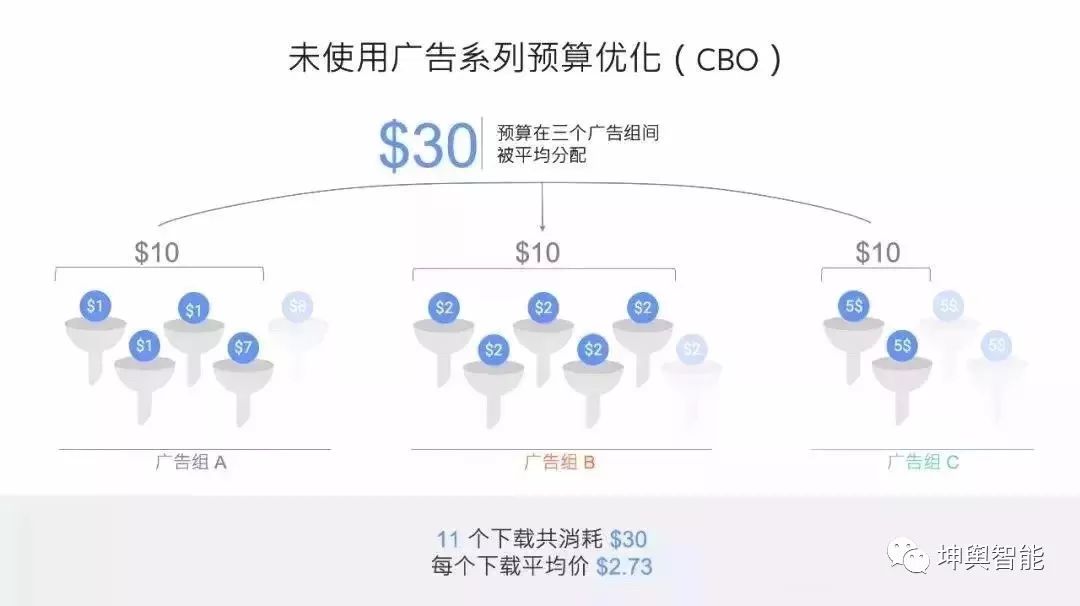 With the use of the CBO, Facebook automatically "concentrates its firepower" and allocates more budget to ad groups that generate more conversions. As the following image shows, after the less expensive optimization events of Ad Group A have all been achieved, the budget automatically flows to ad groups B and C, resulting in more conversions to the entire campaign.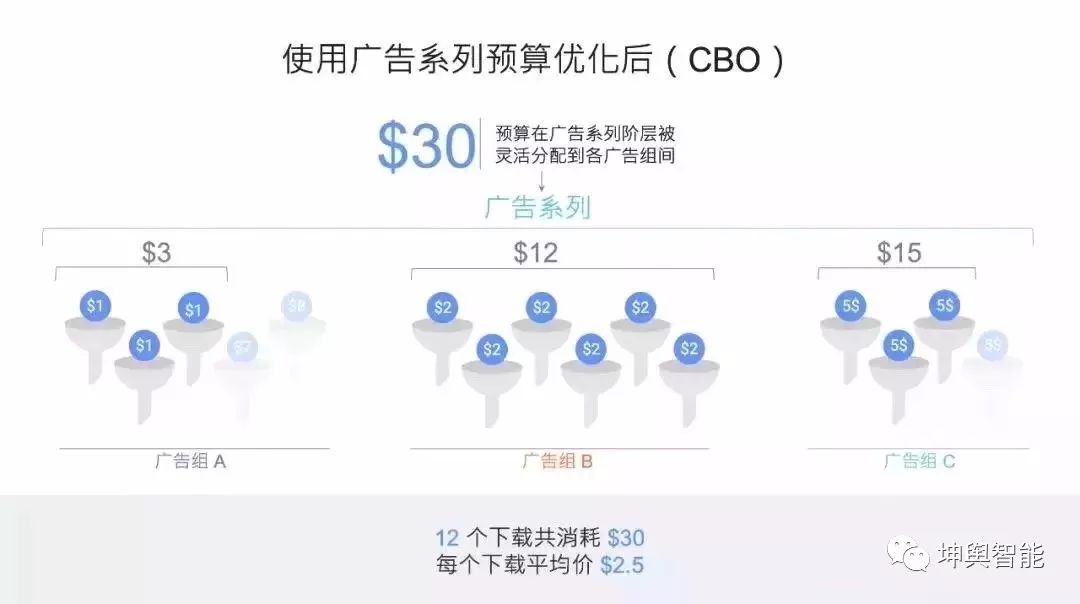 Note that the CBO and minimum-cost bidding strategies are designed to help the entire campaign, rather than a certain ad group, achieve the minimum single optimization event charge. Trying to get the least expensive optimization events has always been the goal of the lowest-cost bidding strategy, but over time, after all the least expensive optimization events, the system spends its budget on the relatively more expensive optimization events, but even so, these optimization events will still be the least expensive at the time. As in the image above, ad group C appears to be spending much more than ad groups A and B, but in fact it is still cheaper than other potential delivery opportunities in ad group A.
Benefit II: Maximize management efficiency
CBO is a real-time automated process that automatically allocates and delivers budgets without advertisers manually adjusting the budgets of individual ad groups, so managers can significantly reduce management time and allow marketers to focus on more important strategic tasks.
Benefits 3: Improve the stability of advertising
In the past, manually adjusting the budgets of individual ad groups led to a restart of the machine learning phase, whereas when using CBO, automatic allocation of budgets between ad groups would not result in a re-entry to this phase, resulting in more stable and efficient ad delivery.
The machine learning phase refers to the period when the ad delivery system learns a lot of information about the ad group. At this stage, as the system continues to explore the best way to serve ad groups, the ad group is more volatile and costs more per action than usual. When machine learning is complete, the system can make more accurate predictions based on the collected data and optimize subsequent ad servings.
Please note:
Typically, an ad group needs about 50 conversions to get enough data and exit the machine learning phase, and then the ad delivery performance stabilizes.
Whether you set up a CBO for an existing campaign or automatically assign the budget to different ad groups when using the CBO, the machine learning stage is not triggered.
Making significant adjustments, including changing audience targeting, changing creative footage, changing optimization events, and so on, can cause ad groups to re-enter the machine learning phase, which should be avoided if not necessary.
If you don't get 50 conversions after your ad starts or seven days after a big tweak, preventing you from exiting the machine learning phase, your ad isn't working well and your ad is stopped. Consider making significant changes to your ad group to improve performance.
A guide to the use of campaign budget optimization
Try to simplify your campaign structure
The more ad groups and ads in a campaign, the longer the machine learning phase takes, so there must be no more than 70 ad groups in each campaign. Your campaign should be well budgeted to ensure that you receive at least five conversions a day, and that all ad groups in your campaign get the opportunity to run. When the budget is too low, some ad groups may run under-run because they can't get a chance to serve.
Notes on adding ad groups
When you add a new ad group, the budget usage of all the ad groups that are running in your campaign is re-adjusted, typically for several hours. Therefore, if you need to add more than one ad group, it is recommended to add it at the same time at once, rather than multiple times, so as not to cause too much interference with the budget allocation.
Set a minimum/maximum spend limitfor ad groups
You can set a minimum/maximum spend limit for each ad group, but because setting spending limits can result in budget optimization, we recommend doing so only if you have a hard limit on your ad group's spending, such as if you want an ad group to increase in magnitude, or if an ad group is limited.
Don't mind manually turning off ad groups
When using CBO, do not manually pause or close ad groups. After an ad has been running for some time, some advertisers may consider an ad group to be more effective and underperform, so they choose to turn it off manually. But doing so can be a gimmick, causing campaigns to miss less expensive optimization events and impact overall results.
As the following illustration shows, if ad group C is manually closed, the ad budget can only be allocated between ad groups A and B, resulting in missed the lower-cost optimization events in Ad Group C, making the budget less efficient.
Finally, a diagram is used to briefly summarize the characteristics and benefits of CBO.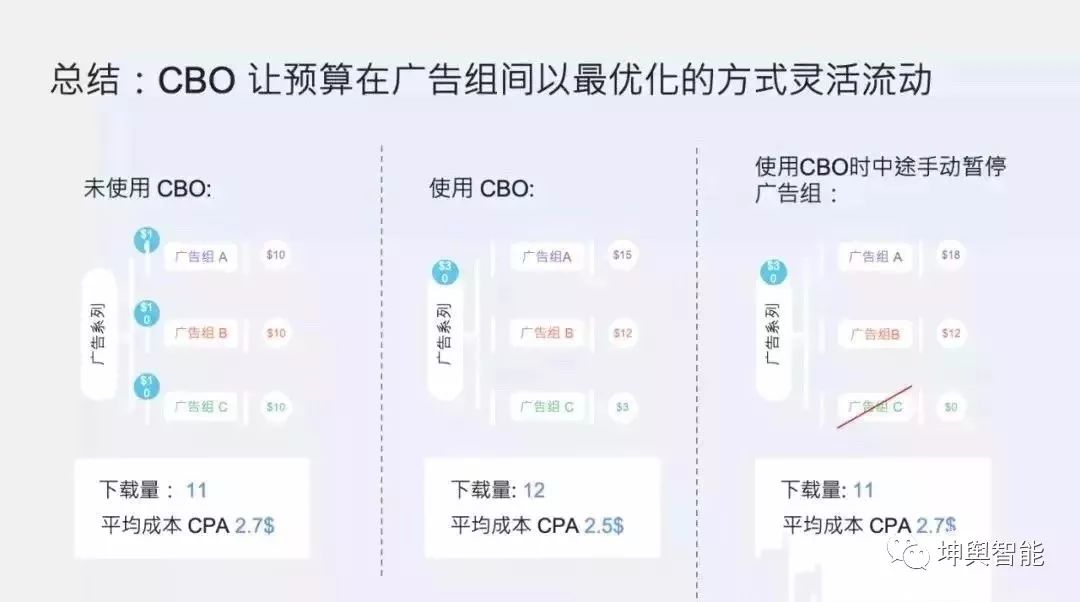 In summary, with CBO, the system can move away from the budget limits of each ad group in the past, allowing the budget to flow flexibly between different ad groups and automatically "capture" the lowest-cost optimization events in real time. With the same budget, campaigns that use CBO are maximized by budget, resulting in more conversions and maximizing marketing effectiveness.
---