Is your ad getting worse? Facebook ad frequency Do you set the right
Advertising is usually an opportunity and a trap. Whether it's a rookie or a veteran, there's always going to be a few mistakes. Where"Advertising frequency"It's a place where the vast majority of advertisers are easy to ignore.
Why is "ad frequency" important to your ad performance?
The so-called "advertising frequency" refers to the average number of times people can see ads.
Now the information flood, who have been bombarded several times by advertising, advertising aesthetic fatigue will lead to poorer advertising results, while affecting CTR, CPC. This can seriously damage the performance of your Facebook ads.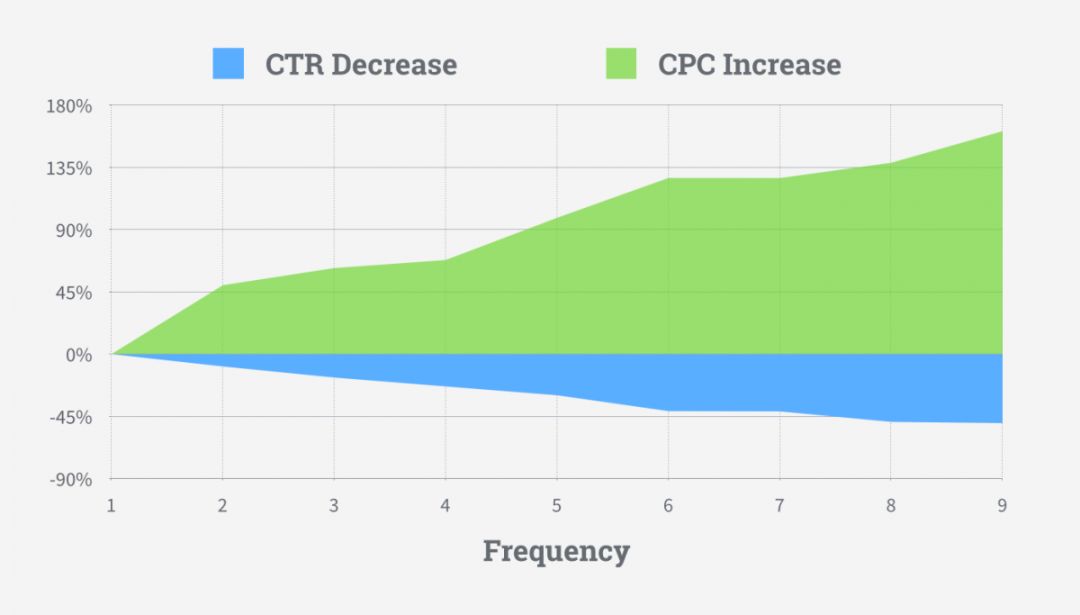 As you can see, the more frequency you increase, the more you see, the more you'll see, and the higher your average cost per click.
According to Comscore, users are exposed to an average of 1,707 banner ads per month, meaning they receive about 60 of them a day, but less than 3 percent of users think the content is relevant to their interests.
They'll most likely skip your ad directly. Turning a blind eye to your ad will not only reduce the effectiveness of your ad, reduce click-through rates, but will even increase CPC and CPA. In order to avoid overloading information, people will automatically produce such defensive psychology.This phenomenon has a proper noun called Banner Blindness (Ignoring Banner Ads).
In recent years, you've also seen a number of ad-blocking extensions that allow users to browse the web from being disturbed by these ads.
CTR (click-through rate):The percentage of people who click on an ad after seeing it is a percentage of all users.
Cost-Per-Click (cost of a single click):How much do you spend on each click?
Frequency setting is too high, not only will reduce the brand's advertising performance, or worse, it is likely that the original brand has a good feeling of disgust!
You can see that when people see the same ad twice, click-through rate drops by 8.91 percent, but when it's repeated five times, the cost per click is 98.51 percent higher than the first ad serving.
Based on ad expresso's results in 500 ad campaigns, you'll find that when ads appear at an average of nine times, CPC increases by 161 percent, and the conversion rate decreases as ads appear.
The link between ad frequency and relevance score?
Relevance scores are one of Facebook's tools to prioritize which ads to run first and at what price points to get ads.
In most cases, the higher the frequency, the lower the correlation score. Your ad may start with a high relevance score (for example, 7 or 8), but your relevance score is likely to drop after your ad has been running for a while and served to the same audience multiple times.
Facebook ads are interactive. Users can submit ad feedback, which can cause your relevance score to plummet. For example, if someone doesn't like your ad, they can choose to hide it.
When people choose to hide ads, Facebook asks them to specify what they don't like. (Like it has nothing to do with me, I've been seeing this, or it's annoying or uninterested, etc.)
If the feedback submitted by the user is irrelevant to me, your relevance score will drop. If your ad has a high relevance score (10 is the highest), your ad is more likely to run than other ads that target the same audience.
How is the frequency of advertising set to get the maximum ad benefit?
From the statistics of AdEspesso in the figure above, it is also found that when the frequency exceeds four times, the rate of CPC increase is a sharp increase.
It is recommended that if it appears on the main dynamic wall, the frequency of the ad does not appear more than 4 times, but if the ad on the right sidebar, the frequency can appear up to 8 times (because, in contrast, the user is easy to ignore the right sidebar ads).
4 Ways to Get Your Ads Right
1. Find a balance between your budget and your ad population:
Suppose you have a budget of $10 a day, and even if your ad's main target audience is small, it will still take some time to increase the frequency of your ads exposed to the main target audience; Will also make the same ad appear in front of the same consumer less frequently.
2. Divide with 2 as the boundary point:
When your ad appears about 2 times, you need to start monitoring your ad campaign more carefully. If your ad is doing poorly, there are 2 actions you can take:
(1) Change your advertising design, may try to different value orientation, to attract people's attention;
(2) Stop the original ad campaign and lock in a completely different target type.
After about a month, you can re-start running ads again to the target audience you're targeting, so that your ads may perform better.
3.Exclude targeted users who have already converted:
It's worse than showing your ads to people who are completely uninterested: keep putting the same ads to people who have already bought your goods or services.
Too high ad frequency will not only make users bored, so, but also annoy your consumers! Remember to use self-targeting to exclude consumers who have already purchased your goods or services when setting up your ad campaign, unless you want to go on to sell other items.
4, with the help of Facebook ad frequency control function
Advertisers can set a custom frequency cap that best fits their marketing needs, and control how often ads appear within a specific time frame.
If advertisers don't set a custom frequency cap, Facebook continues to serve ads to users at the best frequency, achieving the selected goal at the lowest single-performance cost.
To see how often your finished ad series is running, go to Ads Manager, hover over the corresponding ad group, and click view the chart. Click on the frequency under the presentation to view the frequency distribution report.
SummarizeTo maximize ad effectiveness, remember to control how often Your Ads appear and your Facebook relevance score.
Want to learn more?Remember to keep an eye on papaya movement. Papaya Mobile is Facebook's top agent, not only with rich internal resources, but also with a professional Facebook delivery strategy. Committed to providing one-stop solutions that best meet the needs of cross-border sellers in China.
For more exciting, don't forget to follow papaya moves
Professional sea platform, understand more than a little
Match the best marketing plan for you, accompany you to start the journey out to sea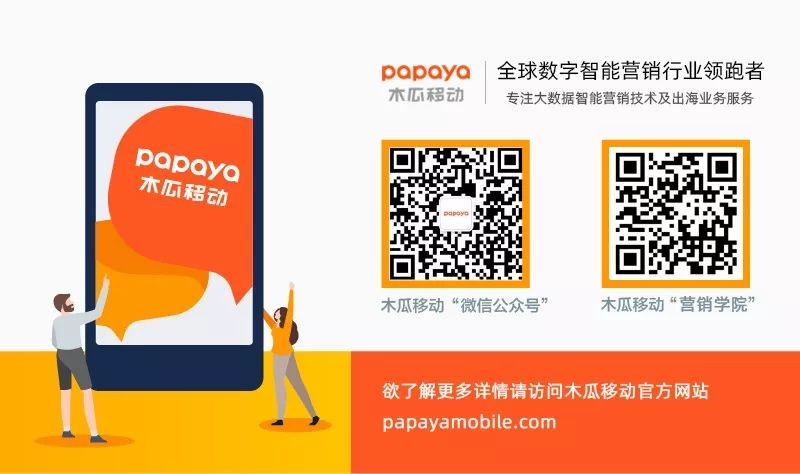 ---