Reveal the six major factors influencing Facebook's ad costs, and did your money burn the right place?
Click on topHugo.com, don't miss cross-border e-commerce size
There is no doubt that advertising on Facebook has become one of the marketing strategies of all types of companies around the world, with about 7 million advertisers active on the platform, and about 26 percent of facebook ad users buying products. Not to mention, more than 75% of consumers buy products they find on social media. That's why companies invest in ads on Facebook, but how much does Facebook's advertising cost? Continue reading this article to learn more about Facebook's advertising costs.
How much does Facebook's advertising cost?
The average cost of running ads on Facebook is $0.97 per 1,000 clicks. If your advertising focus is on getting likes or app downloads, the average cost per like is $1.07 and the cost of each download is $5.47.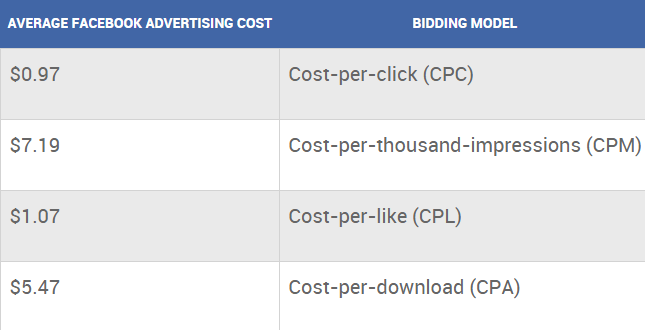 Still, these numbers are just average, and you may see higher or lower Facebook ad costs, which are largely determined by several important factors, including ad delivery, target markets, industries, and so on.
That's why these numbers are used only as a reference point, not as standard data.
How does Facebook's ad auction work?
Before exploring the different factors affecting Facebook's ad costs, it's important to understand how Facebook's ad bidding works to optimize ad costs. Here's an overview of the steps before Facebook's ad auction:
Sign in to Ad Manager to create an event and ad;

Select the maximum amount spent on the daily budget or daily;

Choose which behaviors will be paid for, such as browsing, clicking or downloading;

Use demographics, interests, and device targeting to build their audience;

Add their creatives, such as ad copy, images, and videos;

Approve and publish ads.
Once there's an opportunity to run ads, Facebook's ad auction begins:
Facebook rates the bid, estimated click-through rate, and ad quality of each potential ad;

Facebook uses estimated rates of action and ad quality to determine ad relevance;

Facebook generates the total value of ads based on bidding, estimated click-through rates, and ad quality;

Facebook delivers the highest total value of ads;
Depending on your ad auction, you can see which metrics are important to your ad and its cost:
Ad auction

Estimated rate of action

Ad quality

Ad relevance
If you can optimize these metrics, for example by improving the quality of your ads and connecting with your users, you can reduce Facebook's advertising costs. Facebook even says the most relevant ads cost less and get more users.
What determines Facebook's advertising costs?
Like Google's pay-per-click ad costs, there are many factors that affect Facebook's ad costs. Including:
Audience

Advertising budget

Ad auction

Advertising goals

Ad placements

Ad quality

Season

Industry
1, audience
Target audiences have a significant impact on Facebook ad prices. You can expect changes in advertising spending regardless of your age, gender, or interests.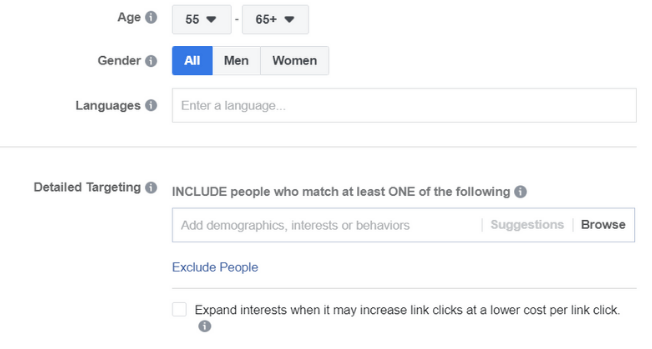 For example, if your ad is aimed at a woman, your CPC may increase by $0.55. That's $0.15 more than your ad for men. When you think about age, advertising for people 55-65 or older tends to cost much more than advertising for people aged 25-34.
That's because Facebook has only 26 million people between the ages of 55 and 64. While that's a high number, it's a far cry from the more than 58 million Facebook users (aged 25 to 34). When you're running ads on Facebook, you can also target specific interests or audience attributes. For example, if your target customer is a frequent traveler, rather than an international traveler who travels a lot, your customer base is broad and more likely to be additional.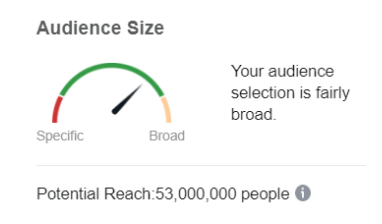 While high-value attributes can help you reach specific markets, broad interest can expand your target audience with low-value users. Because these users often click on your ads, failure to implement CTA (Call to Action) can result in a low-performance activity. Focus your activities on people who are valuable. When it comes to long-term goals, such as driving sales or generating potential customers, there's no need to pay for worthless clicks or browsing.
2, advertising budget
When you launch an ad campaign on Facebook, you need to set an ad budget. Whether it's a budget of $200 or $800 a month, it can affect the cost of your ads on Facebook. If you set a $200 budget, it will affect your ad auction, ad performance, and overall results of your social media campaign.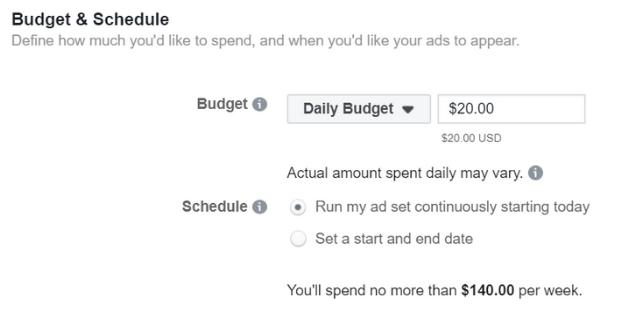 For example, if you start an ad campaign on a budget of $100 a month, you might set the maximum cost per click to $1, because the average click-per-click cost for a Facebook ad is $0.97. You can find that your bid may not be competitive and lead to lower exposure and clicks. Facebook's advertising budget is at least $5 a day, some social media strategists suggest. But if you spend $5 a day on your advertising campaign, you'll spend $100 on your budget by the 20th day.
3, advertising auction
Your ad auction will also affect the cost of Facebook ads. Facebook offers a number of bidding strategies, including:
Lowest Cost Bid Strategy:This option, also known as automatic bidding, helps you achieve the lowest cost per click and per action. It is also designed to make effective use of your budget, which many people tend to start with;
Target cost bidding strategy:This option, also known as manual bidding, can meet your expectations for cost per click and cost per action. You can use this policy for app installation, conversion, lead generation, or product catalog sales activities.
Depending on your bidding strategy and amount, you may have higher or lower Facebook advertising costs. In most cases, manual bidding comes with higher advertising costs, and automated bidding tends to make a bigger budget.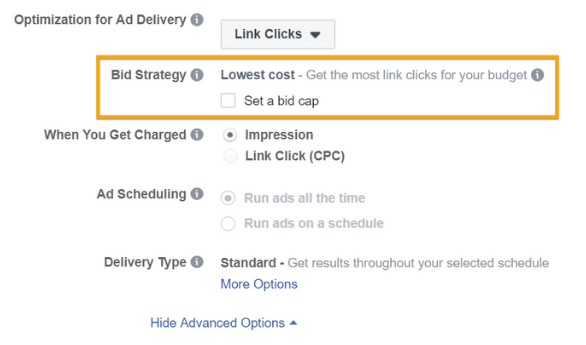 Before you decide on your bid strategy, understanding the algorithms behind ad services can help you develop better advertising strategies and ad budgets. In one ad auction, Facebook will rate each bid ad based on three factors:
Bidding:Bidding is how much you are willing to spend to get users to interact with your ads. For example, you can bid $1.50 per click. According to Facebook, your bid is one of the powerful tools to improve your ad performance;
Estimated engagement rate:Estimated engagement rates show the likelihood that users will interact with your ads, such as clicking on your ad or downloading an app;
Ad quality and relevance:Positive and negative interactions between users and ads determine the quality and relevance of ads. A high ad quality and relevance score can improve the success of your ad auction.
If your ad gets a higher total value based on these three factors, it wins the bid. In response, Facebook will show ads to your target audience, not competitors.
While a radical bid can increase the total value, it also increases the cost of your Facebook ads. That's why you need to focus on creating a relevant, high-quality ad before evaluating your bid strategy and bid investment.
4, advertising objectives
When you create an ad on Facebook, you need to select one of the following main ad goals:
Brand awareness
Purchase intention
Action conversion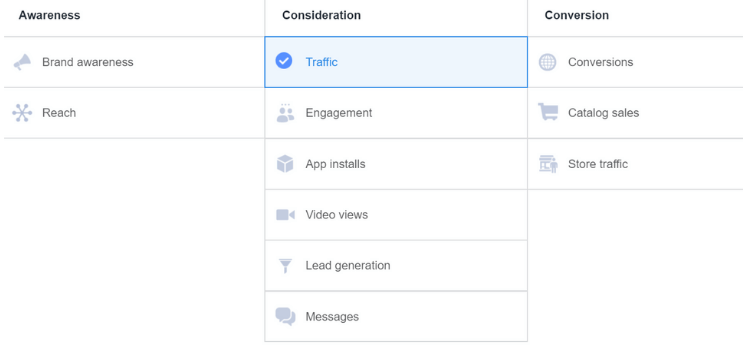 Once you've chosen your primary goal, you need to choose a specific goal, including brand awareness, intent to buy, and conversion of action. After you select a primary goal, you need to select a specific goal:
Brand awareness
Intent to buy
Flow

Application installation

Engagement

Video views

Potential users

Message message

Catalog sales
Action conversion
Shop visits

Transformation
In most cases, more valuable advertising goals, such as store visits or product purchases, can lead to higher advertising costs because of the immediate value of these actions to the business. For example, a catalog sale can bring immediate revenue to the company. However, when you build an advertising campaign, it is important to remember the value of brand awareness and purchase intentions. When you reach out to and contact users in the early stages of your purchase channel, you can increase their interest in your brand and push them further into the sales channel to facilitate the purchase.
5, ad display
Ad placements also determine the cost of Facebook ads. Your ads can appear in six places on Facebook:
Instagram

Instagram Stories

Facebook Newsfeed

Facebook right-hand bar ads

Facebook Messenger

Audience Network (including banner ads, interstitial ads, etc.)
Instagram
In terms of Facebook ad spending, Instagram maintains a high cost per click. On average, every click on Instagram is $0.80 more. For Instagram Stories, the cost per click increased by about $0.78.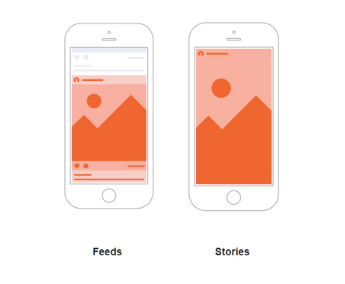 Facebook
The cost per click on Facebook is about $0.30 less than Instagram'. It provides a common advertising platform for your business. Your ads appear not only on Facebook, but also on Facebook Messenger.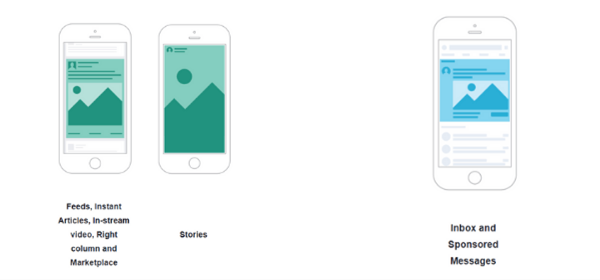 Audience Network
Audience Network allows your ads to appear on websites and mobile apps, and it costs even less per click than Facebook and Instagram. In most cases, an additional $0.20 is spent per click (based on Facebook's average ad cost).

While you can modify where your Facebook ads appear, Facebook recommends Automatic Placements. The tool allows the delivery system of social media platforms to make greater use of your ad spending by placing ads on platforms that are more likely to produce results. If you want to reduce Facebook's advertising costs, you can turn it off.
6, advertising quality
If you create ads that are more relevant and engaged, you'll incur lower ad costs. When it comes to relevance and engagement ratings, your ads get a rating of 1 to 10. Ten points is the best score, and 1 is the worst score. Facebook assigns relevance and engagement scores based on both positive and negative ad feedback.
A recent study by Hootsuite demonstrated the importance of advertising quality. The company produced two versions of the same ad: one with a relevance and engagement score of 2.9, and the other with a relevance and engagement score of 8. The average cost per click for ads with lower scores was $0.14, while the average cost per click for ads with higher scores was $0.03.
If you want to make the most of your advertising spending on Facebook, you have to create highly relevant, engaging ads. You can see your relevance and engagement scores by following these steps:
Go to Ads Manager;

Select the ad you want to view;

Select the Columns drop-down menu;

Click OnTheColumns;

Select Thesis Score;

Click on Apply;

Check out your Metand Engagement Score.
Before rating, Facebook needed about 500 ads to get exposed or viewed. As long as the ad is still there, Facebook continues to monitor user interactions to determine if it's relevant. That's why you need to adjust your ad's regular feedback. With this proactive approach, you can improve the performance, results, and cost of your Facebook ad campaign.
7, season
During the shopping season, merchants tend to spend more money on advertising. Increased demand for ad space has led to a highly competitive market, which could lead to aggressive bidding and a larger campaign budget, driving up the cost of advertising on Facebook.
The days of high ad bidding on Facebook include:
Thanksgiving

Black Friday

Cyber Monday

Christmas

Boxing Day

Eve

New
8, industry
While the average cost of a Facebook ad is $0.97, you can get a deeper understanding of the expected cost of Facebook ads by looking at the average price of Facebook ads in the industry. These data provide more accurate estimates that can help you build a more accurate social media marketing budget. See the cost of Facebook ads in your industry in the image below: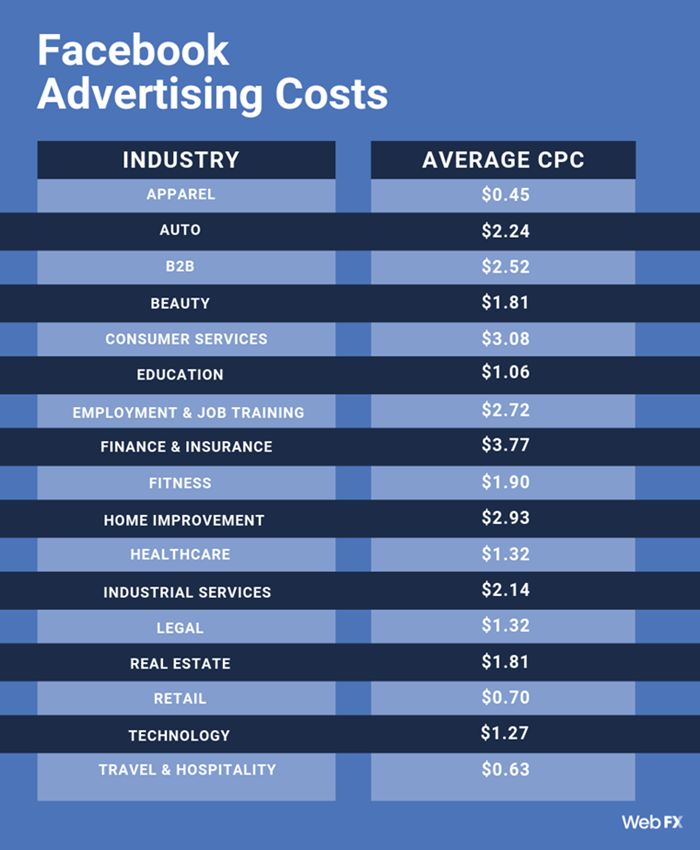 Yu Wen/Hugo.com Song Shuhui
Hugo Network is committed to providing quality dry goods to sellers
Sweep code attention

Add a star, look at the text every day

▼
---