Should foreign trade enterprises run Facebook ads? What are the advantages of Facebook ads?
For a lot of foreign friends to ask questions about whether Facebook ads should be run to do a sort of clean up the answer:
1. What are the advantages of Facebook?
A, 2.7 billion active users
B, 200 million users visit an Instagram business account in a single day  
C. 1.6 billion users are connected to at least one Page 
D, 10 billion messages are sent monthly between users and businesses
Facebook has four family products, including Facebook (2.2 billion users), Whatsapp (1.5 billion), Messenger (1.3 billion users) and Instagram (1 billion). As the world's largest community platform, 20 percent of the people who use mobile apps every day spend on Facebook and Instagram. Such a large number of users and usage duration can clearly provide advertisers with more opportunities to promote their business to their customers.
2. What is Facebook? Know more individual users? Is it suitable for B2B manufacturing?
A, Facebook scene interpretation 
B, B side is looking for business decision makers 
The advantages of C, FB take advantage of
Indeed, FB individual users, but also are real-name certification, first from B2B marketing and B2C marketing two scenarios to do a reading, B2C and B2B difference is that both are looking for people, that is, target groups, but the B side is looking for business decision makers. Business decision makers who use Facebook are more willing to engage deeper, forward posts, or spend. What we can see here is that the boundaries of personal life and career begin to converge, and we should influence decision-makers where they spend their time. What should be done? The first is to analyze whether Facebook can help find business decision makers, and on the other hand, how to help B2B foreign trade companies build international brands through Facebook.
3, Facebook ad form?
A, advertising forms are: image ads, carousel ads, video ads, boutique column ads, slide ads 
B, pay cpc, CPM,
C, Facebook has 4 categories, and is very suitable for B2B foreign trade enterprises.
(1) Post interactive ads/Messenger ads; (2) develop form ads; (3) promote website ads; (4) exhibition targeting ads
FB advertising forms are diverse, pictures and video forms of advertising, can click CPC can also be displayed, as B2B pre-delivery proposals to choose CPC mode, must be on the image advertising, the picture must have more video impact.
4, FB account opening needs to prepare what information? How long can I open an account?
A, account opening essential three: create a facebook fan page, HTTPS website, business license 
B, account opening time 2-5 working days C, FB account opening necessary documents
Summarize the necessary three are: the creation of facebook fan page, HTTPS website, business license (latest version), these three less than one also does not meet the requirements of FB account opening requirements, FB account opening time is slightly slower than other media please understand, the whole country is generally 2-5 working days, Please rest assured to get your information I will first check the account opening necessary three whether, so as to speed up the FB account open down the speed, thank you!
5, media/platform audience comparison
Let's start by analyzing the media/platforms that already exist: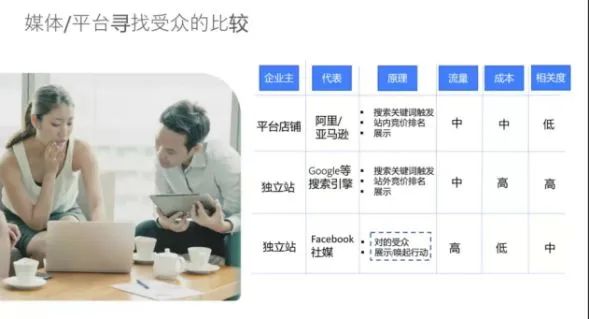 Platform Stores: Ali, Amazon as the representative; Facebook uses tags to find the right audience and to inspire users to act through advertising, content marketing, and more.
In comparison, compared with Google with independent stations, Facebook's relevance must not be as high as his, because users in Google and other search platforms, the search is the income, representing the user's current intention. But Facebook's relevance will be higher than it is for platform stores, because the platform has so many similar exposures that customers can't be fully activated.
6. What is the way facebook is looking for people?
Let's start by analyzing the media/platforms that already exist:
A, people-oriented: English is called people, that is, through the label on everyone to find people.
B, (1) core audience: the core audience is a user demographic information, geographical location, hobbies, behavior habits to find people.
To take the B-side audience as an example, in addition to the general area, age, gender and other tags, we can find the core audience through the buyer, employer, industry, job title, segment keywords or interested in publishing, exhibition, buyer's attributes and size.
(2) Custom Audience: Custom Audience A reference to external data, including industry databases, business cards collected by the show, and a list of old customers that have not been contacted for a while. These data can be used for maximum value. Another refers to pixel-like data, including meaningful page visitors (stays longer than 20 seconds), visitors to price pages, visitors to product display pages, registered but not converted, and Facebook Page interactionrs. This data we can think of as a high-intentioned seed customer, we can remarket them in a way that matches them with Facebook's big data ads.
(3) Similar audience: Similar audience is Facebook based on the business already has crm database as a seed, on Facebook to find existing users similar audience, you can find a larger range of target audience, targeted marketing promotion. At the same time, similar audiences are malleable, and Facebook can find more accurate audiences by learning some of the habits of seed users, turning 50 into 100 and 100 into 200...
7. What's the difference between a profile and a public page?
A, (1) the corresponding position and attributes are different, the number of fans will be different. Personal Page fans are capped at 5,000, while Pages don't, and customers can receive free content updates from their Pages.
B, (2) WeChat public number and the difference between the circle of friends. A page is like a WeChat public number, while a personal home page is like a WeChat circle of friends, personal number slots are easy to seal, content can not be migrated, can not be very good advertising promotion, and the home page can do both.
8. How should B2B companies build A Facebook Page?
A, (1) guide offline transaction customers to follow the Facebook page, forming a seed customer, which is important for later advertising, to maintain the quality of the user of the page.
B, (2) to ensure continuous content output, continue to affect potential audiences, for products and enterprises.
C, (3) to ensure that the policy update and interaction. For example, setting up chatbots to improve the efficiency of interaction, timely update opportunities and potential inquiries.
9. What's the difference between Paid Facebook ads and free Facebook?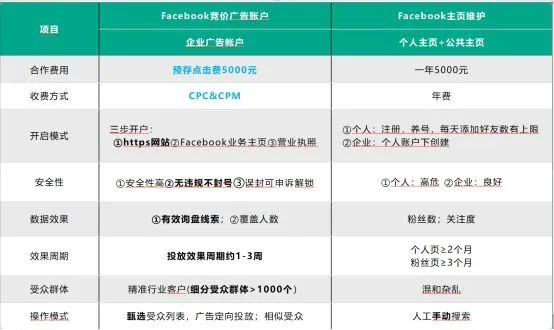 ---