Teach you how to use 6 metrics to analyze your Facebook ad results in depth
Do you know if your Facebook ads work?
Advertising, a lot of dollars spent, do you know which indicators should be concerned about to judge the good or bad advertising?
In this article, you'll find seven important Facebook ad metrics to learn about and their position in Ads Manager, including some of the treatments that you can do if they don't get the results you need.
Let's Go
Return on advertising expenditure

The return on advertising expenditure (ROAS) is the revenue from every dollar of advertising expenditure. In short, this metric, which can be used to instantly understand the effectiveness of your Facebook and Instagram ads, ensures that every dollar you spend on your ads will bring you (at least) a dollar in revenue.

The formula for calculating ROAS is also very simple:Revenue , Advertising Expenditure , ROAS。 You can determine the total revenue generated based on the Facebook pixel (under the purchase conversion value column in Ads Manager) and then divide that number by the total ad spend that generated that revenue.
For example, it's easy to see why: You sold 10 $27 products on Facebook, bringing in $270 in revenue. To achieve these sales, you spent $54 advertising on Facebook. Then put the formula in and we can get:
$270 ÷ $54 =5x,x represents a multiple of 1. In this case, every time you spend $1 on a Facebook ad, it brings you $5 in revenue.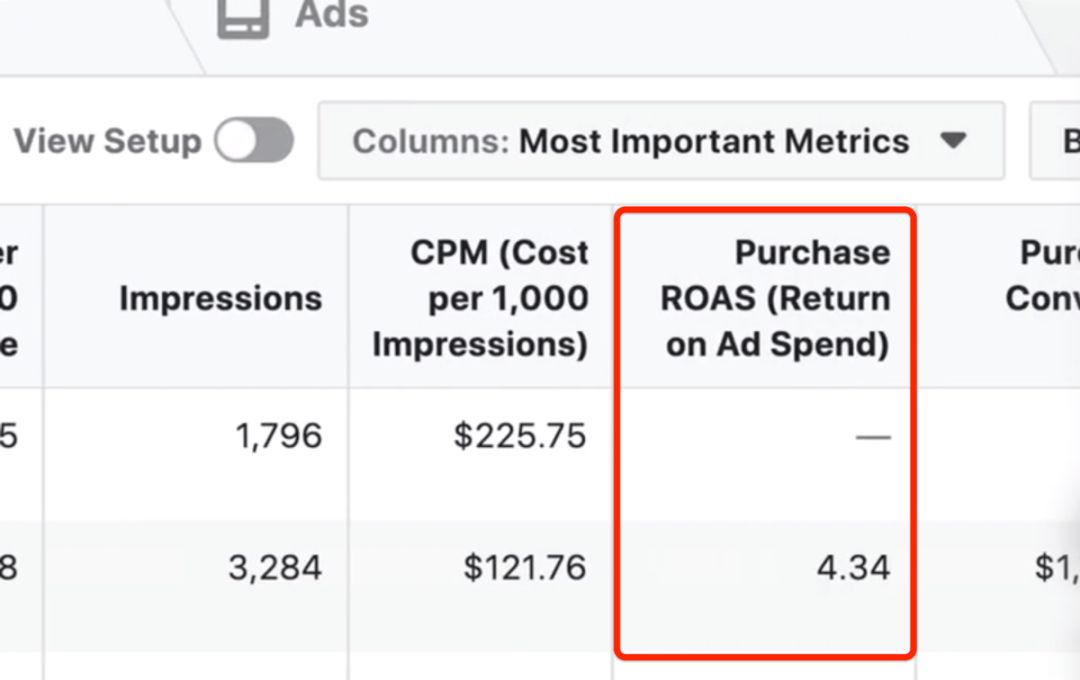 Everyone wants a bank machine that spits out a $5 bill for every dollar they save, but that's not always the case in the Facebook advertising world. Then you should always pay attention to your ROAS metrics to make sure your ads are profitable.
When your ROAS is positive (a multiple greater than 1), it proves that you are making money, and when the indicator is negative, unfortunately, your ad is a loss.
It is important to note, however, that the above calculation does not take into account other business costs, such as team expenses, tool and software costs, and the cost of the storefront itself. So, if you want accurate data, I suggest that you take into account other variable charges when calculating ROAS to get an overall return on investment (ROI).
There's nothing like a big head, don't worry, use your total Facebook ad spend plus your other expenses, and then divide the total revenue by this value is OK:
Revenue s /Ens(Advertising Expenses and Other Expenses) - RoI
The easiest way is to break down your ad spend spending on a monthly basis, to visualize january's revenue, and then divide it by the sum of january's ad spending and other expenses for the month. Let's go back to the example above: you spent $54 on advertising and earned $270. In addition, you pay $73 in other variable costs. If you put these numbers in the above formula, your return on investment is 2.13 times.

$270 ÷ ($54 + $73) = 2.13x
That means you can earn $2.13 for every dollar you spend.
Purchase conversion value

Facebook's Buy Conversion Metrics are used to track the total value of your ad spendingFacebook's "Buy Conversion Value" metric in Ads Manager makes it easy for you to understand the total revenue from your ads.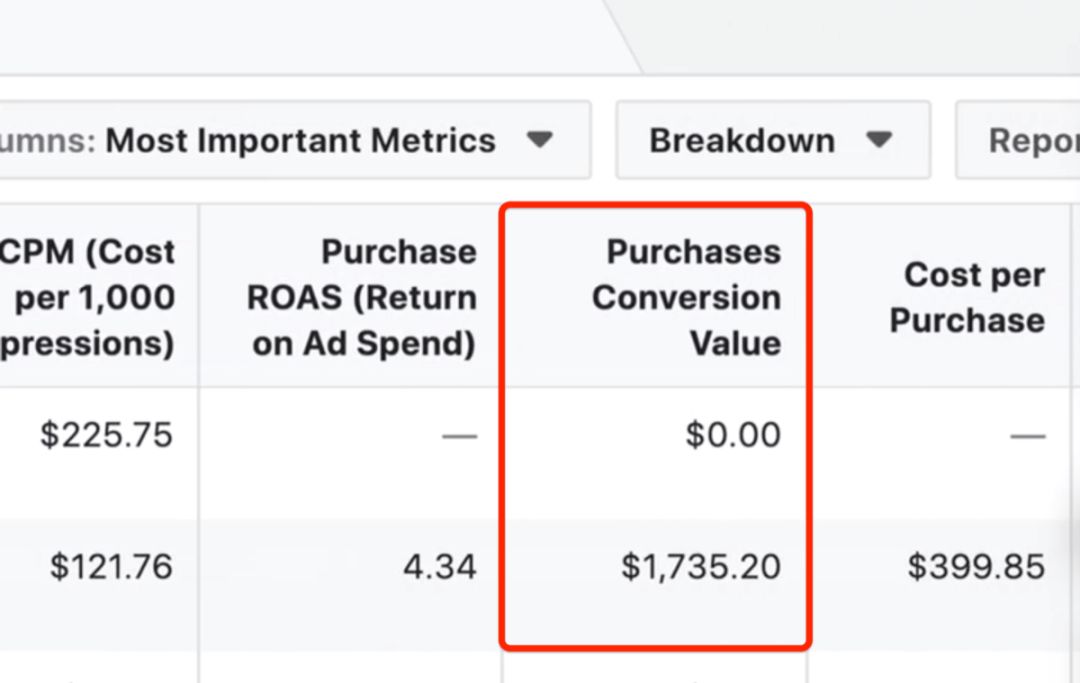 The easiest way to calculate the conversion value is to install Facebook pixel, which requires adding a small piece of code to your site to let Facebook know how much revenue the ad brings. If you want to calculate your purchase conversion value manually, you can use this formula:
Number of items sold x Cost of items - Purchase conversion value
In the previous example, you sold 10 items for $27 each, so the conversion value was $270.
Looking back at the data above, this purchase conversion value will be used to calculate your return on ad spending with your ad spending.
Then the functionality of this indicator is obvious, if your purchase conversion value is positive, then everything is fine, but if it is zero? Then this means that your Facebook ads are not working.
Cost per purchase

When I look at ad data, I like to look at CPP (cost per purchase), which is often referred to as the cost per purchase (CPA). The meaning of these two phrases is actually the same.
Cost per purchase is a quick way to assess whether you are selling a single product for profit or loss after advertising spending. It tells you the total ad spend you need to sell a single product. It can also be used to quickly calculate the profit margin for a single project.
When Facebook pixel is installed, Facebook automatically calculates this value for you under the "Cost per purchase" bar of Ads Manager.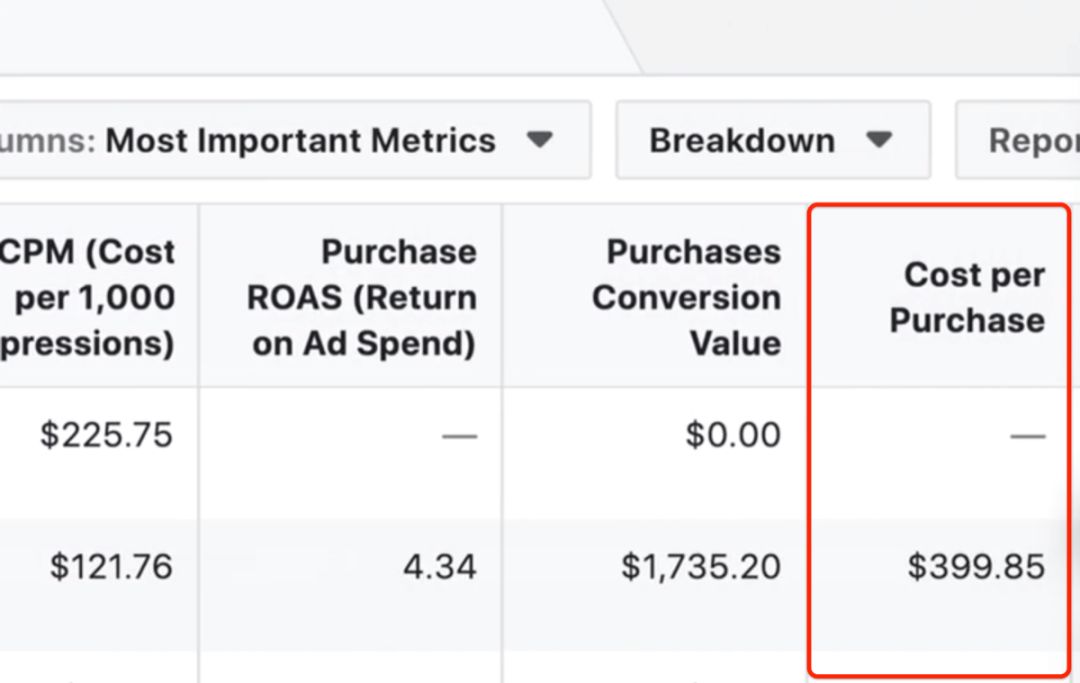 Did you find out, you?You can use the above numbers and purchase conversion values as another way to determine ROAS.
Let me use the numbers in the screenshot above to illustrate them:
Purchase Conversion Values - Cost per purchase - ROAS
$1,735.20 ÷ 399.85 = 4.34

In addition, by subtracting the cost of each purchase from the price of the product, you can determine your profit margin:
Product price - cost per purchase - profit margin
In the example above, you spent $54 advertising on Facebook and sold 10 products. This means that you'll spend $5.40 on advertising per product; if a product sells for $27 and advertising costs $5.40, your profit margin is $21.60.
I also need to emphasize thatRemember to consider your variable charges so that you can see at a glance whether your cost per purchase (the cost you spend on acquiring new customers) is related to your business.
If the profit margin is greater than 0, then you make money;
Revenue per click


The EPL is the total revenue generated divided by the total number of leads generating revenue. If your business is naturally generating potential customers in the sales process via e-mail, you should use the EPL as an indicator.
EPC is the total revenue generated divided by the websiteTotalRevenue generated by the click. If your business model is directed to your sales page or online store (not sold via email), then you should consider using ePC as an indicator.
So how you calculate your EPL or EPC requires two things:
Your purchase conversion value

Number of leads (or clicks)
Then divide the purchase conversion value by the total number of leads (or clicks) to get your EPL or EPC:
Purchase conversion value s/or clicks - revenue (or clicks) per thread
Cost per click
CPC is the amount you spend getting a new click for your business. To calculate CPC, you can divide Facebook's total ad spend by the number of clicks generated by ad spending:
Ad spends , clicks , cost per click

For example, if you spend $130 and generate 100 clicks, then your CPC is $1.30;If your EPC (revenue per click) is $2.70 and CPC (cost per click) is $1.30, you'll earn $1.40 for every new click you get. YouYou can determine how many clicks need to be met in a given period to reach significant revenue and profit targets.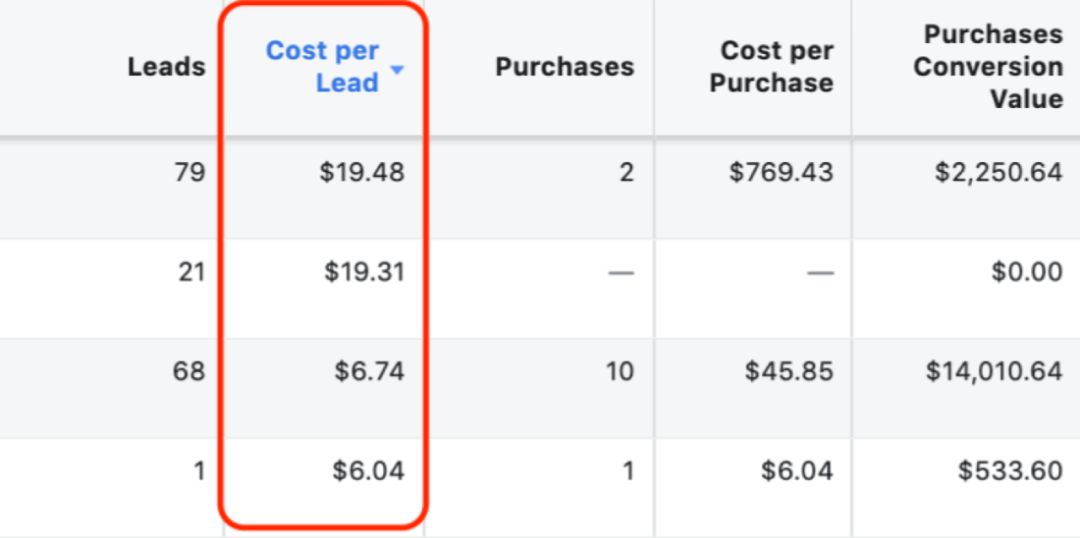 Hits

Throughout your sales, CTR is a very important indicator, and whether your ad copy and ideas can appeal to your target audience is a very intuitive representation. If one of your ads has a very low click-through rate, you'll want to consider whether your creatives should be replaced.

Facebook has two different CTR indicators:
CTR (Link Click-Through) is the number of times someone who has viewed your ad clicked a link

CTR (All) is the total number of people who interact with your ads. This may be an action involved by all users, such as likes, comments, sharing, or clicking on links.

When you run a message stream ad on Facebook, my goal is usually to have a link click-through rate of more than 1.5%. If the link click-through rate is less than 1.5%, I usually suggest that you go back and edit your ad copy and your creative.

Facebook's right-wing ads, on the other hand, are often clicked much less frequently than stream ads. If your right-hand ad has a click-through rate of only 0.5%, you can make no adjustments. If not, you might also consider modifying your creatives.
Well, it's here today. Recently and the family watching Heilongjiang TV TV series "Say good not tears", the first to see Tianyou, think this child how so like Wu Lei, I thought it was Wu Lei brother to come, and then a search on the Internet, this is not Wu Lei?
, 13 years of filming of the TV series is now only broadcast on TV, Wu Lei have grown into a handsome man!
---