The most detailed Facebook ad delivery tutorials in 2020
Facebook ad streaming has long been the mind of being an independent stand-up child's shoe, and there are many foreign trade-users who use Facebook ads to get a lot of orders, and with the crazy influx of Chinese people to Facebook for paid promotion, this has directly driven up all people's advertising spending. So how should Facebook ads play, this article I'll give you a detailed introduction.
Why is Facebook ads so important?
With the exception of a handful of countries around the world, most of the online advertising business is monopolized by Google and Facebook, which account for more than 80% of the world's advertising revenue each year.
What are the huge advantages of Facebook that advertisers are addicted to?
A huge active user base
Facebook has more than 2 billion active users each month, making it the number one social platform in most countries of the world, and Facebook has two big social apps, Messenger and Instagram, which each have huge users. When you're behind Facebook, you can put your ads on Both Messenger and Instagram.
2. Target customers based on demographics, interests, and behaviors
Facebook's advertising targeting is very representative, and it can be used through a series of complex but intelligent algorithms, such as: audience characteristics, interests, behaviors, age, education, occupation, etc., so that your ads can be run to a very accurate potential audience, which is not possible for most social platforms.
3. Quickly build brand awareness
Most e-commerce sites now have Facebook pages to communicate with fans, brand, and of course you can set up your page on Facebook and then use ads to promote your page, which can be very effective, and quickly find fans interested in your product. At the same time to expand the visibility of their own brand.
Step 1: Create a Facebook business account
We know that an individual's Facebook account can also be used to run ads, as long as you click on the ad in the upper right corner to enter, but I personally suggest that it is better to sign up for a Facebook business account, relatively more secure.
To create a business account, visit business.facebook.com and click Create an account.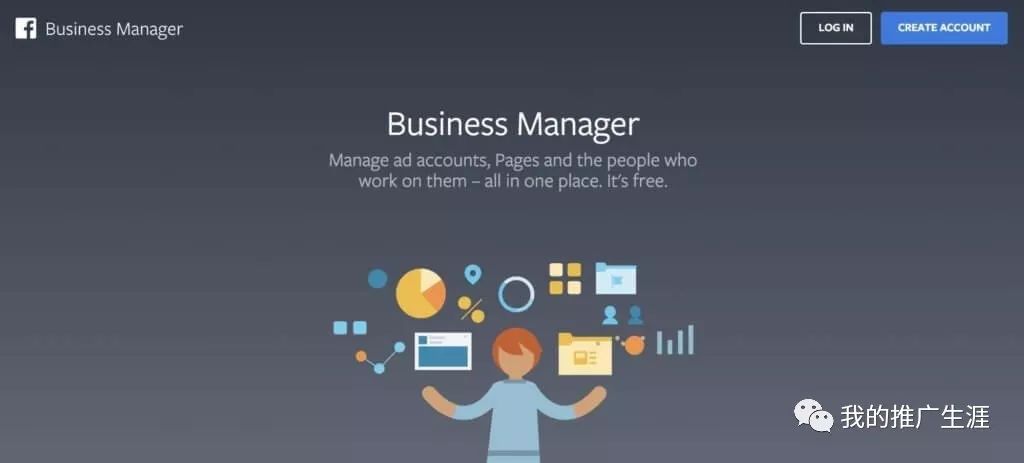 Facebook will ask for information such as: name, address, email, business information, etc.
Then you need to verify your email (activate to your email), add payment methods, and add new ad accounts (we can add multiple ad accounts to our registered business account).
More detailed Facebook ad account openings read: How to open Facebook commercial and personal ad accounts
Step 2: Install Facebook Pixels
Many novices may not know what a Facebook pixel is, but it's what Facebook uses to track the specific behavior sits on your site, such as visiting those pages, how long it was visited, whether a shopping cart was added, whether there was a payment, and so on.
Run Facebook ads must first install the pixels, or you are like a blind man, smeared everywhere, who visited your site, accessed those products and so on some important data know nothing.
Install Facebook pixels in Shopify
The Shopify store installs Fb pixels is actually very simple, you just need to find the pixels first, in fb advertising management tools inside.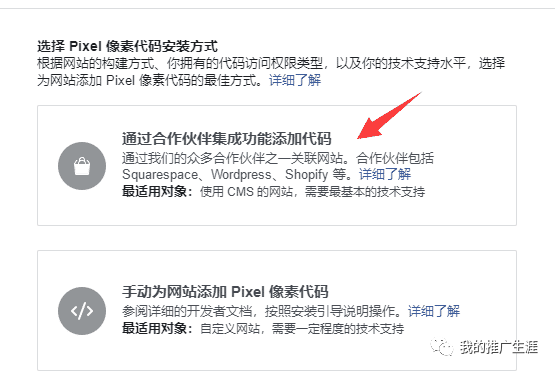 Step 3: Create a Facebook audience
Whether your ads can target the right audience is one of the most critical steps to success, and Facebook offers a great set-up: saving your audience, customizing your audience, and similar audiences.
1, Save Audiences: Interests, Behaviors, and Demographics
When we create ads and audiences, in addition to being able to target countries, age groups, and gender, more importantly, we can target "segmentation targeting", which includes: demographics, interests, behaviors.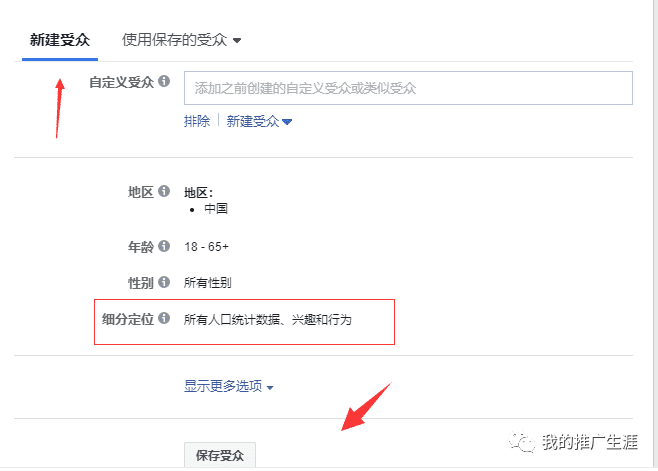 In "segmentation positioning" how should we use it, as follows:
Target people who have interacted with other Facebook Pages, you just enter the name of another Facebook Page, notice that some Pages can be targeted, others can't.

Target user behavior, such as celebrating birthdays, moving to a new city, having children, and so on.

Target user characteristics, including user profile information (e.g., new mom, engineer, college graduate).
You can also use Audience Analytics as a tool to target your audience.
Of course, I generally use "audience analysis" to find new interests of the audience, and then enter it into the "segmentation" inside.
Because interest, behavior, and demographic seating are often broad, and are generally set up to be millions of potential audiences, I suggest that the best words can be to control the potential audience in the hundreds of thousands, and then at the same time have a few more sets of ads to test separately.
2, Custom Audience: Transforming a passionate audience
Custom Audiences are a very important targeting tool, such as having a user visit your site or adding your product to your shopping cart (but ultimately no payment), so how to push your ads to them again is to take advantage of Custom Audiences.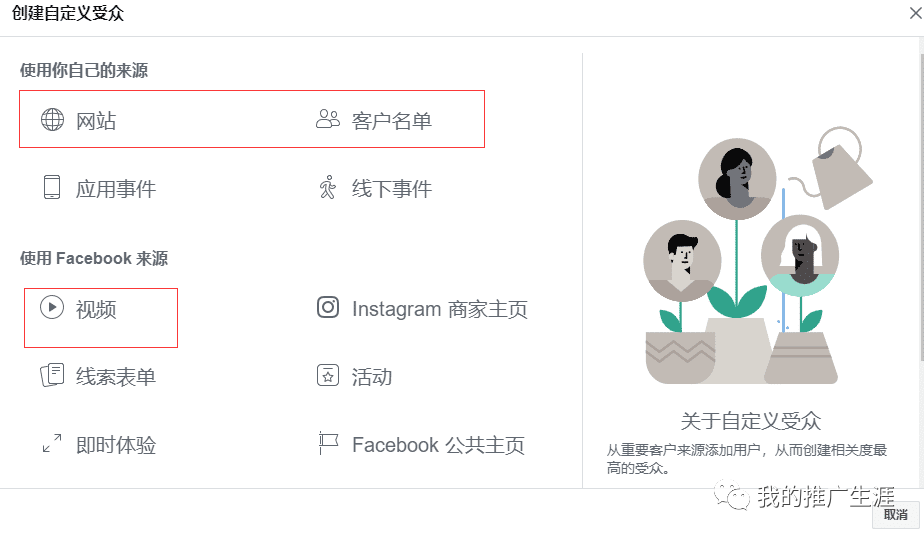 Using customer files, you can upload the customer's email address, phone number, and more. Facebook matches this information with people in the system (most of its customers have FB accounts), so you can target them directly through ads.
If you have a large number of customer mailboxes or phone numbers on hand, this precise advertising can be very effective and fast.
Here you can target people who have visited your site in the last 30 days or more, and even users who have visited a specific product of your specific product, or who have added a shopping cart for unpaid, who can count potential customers, and you can place promotional or new ads for them again to get orders.
Many people run ads with 15-second videos, but we can actually use the "Custom Audiences - Videos" feature to target 50%, 75%, 90% length users who have seen the video, and then re-advertise to those users.
3, similar to the audience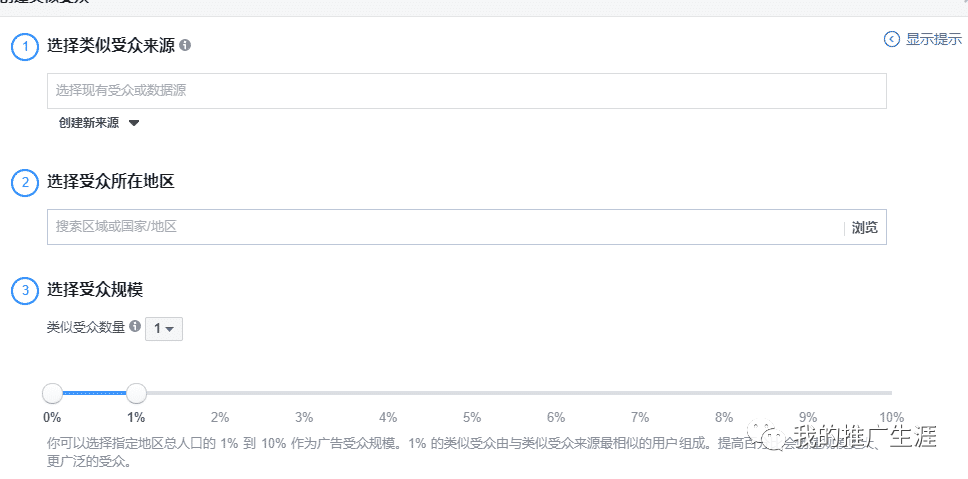 You can use any of your custom audiences to create a similar audience that ranges from 1 to 10 percent of the population of your chosen country. The 1% of similar audiences contain people that are most similar to the Custom Audience source.
As you expand your target and increase your budget to increase the proportion of "similar audiences" to 3%, 5%, and ultimately 10%, Facebook will offer a larger audience similar, but accuracy will be further reduced.
Step 4: Build A Facebook Ad
Here's our official ad run, the first step on the ad is to create a campaign, a campaign can contain multiple ad groups, one ad group can contain multiple ads.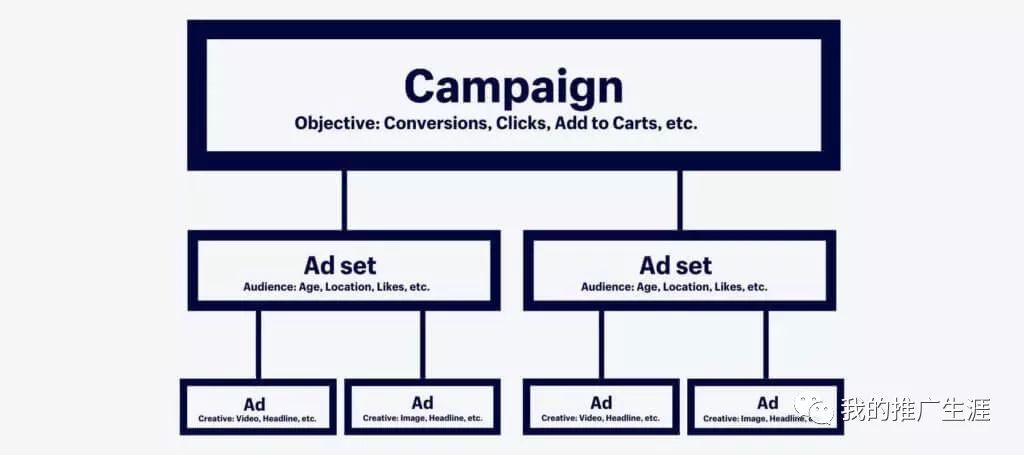 At the beginning of the ad we create, you will be allowed to choose what your advertising goal is, as an e-commerce site, we generally use the most is: traffic, interaction rate, conversion volume.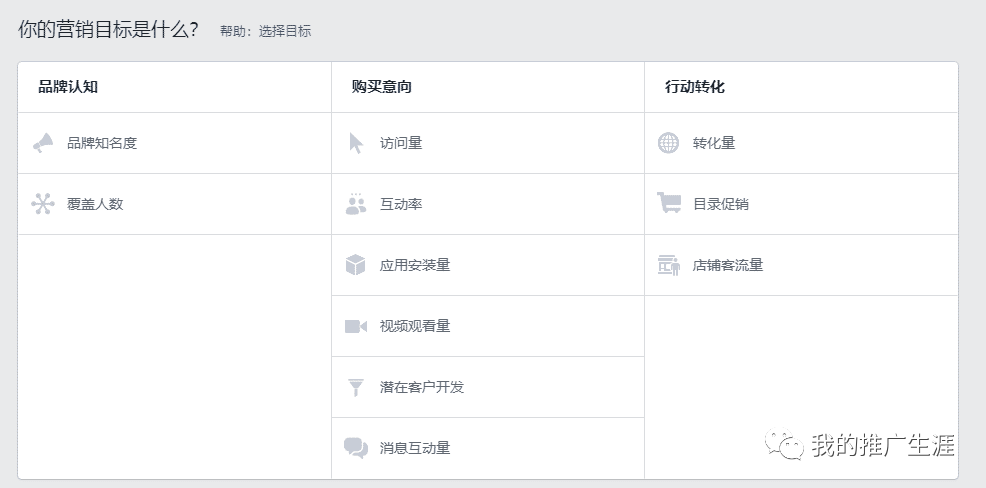 If you want to increase your website's sales, select Conversions, which can be provided with coupons in the upfront period.

If you're just trying to raise awareness of your product, you can choose "brand awareness" (the first choice for a large company in general).

If you're having trouble increasing your site's traffic, choose "Visits" as your goal and you can also provide coupons.

If you want to have more likes, comments and shares on your Page post, choose "Interaction Rate" as your goal.

If your creatives are video, you can also run Video Watch.
More detailed Facebook marketing targets:How to choose your Facebook ad marketing goals correctly
Step 5: Set up ads
Once we've selected your campaign goals, we'll take the next step, and we're ready to set up ads, and I'll use the "conversions" ads here as examples: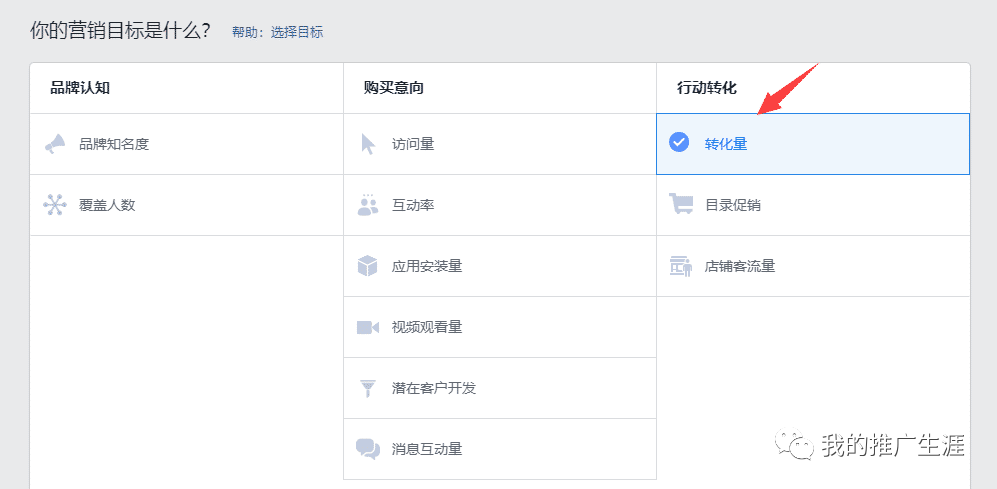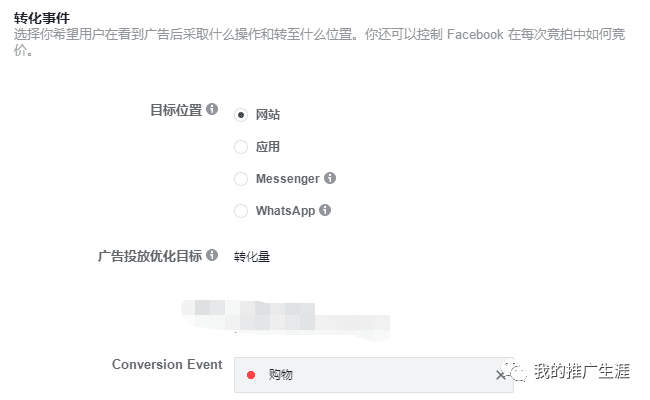 Set budgets and times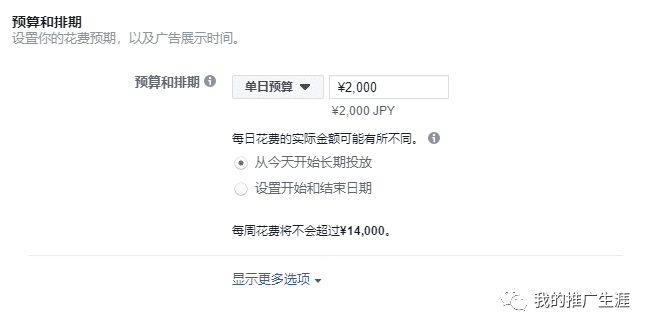 Product pricing: More expensive products usually require a large advertising budget, such as your product price is 100 knives, and then spend 5 knives a day advertising fees, this is not waiting to win the lottery?

Optimised goal: Buying for conversion events typically costs more than other ad costs.

You need to set aside time (and budget) for Facebook's "learning phase" and Facebook will automatically find a more suitable potential audience based on your data, but this is a system machine that needs to be learned, typically about seven days.
Audience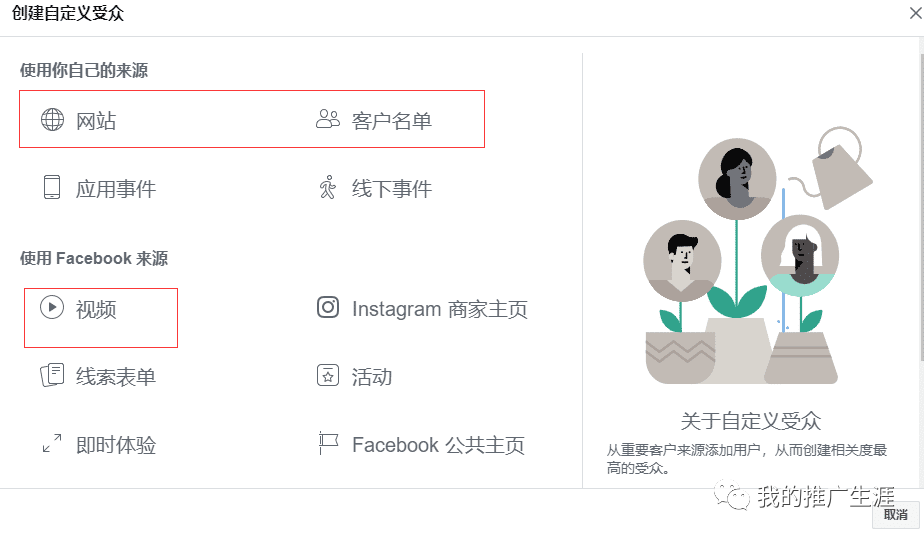 Ad placements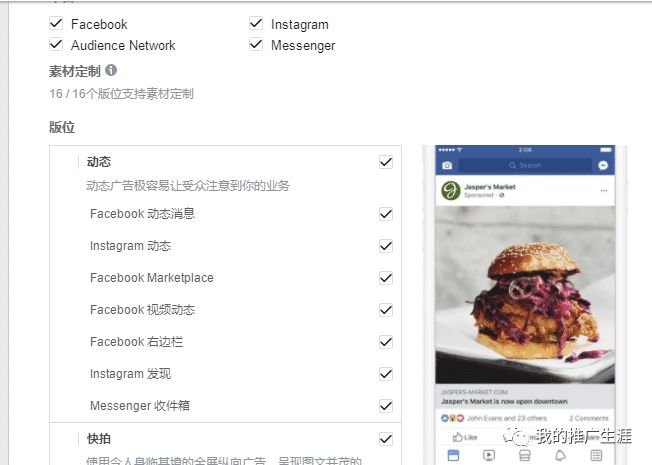 Step 6: Advertising Copy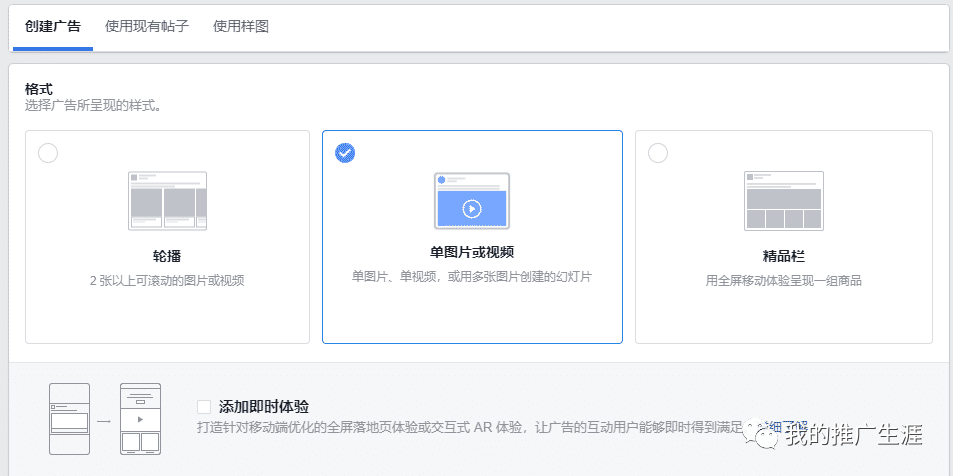 Create ads: carousel, single image or video, boutique bar
Use existing posts: Select A Page, select a post
Using the sample: The style of the creative hall
Read more about the copy: 9 tips for quickly producing high-click Facebook ad copy
Step 7: Optimize Facebook's campaign
Facebook's ad creation is simple, and if you want to be successful, you have to keep an eye on the data that the ad is afraid of and then optimize it.
Optimization can be judged from many aspects, such as how many ctr you have to make an ad, how much cpc, whether there is an order, and so on.
At the same time, you can use custom audiences and similar audiences to further filter your audience to optimize your ads.
Summary: There are countless Chinese businesses running ads on Facebook at the moment, and you ask me if anyone is running well, of course, and there are many.
Here also suggested that we run independent station, you can not only staring at Europe and the United States several developed countries, many developing countries are actually easier to run, less advertising expenditure, less competition, high conversion rate, but the problem may be to solve the collection channels.
---