Thousands of people - hands-on teaches you how to set up Facebook (DPA) dynamic ads
Recently, there are some facebook dynamic ads (DPA) that are also available for the campaign. Facebook Dynamic Ads (DPA, Dynamic Product Ads) can automatically promote relevant inventory to users based on their interest in websites, apps, or other web platforms. Instagram and other image ads, carousel ads, or boutique bar ads are no different, but dynamic ads don't need to create separate ads for each promotion, instead you can create an ad template that automatically invokes the images and languages in the catalog you're promoting.
Dynamic ads allow you to remarket to people who have visited your site or app, or to target your site with a broad audience that you didn't visit before, and then when a user visits facebook, instagram, audience network, or messager, Ads will show them the product catalog related products, this is the product recommendation, dynamic ads can show users the relevant product recommendations, attract them from the ads to take action, when for the target to be set such as link points or conversion stors optimized ads, Facebook will choose from the catalog can produce a large impact of the product, For example, when working on conversions, Facebook displays items that are expected to boost sales conversions.
Examples of products that affect recommended content include:
Items that users view on the site

Best-selling items in the catalog

Products with similar audiences interacting on Facebook and across the web
Advantage:
Reach more shoppers: Show users what's relevant to their interests, whether they visit your site or app
Making deals: Remarketing shoppers to websites to show them what they've browsed but haven't bought
Looking for new potential shoppers: Even if the product of the product performance user has not yet visited the website, you can use a broad interest targeting tag to market to new users, which is what we often call a new one.
Promote anytime, anywhere: Display ads to users on mobile and desktop devices with FB, instagram and audience networksUse ad ideas in bulk:Promote all products with unique advertising ideas without having to configure each ad individually.
Believe that everyone has been exposed to Facebook's dynamic ads, such as the past few days or yesterday to visit a website, such as the websimilar tool site, the next day on your facebook stream, this is facebook dynamic ads, Remarketing you while you're still impressed with the product will improve conversion.

Before you create a dynamic ad, here are a few steps you need to do:
Create a catalogand add inventory. The catalog contains information about all the items you want to advertise. In the catalog, you can control what types of items are displayed in your ads by creating a product series.

Install the Facebook Pixel Pixel Code。 Pixel code is an analysis tool that can be used to understand what users do on a web site. To run dynamic ads, the Pixel pixel code must include ViewContent, AddToCart, and Purchase events.

Associate pixel code with Pixel to directory。 With this association, you can show items in the catalog to users who have previously searched for or interacted with them.

Next, how do you create a product catalog? First open Facebook's ads manager and select the catalog option below the asset.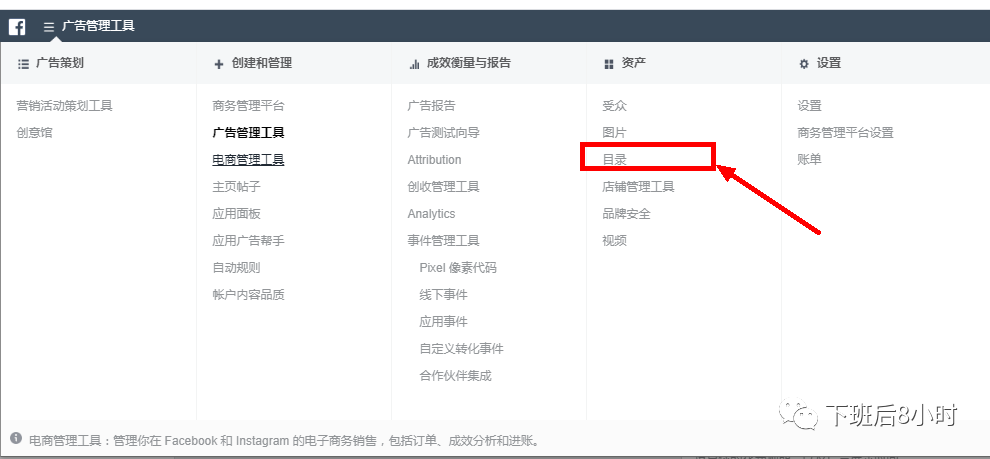 The second step to choose the business category, generally most of the e-commerce, choose e-commerce online sales options.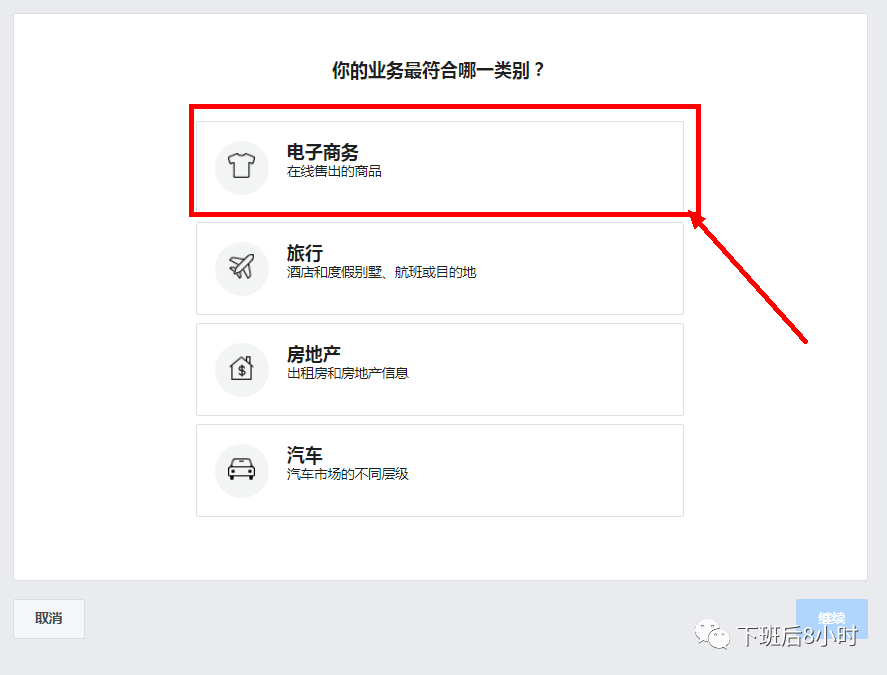 The third step to add goods to the catalog, there are two ways to add, the first is to use forms, data repository or facebook pixel code to add goods, the second is to connect to the e-commerce platform, mainly refers to The Big Commerce, 3dcart, magento, opencart, storeden, etc., can be directly imported to create a feed.
Because it is a stand-alone station, we choose to upload product information, and then name the catalog, this catalog has been created, and then do some simple configuration, information supplement.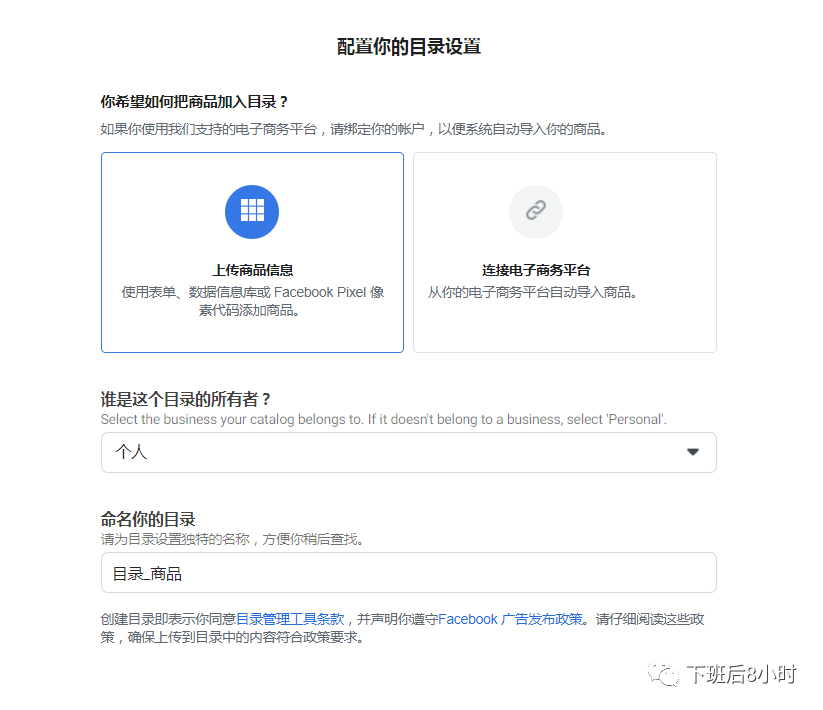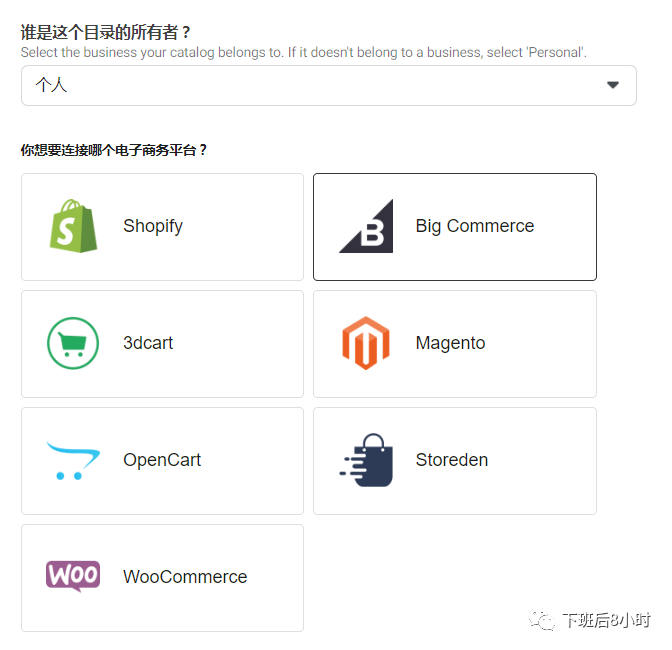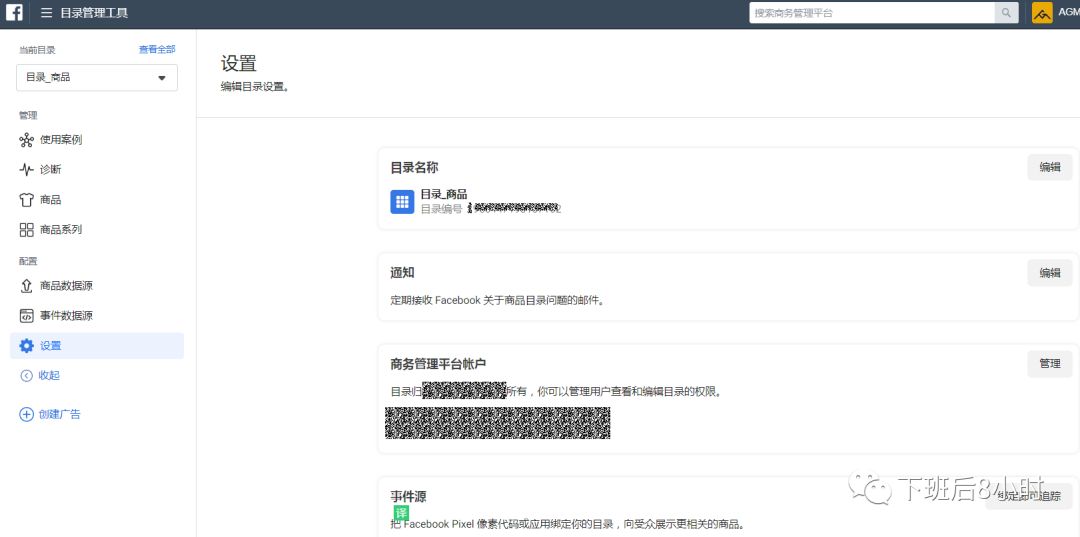 Next is filling in the catalog with product information, which can be used mainly for dynamic ads, Instagram shopping, Facebook's Facebook Page stores, and ads aimed at increasing traffic
Dynamic ads:Reach your audience with personalized ads. Personalized ads are automatically created, adding items that users have expressed interest or are most likely to buy.
Instagram Shopping:Let users learn more about items by tapping posts and snaps directly on Instagram
Facebook's Page Store:Let users buy your product directly on Facebook (U.S. only), send a message to your Page to buy through Messenger, or on your site. You can use catalogs to create store sections for free on your home page.
Ads that aim to increase traffic:Create campaigns that aim to increase your reach and get more people to see items on your site or mobile app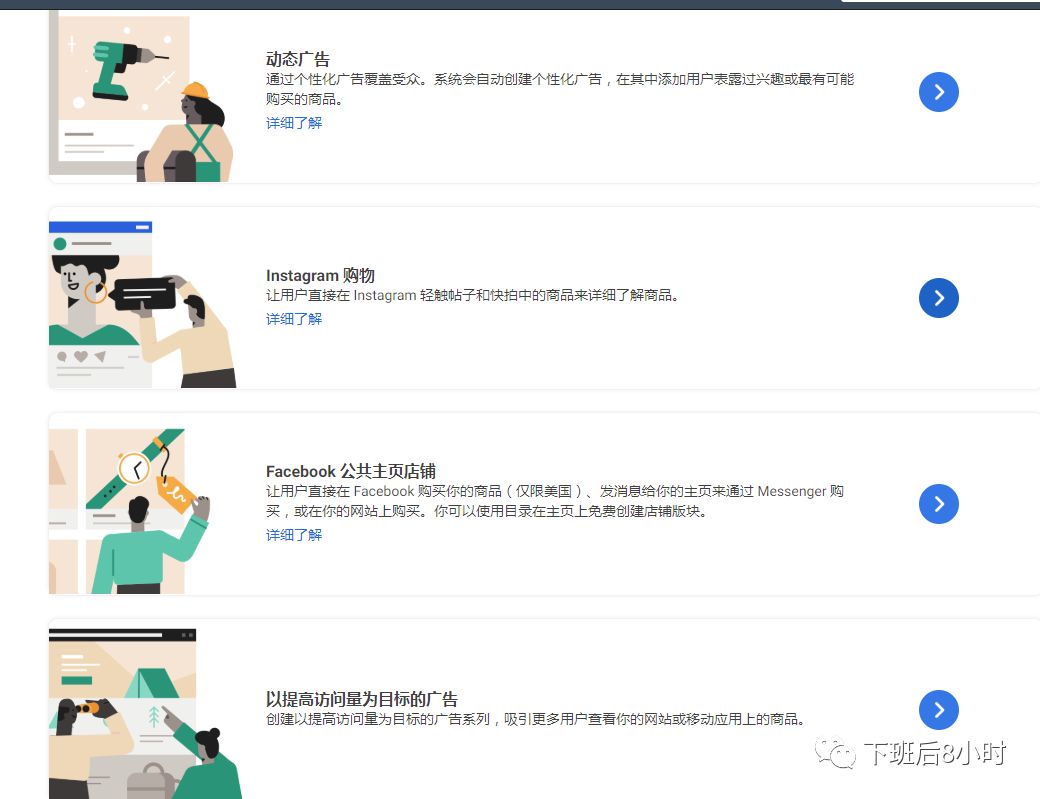 Because this article is mainly about dynamic advertising, so choose the first dynamic ad, add there are three main ways to add manually (products less than 50), the use of data repository and binding Pixel pixel code, according to the inventory of the product, selection and the degree of operation to choose the right way to their own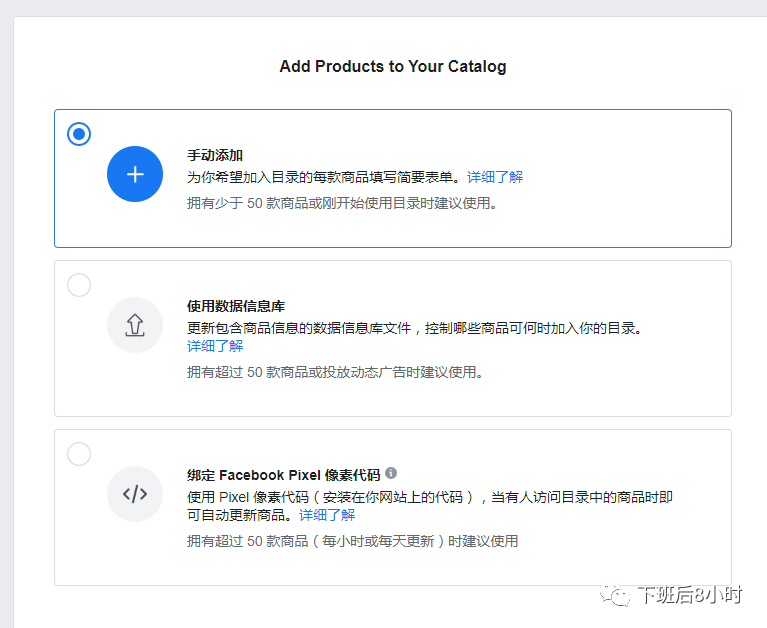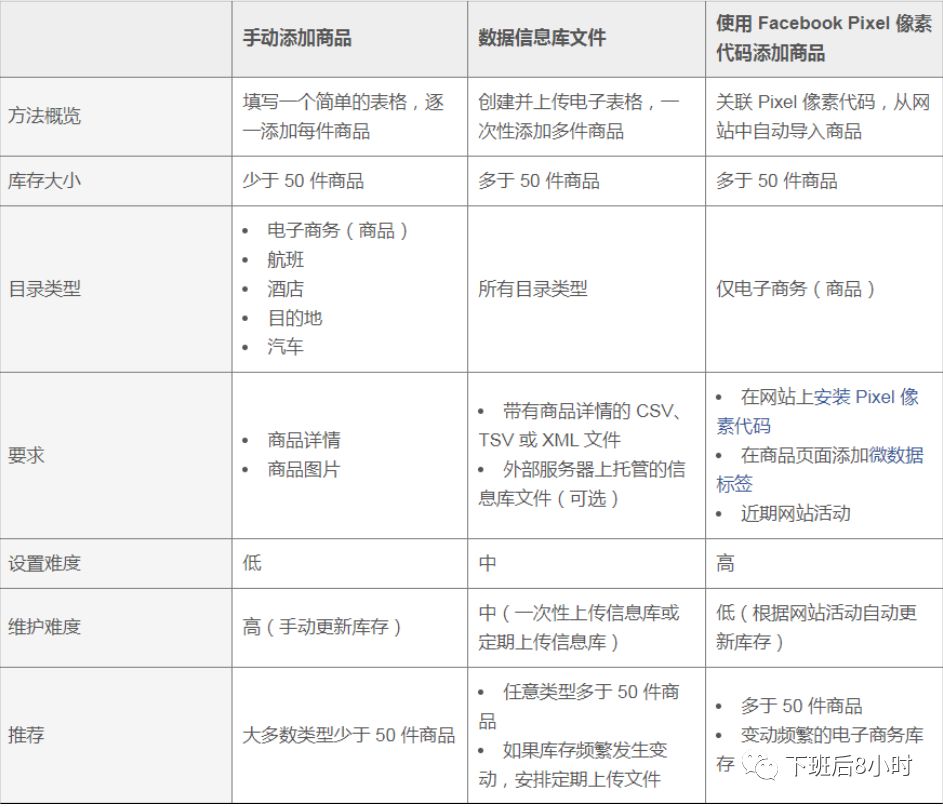 Manual addition of goods is relatively simple, fill in pictures, names, descriptions, website links, etc. can be, suitable for comparison of Xiaolei catalog products.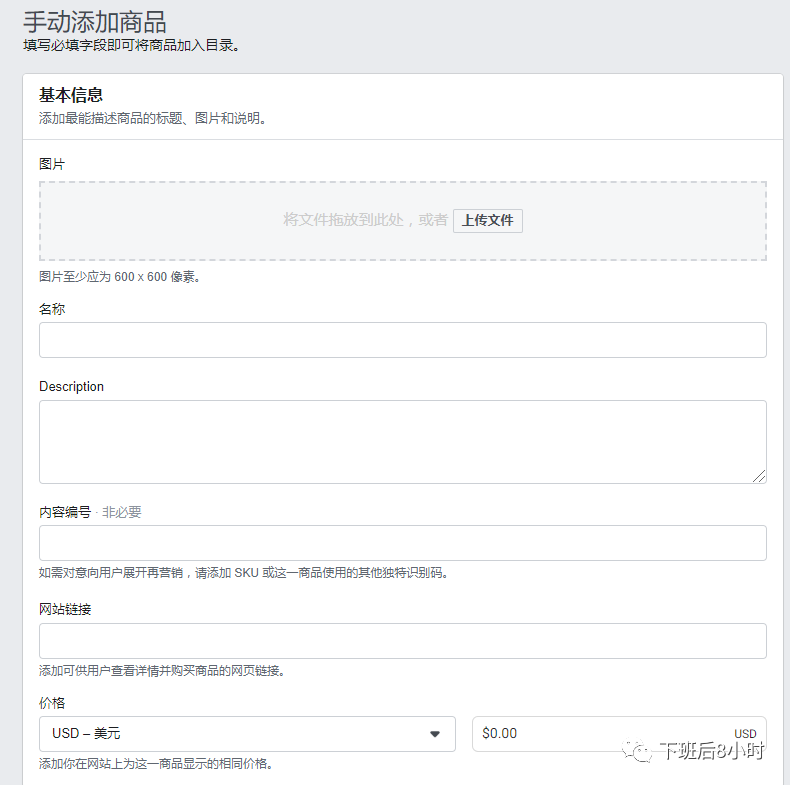 The second is to upload a data repository file: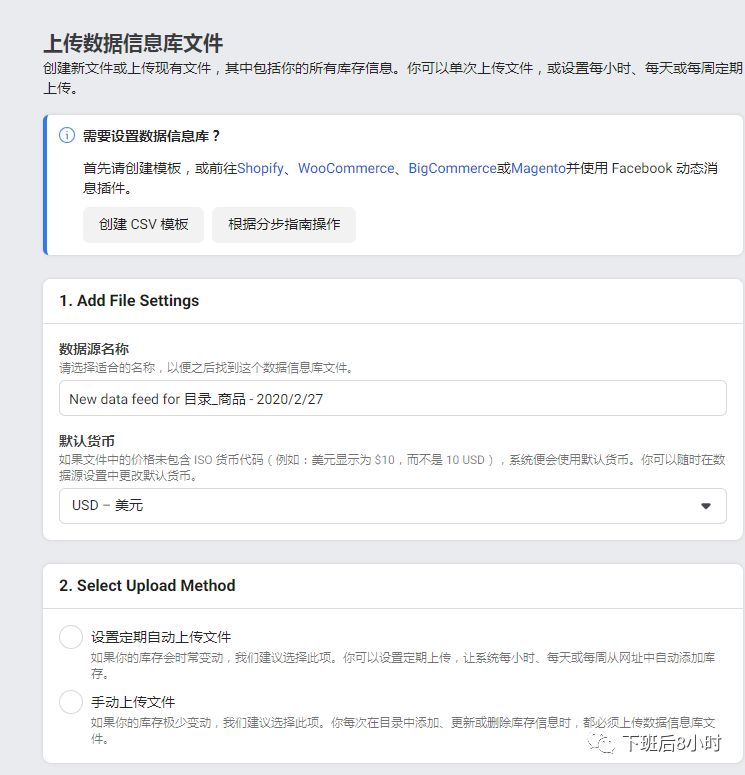 Open the file format supported by the data repository file. Facebook supports CSV, TSV, and XML (RSS/ATOM) file formats. Learn more about the Data Library file format and view the sample repository.

Check the data repository file requirements to see what are required and optional. The required columns must be included in the data repository file. You can also choose to add an optional bar to add more product information.

Add a required column on the first line of the data repository file, which is the title line. For example: Add to a title lineNumberAndTitleBar. Please make sure to include all required columns and fill them in as required, or the files you upload will not be valid.

Add the optional column you want to add next to the required column in the first line. For example, you can add a product data repository item_group_id column showing the various styles of the same product (e.g. different colors and sizes).

In the line below the title line, enter information for each item in stock. Each item must be in a separate line. You can fill in the repository with the following examples:

| | | | | | | |
| --- | --- | --- | --- | --- | --- | --- |
| | | | | | | |
| Number | Title | Describe | Inventory status | Status of goods | Price | Link |
| 13028 | Striped carpet | Black and white... | In stock | New | $24.99 | www.jaspers.com... |
| 4820217 | Blankets | Perfect for cold weather... | Orderable | New | $14.99 | www.jaspers.com... |
| 84902 | Pillow | Red velvet... | In stock | New | $9.99 | www.jaspers.com... |

Save the file as a CSV, TSV, or XML (RSS/ATOM) file.The data repository file has been created. You can now upload files to the directory.
Before you upload a data repository file, you can use the Data Library File Debug tool to check that the file is formatted correctly. Copy and paste the sample information from your data repository into the tool, and then selectCheck。
The third is to add items using the Pixel pixel code: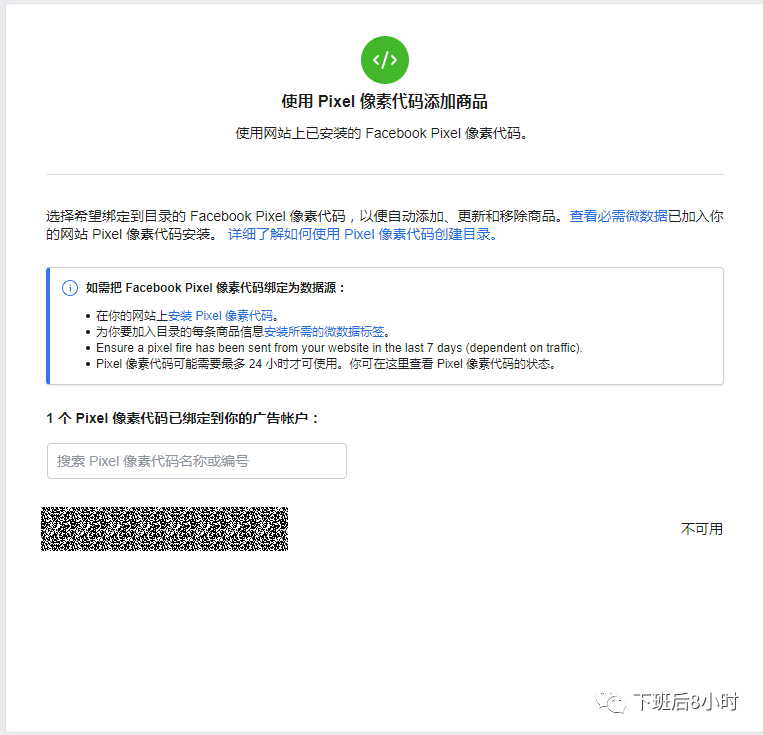 Using the Pixel pixel code adds a new item to the catalog, and the product information is automatically updated whenever someone views it on your site. After you associate your Pixel pixel code with your catalog, you no longer need to update your own catalog. If your inventory is large or changes frequently, this method is ideal for maintaining inventory.
Pre-preparation

Create a directory. Be careful not to forget to choose the e-commerce catalog type.

Install the Pixel pixel code on your site and add the ViewContent standard event to the Pixel pixel code for each product page. Note that your business must have a Pixel pixel code in business management platforms.

Add microdata to the product page of the site. Microdata is an important marker for the page code to contain product information.

Make sure your Pixel pixel code has been triggered in the last 7 days, because it means someone has viewed your site's items. If your site doesn't have any visits, you can view the items yourself



To add items to the catalog using the Pixel pixel code:
Go to the Catalog Management Tool and select the catalog where you want to add items.

ToCommodity data sources。

ChooseAdd a product。

ChooseAssociated Facebook Pixel Pixel Codeand then selectNext。

Select the Pixel pixel code to associate, and then selectNext。

If you want, selectAdd filtersProducts to limit pixel code updates. ChooseNext。

ChooseAdd a trusted website, and then enter the trusted domain as the source of the product information. Do not include http:// or www. For example, enter jaspersmarket.com. If you want to associate pixel code to sites in multiple specific countries, enter each site. ChooseSaveand then selectNext。

Select your default currency. If the price on your site does not contain an ISO currency code (for example, $9.99), the catalog will use the default currency. ChooseNext。
 Pixel pixel codes are associated with a catalog to add and update items. Your Pixel pixel code will now be displayed in theCommodity data sources. You can select your own Pixel pixel code, view its status, or manage settings such as trust edit sites. Pixel code can take up to 24 hours to use.

When the Pixel pixel code is ready, your catalog inventory is updated whenever someone interacts with the product page on your site. Pixel pixel codes can take up to 15 minutes to update your catalog after interaction.
Once the product catalog is created, the next step is to serve dynamic ads, first open the Facebook ad platform account, ad marketing target selling catalog promotion: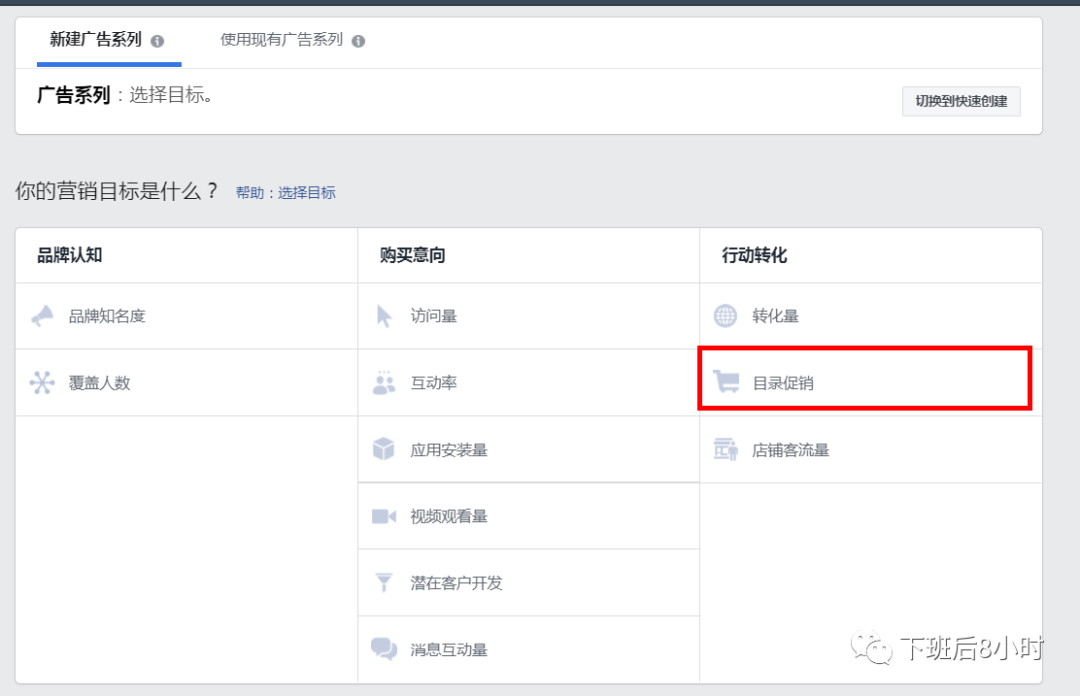 For the audience section, you can see compared with the usual facebook ads, more than the following few lines of options, according to their own delivery needs to set, the next is to set a budget, bidding and scheduling.

Browse items or add items to your shopping cart but don't buy them

Added to shopping cart, but not purchased

Upsell edifging

Cross-commodity sales

Custom combination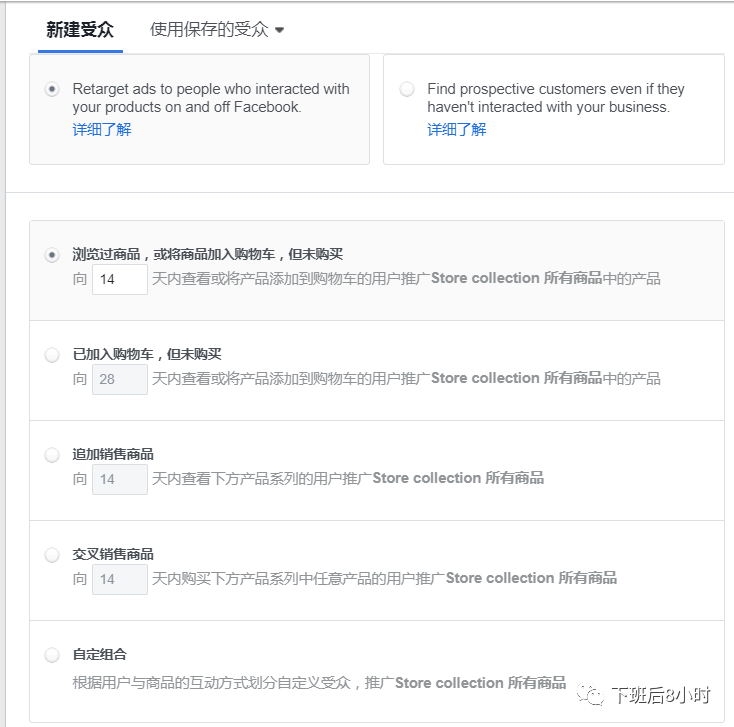 Unlike other forms of Facebook ads, dynamic ads require special keyword fields that depend on some of the titles in the spreadsheet you use for your product feed. With these keyword fields, Facebook can automatically populate your ads with relevant product information when serving them.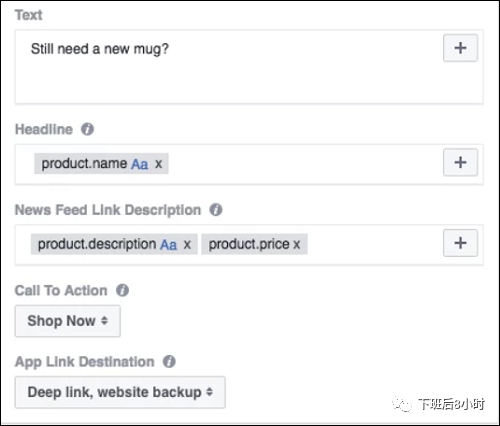 This is an example of an ad template provided by Facebook. When an ad is delivered to a customer, keywords such as "product.name" and "product.description" and actual product photos will be replaced by information extracted from the product feed. You can see the actual performance of your dynamic ads in the preview window on the right.
Product images, titles, and descriptions will be personalized for each user, but the ad copy at the top will be fixed. If you want to modify the product-related information that is shown to the user, you can add the keyword field by clicking the "plus" button next to the field.
Note: The Headline and Description inside can also be modified into call-to-call terms to be displayed to the user, the specific effectcang can be tested and seen.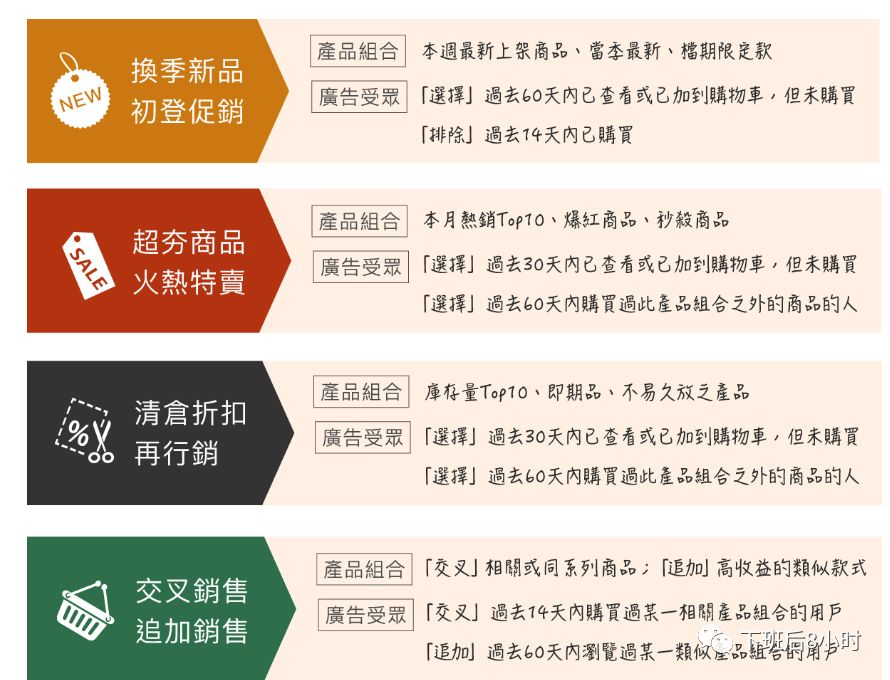 The above are several sets of common DPA combination, in the setting of DPA ads can be based on their own marketing goals to set up different advertising audiences, thereby reducing costs, improve conversion, welcome to continue to pay attention to WeChat public number (8 hours after work)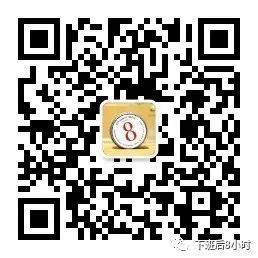 ---