We're going to open our own Facebook ad account.
Click on "Cross-border e-commerce eagle bear sink" to follow us
Eagle Bear Hui: 300,000 industry precision fans!
GlobalCross-border electric merchant connection point - Mark!
Focus on cross-border e-commerce and link to global resources!
Opening a Facebook account is a big problem, and with the launch of Facebook Business Manager, there's no problem with opening an account yourself, provided you don't violate Facebook's ad delivery policy.
Usually you have to deposit an ad fee, and for people like small-cap testing and study, they need to top up $35,000. At least 10% of the additional cost to agents such as Taiwan and Vietnam and Shanghai.

Agents can always go into your account to spy on your delivery strategy, bid method softening and optimizing ideas. (There have been account holders who directly replicate the customer's advertising and campaign structure), and the agent closes the account at will for its own benefit (see the agent himself engaged in the customer's business).

At present, account opening channels are chaotic, network fraudsters, there are customers were defrauded of hundreds of thousands of advertising fees. If you haven't been in touch with Facebook ads before, it's even a good choice to get help from an agent, but if you're an experienced affiliate or agent, watching something that has cost hundreds of thousands of dollars to test and immediately be taken away by someone else?
Step 1: Sign in https://business.facebook.com to register your account, and if you already have an FB account, use your account to complete the registration process

Step 2: After you complete your registration, go to Business Mangersetting, find the payment method s in the left navigation bar, click on the payment method to start adding a payment method, which is only supported by credit cards.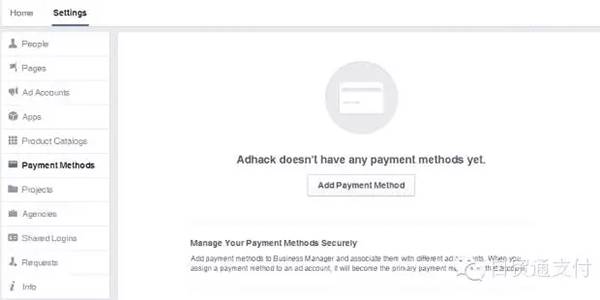 Step 3: Start adding ad accounts, and don't forget to choose your ad account time zone and primary payment

Don't think this is the end, the real tutorial is still behind. Once your new account is open, be sure to make sure that the products you're serving comply with Facebook's advertising policies.
Since the credit card started with only 5000 per day of spendinglimit, after spending $5,000 for three consecutive days, email Facebook to ask for an increase, and you can find the entrance to e-mail support at ads manager.
A typical merchant account can reach $20,000. Through such an e-mail application, your account is equivalent to the FB side of the filing, the most important thing is that you get a direct reply to the FB customer's email address.
If in the subsequent delivery encountered account is blocked, directly through the above way to obtain the email address, according to his request for card number information (card number after four, cardholder name, your relationship), unsealthe bar, as long as not to cast illegal goods, basically there will be no problem.
The biggest advantage of opening an account is not having to pre-deposit, and the security of the data, the following companies are more suitable
Advertising agencies, specializing in advertising optimization services, can even settle by CPA third-party advertising platform companies, such as Mobvista, yeahmobi;
Game operating company, there are games need to be extended overseas; ($10,000 a month can also be sent to apply for the monthly end)
(Source/Rose Studios)
---