What are the types of Facebook ads?
You know that Facebook is the best marketing platform, but do you know what types of ads Facebook has? Here's whatFacebookSeveral of the most common ways to advertise:
1. FacebookCanvasAds: Create an immersive experience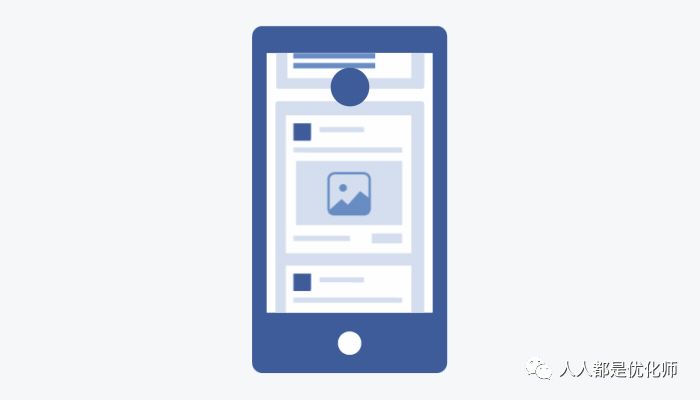 If you saw the demo of Facebook Canvas Ads above, might you be interested in the feature? Canvas ads may seem cool, but the seemingly time-consuming ad-making process can be daunting. Canvas ads are forms of advertising that interact with video, still images, text, appeal terms, and other promotional materials. Is the time cost of producing such ads proportional to post-revenue?

The statistics tell you for sure: YES!
If it's done well, Canvas ads are very attractive: the data shows that 53% of users open Canvas Ad Windows, which means that at least half of Facebook users are likely to watch them, which is a significant amount!
The average viewing time per ad is about 31 seconds, possibly because Canvas ads contain several different types of ads (carousel ads, video ads, single-image ads, etc.) that combine such a variety of ad types to tell a brand story - which really immerses your users in the brand experience.
CanvasThe ad creation process is actually very templated, and you only need to drag the promotional product into the Facebook user interface and put it in the right place. Templates include the following: getting new customers (best suited to developing user groups), selling products (best for e-commerce), and showcasing your business (best suited to raising brand awareness).
CanvasAnother important value of ad patterns is the idea of "speed": your product or lead form opens directly in Canvas, and they are instant, eliminating the need for users to repeatedly jump to annoying, slow-loading sign-in pages. Users can seamlessly bypass key stages of the purchase process (e.g., account logins are required to purchase items, etc.).
Attention! Canvas ad formats are only available on mobile devices.
2. FacebookCarousel Ads: Show Your Products
Carousel advertising is a swipe-to-swipe, tailor-made product specifically for a single product or multiple e-commerce products (or multiple parts of the same product).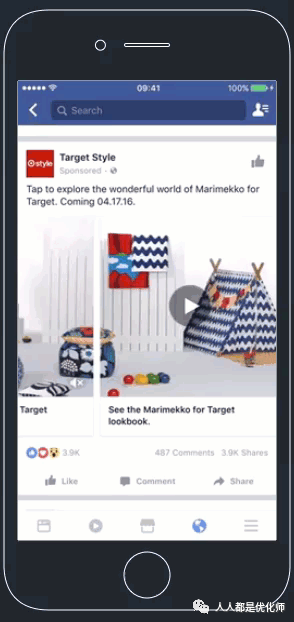 Carousel ads enable advertisers to display up to 10 images or videos (including 10 different CTAs) in one ad, and each carousel panel can link to different destination pages. They are effective both on pc and mobile devices. It's almost enough to meet most Facebook advertising goals - so if you're not selling online, don't feel your hands tied.
3. Page Interactive Ads: Expand Your Ad Reach
You've already had quite a few likes on your Facebook business page, but have struggled to reach most fans? For many businesses, this is a common problem.>>Click here to tell you about a man's gas-breathing FacebookHow does a fan page work?
FacebookThe algorithm only allows your native post to be exposed - so if you have 100 likes (fans/followers), and you post some posts/products to your account, you may only have about 20 followers to see the post. This greatly compresses your promotional effectiveness, but interactive ads for web posts provide a reliable solution.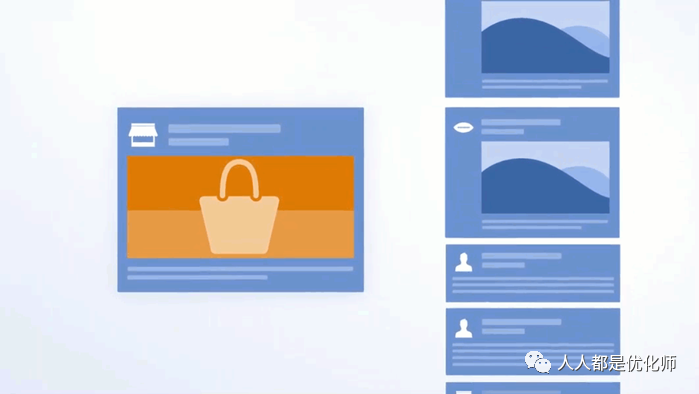 Interactive ads are set up to be easiest! To set up interactive ads, you simply select the "participate" marketing goal. In such cases, "participation" includes comments, shares, likes, event reactions, and offer statements. By running interactive ads, you can be an audience for people who have liked, commented, or interacted with content you post. You can also select tags from Facebook's well-known set of goals to have your content present edified in front of a new user base that may also resonate with your content, which they may like to like, share, and follow, making it easy to reach new audiences.
4. FacebookVideo Ads: Everyone's Doing It, whether you're Also Trying Under
FacebookWhat are the benefits of video advertising? First, consumers who watch videos are 1.81 times more likely to buy than non-video viewers. On the other hand, the process of creating video ads is as simple as setting up image ads. One might think that there is a difference between video advertising and video creation, and why should you spend money on video ads? Because video creation itself may prevent advertisers from joining video ads. As of June 2017, Facebook's branded video content had increased by 258 percent, with more than 500 million people watching videos on Facebook every day.
FacebookVideo ads can last up to 240 minutes, so there's a limited amount of time you can spend using an ad space to tell your brand story, introduce service, and product. That said, you'd better keep it short and clear and remember to add subtitles! According to Facebook, subtitled video ads increase video viewing time by an average of 12%.
5. Facebook GIFAds: Keeping it simple and more attractive
It seems that many articles have said that the shorter the video, the easier it is for your potential customers to keep an eye on the whole thing. That turns out to be the case, and the statistics below make this point clear: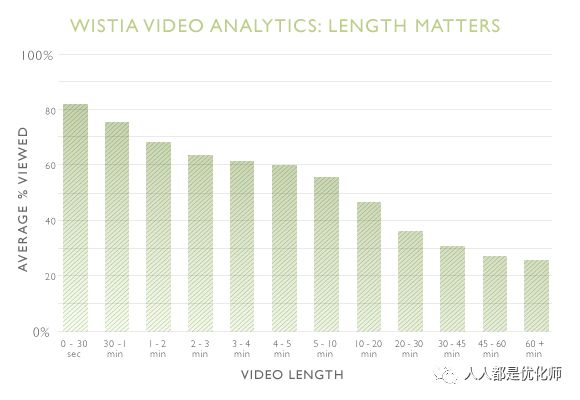 Photo from Wistia
Graphics Interchange Format(GIF) ad type is a good choice. If you can tell your brand story in 10 seconds and resonate with your audience, why make a 5-minute video to tell your brand story? GiFs are forms that exist between images and videos - they're essentially very short videos that loop through the image, but you don't spend a lot of time and resources making a gif. Here's an example of the GIF Ad we created for AdWords Performance Grader: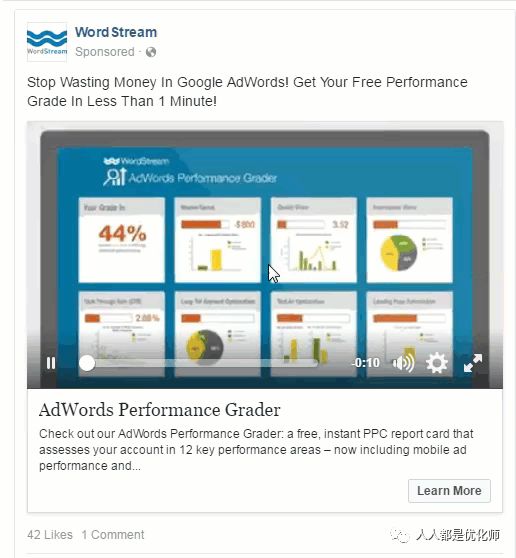 GIFAds look good on mobile devices and play in sync. Using GIPHY's GIF Production Tool - or more advanced tools like Snagit - you can easily upload your video and use it to crop into exportable GiIF images.
Facebook GIFAdsThe app is smooth and ingenious, and it's enough to help you catch the eye of potential customers. Facebook data also says: "Shorter video content allows your audience to see a more complete view." "Anyone with logical thinking already knows. A 15-second video ad will be far more effective than some content in more than a minute of video. In today's fast-paced life, people are willing to spend time watching videos may be the phenomenon of exit, ordinary entertainment video may be so, not to mention advertising video? This makes GIFS very valuable, it does not need to click jump, very intuitively and repeatedly play the products/services you want to promote.
6. Facebook Lead Ads: Getting a lead
Like Canvas ads, Facebook's Lead Ads is a mobile-only ad that allows advertisers to abandon the cumbersome way to direct potential customers to target pages. A retention form can help you get the names, jobs, phone numbers, addresses, demographics, and more from potential customers , covering almost everything you need for marketing or remarketing products. Since your retention form opens directly in the Facebook app, potential customers no longer need to go to your site to provide this information.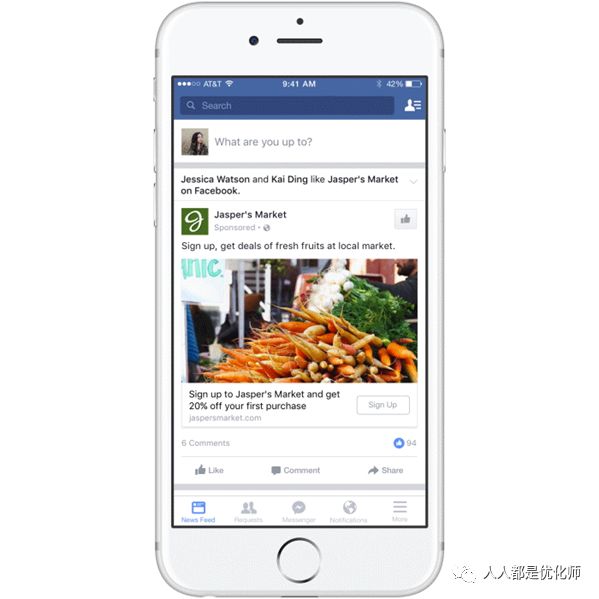 Lead AdsIt's cheap and effective, and most importantly, the contact information you collect can be used to create targeted audiences or similar remarketing audiences.
---