What does Facebook Ad Format look like for ads?
Our common forms of advertising are usually divided into the following types: carousel ads, boutique column ads, video ads, full-screen ads, 360 panoramic ads, and so on. With different forms of advertising ads will receive different advertising effects, so in the advertising must choose the appropriate advertising form, fully take into account the psychology of the user audience, so as to receive better publicity results.
First, let's see how users browse on Facebook and their browsing habits.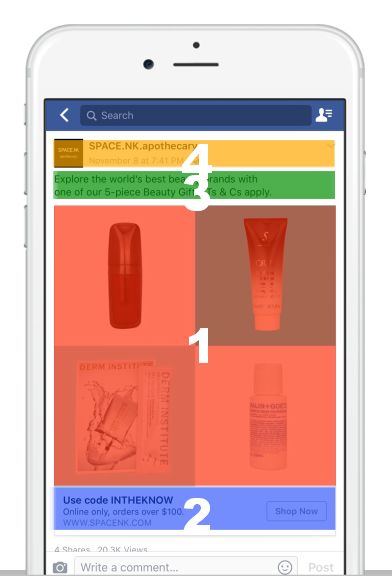 1. Vision is the most important element to catch people's attention when browsing.
2. Visual lying is the most important copy of the description of the product e.g. pricing/discount/exclusive offer, etc.
3. The title above the vision is the location of the auxiliary text, which is concise and provides additional information, creative packaging or expression of brand personality
4. If users are still interested in this, they will look at which brand/page the content comes from and consider clicking on the Call of Action.
Here's a look at the form of advertising and the considerations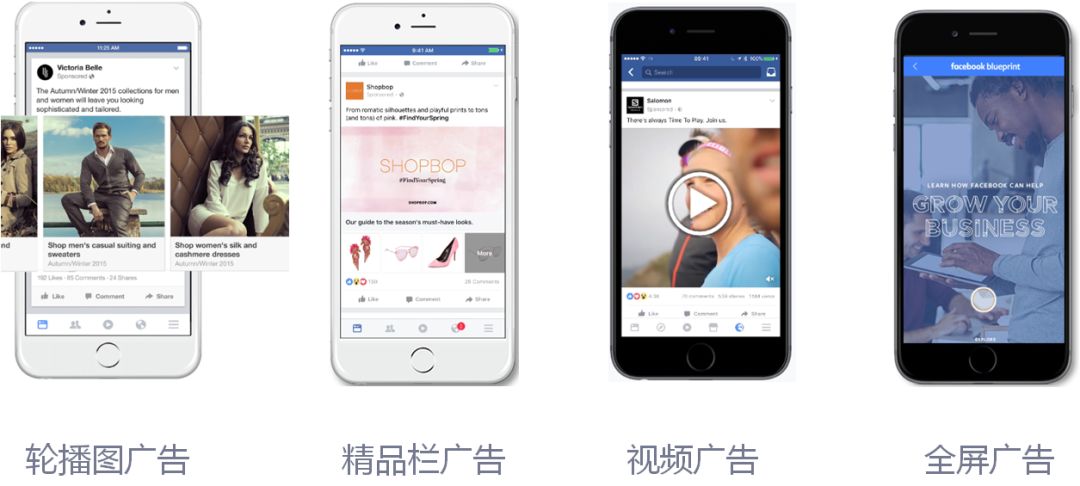 1.Carousel Ads, a single ad space put 3-10 images or videos to display products or APP, users can choose to slide pictures or videos to view products, and video ads compared to the advantages of multiple landing pages, can display multiple products. (The image form required for carousel ads must be square, and the recommended size format is 1080 x 1080, 600 x 600 or 800 x 800 is also a more common format.) )
2.Boutique Bar Ads, the ad will show a picture or a video, and then the following display of more than one product picture, so that users can see the ads, but also can see the details of the product information, which can increase the conversion rate of the ads, boutique bar ads more suitable for the mobile shopping experience.
3.Video ads, in the form of video to express advertising, favored by users, easy to accept, can vividly tell brand stories, greatly improve brand awareness. Will be the form of your page creatives in the future.
Video ads allow you to display goods, services, or brands with video.You can create video ads in Ads Manager or tweet posts that contain videos from your Facebook Page.
Where Facebook video ads are shownIn:
Facebook、Instagram、Messenger 和 Audience Network上
Requirements: Aspect ratioFor4:5, 2:3, 9:16, 1:1, or 16:9,The video duration is1min, push post unlimited
Note: In addition, there areInstagram video ads, Ins video placements in ins story, Ins dynamic this part,The aspect ratio is 1:1 and the video duration is 15s.
4.Full-screen ads, refers to the combination of pictures , videos , buttons , text blocks , and merchandise series , however this form of advertising only supports Facebook mobile use . Note that the full-screen format only supports Facebook Dynamics (Mobile) and uses at least two carousel series or videos.
AboveIt isFacebook Ad Formatcontent,If you have any questions, you can leave a message with a public number, or contact Xiaoxiao (micro-signal:yinolink) to provide feedback.We will answer your questions in a timely manner in the Public No.
---