Will user likes boost Facebook ad performance? A $1000 experiment
This article is translated from the experimental section of adespresso.com, based on Google Translation corrections, and some professional vocabulary is retained in English. The original text was published on January 9, 2020 and requires a paid account login to view. Connection:https://app.adespresso.com/university/experiment/does-engagement-on-facebook-ads-increase-their-performance-a-1000-experiment/

The following is the body:
As digital marketers, we can sometimes easily get caught up in pixels, algorithms, and advertising optimization. Forgotten that Facebook's main goal is for people to interact with posts and comments.
So in this experiment, we'll look at the importance of social proof to advertising effectiveness. Social proof refers to the ad itself' likes, comments and sharing. Because users can interact with ads, just like posts from family and friends.
Will ads with a lot of engagement generate more clicks and conversions than ads without social proof?
Experimental hypothesis
When you scroll through Facebook newsfeeds, about one out of every five posts you see are ads. Since Facebook users spend an average of about 38 minutes a day on the platform, that means it's possible to scroll through dozens of ads. Facebook made nearly $17.4 billion from advertising in the third quarter of 2019.
How do advertisers stand out from the crowd of ads?
Usually our goal is to produce "amazing content." If you can get users' attention in a matter of seconds, you have the opportunity to link them to the features and benefits of the product and to action.
Can ad with high likes, comments and shares make it stand out from newsfeeds?
Let's assume that social proof will make a difference because it shows that the post is interesting and attracts others, and the quality may be above average. Our assumption is that ads with more social proof will get more conversions in all the same conditions.
Ads' visuals, text, and call to action may have a greater impact, but if you have two identical ads, the most interactive ads should get more clicks and conversions.
Experimental Settings: Ads
In this experiment, we tested two identical ads, so the only variable is the engagement of each ad.
We started by creating a copy of two ads that were used in a previous experiment that was tested and inexpensive, so we could collect a lot of conversion data.
This is our ad, which is a standard image ad with the "Download" CTA button: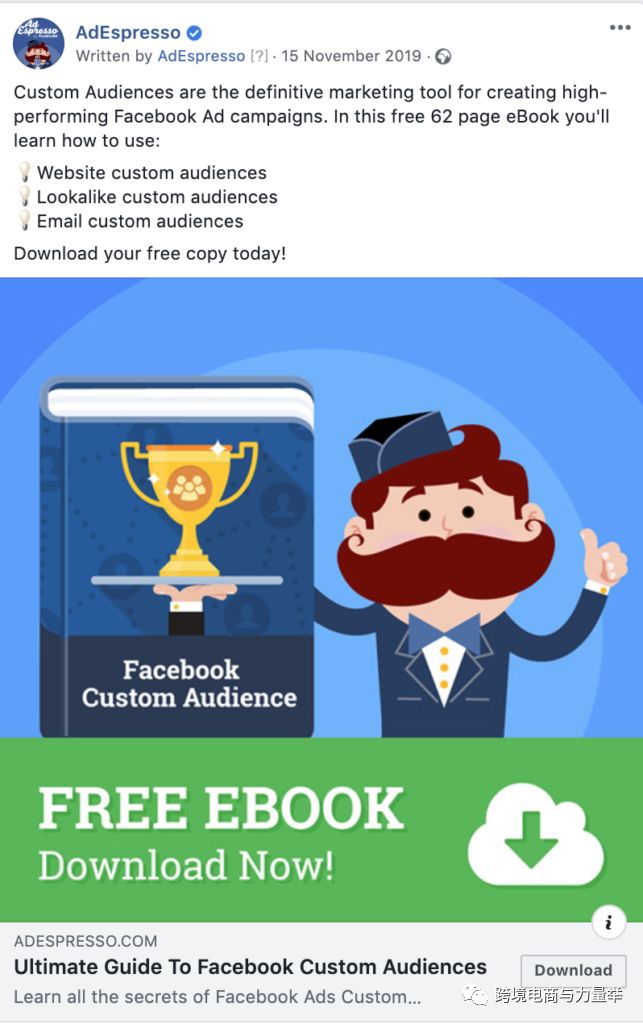 On one of the copies of the ad, we asked customers who had downloaded e-books to leave positive reviews of the ad before spending any of the ad's expenses.
We then advertised in the PPE and got 3,200 likes for $14 by attracting a global audience.
The ad has 3,200 likes, 18 positive comments and 10 shares, and anyone who sees it can see: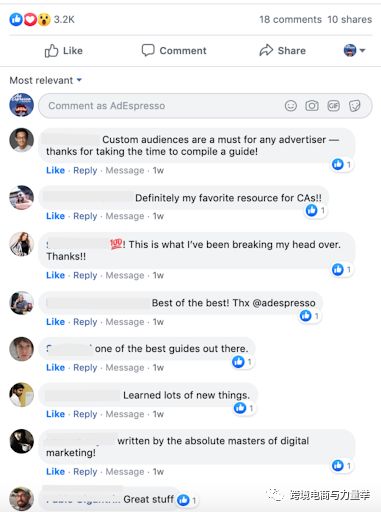 It is important to make it clear that we do not require any false comments, as this is illegal in some countries and can also damage your relationship with potential customers.
We didn't buy fake likes either because it violated Facebook's terms of service and would have reduced your credibility.
Experimental structure
The purpose of this ad is to attract visits to landing page, register and download our eBook Ultimate Guide to Custom Audiences - https://ebooks.adespresso.com/facebook-custom-audiences-guide。
That way, we can track and optimize potential customers, and the winning ad is the one that gets the most conversions.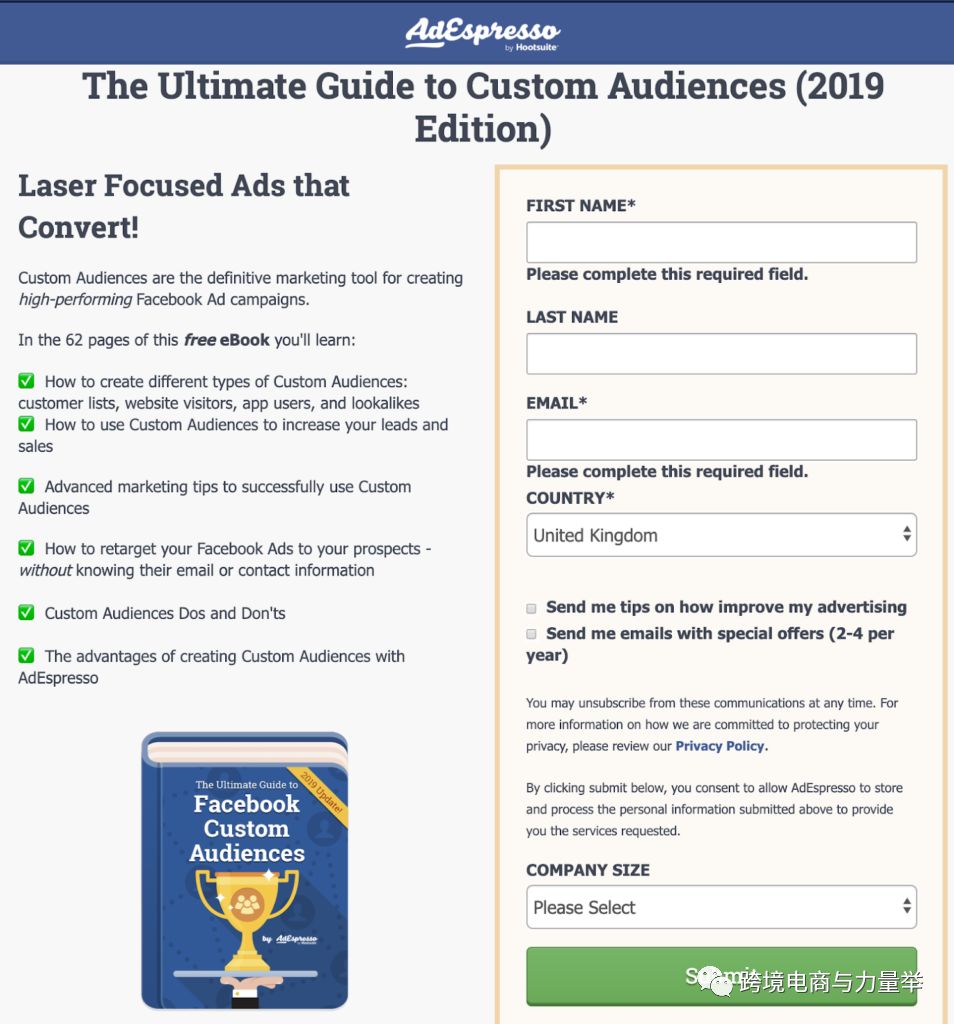 Campaign structure:
We put the two ads in separate campaigns so that we can allocate the same budget (with and without social proof) for both versions.
While this may lead to some internal competition, the amount wasted should be small given the large audience and relatively low budget.
Audience:
LAL is based on 2% similarity to AdEspresso buyers within 180 days. We only target American men and women between the ages of 21 and 64.
Current potential customers and AdEspresso customers are excluded. The audience available for targeting is 3.2 million.
Advertising position:
Facebook mobile newsfeed
Budget:
We allocate $75 per day for each campaign, with a total cost of $150 per day for 7 days.
Bid Strategy:
Lowest cost, no upper limit.
Optimisation:
Optimized for conversions.
Results:
Both ad variants resulted in more than 100 conversions, the main results summarized in the table below:

Advertising social proof lowers CPM, CPC and CPA, and brings more potential customers.
The CPA without social proof increased by 7.7%.
Note that this result is not statistically significant, i.e. because the differenceisis is small, these results may be attributed to random changes.
The conclusion of the experiment
The main conclusion is - as expected:
Ad engagement does reduce CPA, but the difference is small, at 7.7 percent, and random changes can affect results.
As a result, we still want to reuse ads that already have social proof, but that's not our only focus.
Instead, the way to minimize ad costs is to do as many split tests as possible.
For example, in our previous $1,000 experiment, we found that choosing the best ad format is 2.8 times cheaper than the worst ad format, and similarly testing video thumbnails can cut costs in half, and even CTA buttons can reduce costs by 2.5 times.
It's only when you've completed several rounds of split testing and no longer see a significant reduction in CPA, it's important to select the highest quality ads and reach multiple high-quality audiences.
Posting positive reviews, likes and sharing in your ads is the icing on the cake, but it's not as important as advertising creativity or optimizing landing page.
Last thought
Finally, the experiment only considers whether the social proof of the same ad affects the user's behavior.
What we can't consider is whether a lot of interaction during ad delivery will change the outcome.
This chart shows how much engagement each ad has received in this experiment, very similar:
The correlation metrics are the same:

Ads get a lot of likes, comments, and shares during the delivery process, so they're likely to get a higher correlation ranking, which in turn reduces CPM and CPC, leading to more potential customers. So there's still a need to make ads as attractive as possible.
Did you find outsocial proofCan make a big impact? Or just ignore it? Talk about your experience in the message.
---