15 Common Causes and Solutions Why Google Ads Can't Show
A lot of people get into this situation, and soon after your Google ad is released, you find that your ad isn't showing or clicking, most likely because your ad isn't shown at all.

When this happens, don't panic, because it's rarely a big deal that your ad isn't shown or shown, because that's often the reason why your ad isn't showing.
Google has this guidance that can help you complete your diagnosis.

Or check out our summary of the 15 reasons why Google ads don't show up for your reference.
This may sound like an obvious reason, but there will always be people who ignore the paused campaign.
Check to see if your campaign has set a start and end times, and you forget that you've set an end time, and this time there's a howl like "Why didn't my ad click. " 
How to fix:
So if you don't show it, go to Change History to see all the changes you've made to your account. Then, filter by Status to see if all of your campaigns are online: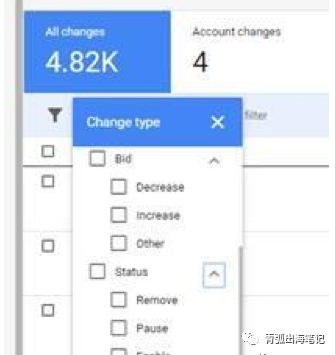 No search/low search volume
If you see a "low search" status, you may be targeting very specific, very small niche or long-tailed keywords that few users search for. 
Although long tail keywords can sometimes mean high traffic, if it is too small, the opposite can be true. When Google notices that the keywords you're targeting have little or no traffic, it's temporarily invalidated in your account.
How to fix:
Check the Keywords search for if you're low by visiting the Keywords section of your account and looking at the Status column. If "Not enough searches" appear, you can click to see if your ad is shown and what the problem is: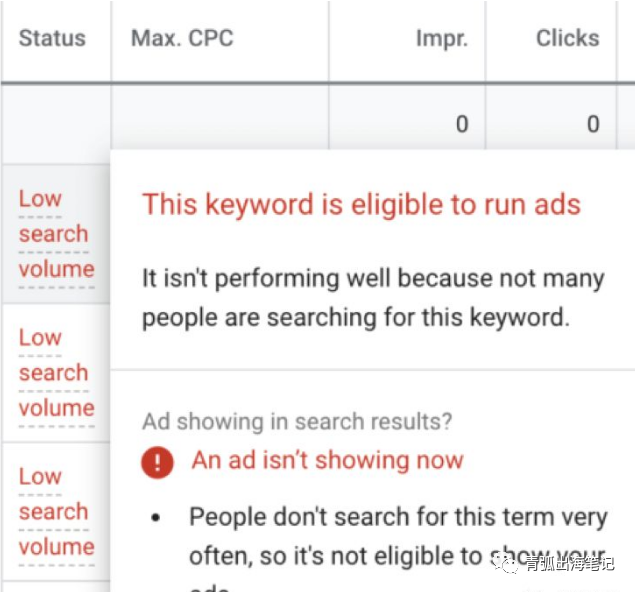 If it's because keywords are too small to be searched, try a broader phrase or broad match type to cover more (still relevant) searches. 
ThisIs the most common reason Google ads aren't shown. Your keyword bid may be too low to get a first-page ad placement, but that doesn't necessarily mean your ad won't show up on a later page.
How to fix:
Check out the Keywords section of your Google Ads account and use the bid simulator to estimate the impact of increasing bids to different amounts: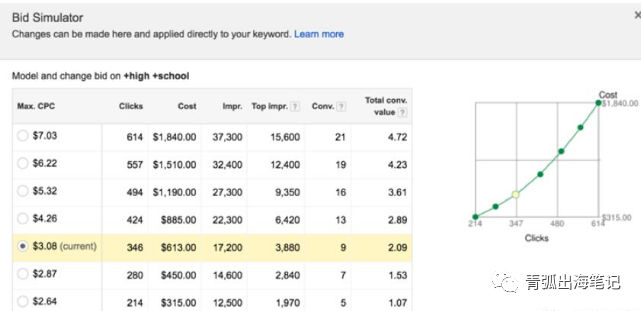 Then increase your bid to the one that the keyword can show on the first page to see if the impressions increase.
Depending on how your budget is set, your ad spend may run out soon. For example, many businesses set ads to run quickly, in which case the daily budget for your ad campaign might appear as Restricted.
The Budget-Limited status means your ad may not be able to appear because of the run-up to your ad budget (if the cost per click exceeds budget, the ad will not be shown), depending on the cost per click per keyword.
Because Google Ads will try to allocate a budget throughout the day for better results, it means that your ads won't be shown every time someone searches for keywords.
How to fix
One way to solve this problem is to reduce the bid or increase the daily budget to ensure that the bid-to-budget gap ratio is not too high.
You can also set when your ads run to determine when they're most attractive to limit the amount of time your ads appear. However, this leads to the next reason... 
Too many ad serving time settings
The ad's time tells Google the date and time you want your ad to appear. (Note: If you don't set a specific ad time, your ad will show at all times of the day by default)
However, if you customize when your ads run and still don't see your ads, there are two things you need to be aware of:
Time is too narrow - if you set your ad serving time to just one hour a day, your target customers don't have much time to search. If the customer doesn't do any searches within that hour, your ad will never show.
Poor planning - If you set your ad within a few days or hours your target customer won't search, your ad won't have a chance to show it. 
For example, if you're promoting employee office software to a company that's nine-to-five-day work time, but the ads are set to appear at night and no one searches, the effectiveness of your ad campaign sits will be affected: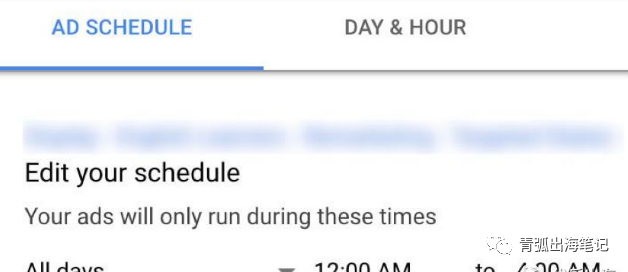 How to fix
Click on your campaign's Ad Time tab and make sure your ad isn't set too narrowly or at the wrong time.
Before you start running, do some research and research to understand the peak spikes in audience search, and consider extending your ad time to more/better times.
Ads are not relevant to the landing page
Google will judge your ads based on how relevant they are to their user target keywords and the relevance of the landing page.
If your landing page isn't optimized and isn't relevant to your target audience to help your audience resolve the problem, your ad ranking will be affected. 
How to fix
Take a closer look at each keyword you target and consider the searcher who triggered them:
What are their pain points?
What problems might they have?
What solutions are they looking for? 
The answer to these questions will be what your landing page needs to cover, establishing a relevant match between your ad and the landing page. 
Take a look at the relevance of this ad to search results and how well the landing page (copy and mail) matches the ad: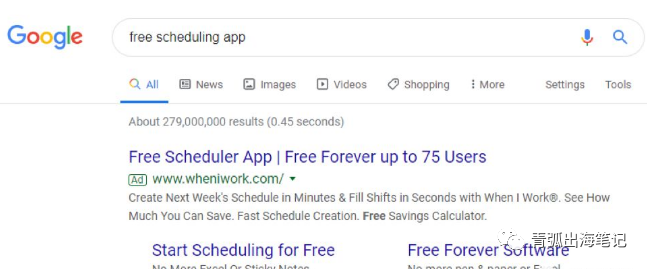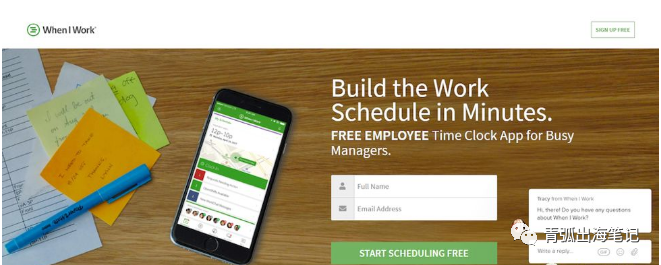 The more you can link the two and better resolve the issue on the landing page, the higher your ad ranking, the better your account quality.
Your ads typically take a business day to complete Google's review process, and the results will appear in your Google Ads account.
So if you find that your Google ads aren't showing up, there are two possibilities:
Ads are still in the process of reviewing - if you create an ad less than a business day, it may be because the ad is still waiting for review.
Ads have been declined - If you've been out for more than a business day, but you still don't see them, it's probably an ad that's rejected and can't run.
 How to fix
If your ad is waiting for approval, you can only wait for it. If rejected, it may be for a variety of reasons (see our other article to learnReasons and solutions for Google ads to be rejected)。
The exact reason why your ad was disapproved will be displayed in the Status column, which you can click to process in a timely manner.
Accidentally bid for negative keywords
Adding negative keywords to your campaign can be a good way to limit unwanted traffic, but if you're not careful, it can happen, and your negative keywords contain the words you're about to bid on.
For example, if you bid on the phrase match keyword "Email Automation Free Trial" and set Free Email Automation to a widely matched negative, that means your negative keyword sedits over a valid keyword.
Instead, you must switch from the widely matched negative keyword "free CRM" to a fully matched negative "free CRM" in order to advertise to users who want to have a free trial email software, rather than for people looking for a completely free email solution. 
How to fix
In the first case, check the list of negative keywords to make sure you don't add anything that invalidates other target keywords. If your negative bid adjustment causes your ad ranking to drop, you can use the bid simulator to help you.
Your ad group's focus isn't clear
When a user's search triggers a keyword in your ad group, Google selects the ad associated with that keyword: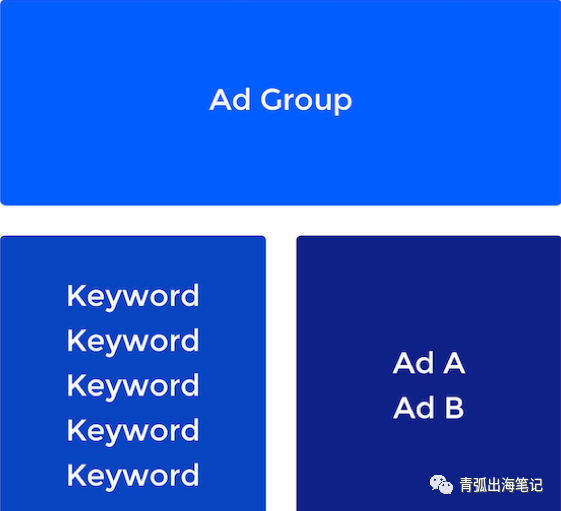 Your performance in the ad auction depends on the relevance of the ad to the user query. The higher your relevance, the higher your ranking.
So if your Google ads aren't showing up, it's probably because there's not enough correlation between your ad group's keywords and ads. 
How to fix
When you create an ad, the theme of your ad group should be as consistent as possible with your keywords, and if all keywords in your ad group are closely related, your ad may be relevant to the user's query regardless of which keyword is triggered and which ad is selected.
Lack of bidding for devices on desktop or mobile devices
With device bidding, you can choose which platform your ads show. You can also set a comprehensive bid increase or decrease for keywords based on the device type.
This approach is useful for optimizing advertising spending across devices. However, if your device bids incorrectly, you may not be able to show your ads for one of two reasons:
The device you want to display the ad is set for -100% bid adjustment, which prevents the ad from running on the device
Your other bid adjustment is too low
How to fix
Make sure your device isn't "-100%", or try to bid higher until your ad appears.
The positioning range is too narrow
Creating target objects is ideal for reaching specific customer groups and prospects. Still, the audience must be at the lowest before you can run your ads (at least 100 active users have used Google Display network ads in the past 30 days and at least 1,000 active users are using Google Search ads).
If you don't have enough data to meet the minimum requirements, your audience will be too small for your ads to show. 
You can see if your audience is too limited to target by clicking the Show Network tab within your ad group and then clicking the Interests and Remarketing tab:

How to fix
You can wait until your list is large enough, or upload more email addresses to meet the requirements.
Note: You can also use observation settings instead of targeting settings in Google ads to see how a particular segmented audience reacts to your ads without having to specifically serve that segment.
Targeting allows your ads to reach only a specific audience, while watching can reach a broader audience, while tracking ad performance across a more specific audience - so you get valuable analytics without having to use too narrow targeting.
Location is not located correctly
Geotargeting is set in your campaign to let you choose the area where you want (or don't want) to show your ads.
However, the following location issues are common to advertisers:
Location targeting is too narrow - Google allows advertisers to target areas to a country or even a zip code. However, just like keyword targeting, ad delivery schedules and bid adjustments, setting it too narrow lying can cause the data to be too small to generate any search at all.
Location non-relevance - While you may think you already know where your ads should be, you might set your targeting to a location that doesn't have a target audience search.
Location is excluded - you may accidentally set the location to Excluded.
The bid adjustment for the target location is too low - if the bid adjustment range for a location is set to -100%, your ad will not appear in that location.
Also, if the bid adjustment is too low and the keyword doesn't get a high enough rank, the ad won't show up in that location. 
How to fix
To see where your ad can appear (or not), click the Settings tab in your campaign, and then click the Location tab below it: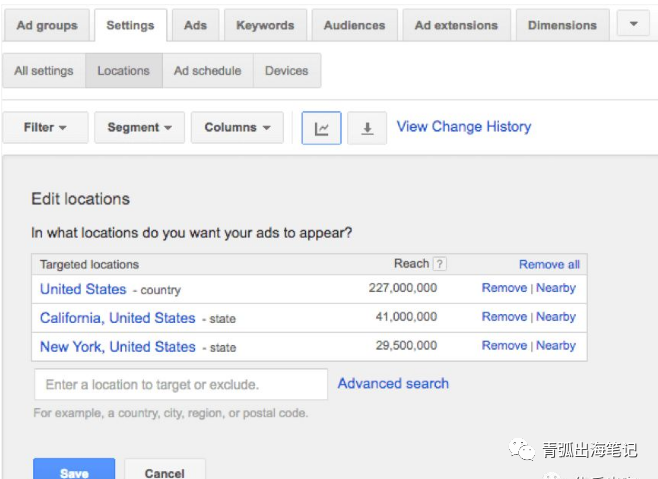 Depending on the issue you are dealing with, you can make these adjustments:
Expand your targeting range, set a large riticity around a specific location, or test a nearby city or region.
Do more research to your target audience to determine their location (after collecting data, start at a specific location and zoom out on a wide scale).
Confirm that the location where you want to show your ad is set to Added, not Excluded.
Make sure your target location bid adjustment isn't set to -100 percent, and try to increase your bid adjustment to improve your ad ranking.
Quality score is not high enough
Although you don't use a quality score to determine your ranking during your ad auction, it does show what your ads expect during the bidding process. So if you see a lot of "rarely show due to low quality score" status next to your keyword, your ad may not show - if you click above this message, you can see: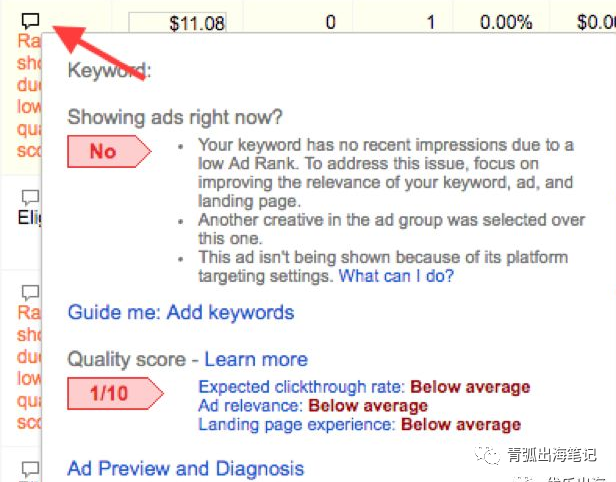 How to fix
A low quality score indicates one or more of the following:
Low expected click-through rate
Poor advertising quality/relevance
Poor quality/relevance of the target page after clicking 
Take a look at how your keywords, ads, and sign-in pages relate to each other, and consider what optimizations you can make to improve relevance and user experience so that your ads get more impressions.
Your click-through rate is too low.
Google wants to provide users with a good experience where possible, including the ads they display. If your ad isn't clicked, it's not about the searcher, your click-through rate drops in a straight line, and Google may stop showing it. 
As a result, the higher your ad's click-through rate, the better you'll be in the auction, and vice versa. How to write engaging ads that prompt them to be clicked on, giving your ads a better chance of continuing to show to potential customers.
Celebrity Cruises uses time-limited offers in the ad title to attract and drive searchers to click: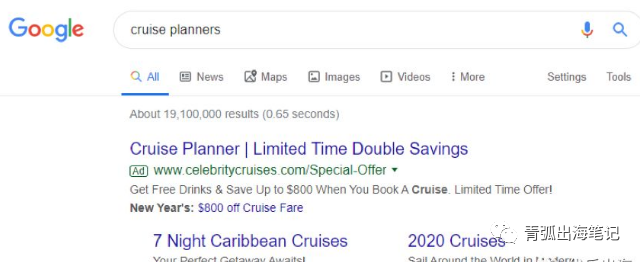 To write a compelling ad copy, be sure to consider the keyword your ad is targeting, triggering the keyword's users and their pain points. Your goal is to meet their needs based on their current customer phase.
Your IP address is blocked.
Many advertisers spend time researching their peers' ads and searching their browsers for their own keywords. However, if you do this, it may trigger your ad impressions and give you unnecessary impressions.
From then on, your IP may be recorded as a malicious clicker, and your IP may not be able to see ads because it is blocked. 
How to fix
Go to campaign settings to see if your IP address is listed in the IP Exclusion section.
If so, delete it and save your changes to make sure you see your own ad show when you search.
Poke"Read the original text"We're improving together.

---