2020 Overseas Game Market Analysis: How to Better Use Google Ads for Delivery
In the fourth installment of the 2020 online public course, we invited Han Pei, Customer Growth Manager of Google AppDev, as a lecturer to review trends in overseas markets in 2019 and explain Google's new advertising products in 2020. The following is a condensed section of the speech.
Today we first review the launch of this piece in 2019 and the new opportunities we see in 2020, and secondly, we introduce new products launched by Google Advertising, which are not currently fully public and need to be tested through Google Product Manager application whitelist to help you seize the dividends of new products in the early stages. , we can also feel their own products to consider whether to try, there are many small partners on Google products are very strange, feel that Google launch is a black box strategy, a lot of do not see, there are problems can not find people to do technical troubleshooting, we will also do some explanation around these.
In fact, in 2019, we can see that China's developers mainly in Southeast Asia, the Middle East, these areas we have eaten very stable, like 2017-18 we have done very well in China, Hong Kong, Macao and Taiwan, basically a red sea, but we can also see that in the future development trend, Like Japan and the United States and other t1 countries, as the entire mobile side becomes more mature and the overall value of users increases, in fact, in 2020 we can see that these t1 countries have great potential, including what we call the "next billion users" BRICS countries, like Brazil, India and Indonesia, all have huge business opportunities.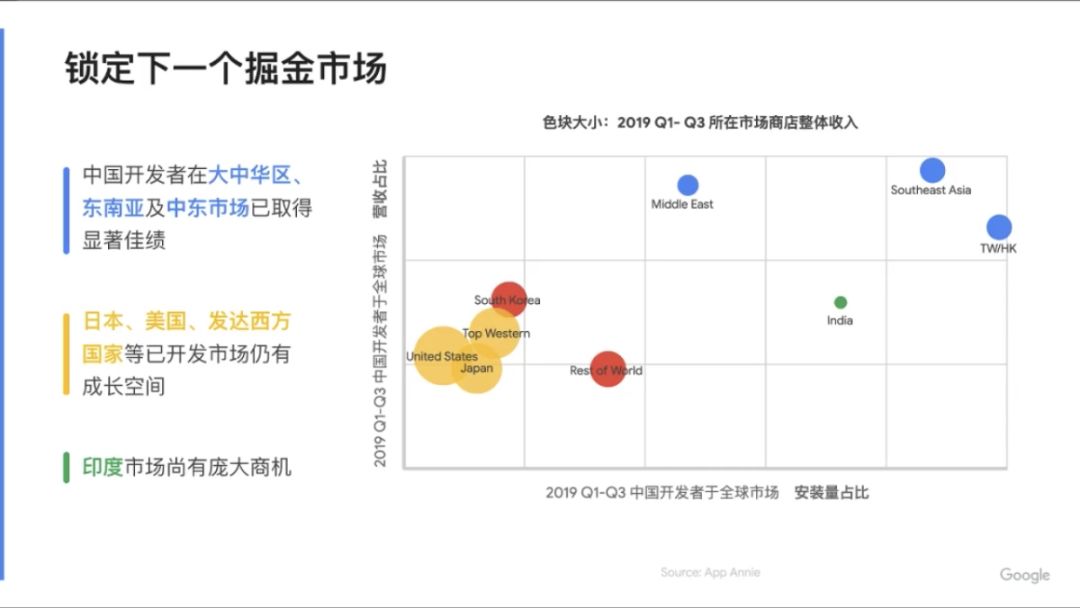 我们刚才看了一下,全球2019年的趋势,用现在的数据放眼去看未来,北美已经超越日本成为了全球最大的移动游戏市场。这个数据不包含中国在内,因为中国没有Google Play,没法整体衡量。如果就出海而言,北美已经超过了日本,我们也可以看整体趋势,其实美国的整体收入规模已经超越了后面的韩国和德国很多,iOS端的收入其实也超过了中国,然后美国的游戏群体还在增长中。最近大家被疫情搞得很困扰,其实国内已经一片祥和,但西方国家是很痛苦的阶段,移动端的市场是生活中不可分割的一部分,所有流量用户所花的时间都集中在这里,基于之前的经验,在2023年,将近64%的移动端用户会成为移动游戏玩家,这个渗透率是全球最高的,其他国家可能都是在50%以下。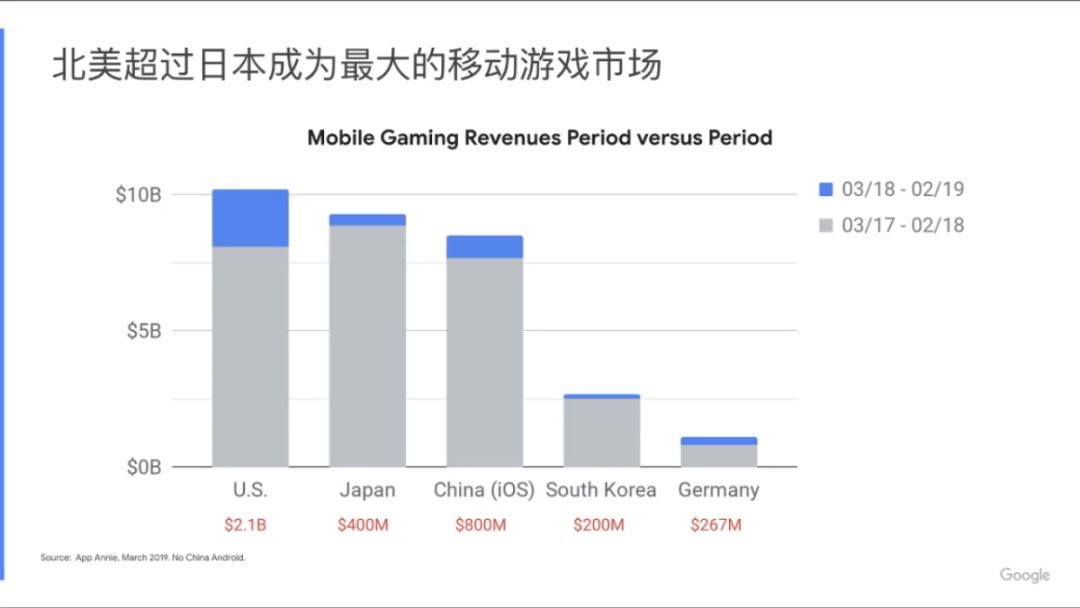 At the same time as the penetration rate is very high, the arpu value including the average paid user is also the highest value, basically can be maintained at more than $50, in 2023, this figure is very worthy of attention.
The huge profits of the U.S. market, in fact, can also be seen from the figure, in 2018, other countries are far less than the United States, other arpu very high countries, such as Japan and South Korea, the number of users is far less than the United States and other countries, so the competition is very fierce, product segmentation and play method assessment is very strict, It will also be much higher in terms of cpi cost capture than in the United States. So I've always felt that the U.S. is one of the fastest growing trends in 2020 and the next few years.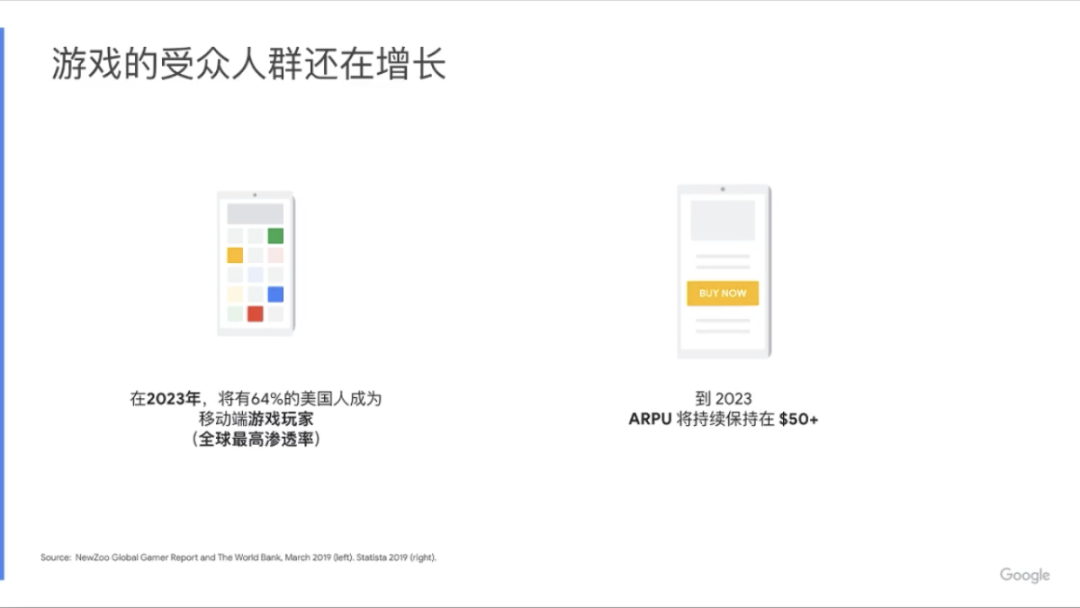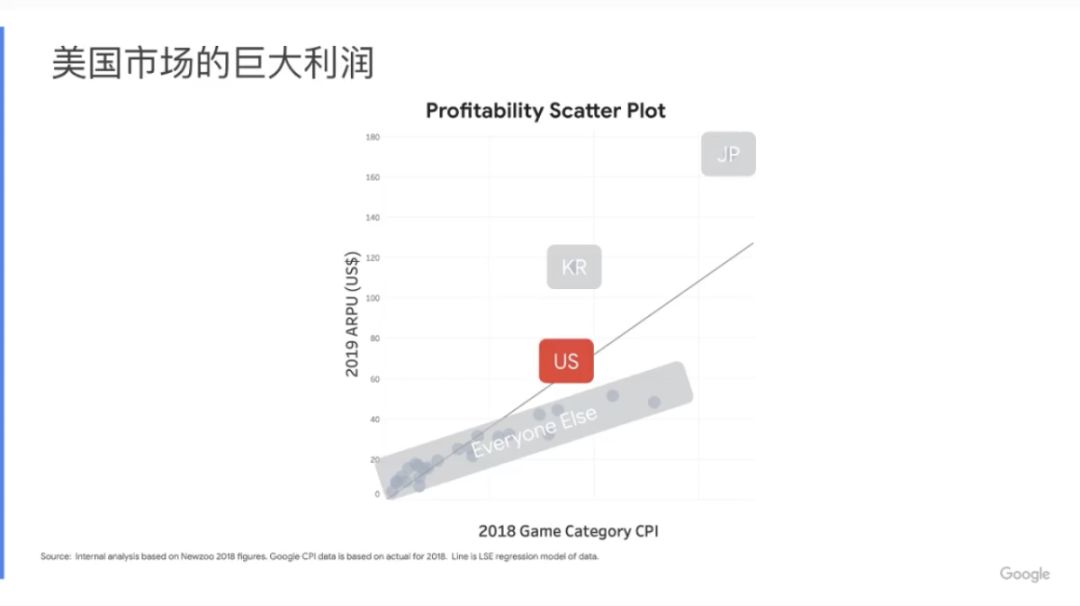 After watching the United States, we look at Japan and South Korea, many of the big domestic factories are also continuing to power these two regions. Japanese game market, users in the game is much higher than other t1 countries, including the United States, China and Germany and so on, this is related to the overall trend of Japan's hand tour market, starting very early. Basically, the average paid user's game costs $214, which also indirectly explains why many of the big out-of-the-world factors are eager to send Japan, because in Japan, if you buy the average number of installations, it is much more than buying paid players in other countries to recycle, but the challenge is also very big, buy a heavy mmo or slg in Japan, The average cpi can reach $25-35 or even $45, which is also due to the pressure of market competition.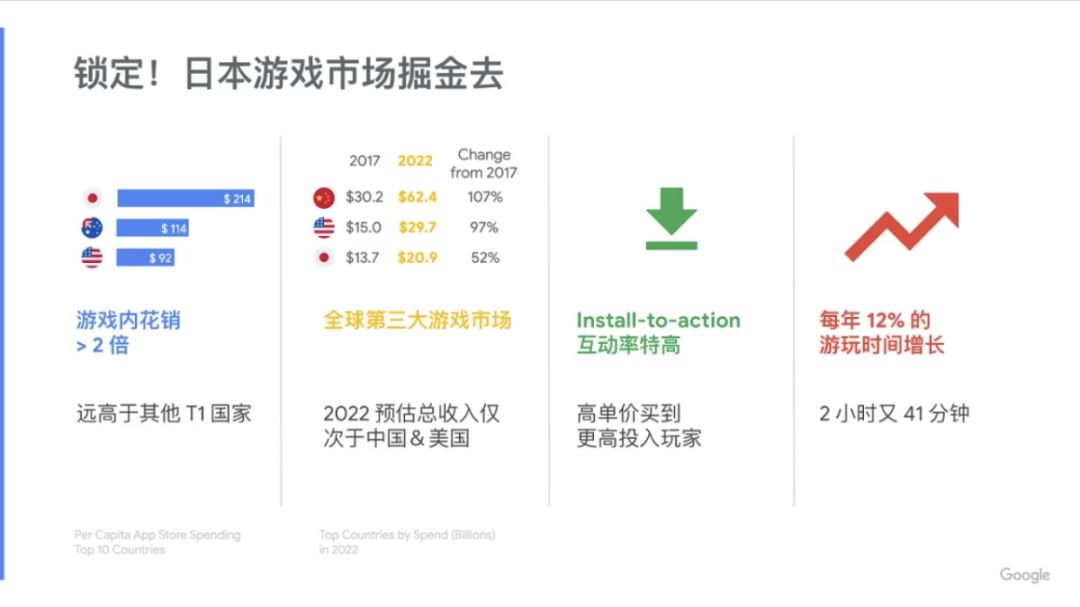 Japan is the world's third-largest gaming market, and I'd be optimistic if China were removed, second only to the U.S., but it's important to assess the competitive pressures and the challenges of localization. Just now I also said, install to action interaction rate is very high, which is why in the Japanese market, many people want to buy installation when not buy a big reason, experienced advertisers will be very aware of this block, at the same time it is also increasing the length of the game each year, and the overall market training and fierce competition, Causes the level of the game is increasing and the growth is also very fast related.
Finally, we look at the Korean market, recently I found that, especially in early 2020, many manufacturers concentrated in Korea power, in fact, the Korean market, we all pay attention to the e-competition know that the Korean market men are basically concerned about the game, the proportion of gamers is very high, 95% of the national population is the target of the game, At the same time arpu is also very high, a month there are 10 dollars, a year there are 118 dollars, while the national population of 39% watch live, usually we watch TV drama, South Korea may watch the whole family live game, every day will pay attention to this child. The Korean market is very similar to Japan, but it is very different, and we don't break it down here.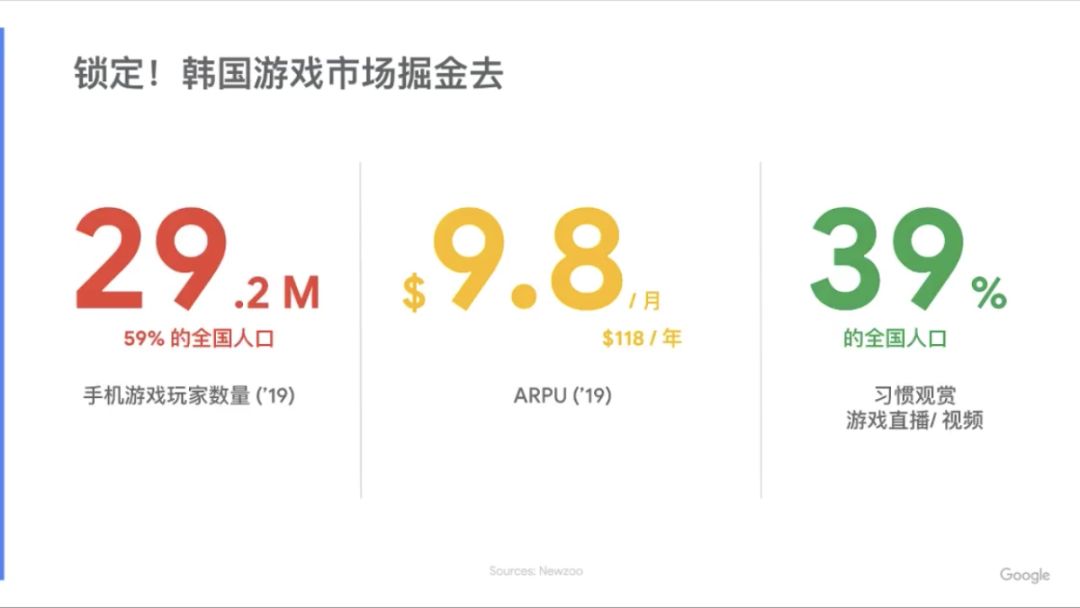 Then we look at the global distribution as a whole, in fact, the proportion of game and non-game revenue, game revenue is much higher than non-gaming category, which also depends on the game itself users arpu very high, 2020 growth rate is similar, but the overall number of users has a sharp increase, 2020 is the same, the number of game users in the growth, Revenue levels are also growing, and you don't have to worry too much about entering these competitive markets, as the number of users is growing.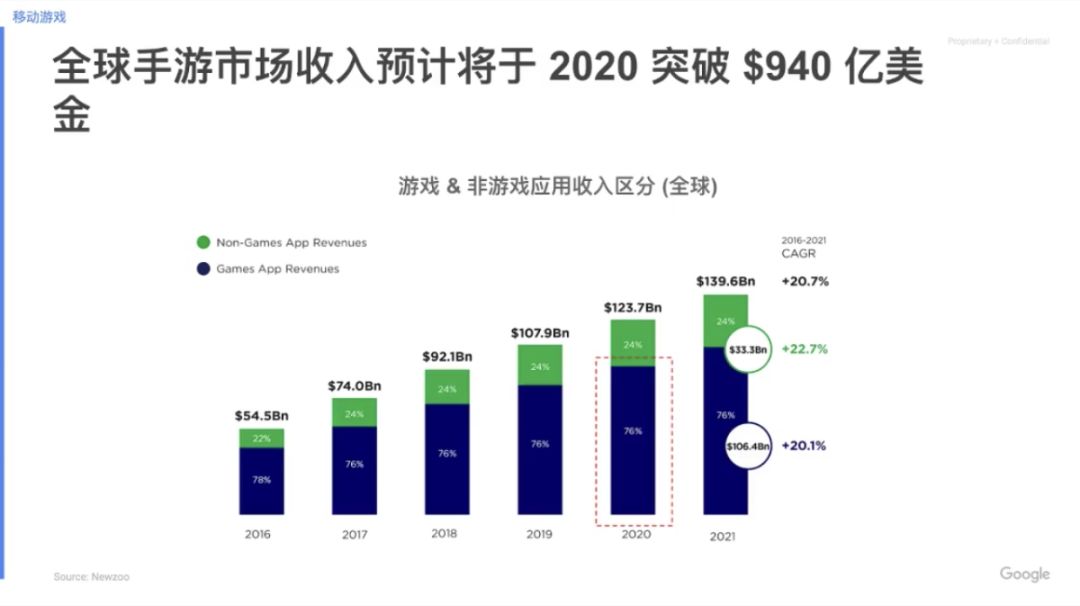 Last but very positive, every year from 2017 to 2024, the number of users of the whole hand-traveling is growing trend, this number is only a very conservative estimate, we still try to do these head of the country, the average user pay ratio in these markets is very high, emerging countries also have a chance, But something more localized is needed to master these markets.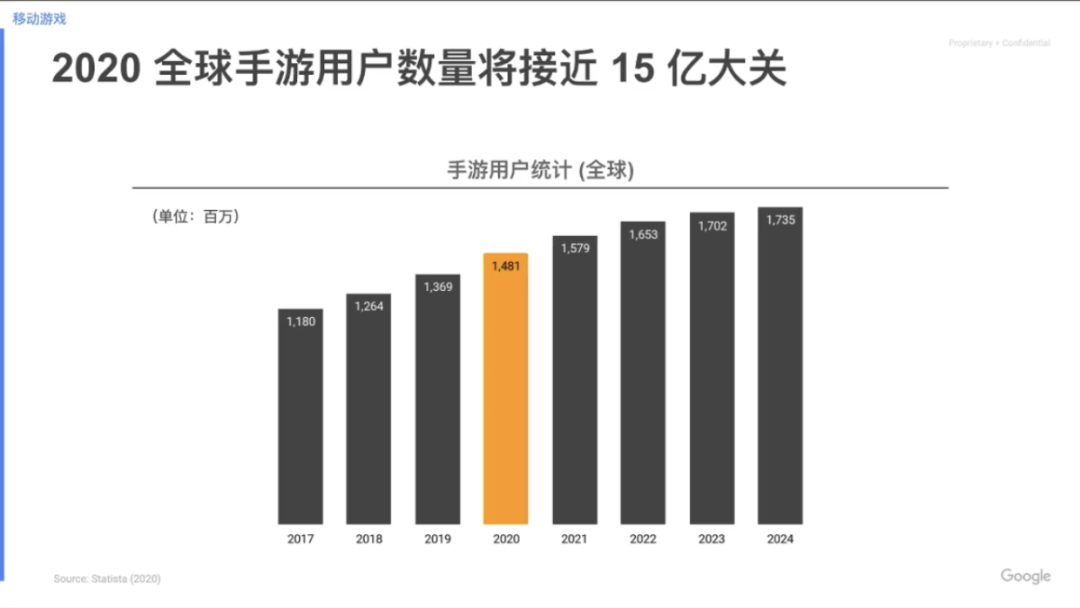 This page shows trends in emerging markets, where the main growth is concentrated in the Middle East and North Africa, with very fast download growth and faster revenue growth in Central and Eastern Europe and Southeast Asia. So want to be ultra-light leisure, the Middle East and North Africa can try, if do heavy slg or social gambling games, policy allows, the whole of Southeast Asia and Central and Eastern Europe can be tried.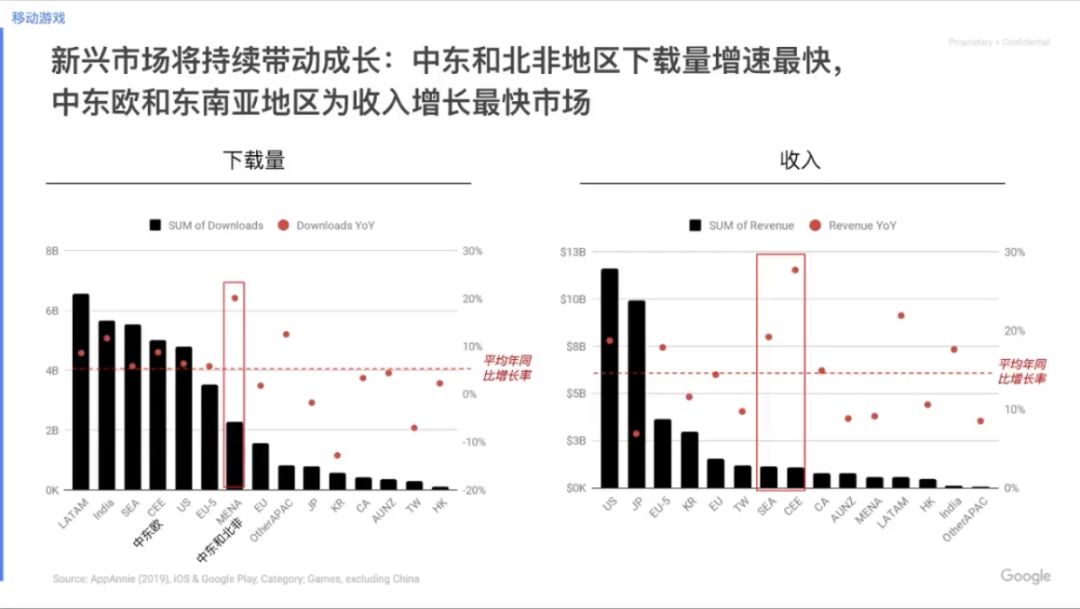 New Product Introduction to Google Ads
I'm a customer growth manager from the Google AppDev team, and we're mainly a team that supports you to run and grow on Google Ads, so we have a lot of experience with these, and I'm going to do a plan for all of the 2020 products, let's do an analysis, let's get to know first. The end result is to get everyone to take advantage of google's product stake throughout the game life cycle and zoom in on it.
Google advertising this platform, the good thing is to have the world's 1 billion users daily exposure, while the product internal access and data for our ability to serve learning is also very strong. So we don't have too much bias against us, think that the pre-release Google cpi high, starting very slowly, in fact, this is not the case. The first thing you need to understand is what the kernel of Google's product is, all of Google's products are based on machine learning, based on a huge amount of data, do analysis and learning, no matter what level of the game you are in the promotion level, you can use machine learning to help you reduce costs in the later stages, looking for your target users.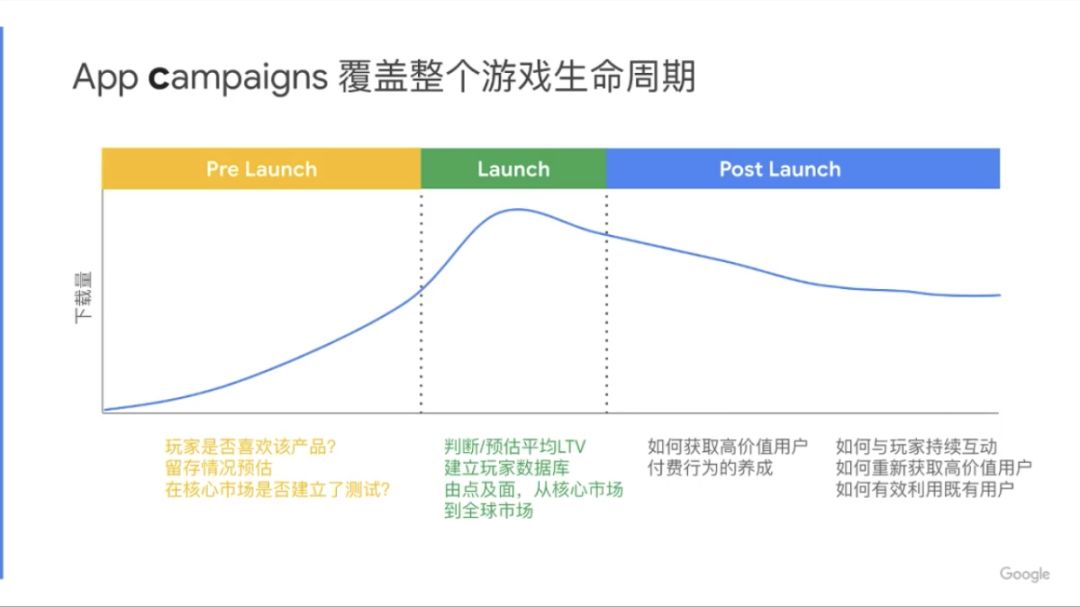 We divide the entire game's promotion cycle into three parts, the first part is our pre-launch, and then in the medium term how to evaluate the average ltv, choose the core market, choose the appropriate corresponding delivery form, contact with all know, Google has run installation, there are running events, there are running installation s events, How do we reasonably operate; and finally look at the latter stage, how to focus on the existing users, or on the delivery strategy, find a way to maintain interaction on the old users, regain high-value users how to do.
As I mentioned earlier, Google's mobile campaign is very powerful, including a lot of Google's existing products, such as search engine, Google Play, YouTube (in fact, is already the world's second largest search engine) and so on, in fact, in the future, to target young people, YouTube is also an unaweable channel for getting traffic, followed by AdMob and other channels.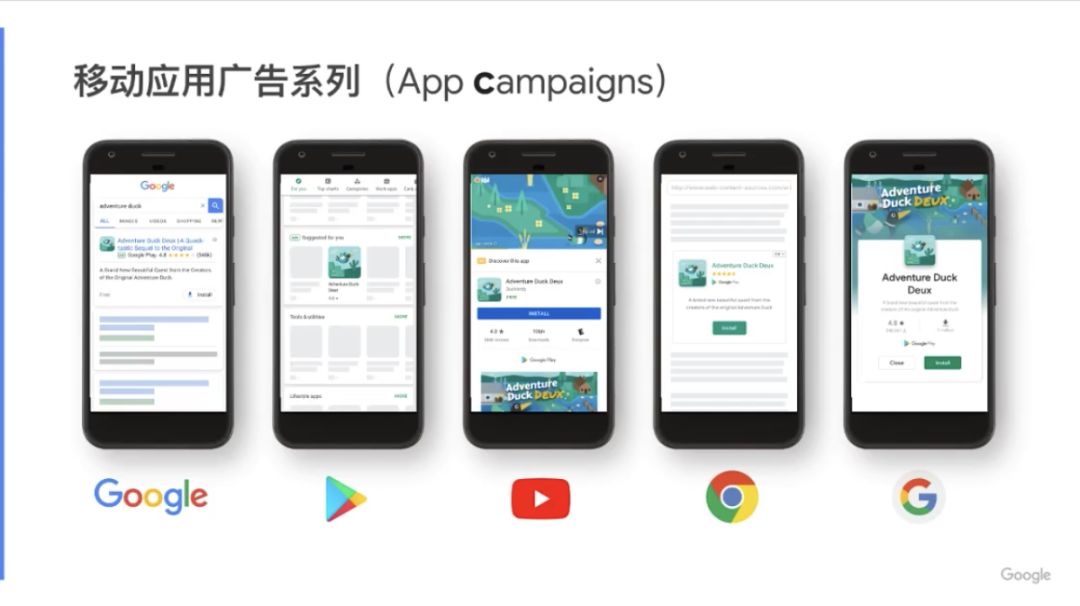 Google's advertising pattern is now gradually turning to maturity, for different time periods of delivery, we have for different products, such as from the beginning we have this pre-registration pre-registration, to the product on-line with the maximum conversion, a maximum installation series, To gradually turn to a smooth installation, run events, run ROI, run VALUE to run engagement, if from the beginning of the study of Google this product toolbox, we can get the required data, at each stage to make adjustments, and finally bring you the visual data, Really see input and recovery, and constantly adjust to success.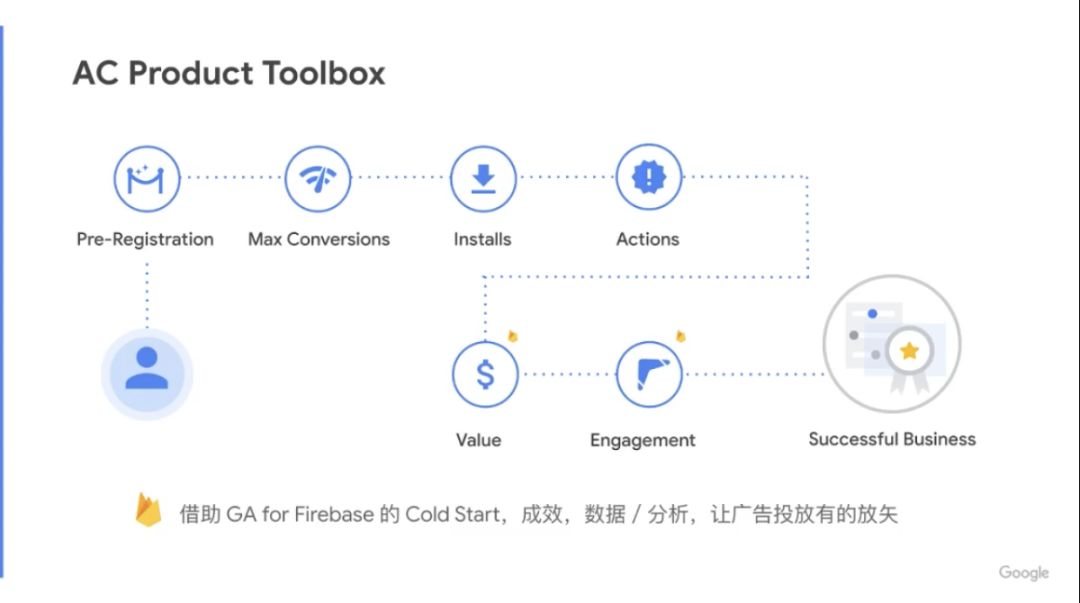 Here we can see that in different product life cycle, we want to let the ads show to users when a clear message, the left this is pre-registration, is 2017-18 on the launch, many rich and very strong IP factories are doing this form, many people began to grab this wave of advertising volume, This is very simple, is to let the core players be attracted in the early stage of the promotion, followed by the next online and then further, then run to install-oriented call to action ads, to the later, to maintain user activity, do some re-engagement ads, In fact, every part can be tried on Google Ads.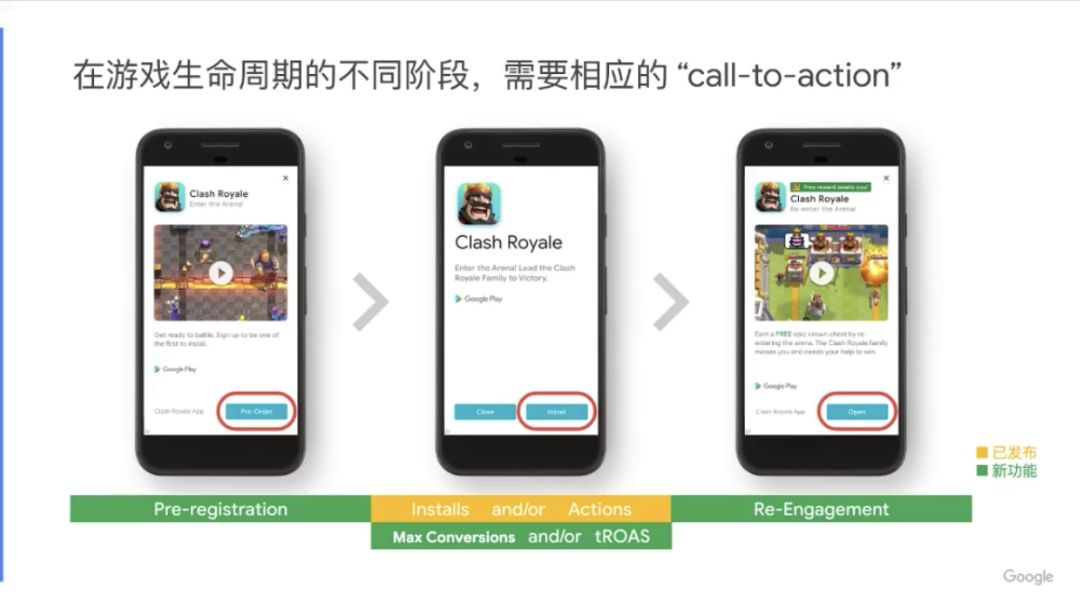 刚才大幅在讲pre-launch,我们在Google Play专门给预注册游戏一个展示板块,无论是有没有买广告的,包括索尼克、火影、死神、暴雪的东西。这一块儿,在未来是兵家的必争之地。跑预注册广告,建议大家提前去做,不一定前期起量很快,前期都可以做个缓慢的测试,看看投放成本以及玩家对于这条广告的响应度,但是尽可能要早。如果还有一个星期上线了就不能达到太高渗透度了,建议45天前开始跑,根据数据表现和成本做一个调整。在欧美发达国家我们可以看到,整个预注册到上线的转化在20-30%,一些特别好的产品可能能做到40-50%,但是有一个坑需要注意,在一些不发达国家和网路环境不好的国家,到最后游戏上线时候,是通过push通知的形式告诉预注册用户来下载的,如果在不发达国家,用户没有开,那可能就没办法获取到这个push,那这条push淹没了,转化率就不如t1国家好,所以我的建议是在网络环境发达的国家做。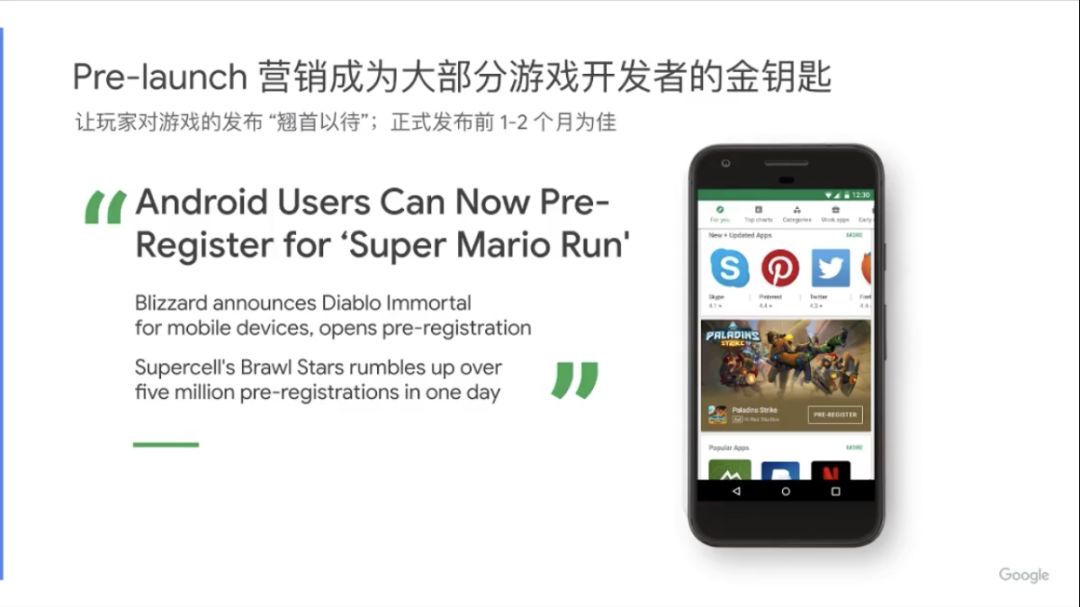 It's important to note that in the Google Play background, the product is pre-registered, but at this stage of pre-registration opening, your product has to be an online version and can't make any changes. Then at the same time we can track the data, limited to the number of clicks on the pre-registration button, then many people will ask, if through this installed product, the follow-up data can be seen? This is currently invisible, the only thing that can be monitored is the number of users who click the ad to see the store and click the pre-registration button, which is the number that can be seen in Google's ad background and Google Play developer's console.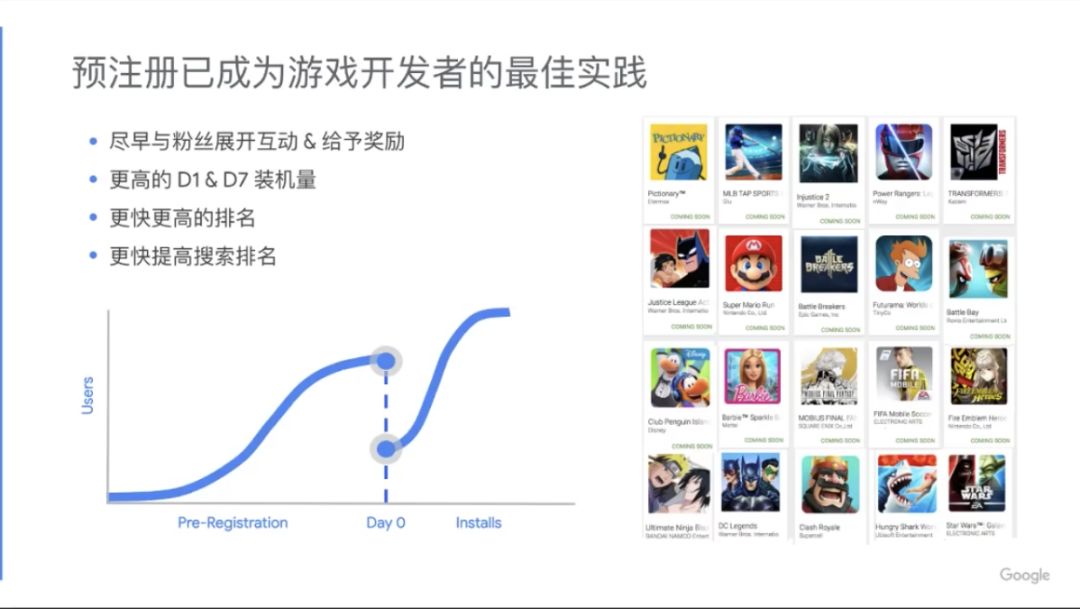 Then pre-registration is also a battleground for game developers, a lot of ip masterpieces are in this area, its original intention is also at the front end to close the ip and play interested in the players, so we can also see that when running pre-registered ads, the day on the line, the data appearance is certainly higher than the performance of the later traditional delivery, Pre-registered users must be several times higher, and if we have a very complete strategy, run pre-registered ads on the same day, the installation volume will increase sharply, if with the late run some installation and action campaign, a wave of the volume is also exaggerated, can quickly improve the ranking. So a lot of people want to get up quickly on Google Play, and pre-registration is the best way to do that.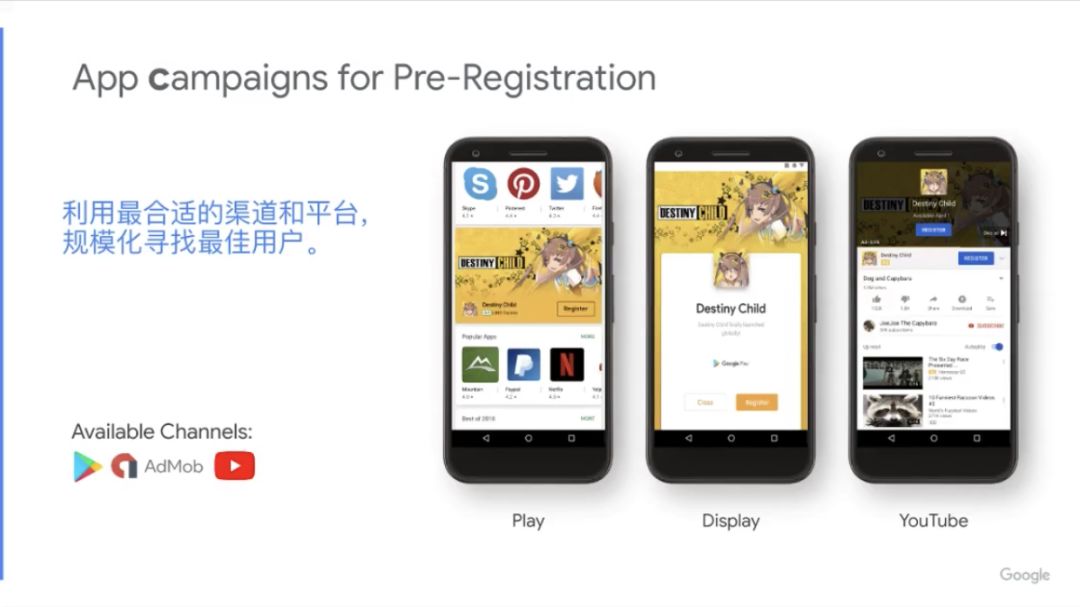 Here you can see the form of pre-registered ads, the main channels are concentrated in the Google Play Store, AdMob and YouTube, personal preference for everyone can try, replay and ip game, you can try vedio-only pre-registered advertising form, When doing video advertising material can be distinguished from our online advertising form, such as doing video, we can say how long it takes research and development, finally to be online, please pay more attention to, pre-registration more than 5w people and so on, the evaluation also gave a very high evaluation, these are very good things that can affect the user's attention to the product. It's critical that many advertisers miss out on these potential users when they're not online.Many advertisers think that pre-registration can only get some clicks, also can not see the follow-up things, in fact, pre-registration is really in the forefront, can attract users to the game after the shelf to spend.

Then we look at, the whole from the pre-registration click, icon, we can see icon, there is a coming soon, after going in the store details page, and the official launch is the same, the user ordered pre-registration, after the official launch will be notified.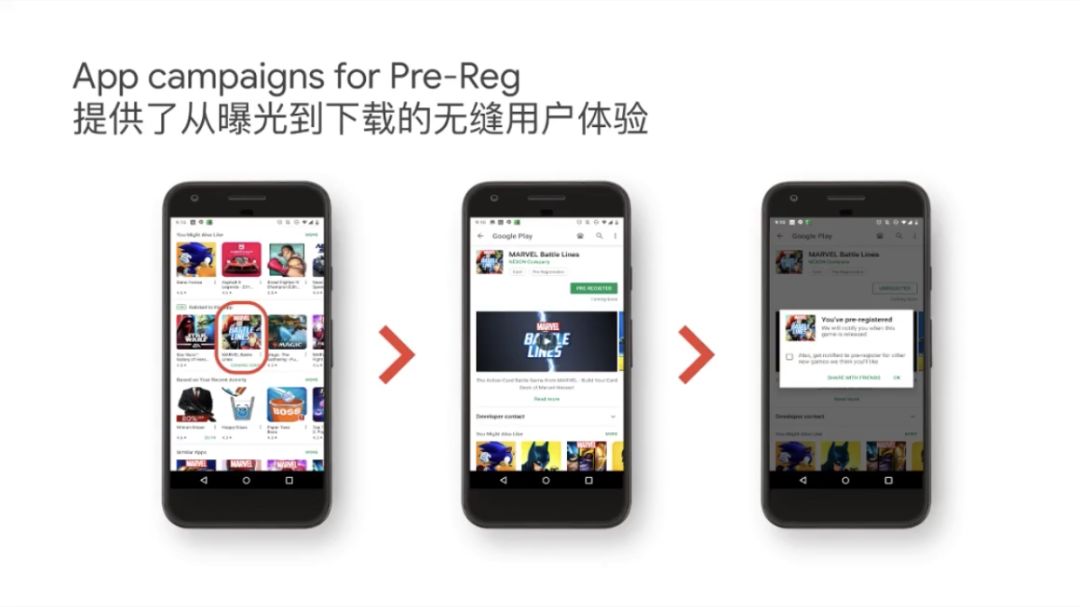 Then we look at how to create ac pre-registered ads, first the product must go to the pre-registration link, then we want to Google ads, we must grab that package, put their package name into the target page, it will automatically help you search and crawl, and then you can set up this campaign, and then contact Google, Help you apply for a whitelist and then you can turn on your ad.
After the pre-registration, it is recommended that you try it in 2020 and the future, especially ip or play a great innovation can try maximum conversion, the current form of advertising is relatively new, in t1 performance is very good.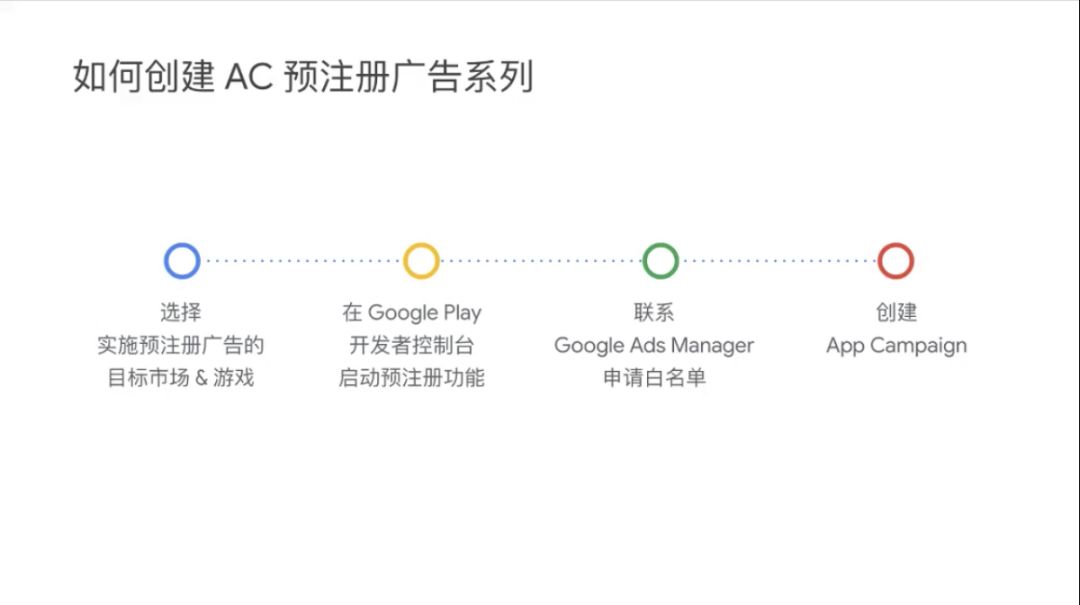 如果产品上线了我们怎么去做呢?一个新的广告形式,安装最大化的一个广告形式,这个广告形式目前也要走白名单,没有对外公开。做过广告投放都知道,我们对目标安装有一个心理价格,输在后台,然后根据心理价格做计算。这个形式颠覆了传统形式,让系统自动去做,在最短时间内发生最多转化。我们看到现在很多大厂,对产品非常自信,或者全平台铺开,都会跑一波maximum conversion,尤其是在游戏上线前期,去保证获得最大化曝光。这个说起来简单,做起来很难,以之前传统形态,只跑安装,没法保证所有目标用户在出价下都能看到广告,但是你用maximum conversion,所有对该品类感兴趣的用户都能看到广告,不过这也有一个问题,就是cpi不一定能控制在我们的目标之下,但是可以涵盖尽可能多的用户。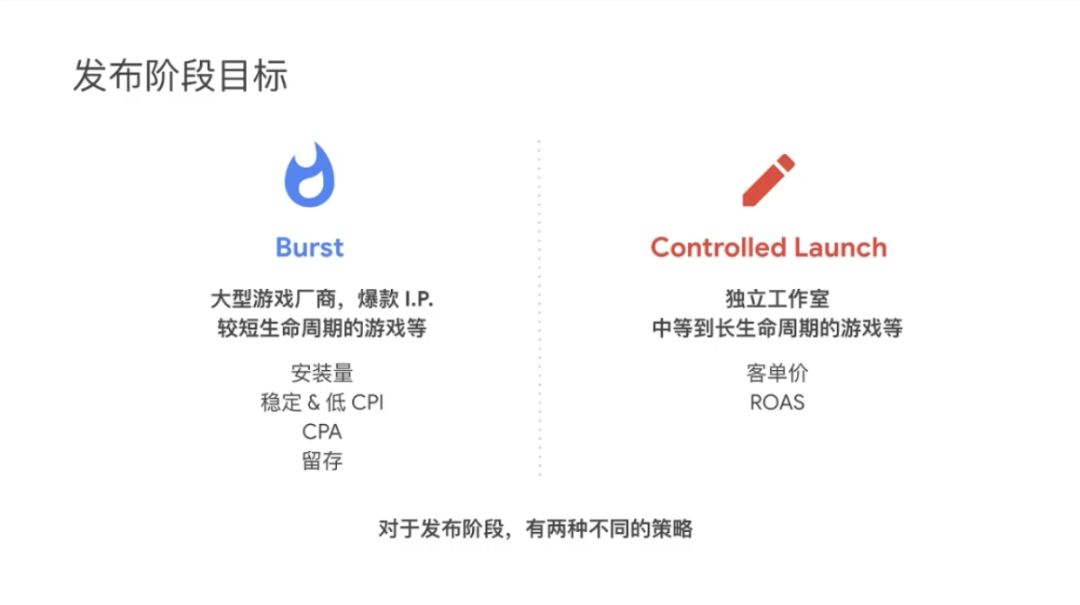 Burst this form is finished, then we see ourselves we are a small company, do not want to use maximum, a installation of 4-5 dollars too expensive, you can also choose some other form of advertising, such as the existing uac for install or uac install advanced, You can add events to the installation to ensure the average quality of the installed users.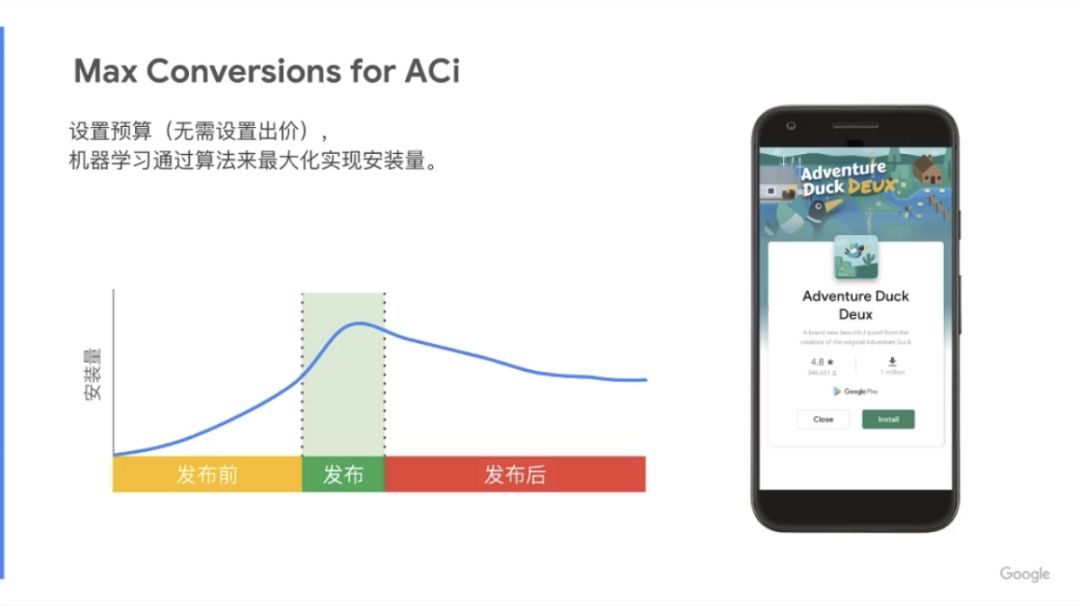 Next to help you further analysis, this is just mentioned the maximum conversion, based on machine learning through the algorithm to maximize the installation conversion, in other words, is the maximum exposure, product logic is very simple, set a budget, it automatically help you run, do not worry about bidding.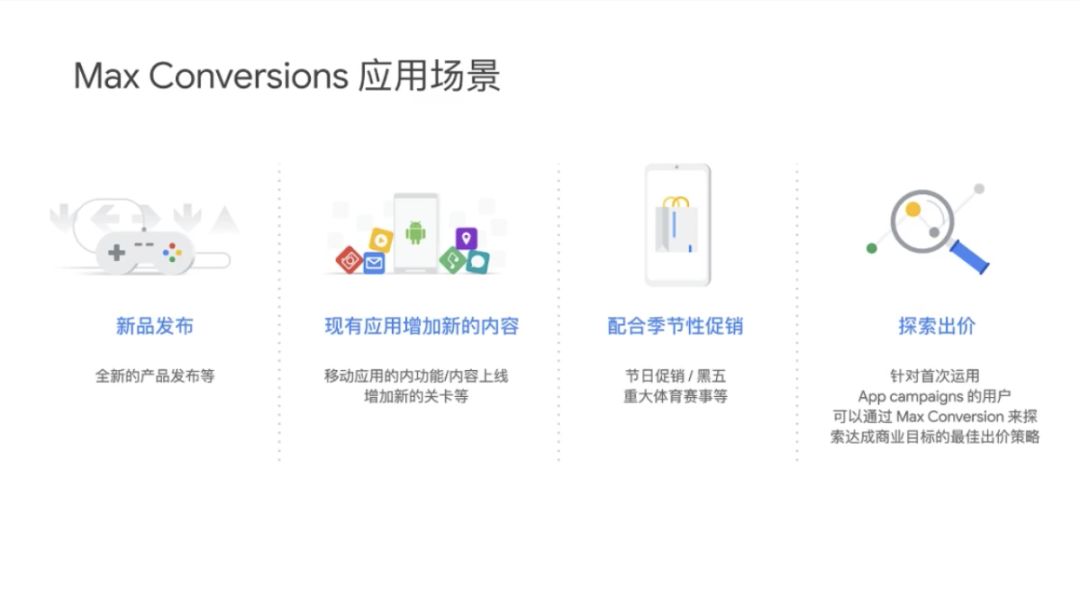 然后maximum conversion的应用场景,目前发现的主要还是新品发布,全平台都有起量动作,这个时候你会发现maximum conversion跑下来的成本,不一定比跑安装要高,所以cpi也不会高到离谱,尤其是你在榜单上top3的位置,你跑maximum conversion,给你跑安装campaign的成本差距不是特别大。如果没有办法砸这么多钱,也可以在产品上架新的功能内容很大改版时候,也可以上一次maximum conversion去吸引一波新的用户。再有就是流量剧增的时间节点,然后就是第一次跑这个国家,不确定多少价钱,经过测试数据还是非常好的,那不妨跑maximum conversion,谷歌广告都是基于机器学习的,只要学习结果是好的,cpi就会无限接近于最低值,如果对产品很有信心,直接上maximum conversion也可以直接帮我们触底,看到底能做到多少cpi。
There are some best practices here.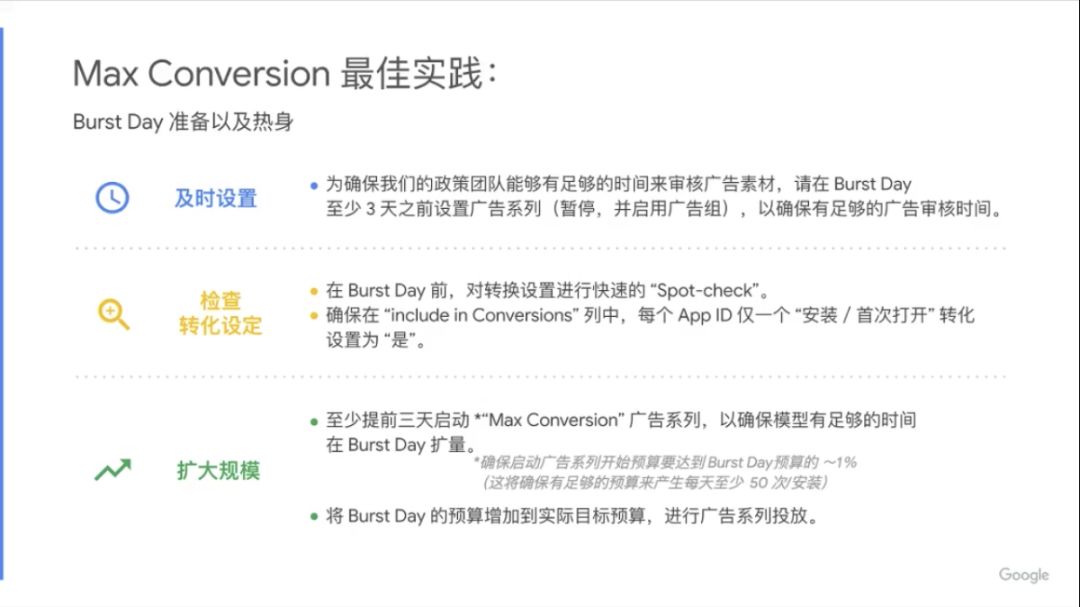 Google ads recently revised, at the end of 18 years more Ad Gourp, we see differently, but after coming out, the overall audit cycle has become longer, so it is recommended that you do not build a campaign before the products go live, because the audit time is not good to say, may be a day, may be longer, Build campaign seventy-hours in advance, triggering an audit as long as the footage is uploaded without costing, and then, secondly, the conversion of the installation event, in the column that includes all conversions, an app has only one, such as Google Play's original installation conversion data, There's firebase's first open installation conversion data, which could affect machine learning if you're selected.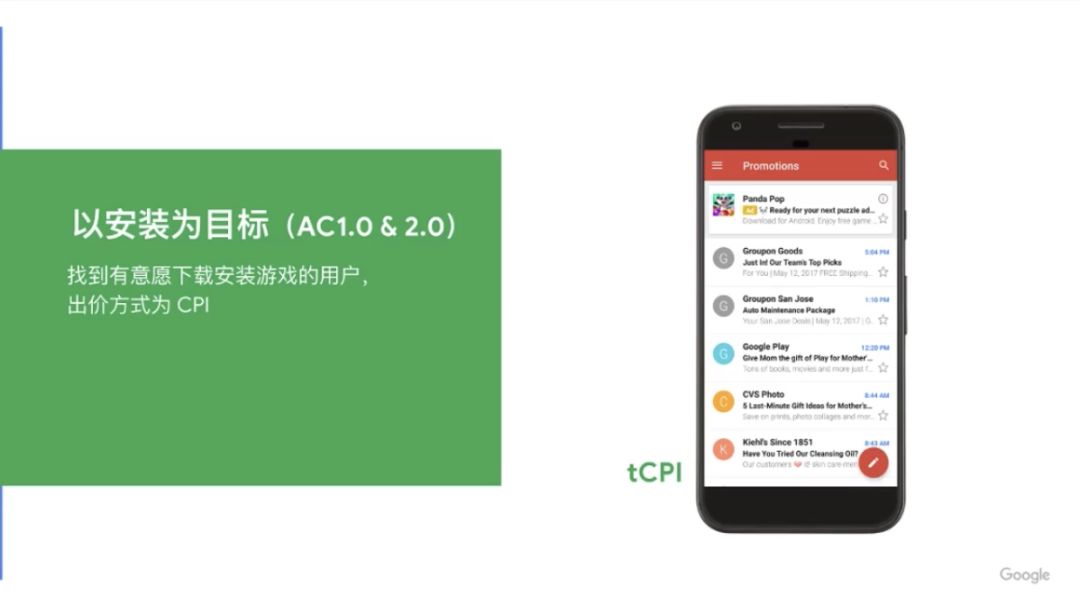 When we finally open, it is actually the scale up process, maximum conversion may instantly for us in the United States accumulated 1-2w installation conversion, we do not have to be too anxious in the process, such as the first day the second day of the average installation cost is higher than expected, and so on, and so on, Let it complete machine learning, and then observe the cost of the cpi installation after learning, that cost is close to the actual installation cost, if not complete dyed machine learning will certainly cpi will be high, there will be no sudden increase and sudden decline, cpi cost optimization will be less and less.
那没有能力短时间花预算去冲一个国家,那么可控范围内选择什么?没问题,有uac install和uac install andvanced,然后我们起的代号就是1.0和2.0,很多广告主倾向于在很多国家只跑安装,但是如果只跑first open,在你扩量的同时,你的整体用户留存和核心数据表现都会降低,可能在前期我们跑的时候,的确是会有用户真正感兴趣发生了转化,但你扩量了,范围就广了,你给机器的指令是点击下载打开app,随后发生的你不care,所以留存和其他核心kpi可能就会降低,所以跑2.0,选一些和核心kpi挂钩的事件作为优化目标,让机器学习去找,这样可以更好地控制以安装成本为衡量指标同时兼顾用户质量的方式。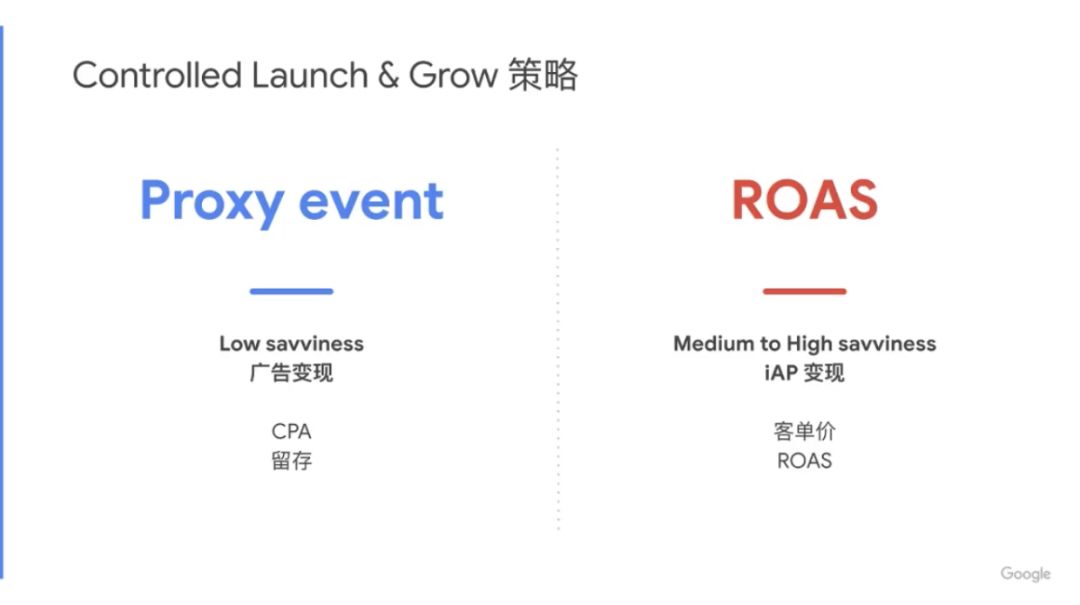 Now say event-based optimization ac2.5, uac for action, not the same as you can define this action, can run to pay or other, abandoned the installation-oriented form of user acquisition, but really let Google based on the powerful machine ability to find real lying habits of users. This goes deeper. Our tip is to test whether our game has paying users, 100 users pay at least 15-25% to get machine learning to find someone who pays, if it doesn't pay well, Forced to run uac2.5, will create a problem, you run will never find this group of people, and then cpa bid is also very challenging, this in the next section we will go into the next section.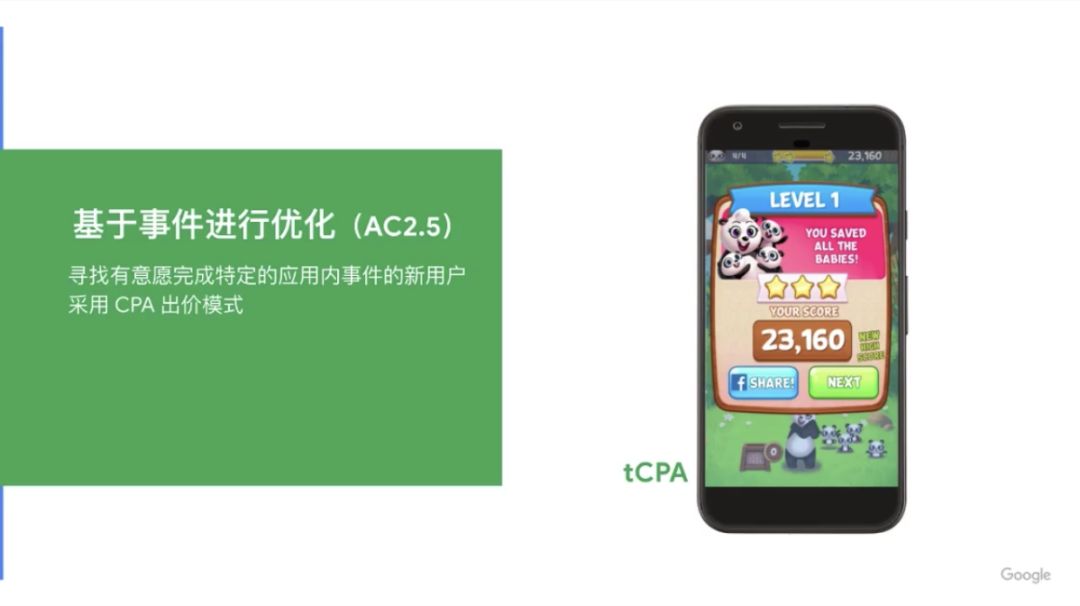 Here is a more advanced version, 3.0 to the overall generated value as the assessment target, for example, I want roi is 200% or 300% of the user, how much money I pay, bypass the installation direct look at the payment, for the purely rely on in-house purchase for the profit way of advertisers is the most advantageous, Cut a lot of this group of people who don't pay for or install events, and only target users who really have roi. But we can also see, from only run installation, to the final tROAS, where each layer of transformation a ring buckle, so the cost to pay will be higher and higher, if you want to run 2.5 or 3.0, it is recommended that we measure the overall recycling of the roi for kpi.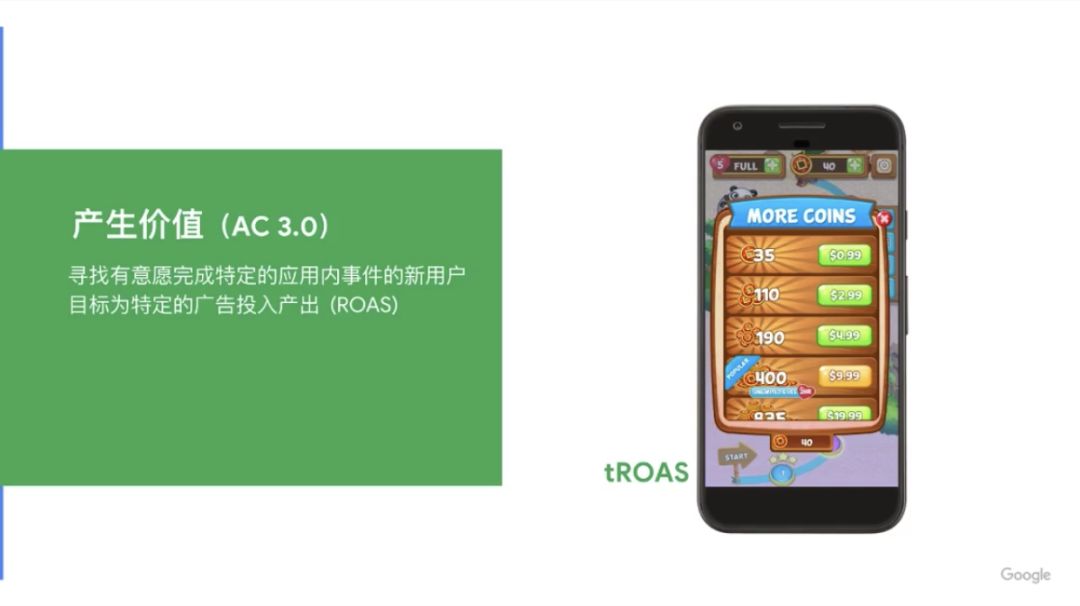 Just said a lot, may be very panic, in fact, 3.0 for leisure ultra-casual and moderate games, can set a relatively low roi, such as 50-70% to run roi is also possible, we can according to their own game properties and appearance, to consider this, but this piece, or recommend that we proceed with caution, Unless the data supports the paid user ratio can really reach this roi, and then through the form of advertising to get this user, very confident to do so.
Just now Europe and the United States lookated at the launch stage commonly used, now look at the release, such as a million installation volume, dau millions of cases, this time simply to run cpi campaign, the cost will be higher and higher, because there are not too many new users to find, Then consider how to do further re-engagement on existing users, and this time it's time to move the ad form to interactive advertising.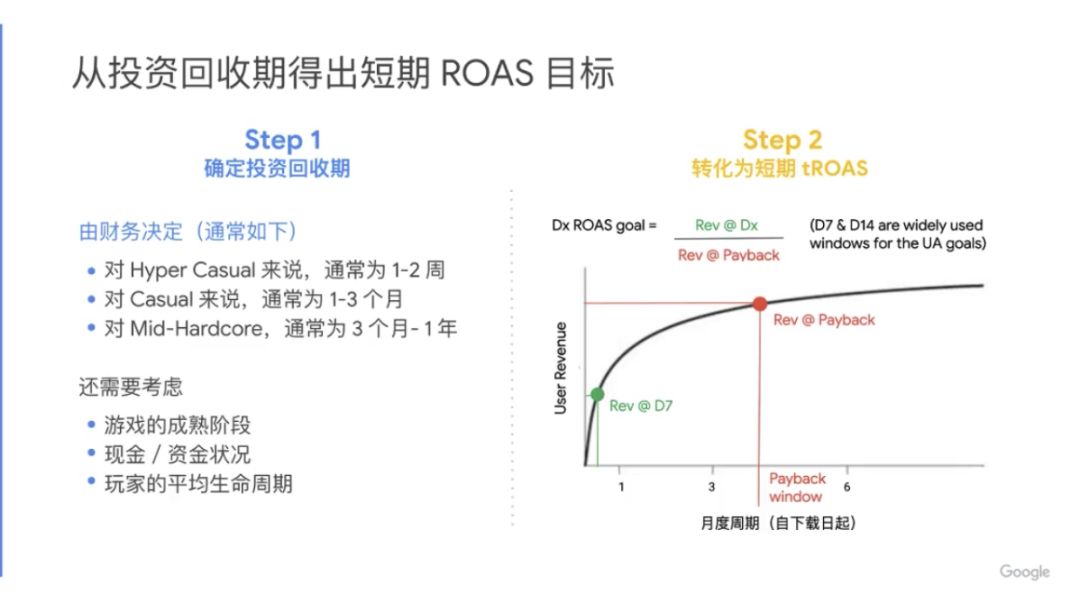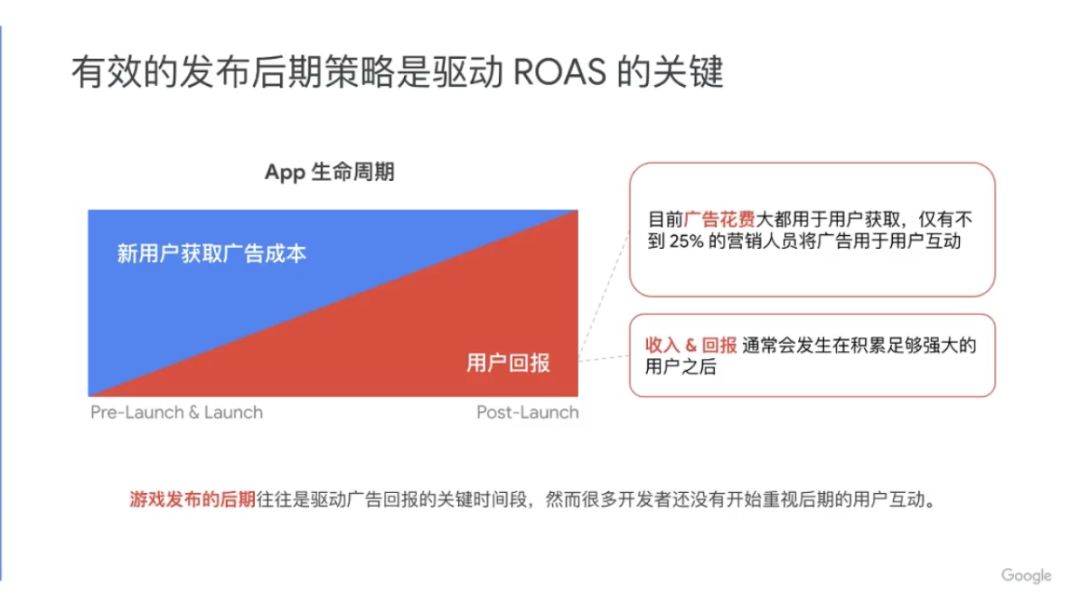 What are the forms of interactive advertising? It's ACe, maybe pushing some new content, you can push again on the basis of existing users, when you click open button, you will jump directly to the campaign page or paid page, directly to the area you target, so we can do a lot of things based on remarketing ads.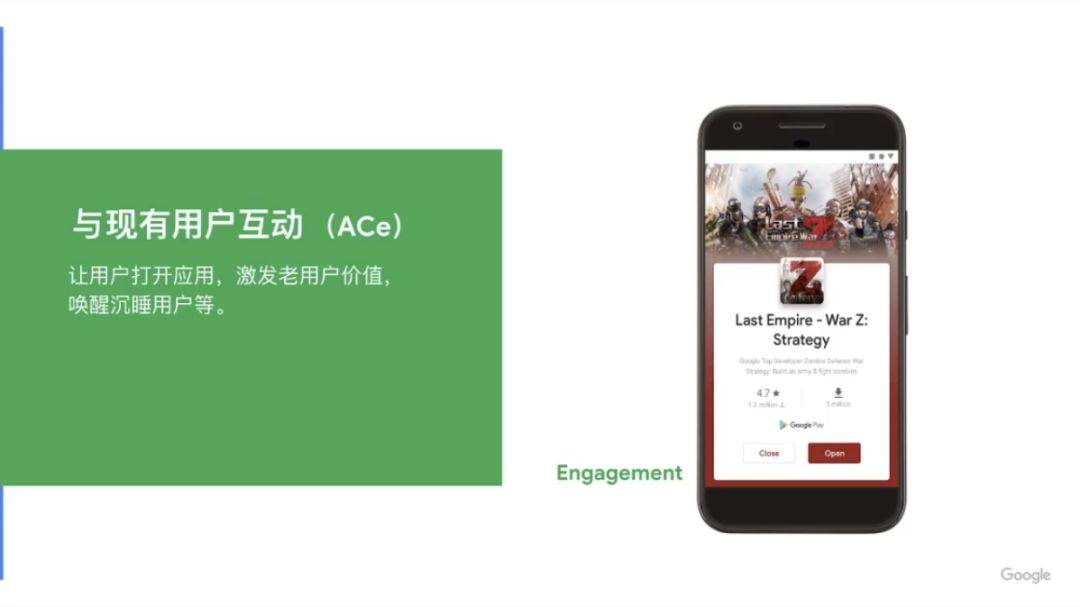 For example, for inactive but have paid users, you can put this group of users again, or say that we have some active users never pay, that can be interactive way to motivate him to pay, or after downloading never opened a lot of users, a lot of leisure products, users are very drive to play, But you may have forgotten that this time you can tell him through remarketing ads that you've downloaded, now there are discounts or new levels, re-generated.
We introduced Google in 2020 about the new advertising products, in fact, at different levels, pull new, interactive and realizable level shopes are expected to help everyone do more, we also believe that these programs are effective, as long as the product performance is good, our products are ready, you can try these new forms of advertising, These new products need to contact Google's official whitelist before you can run.
Google Ads AC Ad Delivery Strategy
I do not know whether we have experienced Google launch, just pick the key to tell you. Google's uac ad was launched at the end of 2017, bringing together many channels to finally translate into learning goals. Google's advertising settings are very simple, first we have to choose the form, and then the cost of a single installation or roi requirements set, with the creative can run directly, screening let the machine to achieve.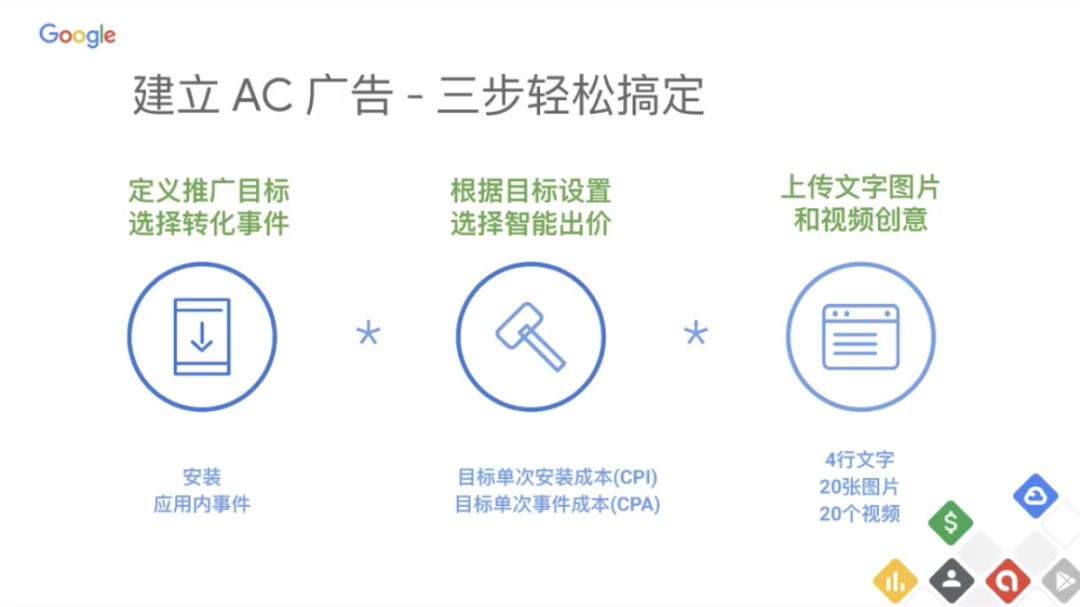 The following segment to say, from the installation volume to user quality, this is a large user funnel, have done the product friends know to draw user journey, in fact, Google ads and this is linked, if you are very confident on the product, only want first open, that is no problem, but can not forget, Some users are misdirected, or the creative material is too strong, users are attracted to find a lot, then there is no follow-up action. My small suggestion is from this year onwards, the overall traffic is very stable, installation and installation of the event is certainly traffic, choose the event and the promotion time selection of the strategy is more critical, do not just run first to install to see the data appearance, and then add the event, this is wrong, directly select the core event, The most intuitive trick is to get close to your first open, which is where the funnel is in front.
Then advanced, if you choose an event very close to the first open, such as completing a novice tutorial, then the cost is not too high, if everyone does light games, be sure to think about, give up before only running installation way, think about the core event, the cost is just a little more, But the user's late quality control is more than half the effort.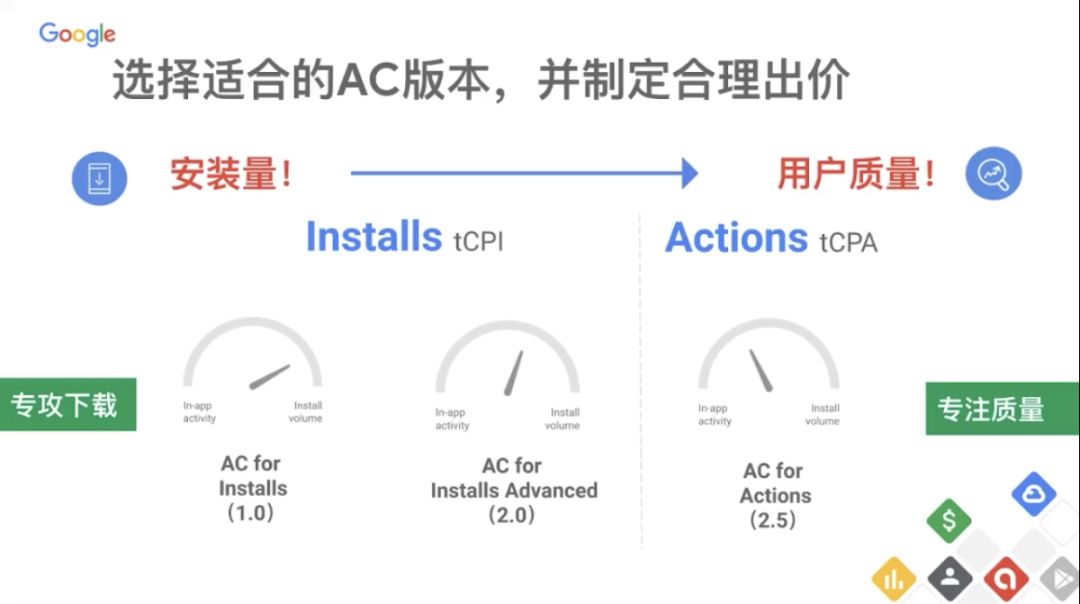 Then purely concerned about user quality, is ac for action 2.5, its bid strategy has completely changed, is the event bid, here advice everyone careful, must be after accounting, there is no stable performance, and then go to run this. If the game is purely for the purpose of paying, then the recommendation is directly on 2.5, directly look at the results.
The ones I've just said have a very obvious representation on this page.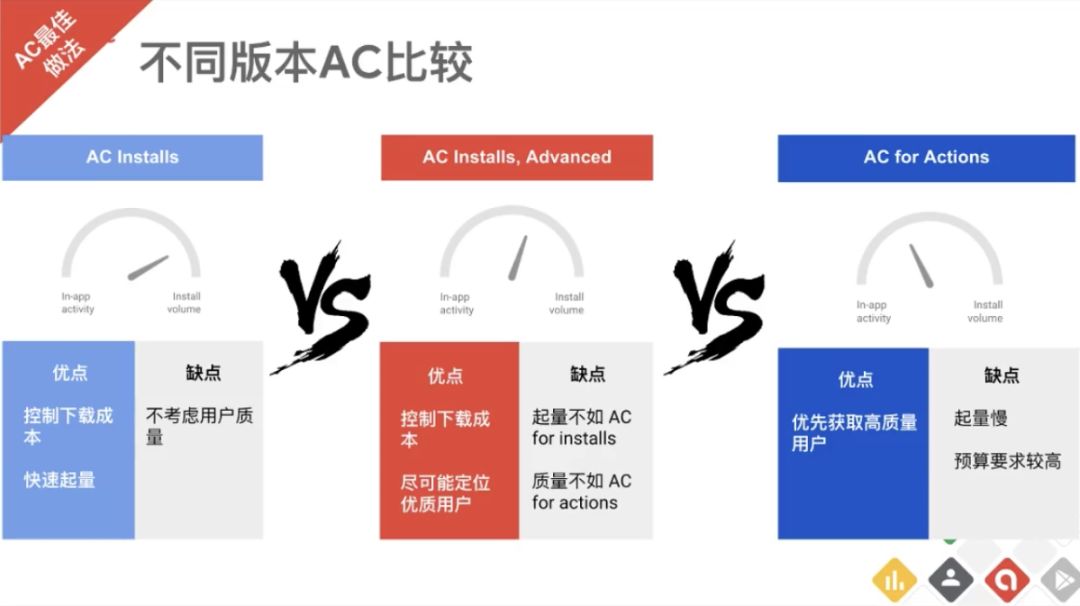 Here is the recommended first contact with Google advertising people must comply with the link, in the budget adjustment, when changing material, do not have to do too much adjustment, as far as possible in the study period of daily adjustment range to 20%, otherwise it may break the scope of machine learning settings, will reactivate the machine learning mechanism, It's likely that the low cost of running out of the previous run will be wasted, and it will take a 4-5 day cycle to get back to that level. Observation data back to some time, the general recommendation is 48 hours, such as today, the next night to see the first day of data, 70-80% of the backhaul is completed, the results will be closer to the truth. Most of the problems we've collected are caused by people adjusting too often, otherwise the budget is in place, or a little extra.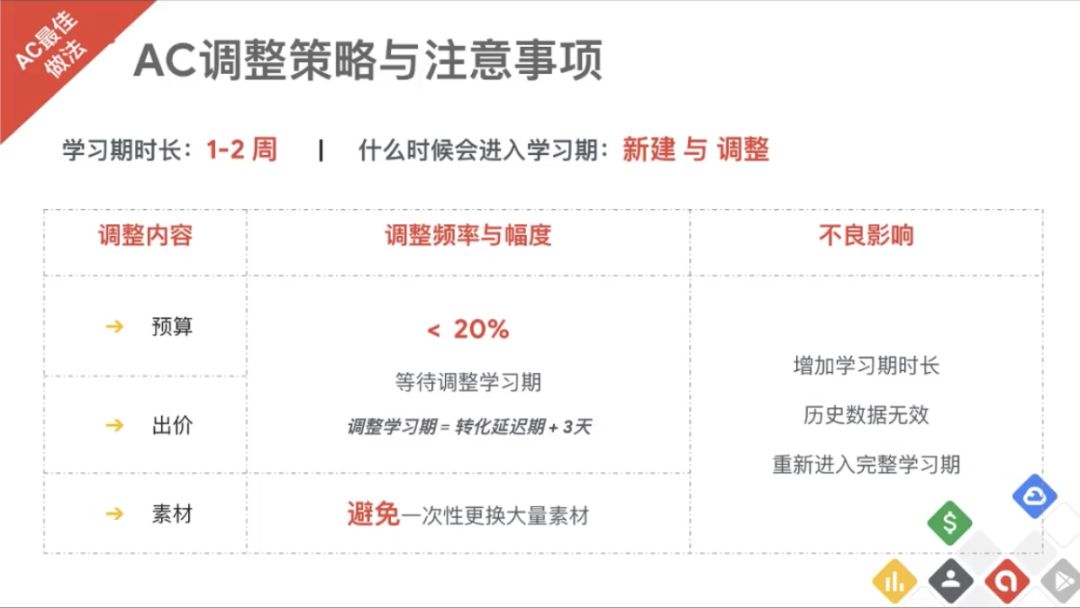 Let's go further and explore the material.
Now, all the game category, play is also good design art style is also good is also very flat, in the user access to spell or material, if the single material conversion is good, I have low cost, low cost, the existing bid basis, the machine will help me to bid higher to compete for more valuable users of the advertising display, so creativity is very critical.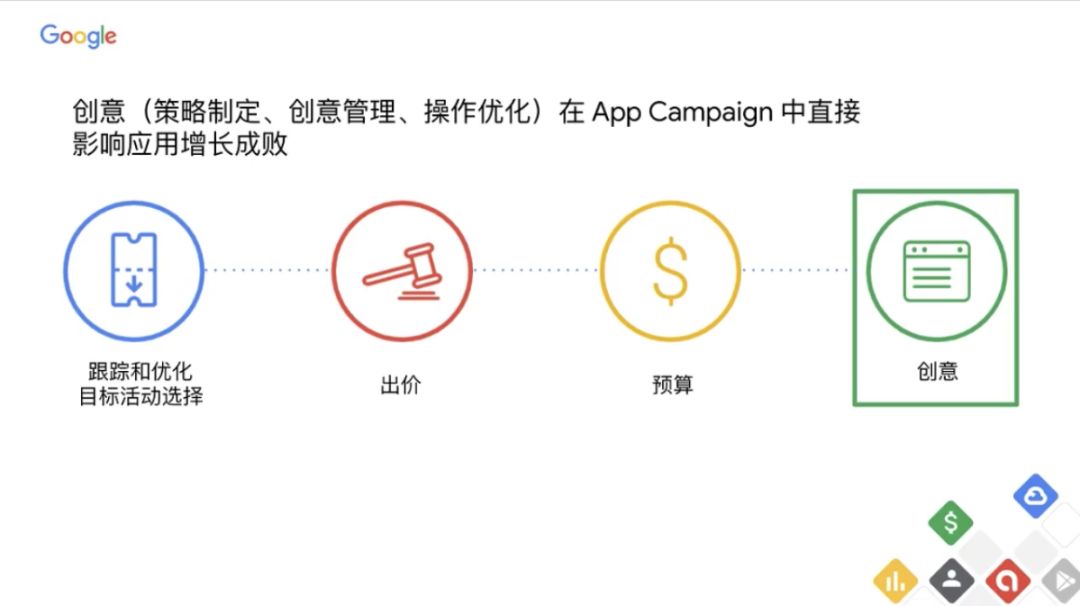 This figure we can see that there is a pCVR, in the cpc bid out to 1 dollar time, but I cvr very high, show 10 times have 5 times have conversion, that system will automatically bid higher price, so here I hope you must make the best material as soon as possible, including promotion late, we also want to constantly optimize the material, we also want to optimize the material, Raise cvr to get the system to bid to a more valuable user position under existing bids.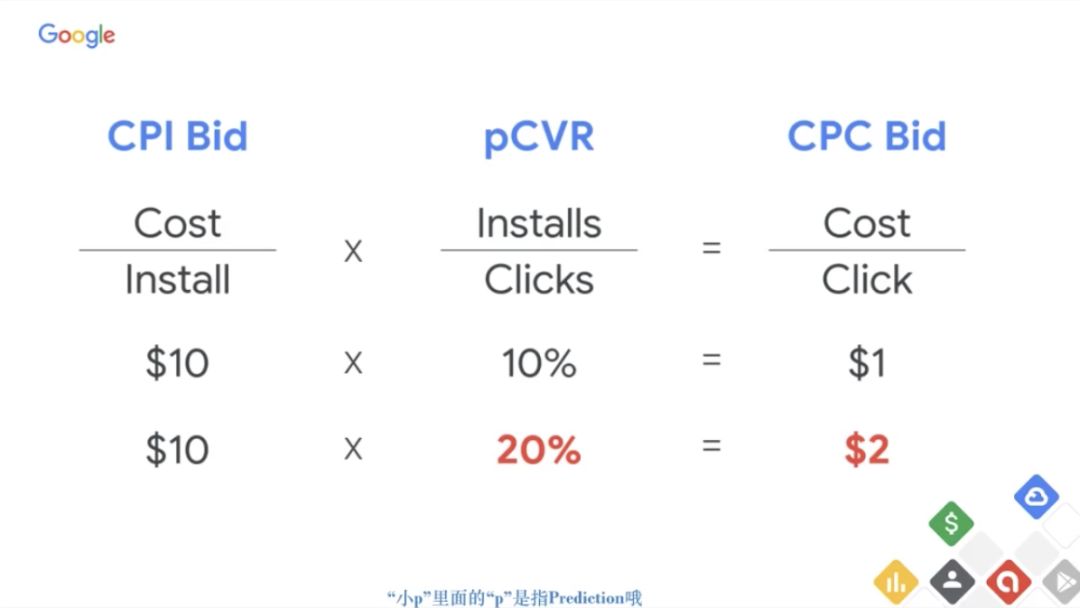 Coverage level is also very critical, now with the ad group, the amount of footage is not required, but an Ad Group allows 4 long description 4 short description 4 also pictures and videos, h5, the ad material behind are accessible users, the more coverage, the more users reached, more users, You can give machine learning more data, so override as well as possible.
Coverage is well done, as shown in the figure: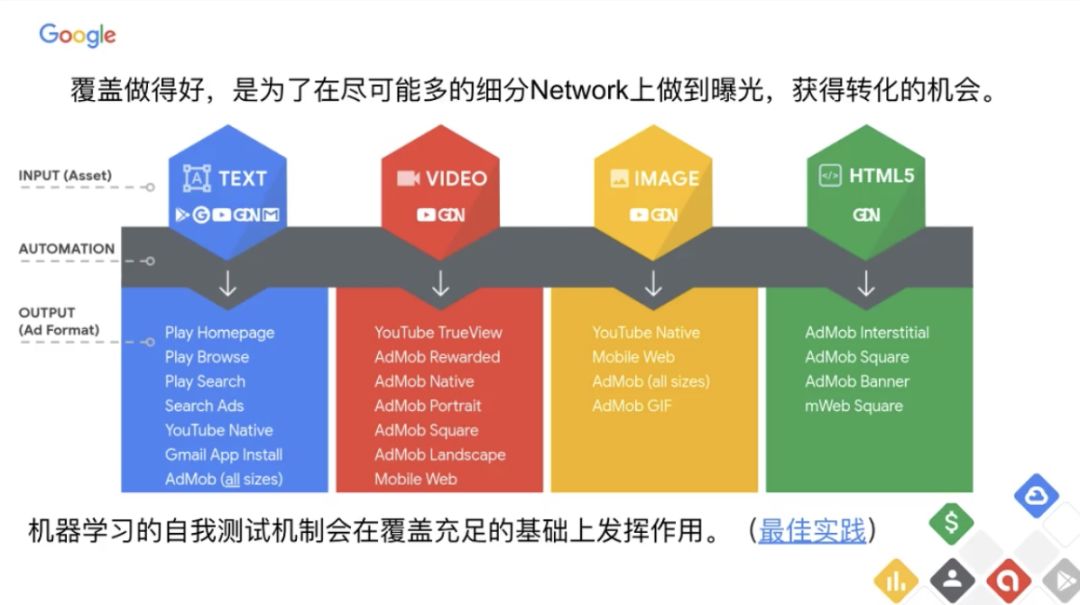 Here are two, one is text material, many people do not know that text can be displayed in the play store search location, and then video, a lot of people watch YouTube, there are a lot of game advertisers to run its game, this is through video ads to cast, YouTube video is 16:9, Videos longer than 10 seconds, there is a 60-80% chance of exposure on YouTube, of course, to bid ok case.
Here is then a recommended percentage of video production sizes, as follows: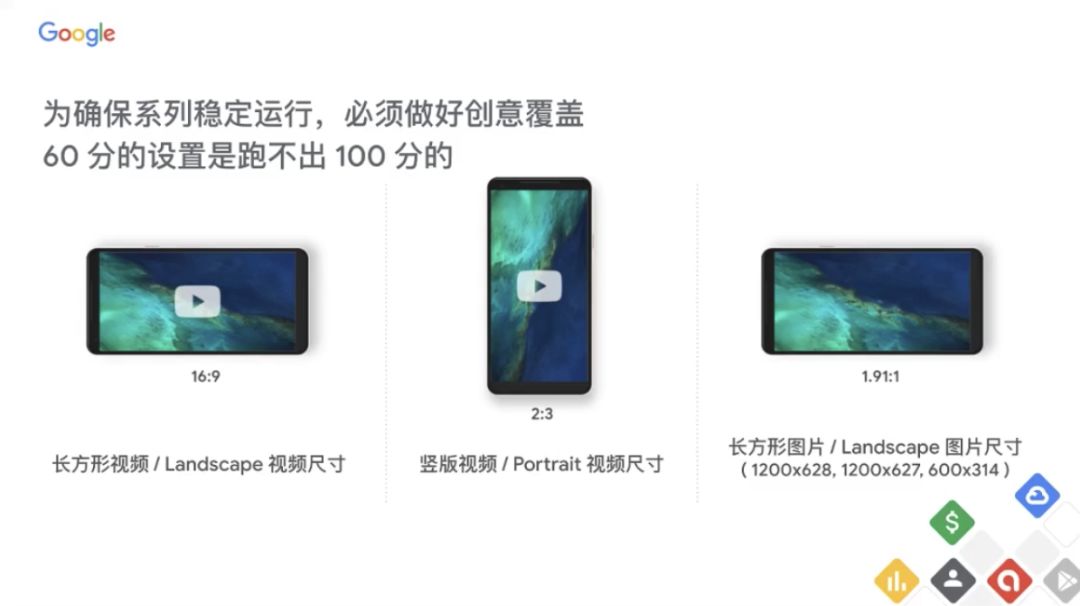 If the motivational video wants to cast, the length of the video is greater than 30 seconds.

Just now also mentioned the picture footage, including on the play, YouTube, there are native ad display, is a static picture: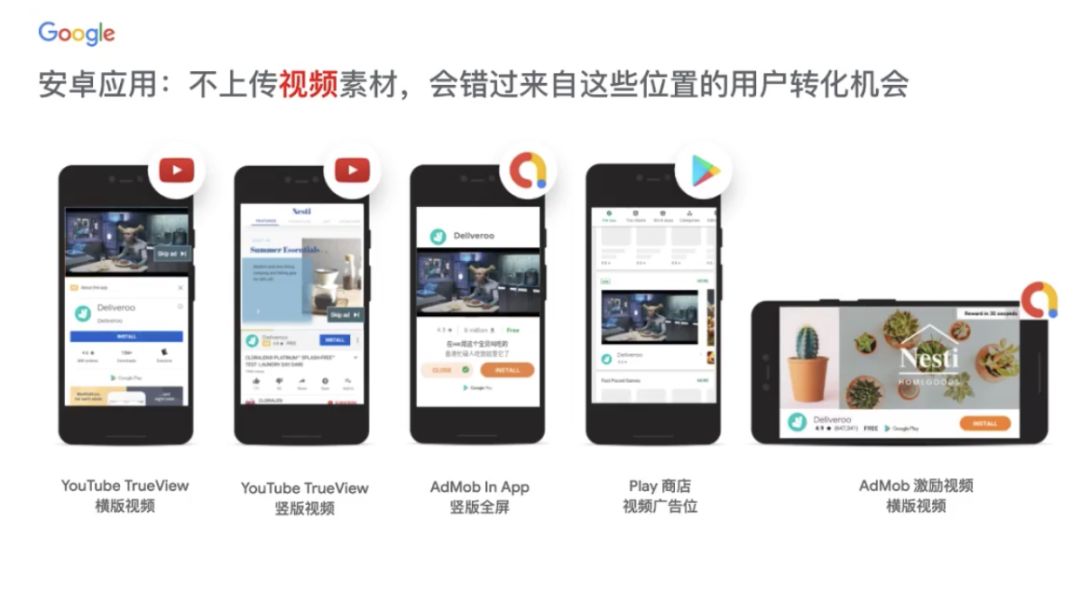 That ios is also very concerned, because the overall value of ios users is very high, so the vast majority of ios product advertisers will be desperate to do video footage, ios video volume is also very concentrated, 60-70% on Youtube, and then part of the admob, this user quality is very high. Here's the corresponding ios image footage: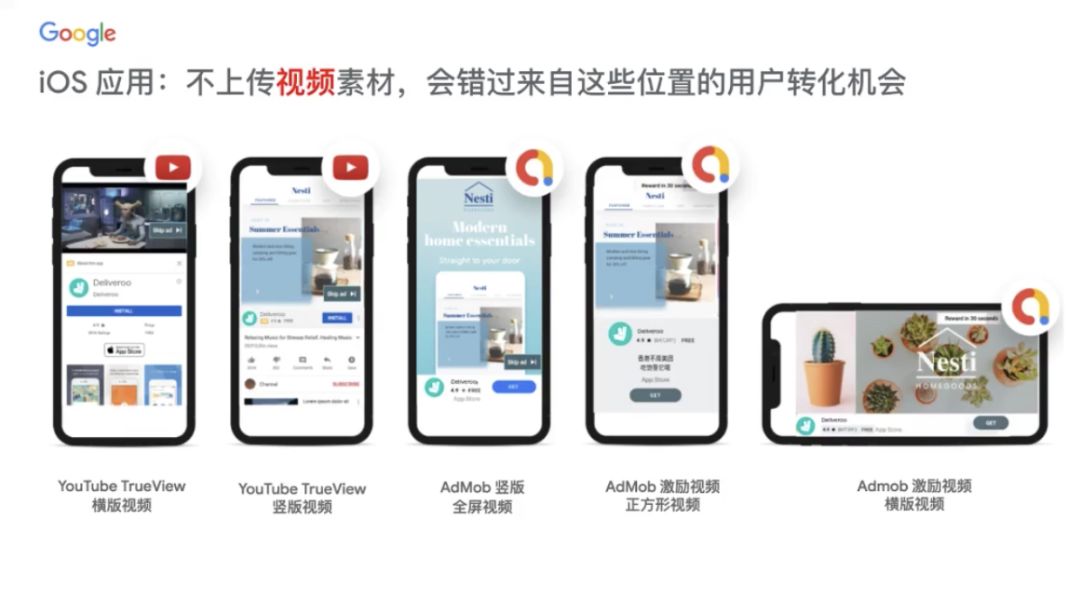 Just saw the coverage, as far as possible or do more video footage, if it is a game, do two different campaign, one group to do full footage, the other group only do video footage, here can contact Google's customer manager, give you set up the video only advertising form, this is the need to contact and apply, This appearance for moderate mild products, if the quality of the product is up to standard, generally will be better than the full material to run.
Below we look at the data analysis section, personal concerns are mainly in the performance rating, if you have background can see, run material, machine to give the evaluation is what kind of, basically divided into three, best good bad, its cost is also based on this performance rating settings, A best-rated material is certainly the most expensive, and the exposure is best with our ctr and set conversion numbers.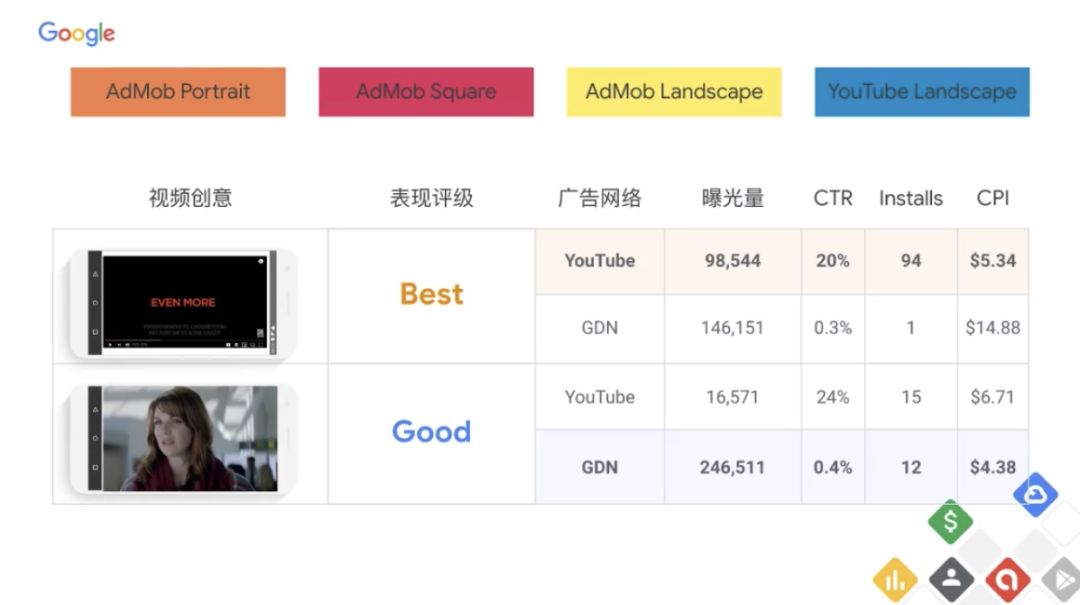 If you see the bad material, you can directly compare the cost and best spending difference, best a day spend thousands, bad spend a few dollars a day, you may wish to replace, so that more new creativematerials have a display, optimize the effect of campaign.
Is that performance is our benchmark, best is all Google channels run down is best? In fact, a performance in the Ad Group performance effect, is equivalent to a class, everyone test more than 80 points, test 100 may be best. That 90 is bad, but not necessarily not very good, so here i hope you look at the cost, if a set of materialeveryday has to spend, it is possible that you do well do not move it.
Finally, look at the direction of the idea, the creative this thing is actually constantly optimized, no real truth, or match the product attributes, put local user preferences to do, but still as far as possible all the size shaved, do not give up any channel users, including Youtube admob, for different sizes are covered.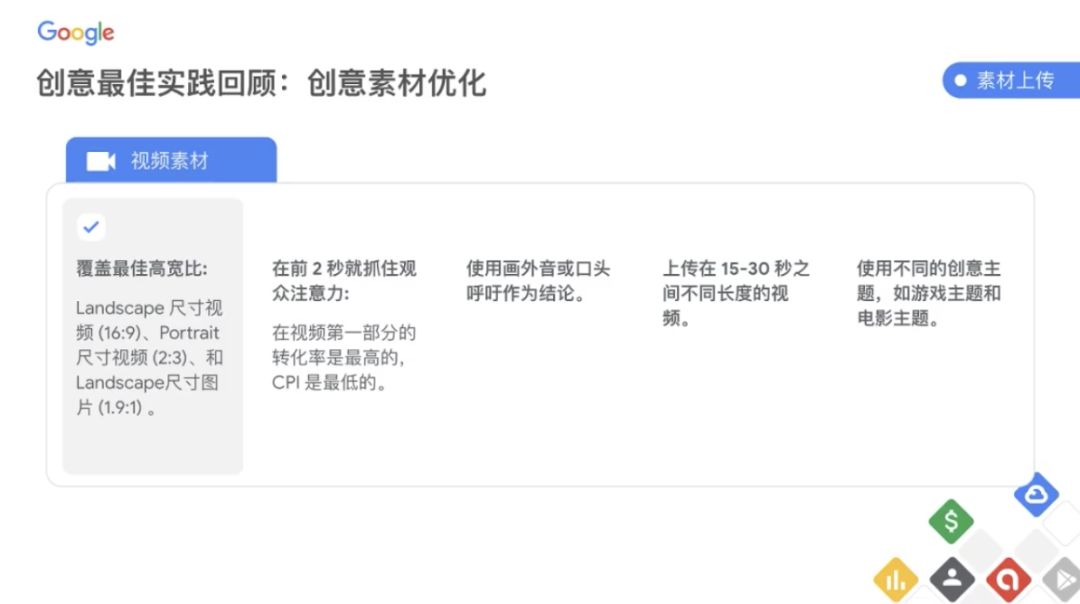 User churn is mainly concentrated in the first 5-6 seconds, so the first 1-2 seconds of the video should show the core of the game and the explosive things to attract users to retain them, with music and sound effects to do differentiation, but also by brushing other people's ads and video ads to dig.
Picture material, at present, the overall cost and conversion slightly less than video, but a lot of drawings and crosswords actually mainly rely on the picture material, so as far as possible do not do too complex pictures, as simple as possible, the character is which role, then put this character on it, As far as possible to tell users that the store badge is an app ad, clear advertising has credibility, while doing image material has a recommended size, you can contact us to understand.
▼
Review of previous articles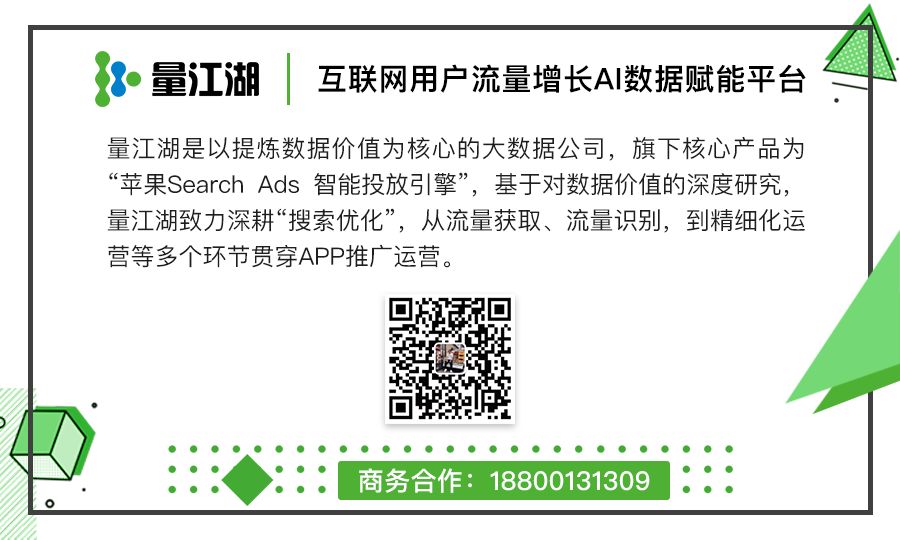 ---