Analysis of Google's advertising metrics


According to WordStream's analysis, the median click-through rate (CTR) for Google Ads (CTR) across industries is 4.10%, which is for mobile advertising.
Tourism and hotels (5.36%) and arts and entertainment (5.01%) had the highest CTR in the vertical sector, while other verticals with higher click-through rates included hair salons (5%), financial management (4.57%) and education (4.45%).
In contrast, the Internet and telecommunications sectorhad had the lowest average click-through rate (3.05 per cent), followed by law (3.48 per cent) and home gardening (3.5 per cent).
If pCs were included, the CTR median dropped to 3.17%, indicating that mobile click-through rates tend to be higher than pCs.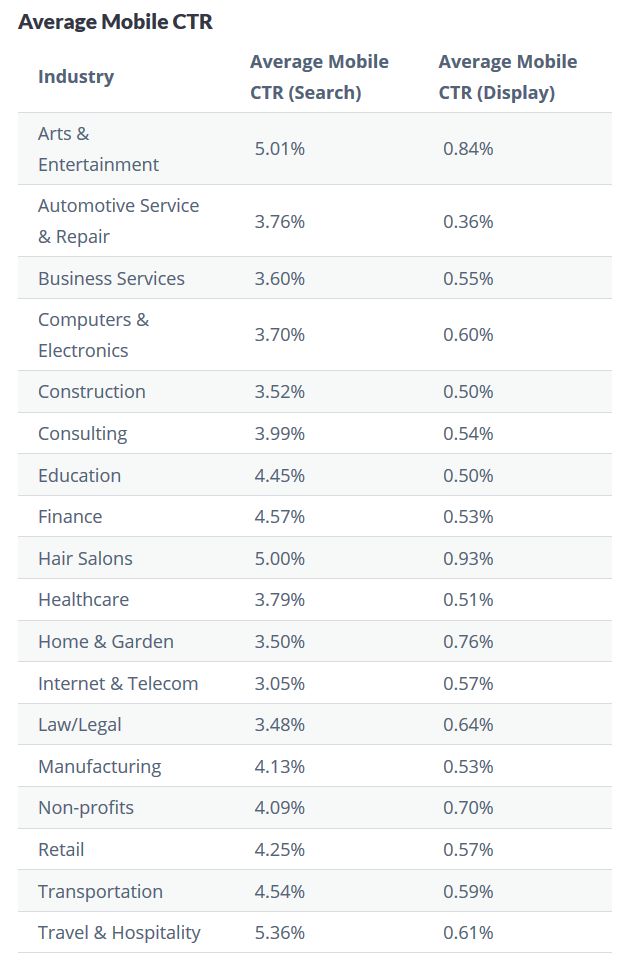 Cost-per-click (CPC)
The median CPC for the mobile version of Google Ads is $2.67. The legal industry had the highest CPC median at $4.85, $1 higher than the next industry CPC. Automotive services and maintenance ($3.67) and construction ($3.66) are also the higher CPC sectors.
On the other hand, the arts and entertainment industries with higher click-through rates enjoyed the lowest CPC at $1.01, followed by computers and electronics ($1.89), tourism and hospitality ($1.89), the non-profit sector ($1.90) and manufacturing ($1.92), all below average.
It's worth noting that the average CPC for pCs is $2.69, and the cost per click for mobile and PC is about the same.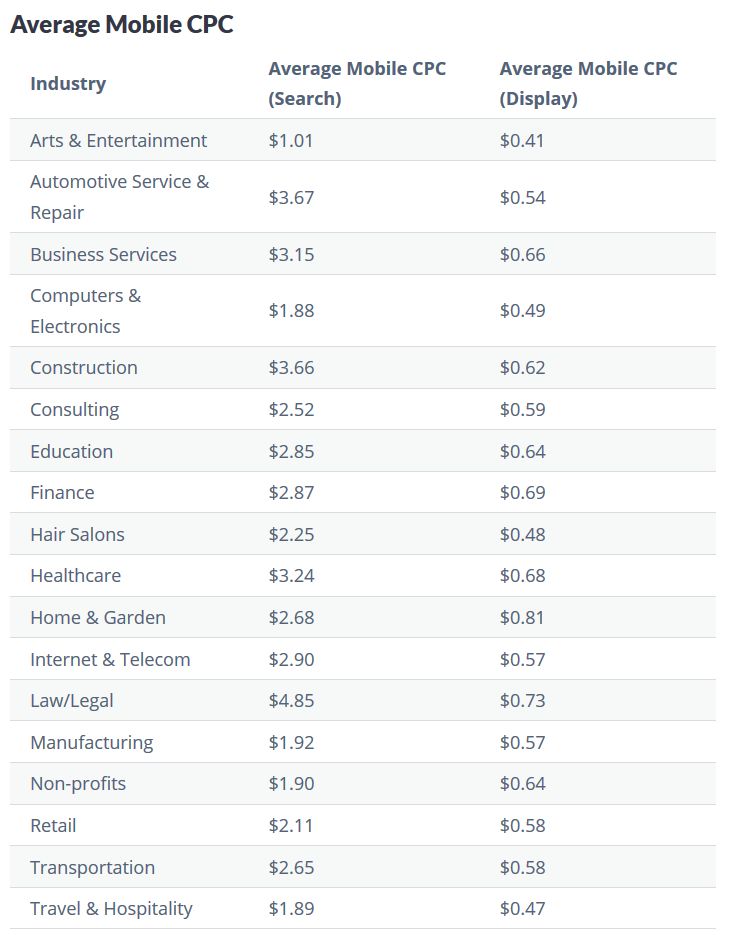 Conversion rate
The average conversion rate for Google Ads mobile advertisers is 3.48 percent. The legal profession may face higher costs, but conversion rates are higher (6.95 per cent), nearly double the overall average. This was followed by the hair salon industry (5.95 per cent).
The electronics industry had the lowest conversion rate (1.92%), followed by consulting (2.04%).
Interestingly, adding PCs to them has higher conversion rates across industries, suggesting that mobile conversion rates are not as good as pcs.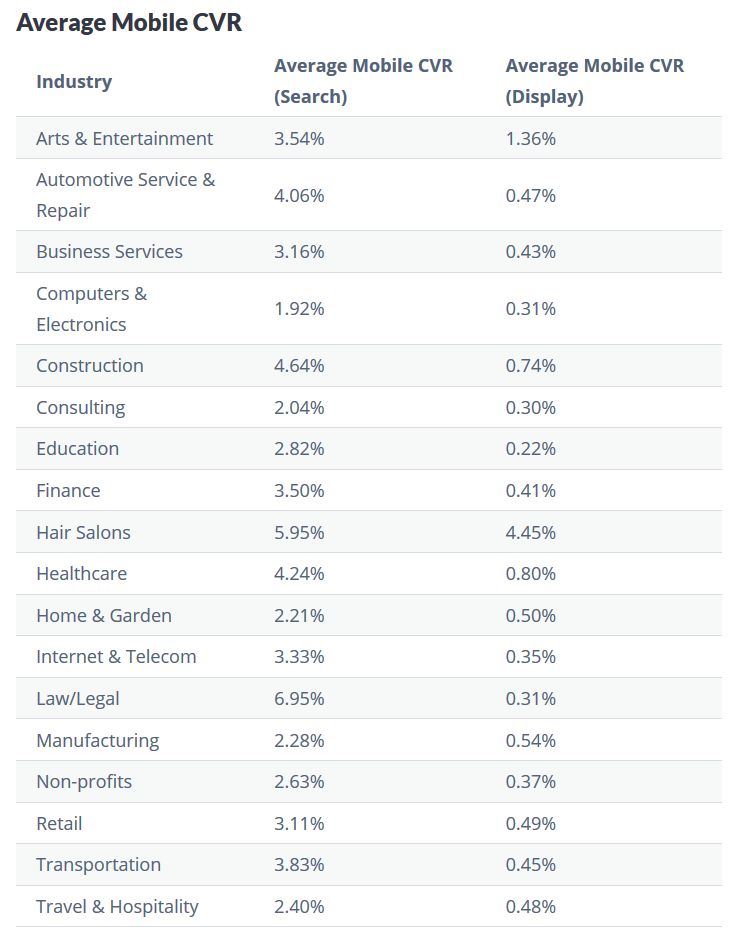 Cost per conversion (CPA)
The median CPA for mobile advertisers is $80.89.
The higher CPA sectors include:
Internet and telecommunications ($140.40)

Business Services ($125.60)

Enquiry ($117.75)

Education ($108.60)

Home and gardening ($105.99).
The hair salon industry enjoyed an average CPA of $19.35, followed by the arts and entertainment industry ($22.96).
With PCs included, the average CPA in all sectors plunged to $48.96. This shows that CPA on mobile devices is much higher than PCs.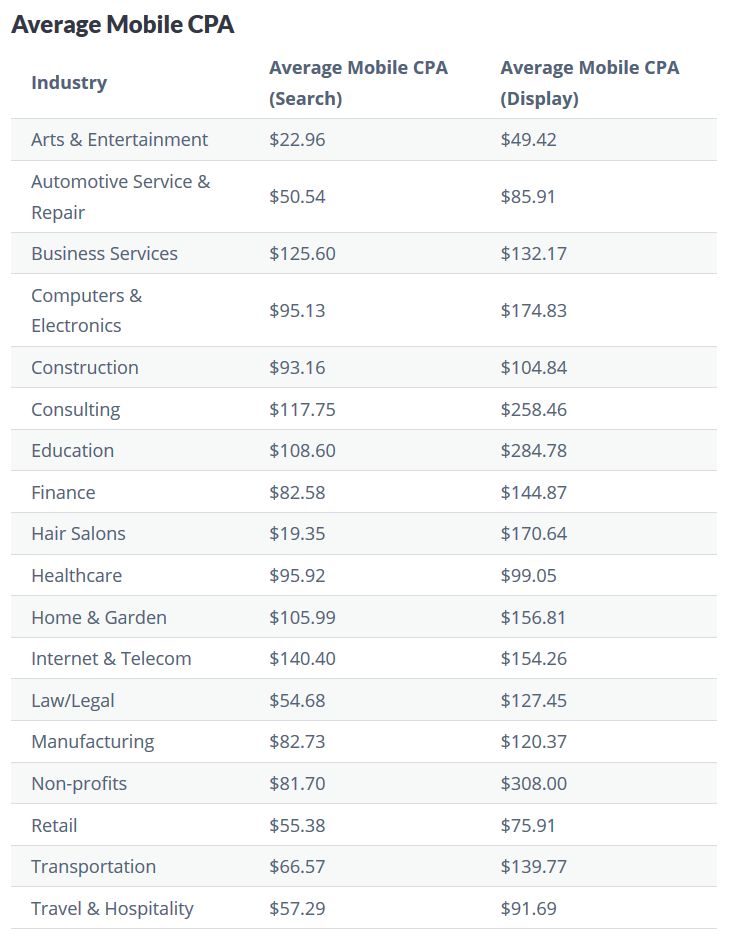 Support 199IT development, can join the paid high-end knowledge exchange group, thank you!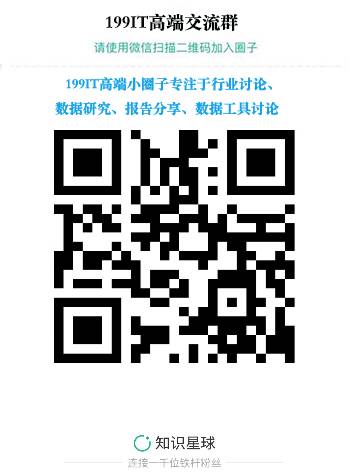 199IT Top Report Highlights, can be viewed directly by clicking on:
| NOTICE |
WeChat Public Platform is now available for subscriptionsNumber-top function
Click on our home page
Check the top public number
Capture great content in a timely manner
 Media Business Cooperation
Business cooperation please contact microsignal: dingli Public Number Submission Shering: T@199it.com
For more data, click on "Read the original"
---