Beginner tutorial: Google Ads Google Ad Type
Google has a lot of advertising forms, how much do you know? Maybe you're going to create Google's Auction Ads for your company's business next. But if you're a beginner in Google ads and don't know anything about it, it's recommended that you read this article first to find out what different types of Google ads are.
How many google networks are there?
Google network is divided into search network and display network two kinds.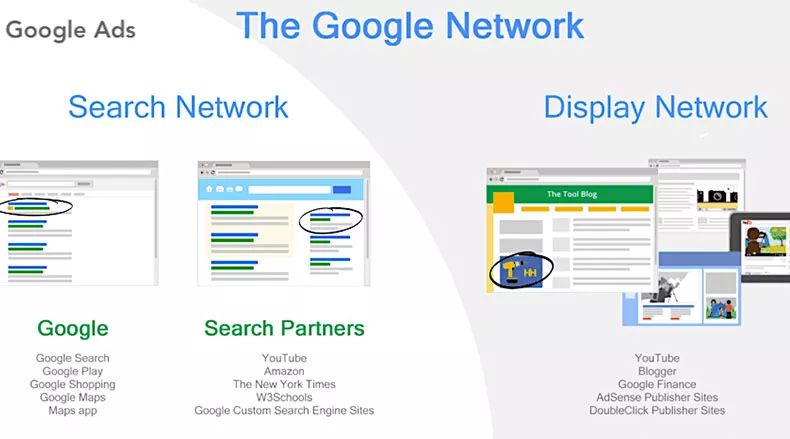 Search Network: For ads displayed on the Google Search Network, ads may appear in Google Search pages, Google Shopping pages, Google Maps pages, Google Games pages, and other search portals that work with Google. Among them, the Google search page is the B2B enterprise's main paid traffic portal.
Display Network: The display network's advertising location slots youTube, Blogger, Gmail accounts, and other sites that have Signed up for Google's AdSense account.
What are the different types of ads googled?
Depending on the promotion goals and business types, There are five different types of Google ads for marketers to choose from, including search ads, display ads, shopping ads, video ads, and app ads.
But not every ad type is right for you, because different companies have different marketing goals and business models. Some companies want to increase the number of visits to the site, and some want to get more leads, that is, inquiries. B2C cross-border e-commerce companies often want to direct potential buyers to their websites to order directly. Online gaming companies, which are determined to make money, want to see more app downloads of games.
If the business is new and just starts to build a brand awareness in the marketplace, they can use display ads to achieve their goals. And for some mature enterprises, more potential information to increase sales performance. Therefore, for the latter, a different form of advertising is required.
Search for ads
Search ads are text ads that appear on Google search results pages. For example, the search keyword "pcb board supplier", which displays a number of text-type board ads on the Google search results page, looks like this:
The advantage of search ads is that you can show your ads when potential buyers search for keywords through Google. This type of text search ad is the same as other natural search results on Google, except for the "Ad" ad tag, so people who often see it often click in to see it.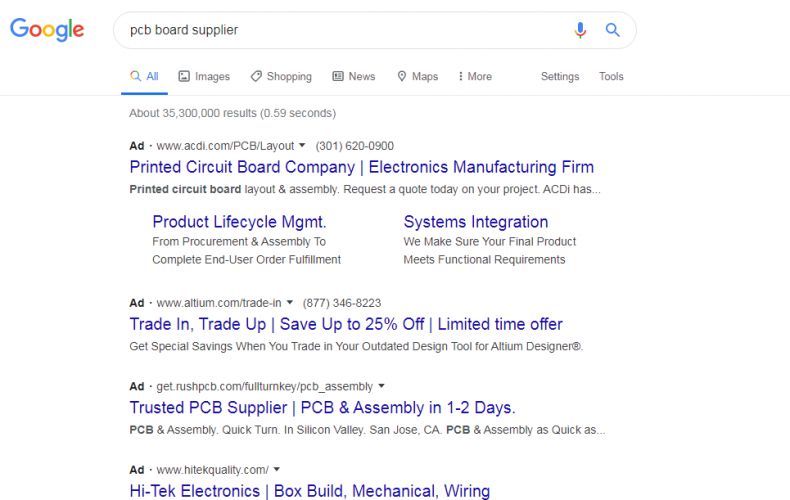 Show ads
Google has millions of affiliated websites around the world and across industries, with a wide audience known as the Google Display Network. Site owners can pay by clickors or impressions. The benefit for advertisers is that they can present a wide variety of ad formats to audiences that are relevant to ad content. Of course, the main format for display ads is image advertising, which attracts the attention of visitors on the Alliance's website.
Shopping ads
Shopping ads are suitable for B2C cross-border e-commerce companies with shopping sites. Businesses can promote products and get direct orders through Google's advertising platform. This ad format highlights product titles, prices, and simple descriptions in search results.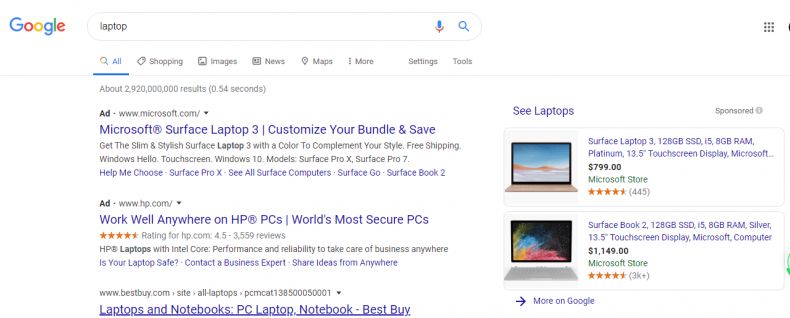 Shopping ads are only available in some countries and regions, and include Google search pages (including text search pages, Shopping pages, and Images pages), YouTube, and Search Partner sites. This kind of advertising is beneficial to increase the sales of shopping websites. After flipping through the wall, you can see the relevant examples in a Google search. For example, search for the word "laptop". On the right, we can see companies like Microsoft (depending on your geographic location) running notebook shopping ads.
Note that the cost per click of a shopping ad is usually many times higher than the cost of searching for text ads. Advertisers pay when someone clicks on an ad. To run your shopping ad, you need to set up an account in Google Merchant Center to import product information.
Of course, if you're a B2B-type business and you're not going to do retail, you don't have to worry about this type of advertising.
Video ads
Ads that are branded through videos on Youtube or Google's partner sites are video ads. As we all know, the picture is very attractive, the video is even more!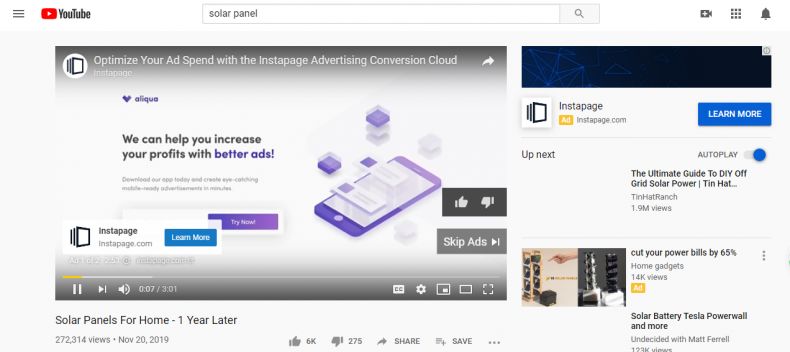 Many brands promote their campaigns through video ads, mainly because videos convey a deeper message. If the content is creative, you can impress potential buyers. Video ad formats include: skippable interstitial ads, video discovery ads, non-skippable interstitial ads, guided ads, and outcast ads.
Building video ads can take a lot of time and money. If you want to make a well-made video, consider outsourcing this part of the video production. In addition, video ads are higher than other types of ads.
UACApp ads
Google app download ads are available for larger APP developers. Google App Advertising (UAC) uses Google's unique machine learning technology to increase new user installs and in-app events for older users based on business goals.
UAC ads are usually displayed in the Play Store on Android and the App Store of the iPhone. Users see the ad and can click and download the app. This kind of ad can also be displayed on Google Search and Display Network. Advertisers deliver ads to the right group at the right time and in the right place. Ads are available in text, pictures, and video.
Many Internet companies are often using this form of advertising to grow their customer base. Almost everyone now has a smartphone, so more and more companies are developing their own apps. And the introduction of every new application, there is an urgent need to promote in the target group.
---