Daily News : Google plans to restrict the use of browser cookies /ministry of industry and information by adware companies over two years: 1.08 billion scam calls were intercepted nationwide in 2019
January 15, 2020

Today is our first message for you.335Days
User privacy/industry regulation  
Google plans to restrict adware companies from using browser cookies for two years to meet growing privacy requirements
Google said in a blog post Tuesday that it will restrict adware companies and other organizations from connecting their browser cookies to websites that are not operated by them. Apple took a similar approach to its Safari browser in 2017.
Google said the new restrictions would not take effect until it believed that an alternative to privacy protection was feasible.
Any major shift in network technology will require significant investment by website operators, and it is unclear whether the price of online advertising will be depressed as user data becomes more limited.
Washington State lawmakers propose consumer privacy bill
Washington state lawmakers on Monday introduced two draft bills aimed at regulating the use of personal consumer data.
Similar to the EU's GDPR and California's CCPA, the Washington Privacy Act willGive consumers ownership of data and demand greater transparency for companies that have access to consumer data. Consumers have the right to access, delete, correct, and move their own data, and to decide whether to participate in data collection.
Ministry:1.08 billion scam calls intercepted nationwide in 2019
The Ministry of Industry and Information Technology announced the prevention and control of telecommunication network fraud in 2019.Data show that in 2019, the country intercepted a total of 1.08 billion scam calls, shut down key areas of the fraud number 888,000.
Yoad Makov, Managing Director, Fyber Asia Pacific:Facebook and Google may suspend some risk traffic as privacy regulations strengthen
In 2020, the rules on privacy and protection of minors will continue to be strengthened, and large advertising platforms will be able to comply with regulatory requirements or suspend some of the risky traffic.
Yoad points out that some games with a wide range of ages, such as those for players over 6 years of age, may find that some ad platforms will not buy their traffic.
Note: Fyber provides advertising cashing solutions for developers
Apple again refuses to unlock shooting suspect's iPhone, but FBI revealed it has the unlocking iPhone tool and doesn't need Apple help
On January 13th the U.S. attorney general publicly pressed Apple to help the Justice Department unlock the terrorist's iPhone, but again it was rebuffed by Apple. Apple believes that doing so puts all users at risk of privacy violations.
But security experts say the U.S. government could unlock the iPhone without Apple's help. Investigators can use security vulnerabilities to obtain data from mobile phones, directly or indirectly, from vendors such as Cellebrite and Grayshift.
However, Apple claims to have completely blocked the possibility of external lying phones with a software upgrade in June 2016.
NSA notifies Microsoft win 10 vulnerability: Microsoft says it's patched
The National Security Agency has warned Microsoft in recent weeks of a major problem affecting the company's Windows 10 operating system, which is common among businesses and consumers, two top federal cyber security officials said.
"Customers who have updated or have automatic updates enabled are now protected," Microsoft said. Customers are encouraged to install all security updates as soon as possible. Microsoft has not seen any "in-the-field" environments exploit ingress with this vulnerability. "
Xiaomi promotes short video app Zili in India

Zili location is funny video, much like Tiktok。Launched in India at the end of 2018 and re-launched in the second half of 2019.
Zili's preliminary results include: 1) From July to December 2019, daily users and open rates are on the rise. 2) Ranked 9th in India's Google Play download list.
The Basic Pattern of Short Video in India(see figure below)
Xiaomi is using channel advantage to promote Zili in India, where the head player is basically certain:
Xiaomi uses his own channels(Mobile pre-installed, negative screen, Xiaomi's App Store GetApps, etc.)AndRice flour community to promote Zili in India;

Xiaomi classifies Zili as entertainment on Google Play in India, avoiding the social and video playback and editing categories where TikTok and Helo are based;
In fact, Xiaomi has been trying in the short video field.Investing in shareChat, a local short video platform, in India;In China, the first half of 2019 launched the "Amazing Video";But none of them shocked the four.
WeChat Grayscale Test Subscription Number Pay Ability
On January 15th, Tencent's WeChat team said today that weChat Greyscale test subscription number payment capacity, eligible operators can go to the public platform to open the payment function.
After a successful opening, the operator may set a fee for some or all of the original article content, the user can purchase the article before reading the full article.
Comments:
Provide solely-original creators with a unique content "market" platform that attracts and maintains the network's top content creators and helps them realize their influence and creative capabilities.
The move will give a strong boost to Tencent's ecology and could open the gap with other platforms on exclusive content. 
Taiwan ultra-casual game summary
Taiwan ranks fifth in the world in mobile gaming revenue
Taiwan's single-market market will exceed $1.3 billion by the end of 2018, compared with $2.8 billion in 2021, according to Niko Partners, an Asian data research firm.
Mainland Hand Tours has significant market share in Taiwan
According to APP Annie Data, seven of the top 10 apps in Taiwan's iOS-Google Play combined downloads in November 2019 were released or co-released from the mainland(See Figure 1);
Three of the top 10 developers of Taiwan's iOS and Google Play merger series in November 2019 are from mainland China(See Figure 2);
Although European and American games have a small market share in Taiwan, there are still many European and American publishers trying to "stand firm" in Taiwan, such as AppLovin;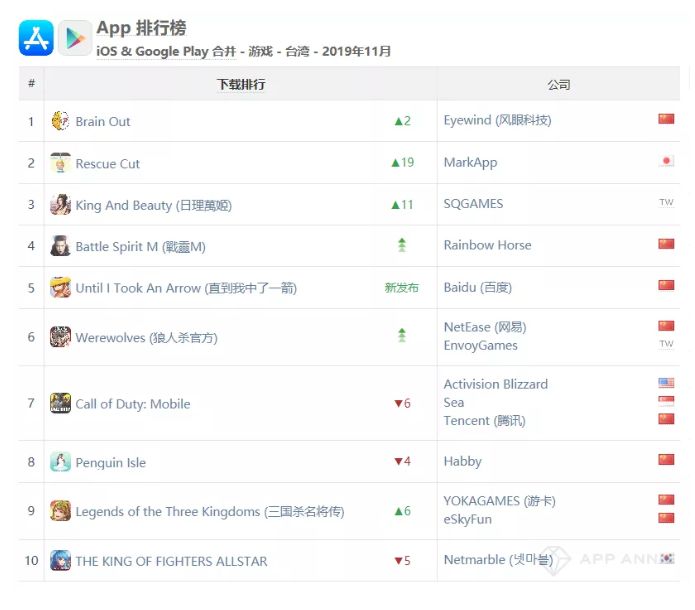 Figure 1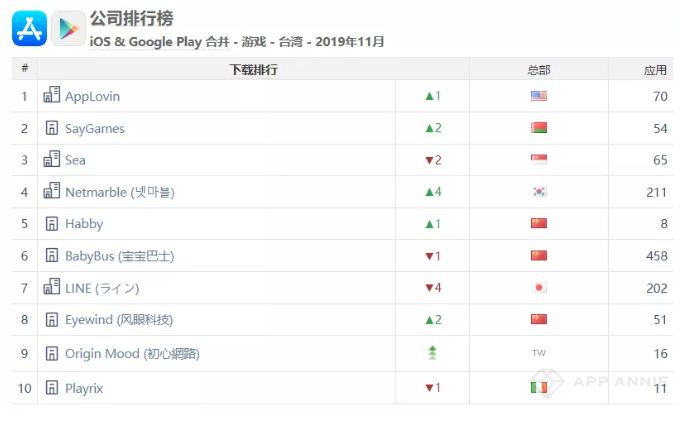 Figure 2

Game makers see the Taiwan market as a bellwether for the European and American markets
Let's take the,Mainland manufacturer Eyewind Eye Eye Technology in Taiwan, Europe and the United States and other regions to release the same game Brain Out, it on October 8, 2019 on the Taiwan iOS free list Top 35, a few days later, Brain Out into the United States iOS free list Top 100;
Popular leisure games in Taiwan include "Very Chinese Style Features" and "Shenbrain Hole Themes"
Themes of elements with Chinese characteristics:Like whatMainland manufacturer Gaming Hippo's "Big Eat" entered Taiwan's iOS free list Top19 seven days after it went live."Big Eat" is a cover of ancient Chinese legends.
Fits the top god brain holes in Asia Pacific:In the second half of 2019, a large number of games with the theme of god brain holes and divine logic appeared, and the game categories are mostly puzzle-solving games.For example:QIANYUAN's Super Brain - Puzzle BreakS play, Eyewind's Brain Out.
Quest Mobile:As of November 2019, the number of users in the third-line and following cities exceeded 200 million
According to QuestMobile, as of November 2019, the number of users in the third-tier and below cities exceeded 200 million, up 10.1% year-on-year.
Their monthly per capita use of 127.9 hours (higher than the first and second-line youth 127.3 hours), the average monthly income of about 4000 yuan, due to low cost of living, their online consumption capacity, consumption will continue to strengthen, consumption capacity in more than 200 yuan of users accounted for 71.1%.
Cloud successfully bid from technology industrial and commercial bank face recognition product introduction project
Cloud technology will provide face recognition algorithms, products and services for ICBC as a whole, supporting its innovative application to the customer business scene and the internal management scene.
On May 25, 2019, Cloud launched a pilot brush payment project from The Industrial and Commercial Bank of China in Changchun.
"WanXue Education" Completes $100 Million D-Round Financing
The financing will be used to complete the development of the "Optimal Education Planning and Learning Integration System based on the adaptation of career objectives" and the national layout of the existing product matrix.
WanXue Education is an educational brand that provides high-end training for academic and professional development for college students.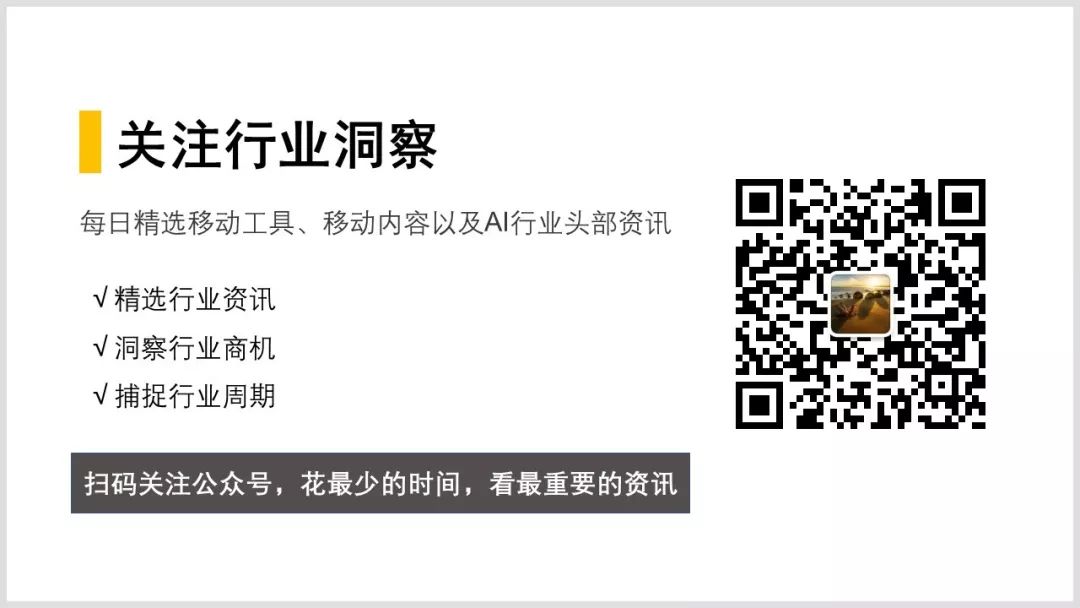 Let me know you're watching.
---