Does google ad's new black mark affect ad click-through rates? Discovery of 7000 sets of data
My colleagues and I analyzed more than 7,000 Google Ads Google ad data to see if the recent SERP update had had an impact on ad click-through rates.

The background of this small project is shared with you:
In January, Google secretly updated the desktop version of SERP: search results page, adding a black Ad tag to its ad list. I'm sure you've noticed it.
First, this has caused a lot of controversy in SEO, concerned about the visual similarity of advertising and natural search results that can negatively affect natural traffic.
Let's look at the differences before and after the update:
Old ad icon: green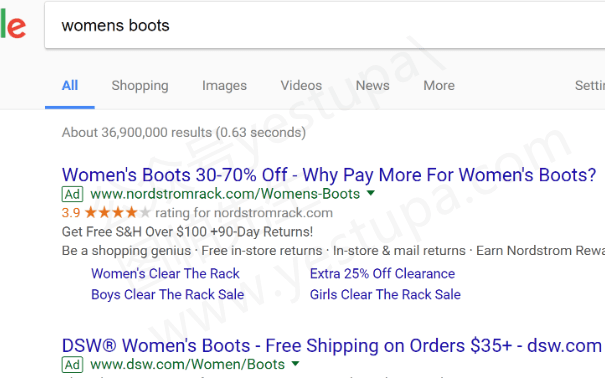 So data collection and analysis were done. This article is a simple share of the results with you. (In fact, you can also do analysis of the click of natural search results, but considering that Google ads will not be because of algorithmic changes and relatively large performance fluctuations, and a website can have n group of advertising data, it is easy to access bulk data, so choose ads for analysis)
To test this, we looked at data from 7,927 ads and compared clicks, impressions, and click-through data for the account over two periods:
December 12, 2019 - January 12, 2020

January 13, 2020 - February 13, 2020
Select these time periods for the month before and after the SERP change on January 12, 2020 (public number yestupa).
We calculated the average (mean) and standard deviation of each metric and percentage change, as well as the margin of error.
Data and related calculations are recorded in google tables: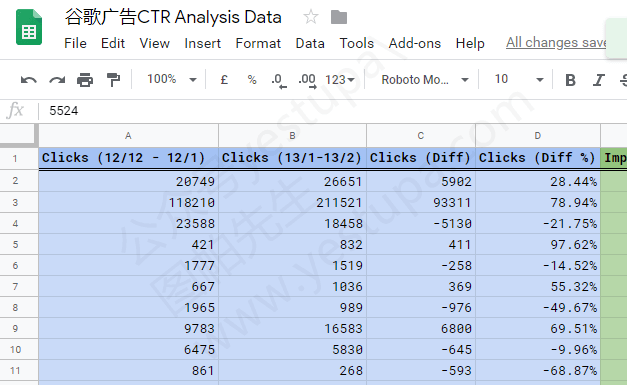 https://docs.google.com/spreadsheets/d/1v5dgCrYfSBhNyCBOq5XhqUNW-rBpJHmH0t8eCel8bQs/edit?usp=sharing
Interested in self-taking

To make a long story, from the 7,927 accounts we analyzed between the above-mentioned periods, we found the following (with a margin of error of 5):
HitsFall0.03%(±3.75%)

Increased number of clicks6.29%(±1.53%)

Show exposure increase8.03%(±1.68%)
These changes, though small, still have some reference value.
In addition, the drop in click-through rate is quite surprising, after all, we all thought that we would increase the number of clicks on the ad, because the ad is somewhat mixed with natural results.
However, there has been a relatively significant increase in clicks and impressions, which may indicate that Google is "more open" to the frequency of ad impressions, so while the click-through rate has not changed much, the overall click-through rate has improved because the impression has increased. (Personal experience, it feels like the ad is showing more frequently)
A little idea.
I think user behavior takes a while to change, so while people may have noticed these changes in SERP, they continue to use Google's search engine normally.
This will change over time, especially as the public becomes more aware of the presence of advertising in search results, but for now, there is no evidence that people will apparently skip or miss ads in protest.
And I was surprised that the click-through difference was so small. I think users are no longer focused on the source of the search results at that moment, but more on whether those results will address their needs. As I've learned over the years, the key to successful click-through rates is to target users' search intent through high-quality ad language.
No data study is absolutely perfect. If we analyze it in the future, we'll pay attention to two things:
We only break down the data by some important indicators to try to get a more comprehensive analysis, but there may be other factors that influence statistics, such as geographic location, industry, and so on.

The analysis refers only to a few months of time. Looking at more periods may confirm or overturn this finding.
Of course, the data we collect is only a fraction of all ads that Google appears on Google SERP between December and February.
Therefore, our findings are not authoritative.
But because of the strong curiosity about the new SERP: will it affect the user's click? The data suggest that there has indeed been a slight change in click-through rates.
The new SERP design seems to deliberately dilute the ad's logo, and users may be confused about what the ad is and what is not the ad, which in theory leads to more impressions and more clicks.
If more users often miss ads, CTR may not be as reliable as it used to be, resulting in a negative impact on advertising spending and return on advertising investment.
Will Google update the icon again? How will the future affect users' choices? What's the impact on ad delivery?
We'll see.
Analysis data from the performance of more than 7,000 campaigns on ad accounts


Peace Out!
Sweeping to focus on Mr. Tupa


Get more foreign SEM, SEO dry goods

www.yestupa.com

Welcome to share the article with friends
For reprinting, please contact Mr. Tupa
---