Does Google Adsense make money?
Adsense is Google's advertising platform and the world's largest online advertising network, and you can get a google ad revenue if you have a user clicking on Adsense on your site or YouTube video. In addition to click revenue from Adsense ads, Google also gives you bonuses based on the number of exposures to ads on the site. But the amount of money you make through exposure will be much less than the amount of advertising.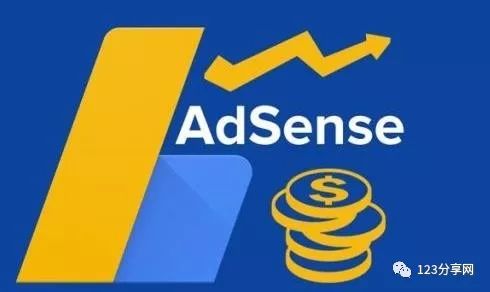 Chinese and English websites have different Adsense earnings
There are a lot of websites that make money with Google Adsense. Some news or teaching sites have heard of cases where they earn tens of thousands of dollars a month, but many of the high-traffic Chinese sites earn a relatively limited Adsense revenue, why? Because Google's Chinese ad clicks are too low.
For example, if the same ad click in the U.S. market his earnings may be 50 cents (cents), but come to the Chinese market, an ad click may not earn 10 cents.
It is estimated that if your Chinese site has an average of 10,000 visitors a day, your Adsense monthly revenue can be more than 10,000 RMB (of course, the advertising costs of sites with different themes can vary widely at times).
Making money with Google Adsense is arguably one of the easiest ways to make money for webmasters or YouTube channel owners. It is simple to operate, as long as you successfully join the membership, Adsense will automatically place ads on your website / channel, all advertising revenue will be sent to you on a regular basis, it can be said to be a good personal passive income.
Top 10 Google Adesne Revenue Series
In order to give you a deeper understanding of how much revenue Google Adsense can bring to the site, the collection of 10 months of the most revenue Adsense sites for reference, these sites are all in English-based.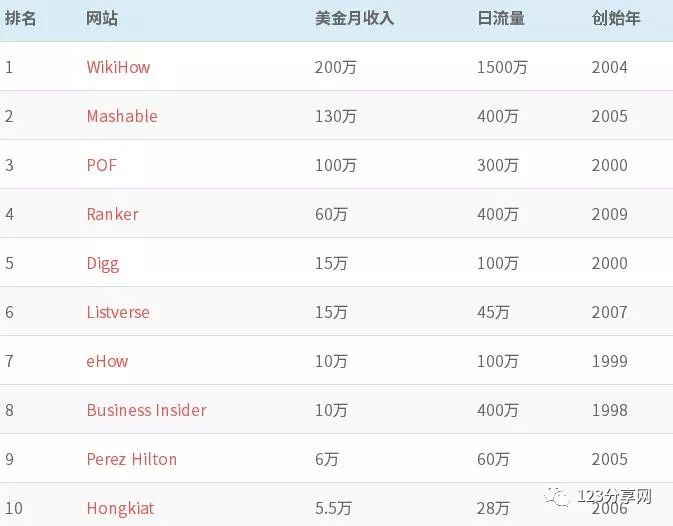 There are the following benefits of making money with Google Adsense:
Free application to join
Paid ad click high unit price, is the same type of ad playback platform in the better one.
Ads can be placed on their other sites at the same time, increasing the way you monetize.
Monthly payments on time (minimum payment of $100 or other equivalent currency, e.g. HK$800).
The types of ads are diverse (text, images, movies, native ads) and can be preset based on the structure of the site to pre-set your favorite ad types and display locations.

Precautions for operating Adsense
It is not easy to apply to the Adsense account, it is also possible because of improper use, in violation of Google's operating agreement, and was suspended for life (I was sealed N number, did not know the reason) novices to pay special attention to the following three places, to protect this important website to make money:
Don't click on ads on your own web/YouTube channel to increase your advertising revenue.
Do not place Adsense ads on pages that infringe copyright, such as unauthorized articles or videos.
Don't just spend money on ad traffic just to boost Adsense revenue on your site.

Two ways to join the Google AdSense ad play platform:
1. Blogs/websites
Applying to join the Google AdSense ad platform is free. Because Google is more strict in this regard. Therefore, before applying to join, you must ensure that your site is rich in content, and the quality of the article has reached a certain level. In this way, the fate of the application failure can be avoided.

2. YouTube Channel
The YouTube advertising platform is an extension of Google Adsense, and you must apply to join you as a YouTube partner (YPP, YouTube Partner Program) before you can start paying dividends through video ads.
The youTube Partner Program's application criteria are: Your YouTube channel must have more than 1,000 subscribers, and your channel must have more than 4,000 hours of total viewing per year.
Google Adsense Makes Money
Do Adsense ads want to be placed on the site or on YouTube? Which is the more profitable?
YouTube is the world's largest video site, with billions of views every day. Running a YouTube channel is also becoming a great way to make money online. Generally, in addition to using affiliate network merchandise to earn commissions.
Another easiest way is to earn advertising revenue through Adsense on YouTube, which is currently worth about $30,000 per million times. If you have a huge fan base, the revenue will be huge.
But on the other hand, because Adsense's ad click-per-click unit price on YouTube is so low, the average person still makes more money by running Adsense through the site.
The types of websites/YouTube channels that are generally suitable for making money from Google Adsense are as follows:
News Portal

Celebrity Movie Star (Celebrity)

Resource Community

Teaching website (How-to)

Photo Gallery (Photo galleries)

Popular Funny (Viral/Buzz websites)
How to increase Google's Adsense revenue
Select high unit price keywords as the theme of the site / web content, ad click revenue will be due to the site's theme can affect him has a very large gap. From a few cents to a few dollars a click, such as financial insurance-related ads, there may be two or three dollars at a time.

Test ingress ads in different patterns


Test where your ad appears on a web page


Try the new AdSense Auto Ads feature. The way Google learns with AI's artificial intelligence, 
Automatically decide for you the best ad type and playback location.

Do Search Engine Optimization (SEO, Search Engine Optimization) on the website/YouTube channel to increase visitor traffic.


Stream to your own websites/channels through other community sites such as FB Facebook and Instagram.
How does Google AdSense ads collect money?
When your Adsense ad revenue exceeds a certain amount, Google will send the money to you through a channel you specify, and the more common withdrawal method is to use Western Union, checks and wire transfers. Refer to the latest collection strategy for adsense mentioned earlier.

All in all, a website's Adsense revenue would be much higher than YouTube's in terms of making money.
---