Google Ads: Just 3 clicks Account Diagnostics to help you save 30% on your ads!
Hugo Network Cross-border E-Commerce
Above the dot blue letter attention, get the novice shop dry bag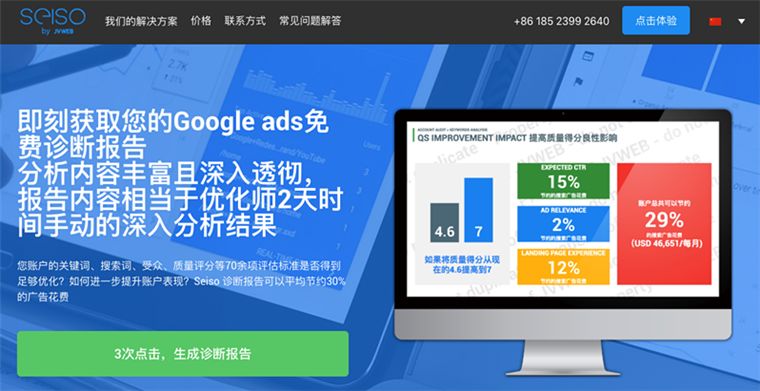 Google Ads is a very powerful marketing channel that provides advertising to retailers worldwide and drives your sales with a high return on investment. However, Google Ads is very cost-effective, and Google's ad-optimized coupon softening stools are so large that it is difficult to properly analyze and find effective ways to optimize your campaign.

JVWEB Digital Marketing Advertising Agency from Europe is a digital marketing service focused on improving advertising performance. Optimize to manage Google Ads and Facebook Ads for more than 14 years. The JVWEB team recently launched a new unique Google Ad Account Diagnostic tool, SEISO, for all Chinese cross-border retailers using Google Ads.With just 3 clicks, the account automatic diagnostic report is sent to your mailbox in 5 minutesAnalysis from the 5,000-plus reports analyzed by JVWEB shows that diagnostic reports can save you an average of 30% of your advertising costs per month.
Optimiser analysis of Google's ad accountcanies can be long and painful, and the information provided by Google's ad platform is complex, making it difficult to search for quick analysis to find optimization blind spots. JVWEB's optimisrs are all experienced teams, but before SEISO was developed, account optimizers had to work hard for up to 2 days to thoroughly analyze the customer's account and find potential space for optimization to improve advertising performance.
The JVWEB technology research and development team studies this complex and time-consuming data analysis to help optimizers save valuable time and help them quickly improve their advertising performance. Eventually, our technical team worked with the optimizer to jointly develop and create SEISO within 2 years, and five minutes of automated analysis was replaced by 2 days of think-for-analysis!
Seiso Auto-AnalysisThe ad delivery data on Google accounts, including more than 70 practices for all campaigns, is an indicator:
- Quality score analysis
- Keyword match type
- Search term evaluation
- Audience analysis
- Equipment analysis
- …..
By analyzing the entire Google ad account, Seiso can help optimizers analyze data that impacts campaign costs and conversion rates to quickly and easily identify account issues and identify optimized hidden data to identify cost-saving opportunities and grow your post-campaign more effectively.

Now, this fast-track solution offers free reporting services to all cross-border e-commerce providers in China to help your own optimizers save time to find optimized blind spots and save an average of 30% on advertising.
It's also a simple and effective way for CEOs and CFOs to optimize the sales and conversion of your website by reporting simple visual data graphics that easily understand the progress of the accounts of the optimizer or agent and analyze their performance.
Excited about this new technology? Go to www.seiso.io/cn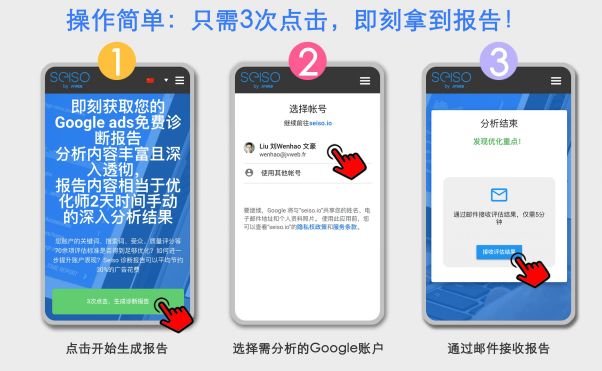 "Business Introduction"
 JVWEB digital marketing advertising agency from Europe, Shanghai set up a branch office, is focused on the advertising performance of digital marketing service providers. Optimize driven Google Ads and Facebook Ads for more than 14 years, a team of 60 people from 10 nationalities manages and optimizes ad accounts for 400 customers worldwide, helping brand-name e-commerce customers such as Patpat, Global Tesco and StarKey to shine in the global marketplace in China.
For more details on JVWEB, please visit our website by clicking on the original text.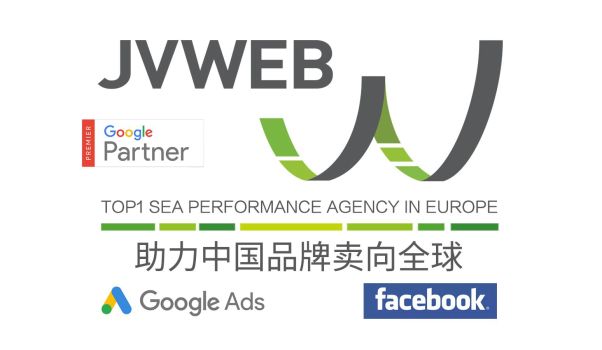 Click on "Read the original text" to visit the official website
---