Google Advertising Alliance: Overseas H5 games can be played like this
The following article is from the Google Advertising Alliance , author of Google Advertising Alliance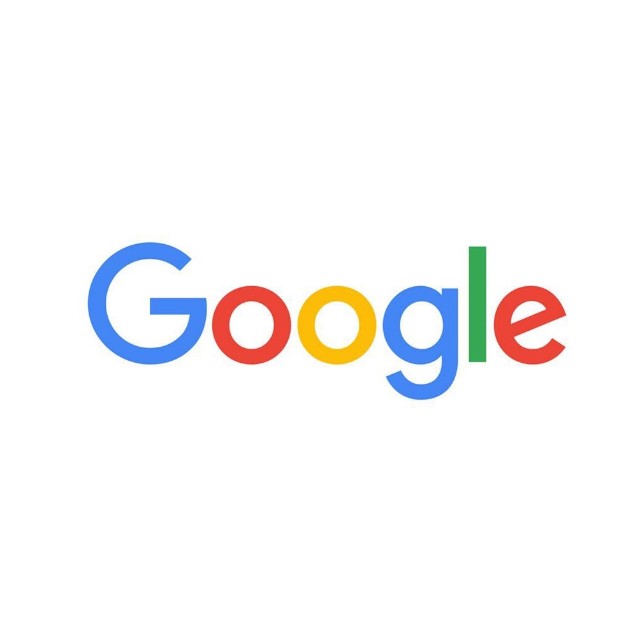 Google Advertising Alliance
The official account of the Google Advertiser. Customers with AdMob, AdSense, AdExchange, DFP-related products or interested in products provide up-to-date product information and related services.
Domestic H5 games in the past year has made considerable progress, but also become a lot of small and medium-sized manufacturers concerned and invested in the field, at the same time, overseas H5 games are quietly rising, there are more development opportunities.
Recently, Google Advertising Alliance on the overseas mini-game opportunities, also elaborated the latest overseas H5 games play trends, for developers to reference.
Here's the original text of the game gyro excerpt:
Technology, commercialization mature, promote the development of global H5 games
The reason why we are optimistic about the long-term development of h5 mini-games lies in the existence of a sufficient technical base, market demand and sustainable profit margins.
From a user's point of view, the global user time on the phone is increasing, but the download growth rate of mobile applications is gradually leveling.
While games have become the number one category in the app market, accounting for nearly 25 percent, only 65 percent of users have one or more game apps on their phones, according to Statista.
And more than 90% of users have web browsers, social and communications software, search, entertainment, shopping and tool applications.
Among them, the head application function is more and more complete, rich content, has become the user in the mobile era to use the new portal.
It takes up a lot of user traffic, time, and memory space.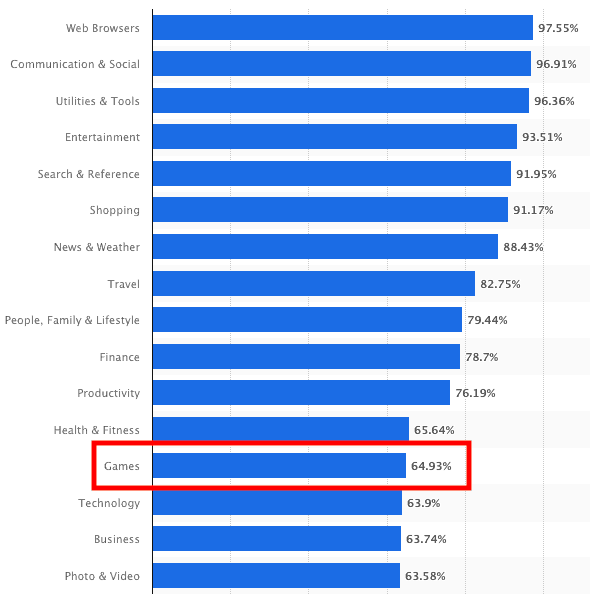 For small and medium-sized developers, on the one hand, the cost of new games is rising, on the other hand, there are a considerable number of "non-gaming" users to be converted but difficult to reach.
For head apps, the mountain top splon battle is also extremely fierce, families are looking for ways to stick to users, create new scenarios, in order to attract new users and continue to dabble in new areas. Therefore, entertainment and profitability of the game is naturally one of the entry points of each family.
Earlier the big portal game intermodal is an effective combination, but more for heavy online games.
Hand-travel era, with leisure games, ultra-casual games, coupled with the baptism of mobA-type games with social attributes, the market already has a broader gaming user base.
These game users, unlike mainstream gamers, are more attached to the head app
。
For example, H5 mini-games featuring light leisure and social elements attract more women, middle-aged, third- and fourth-tier cities or developing-country users, many of whom are first-time gamers and social players.
They play games based more on chance, social motivation or simply passing the time, but become developers' new traffic bonuses and hand-travel reserves.
Finally, it should be noted that thanks to the development of web technology and the upgrade of the H5 game engine, the development of H5 mini-games is not only easier, but now h5 technology can even present a game experience close to native apps, which is critical to improve retention.
At the same time, the introduction of higher-priced advertising, such as video, and even the introduction of in-house purchases has also improved the efficiency of H5 games, making H5 games with better revenue than before, both in-app and on the web side.
And with 5G technology, cloud games gradually popularized, when the user habits gradually develop, that is, point to play H5 games will have more room for development.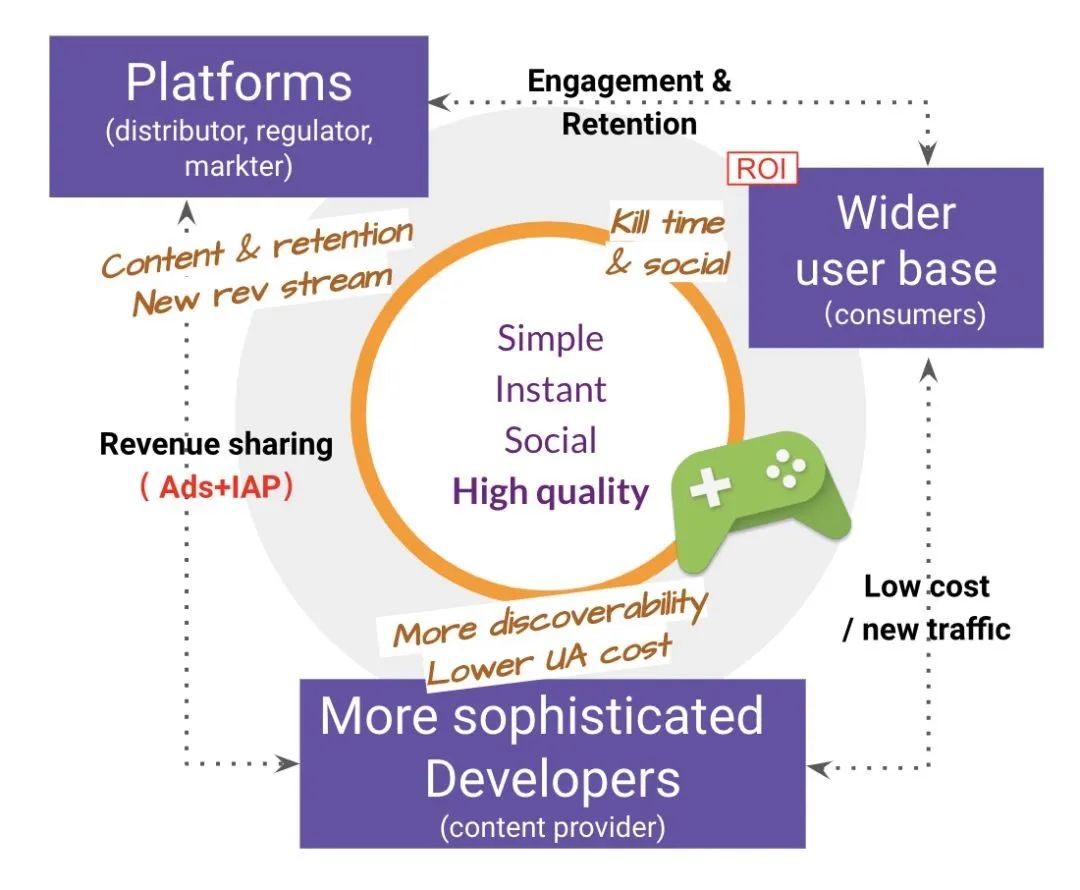 What are the current ways of playing mini-games?
By the policy and platform adjustment and other reasons, the past year or two we see the H5 mini-game industry situation is also ups and downs, is exploring the continuous improvement of norms.
Here we summarize some new ideas and practices to share with you.
1, go overseas can first try the water H5 version, and then do hand tour
Early H5 mini-games tended to copy native game bursts, or to simplify native games into H5 versions.
Last year we also saw some quality games, forwarded to the app version on the app store, the performance is still eye-catching, retention can be improved 2-4 times.
Not only does this shift have better data to refer to, but previously accumulated word-of-mouth can also attract natural traffic.
So "H5 small game test water - in the domestic app market release - overseas distribution of the entire product" life cycle chain is more perfect, user coverage is more extensive.
Some developers who have just made the sea business, worried about the situation of soil and water, can also be concocted, through the H5 version to try water temperature to do the mobile app version.
2, the functional H5 mini-game to promote more application scenes
Unlike the high profile of the 2018 H5 mini-game that grabs the screen and grabs the entrance,Now some H5 games are made into product accessibility by traffic platforms.
This will not be noisy, but also give users a better application scenario.
For example, shake sound games and short video sharing through;
E-commerce sites use H5 games to distribute coupons, or pull new through exclusive mini-games and social sharing features;
Taxi software to play games to spend time in the car, social software to play games for social ice-breaking;
Live bloggers and viewers play games and interact, and more.
3, game center solution becomes an efficient choice
Creating a small gaming platform for head applications such as WeChat is extremely difficult, especially in technology development, auditing and supervision.
The more popular approach on the market today is for developers to choose and collaborate with integrated game center providers.
The practice is that some game developers, game engines, etc. will be self-developed or agent games packaged together, and provide cashing and operational support.
This is an efficient alternative to applications that want to try the Game Center quickly.
However, we should pay attention to the combination of target users, product grading for selection and other customization;
Also ensure that the Game Center operates in strict compliance with the Store's regulations to avoid unnecessary hassle.
Over the past year, the boutique H5 mini-game has still been popular with users and platforms.
And because the H5 mini-game life cycle is short, developers need to continue to create more high-quality products.
Google also recently launched the hatching program GameSnacks, which aims to provide users with a quality, uninterrupted gaming experience.
I'm looking for game gyro:

Business cooperation/interview/contribution:




Watermelon (microsignal 18659030320)

Liu Wei (microsignal 18948723460)

Wen Jing (micro-signal mutou_kiki)

Industry News: boq (micro-signal boq270756)

Contributing email: tougao@youxituoluo.com



---