Google fights ad fraud, Cheetah Mobile has all 45 apps blocked; News of the week
What happened in the Internet industry in the past week (1.17-1.23)? Below Isis takes you to see.
1, Google off 600 ad fraud app,Cheetah Moves All 45 Blocked
On the evening of February 21st, it was reported that Google had dropped nearly 600 apps from the Google Play App Store and banned its developers from the Google Play Store and its advertising network as part of a massive campaign to crack down on ad fraud and "disruptive" mobile advertising.
It is reported that one of the biggest developers banned from the Play Store and Google's advertising network is Cheetah Mobile. In fact, as early as November 2018, it was reported thatCheetah Mobile AppSuspected advertising fraud。 In December, Google removed one of the offending apps, but allowed Cheetah Mobile to continue offering other apps in the Play Store. As of February 20, all 45 apps in cheetah mobile's Play Store were taken off the shelves and excluded from Google's advertising network.
(Sina Technology)
2, Cheetah Mobile Response was taken off the shelves by Google APP:NotNotice of the case by Google unilaterally off the shelf
For Google to launch about 45 apps from the Google Play App Store. In response, Cheetah Mobile said Cheetah Mobile has been actively cooperating with Google and following the Google Play App Store developer policy. Cheetah moves in positive
In the case of rectification, still by Google unilaterally all-out off the shelf.
Cheetah Mobile stressed that Google claimed that the change would give developers notice and warning and allow them to correct the problem, and that Google would only take action if it did not correct the behavior. But this statement is quite different from the experience of cheetah movement.
(Tencent Technology)
3, the news that fast hand began to test the advertiser service products "open-eye creative" app

According to the company's intelligence expert "Financial Graffiti" news, fast hand recently began to test an app called "eye-opening creative", theProducts are mainly focused on reducing the threshold of users (specifically advertisers) at the creative level, as well as improving the short video conversion rate of commercial advertising.
Seven Mac data shows that the open-eye idea was officially launched on February 20.App is limited to "fast-hand ad management platform" users to log in, and this management platform is really set up by the fast hand independent advertising background, as long as the advertiser's account has a sufficient balance can be ad serving, or can be on the platform for ad delivery management.(Financial Graffiti)
4, foreign media said:Byte Beat wants to expand its e-commerce, gaming business with TikTok
21 February news, according to the country
Foreign media reports, words
Festival Beathope hopes to launch a new range of apps with its popular video app TikTok, which is popular around the world, andExpand your business to other areas such as e-commerce, gaming, and more。
The public
Division is trying to
Take advantage of TikTok's momentum to compete with a number of tech giants around the world.
Byte has launched a financial services app and is testing music streaming services in India and Indonesia.
In addition, the company has acquired more than one local game developer.
Many advertising executives also speculate thatByte bounce slots may launch a subscription service in TikTok that allows viewers to pay for more access or extra content from celebrity creators.
Byte beat declined to comment on this article.Company executives also did not say whether they werePlan for these services.Analysts said the addition of service content would help retain users, diversify products and provide the company with more user data, which would lead to more advertising revenue.
Advertising executives say TikTok's more promising approach to the U.S. market could be a video subscription service.The success of Twitch, Amazon's streaming service, suggests that this model is feasible.
Many analysts believe that new products that are being tested in China and other markets will eventually hit the U.S. market.(Tencent Technology)
5, WeChat small program live-streaming ability to open public testing
February 17,WeChat small program live-streaming ability to open public testing. On the same day, a number of retailers broke the news, has received a small program live public test invitation.The invitation station letter shows that the small program live-streaming component is the official business management tool provided by WeChat. With the live-streaming component, merchants can implement a closed loop of live interaction and merchandise sales in a small program.For more information click(Xiao program express report)
1, nail will launch the "circle" new features, the first time open private domain traffic
Nails is about to introduce a new feature called Circles.
Nail positioning for circle productsPrivate Traffic Operations Platform, businesses can use nail circles for free private community management.
Today, the nail-biting official weibo posted a poster that read "The Circle Is Coming" and marked:
Nail 5.0 New Product Meet, See You Tomorrow.
It is reported that the nail circle is divided into the inner circle, online teaching circle, business exchange circle, community operation circle four models. Circle products can help enterprises to build an organizational culture, external links to upstream and downstream partners, students, stores and fans, to establish a unified management of private communities.(Sina Technology)
2, blue cursor release online marketing platform
On February 21, Blue Cursor announced that the independent research and development of one-stop online marketing platform - Blue Label online experience version of the official launch (https://bfonline.com/)," relying on the experience of the blue cursor service seven major industry customers, to "let all marketing online" as a product concept, the blue cursor's original service capabilities, through online one-stop solution of strategic insight, creativity, content production, information release and advertising marketing needs, to help improve the overall marketing of enterprises.
3, pea pods, PP assistant announced the next shelf
A few days ago, the pea pod team announced that from February 28, the PEA PC version of the online service, PP assistant also said that the iOS version, iOS PC version of the product will be launched.
(Ray Technology)
4, Aichi Art launched the trend makeup social e-commerce "cut face"
In January 2020, Aichi art launched a "cut face" product, focusing on the trend of makeup in the field of content, social and marketplace. According to App Annie, the first iOS version was launched on January 3rd, with a total of six iterations so far, and the product was developed by Beijing Qiyi Century Technology Co., Ltd., the main developer of almost all of the apps owned by AiQiYi. (Financial Graffiti)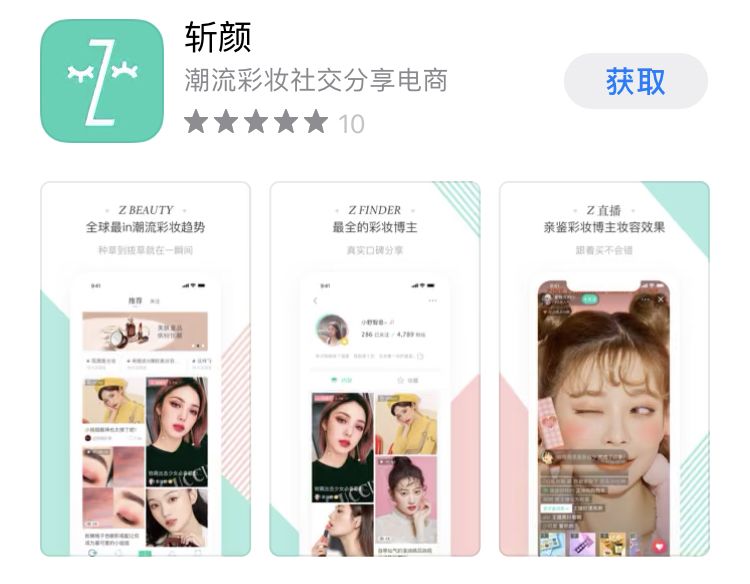 5, Sohu launched mobile smart office products "small E"
Recently, Sohu launched a mobile smart office product called "Little E", this product is mainly corporate mobile office. This is also Sohu after the launch of "Fox Friends", the recent launch of the second product with social attributes. The product is still being tested in grayscale. According to Tian'e, the developer of "Little E" is Beijing Sohu Internet Information Services Co., Ltd., and the final beneficiary is Zhang Chaoyang, chairman and chief executive officer of Sohu.
(Tech Planet)
6, QQ update PC and mobile version, launch eddy "group classroom" and other new features
On February 19th, the QQ team updated the PC and mobile version again, and launched a series of new features such as "group classroom" "job red pen batch change" and "home school group shortcut bar". Among them, for the demand of live classes, QQ for teachers and students to create an exclusive live room "group classroom", computers and mobile phones can be launched or joined through the QQ group's fast entrance. "Group Classroom" is suitable for 1-to-many live class teaching, support teachers to carry out video or voice live, PC side provides "play movies" "share screen" and "demo PPT" functions.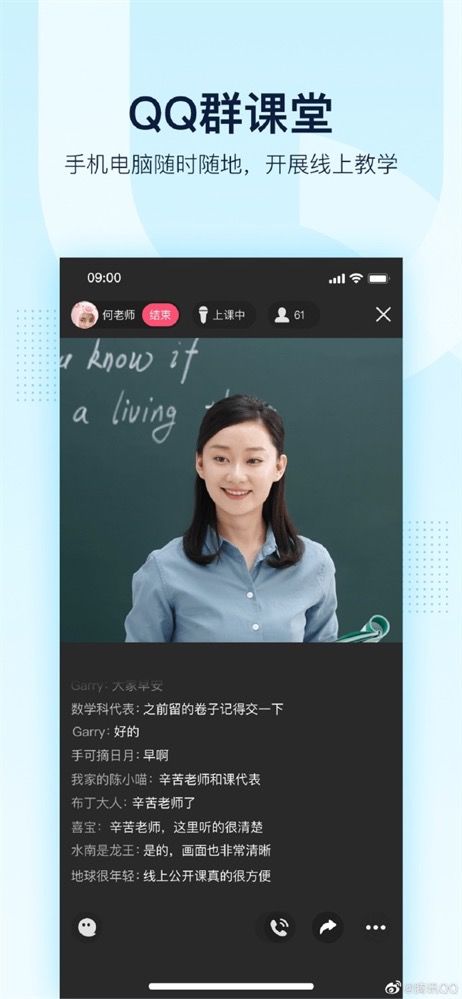 7, Fast Hand released the 2019 Fast Hand Content Report:
Daily live exceeds 300 million, nearly 20 billion videos in the app
Recently, the Fast Hand Big Data Research Institute released the "2019 Fast Hand Content Report", which shows that as of the beginning of 2020, Fast Hand Daily has exceeded 300 million, and there are nearly 20 billion videos in the Fast Hand App;For more information click
8, the League of Friends and "Mobile Internet " War Epidemic Report":
Mobile office, healthcare, education and training industries grow rapidly, content consumption, game app use time increased
According to the latest release of the "Mobile Internet" report: this year before and after the Spring Festival compared to the same period in 2019, the game industry increased by 15%, twice as much as the same period last year; , an increase of 61%, while a decrease of 55% and 29% in tourism and motor vehicles.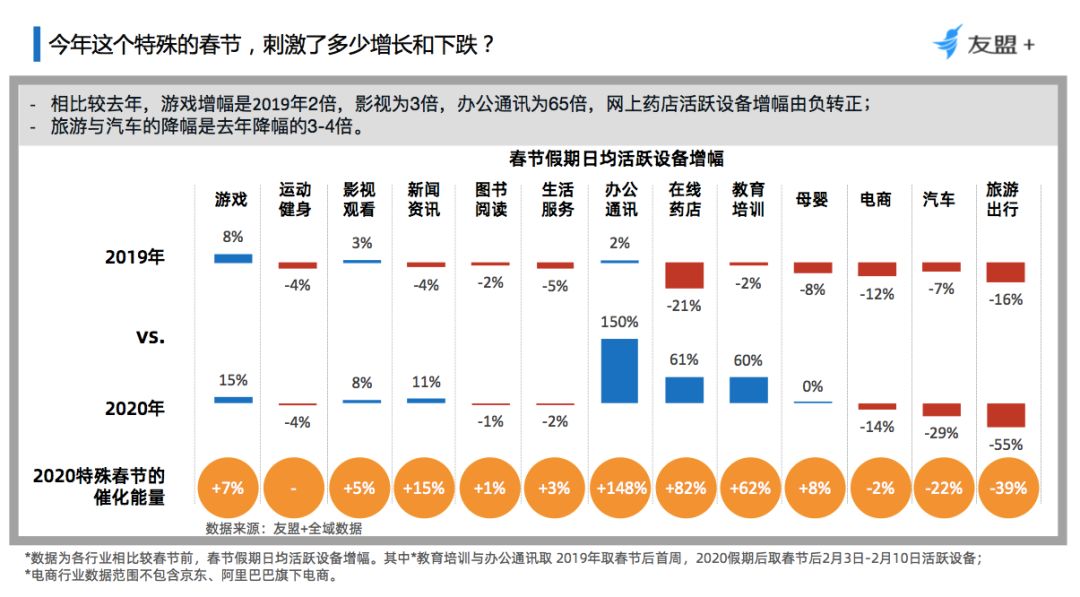 All homes, mobile Internet usage time has been forced to lengthen. From the app usage time, the user's device use a lot of time is still occupied by video watching, book reading and games, followed by the outbreak delayed start of school, mother and child and education and training applications use the longer ranking, again is sports fitness, news and information category. Travel, health and e-commerce use performance is weak.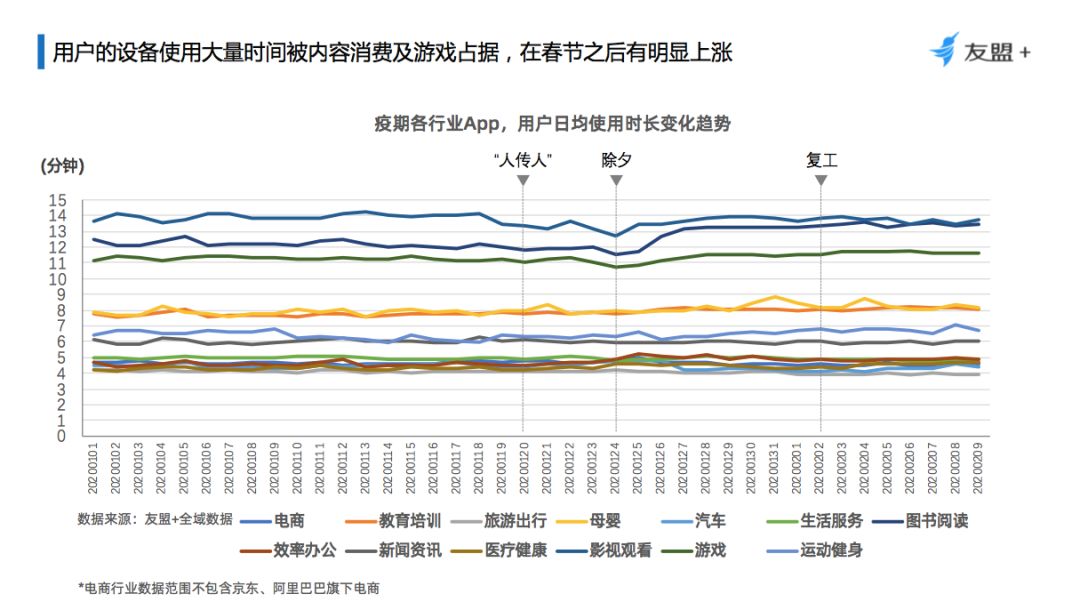 9、App Annie:
In February 2020, the most downloads of gaming apps
In the first two weeks of February 2020, the average weekly app download in the chinese iOS market increased by 40% compared to the weekly average for the whole of 2019, according to a new report from App Annie. In February 2020, the game app will be downloaded the most, followed by education, tools, entertainment and photo and video categories. In terms of growth, weekly downloads in the education and business categories grew fastest, about twice the weekly average in 2019.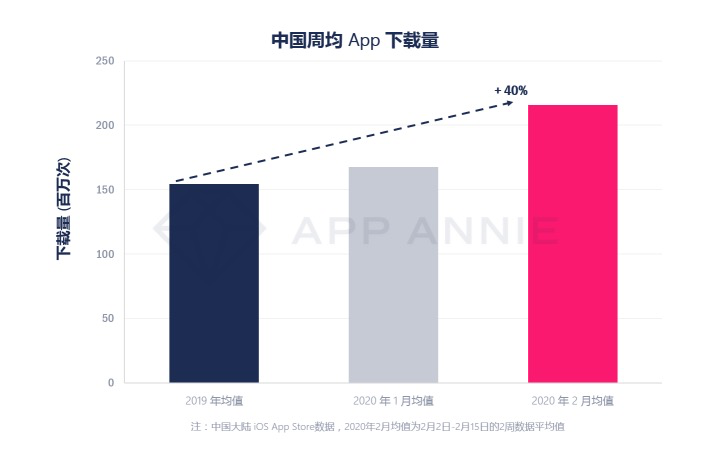 10, BOSS direct employment:
In the second week of re-entry, market demand for hiring increased by 28% month-on-month from the first week
BOSS directly released the "2020 Spring Festival re-employment demand change observation" shows that the second week of resumption of work (2.10-2.14), the market recruitment demand increased by 28% month-on-month from the first week, the overall recruitment situation is recovering. Since the official resumption of work on February 10, Shanghai's recruitment demand increased by 69% in the first week of the festival, ranking first in the country. In addition, in the two weeks after the Spring Festival in 2020, the average talent flow rate of the new first-tier cities compared to the first-tier cities was 1.07, maintaining a net inflow of talent from first-tier cities.
11, Alibaba:
It is expected that by the end of February, 50,000 street shops will be on the line.
According to Alibaba, in order toSupport for the early resumption of street shops, the group's retail pass and hungry word-of-mouth two business sectors linked to open"Takeaway speed on-line"Features. As of February 16, there have been 20,000 small shops nationwide audited, opened hungry takeaway service, resume business. By the end of February, 50,000 street shops are expected to be on the line. At present, the total daily sales of stores have increased by nearly 250% month-on-month.
12, Today's Headlines, Watermelon VideoS Joins Modern Sky to Create Online Music Festival
Today's headline, watermelon video announced the launch of the "House Strawberry" online music festival by the well-known music company Modern Sky, with 82 groups of star singers taking part in live performances for seven days, according to today's headline. This is by far the largest number of domestic musicians in the online music festival. From February 22 to February 28, at 6 p.m., users can open today's headlines, watermelon videos on their phones, or, from February 23, open fresh hours on their smart TVs and search for "Home Strawberry" to watch. Users will relive the strawberry music festival live and watch home-made content from the star singers.
The above is the current Internet week information content, Aitchybacter finishing editing.
Information flow to open an account, each promotion channel rebate account, scanning code consultation
---