Google's ad revenue slowdown worries investors, stocks post biggest one-day drop in nearly a decade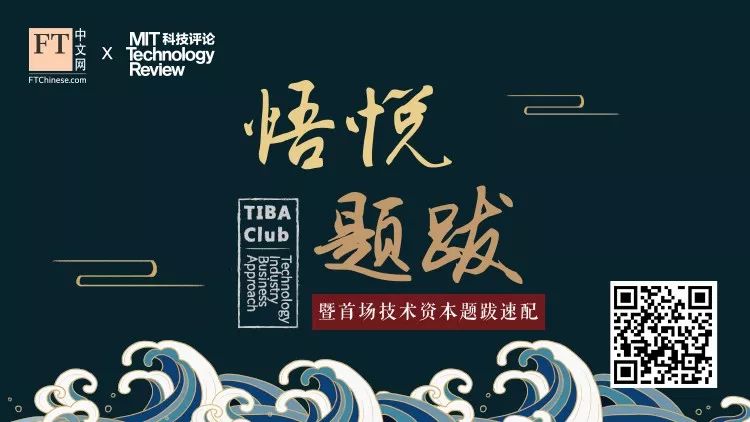 Recently, many big companies are reporting first-quarter results.
Alphabet, Google's parent company, released its latest results for the first quarter of 2019 in the early hours of April 30, after technology giants such as Facebook, Amazon and Netflix all reported earnings.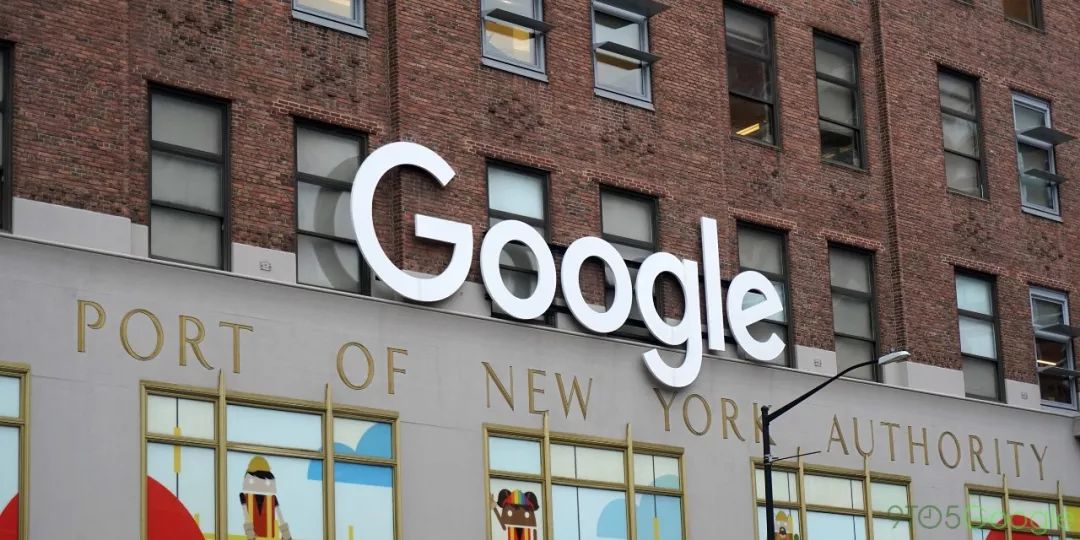 (Source: 9to5Google)
According to the financial reports,Alphabet's total revenue was $36.339 billion, up 17 percent from a year earlier, excluding the impact of the fine, which was $8,339 million, down 11 percent from a year earlier, and a 29 percent decrease in the impact of the fine at $6.657 billion.
Alphabet's share price, which jumped about 20 percent earlier this year, has been a "leader" in Silicon Valley technology stocks and has been relatively stable over the past few years.

But as a result of this financial report, Alphabet plunges nearly 8% in after-hours trading on MondayAlphabet shares fell $91.20 to $1205.00 by the close of EASTERN Time on Monday, wiping more than $60 billion off its market value, its biggest one-day drop in nearly a decade.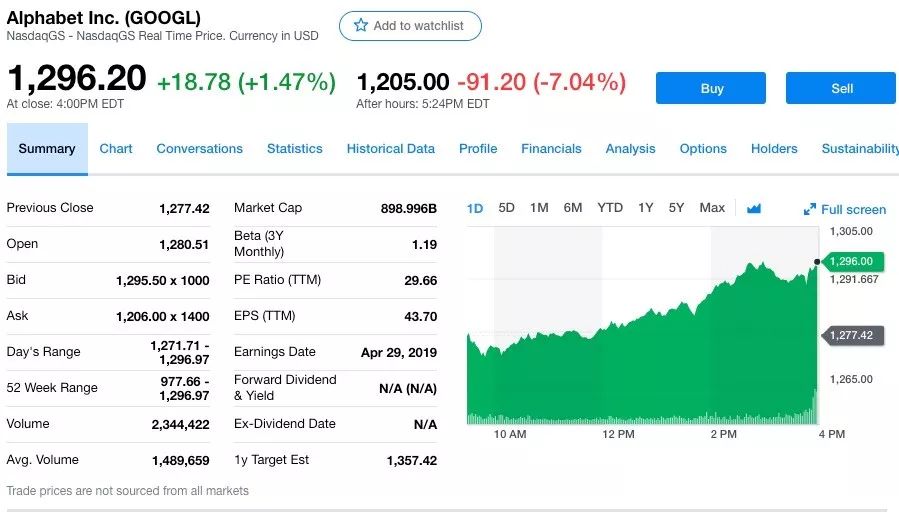 Alphabet's business is understood to be divided into three core parts of the financial report: Google Search and Advertising, a subsidiary of Alphabet, and other revenue from Alphabet (including Google's cloud computing, hardware, etc.) and other investments in non-Google businesses. And this article will focus on these three businesses, to explain why Alphabet's net profit, revenue are not as expected, the impact of what is the impact?
Google's three core businesses

Alphabet's first-quarter revenue from search advertising was $30.72 billion, down from $32.64 billion in the fourth quarter of last year, according to Alphabet's first-quarter results. Revenue for web pages and services such as maps was $25.68 billion, and Google Network revenue was $5.038 billion.
Alphabet has provided a number of investments and changes in Google search over the past quarter, including new Material Design interface designs, some keyword search algorithm changes, and a partnership with JD.com to rack up related items on Google's proprietary store pages, according to earlier reports by foreign media. But after a lot of investment, the returns are slightly less.
In Google's main search business, the cost per click (CPC) fell 19 per cent in the first quarter from a year earlier, but better than in the fourth quarter of last year, according to the results. Paid clicks on Google products grew 39% year-on-year, significantly weaker than the 66% increase in the fourth quarter of last year.

Alphabet and Google's Chief Financial Officer (CFO) Ruth Porat said on a conference call.Much of the slowdown in site clicks growth is related to YouTube.
"While YouTube clicks continued to grow at a high rate in the first quarter, a slowdown from the strong data for the first quarter of the previous year reflects the adjustments we made in early 2018." She said.
In addition, Google's web search ads are currently the company's most important survival business, in this area, Google's market share is indeed very high, such as sound, Ali, Tencent and other Internet giants have invested in advertising on it. However, the advertising business declined significantly in Google's quarterly results due to slowing growth in new users across the Internet and competitive pressures on multiple platforms.
In terms of Google Cloud and other Google hardware revenue, the company reported revenue of $5.449 billion in the first quarter, compared with $4.354 billion in the same period last year, down about 20 percent from a year earlier.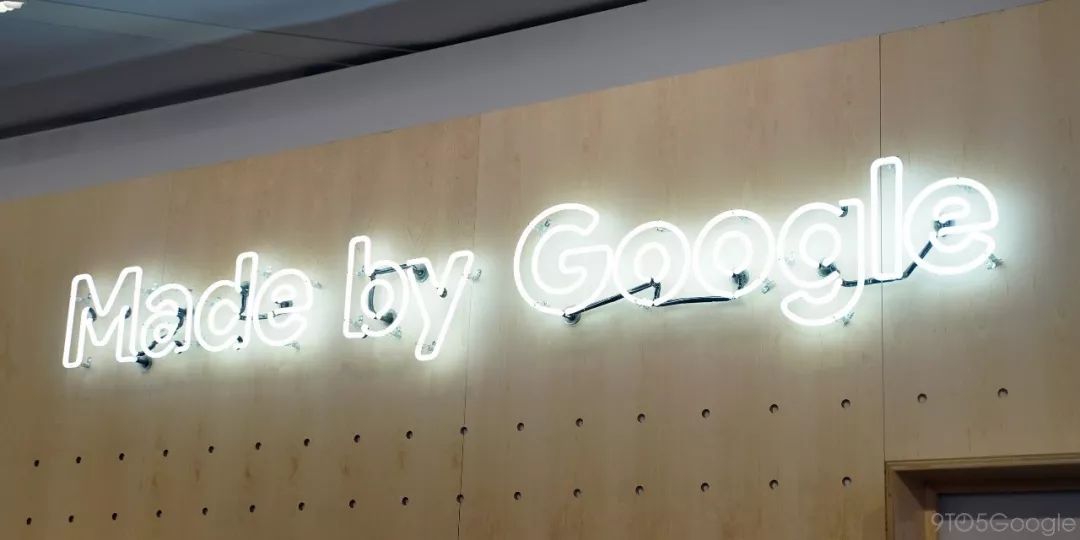 In a post-earnings conference call, Ruth Porat acknowledged that the Pixel series of phones was under pressure from the high-end market, leading to a sharp drop in pixel sales last quarter compared with the same period last year.

Earlier, it emerged that Google is expected to unveil the new low-cost Versionof Pixel 3a and 3a XL at the I/O Developerconference next month, and Google executives have confirmed the news in a conference call that the two hardware products, or may help to save the current decline in hardware sales, are expected to be announced.
In the cloud business, a new product was unveiled at the NEXT conference this month, perhaps in the next quarter' earnings.
The third part of Google's business, other investments in non-Google, is shown in the Other Bets section, which includes self-driving start-up Waymo, artificial intelligence product DeepMind, smart healthcare company Verily, google Businesses such as Capital.
Revenue from other non-Google businesses was $170 million in the first quarter of 2019, compared with $150 million in the same period last year, according to the results, which are well in line with market expectations and are in the normal revenue range.
For Google, several of its main businesses have maintained some growth, but some of the business growth rate has declined significantly, it seems to be affected by policy, advertising, YouTube and so on, the company is turning to an inflection point.
In the first quarter, the EU's $1.7 billion sky-high penalty for Google had a significant impact on its financial performance, with operating income of only $6.608 billion, operating margin down 18 percent, removal of the impact of the fine, operating profit at $8.305 billion and operating margin of 23 percent.
For now, the results were also driven by a number of factors, including a sharp decline in revenue and profit from the search and advertising, cloud and hardware businesses in the quarter."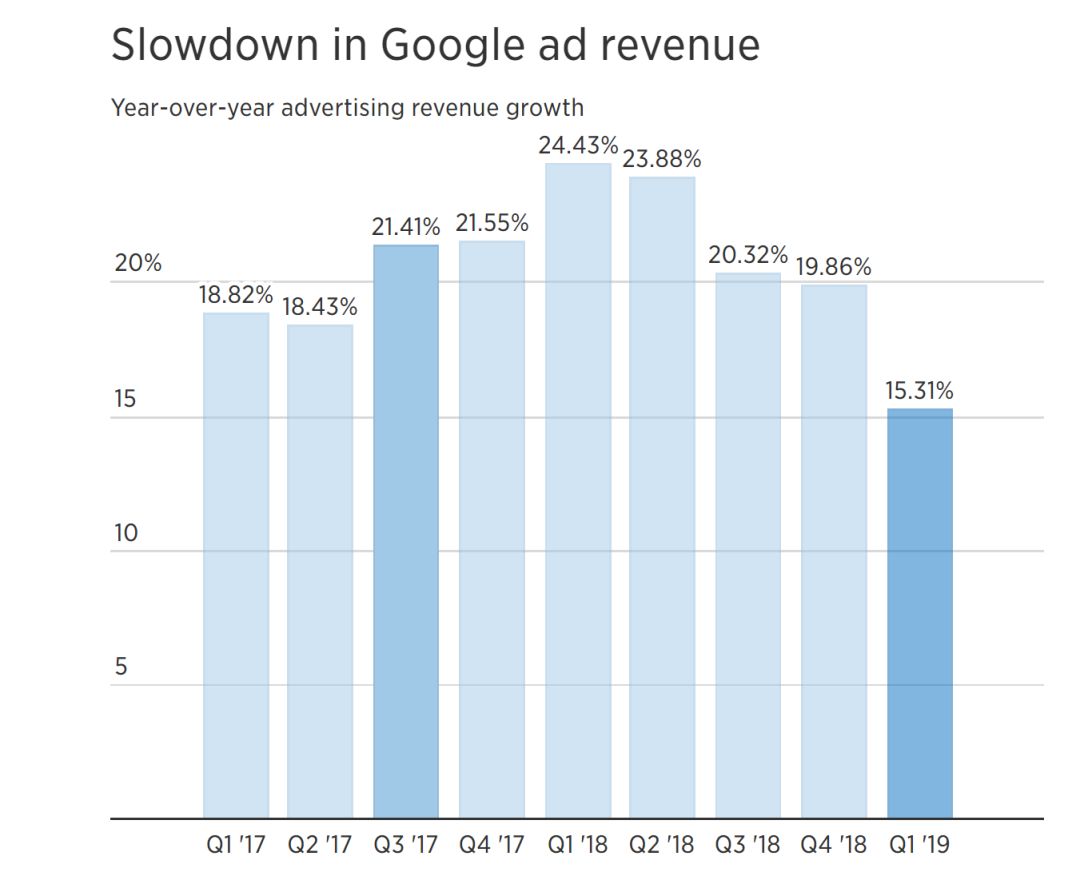 Sundar Pichai, Google's chief executive, repeatedly stressed on a conference call that the company was trying to make changes to its advertising products without providing details, and that executives avoided answering direct questions from analysts about weak growth during the earnings call, according to the Wall Street Journal. This has led to a decline in Wall Street investors' trust in Google, or has been linked to google's stock market crash.
Competition takes Google out of its comfort zone
Over the past year, there has been a lot of criticism of Google, which has had a lot to do with its stock market.Inside Google, Sandal Pichai has been making adjustments. But the biggest threat to Google is competition.
With Silicon Valley rivals such as Amazon, Apple and Facebook making a big push into the online advertising market, Google faces a very big potential threat because advertising is the current source of survival for Google, and the cloud business is the future of Google.
But for now, the only source is likely to be seriously threatened, and more Web users are now searching directly on Amazon.com than search engines, and the e-commerce advertising business is more favorable than Google's search advertising business, which is more acceptable to users.
At the same time, Google's transition to a mobile platform has been a long-term drag on the company's performance, with Bloomberg reporting earlier that the company would need to pay billions of dollars a year to rivals such as Apple to become the default search engine on Safari.
Google's first-quarter traffic acquisition cost was $6.86 billion, below analysts' expectations of $7.26 billion, one of the few bright spots in the company's first-quarter earnings report.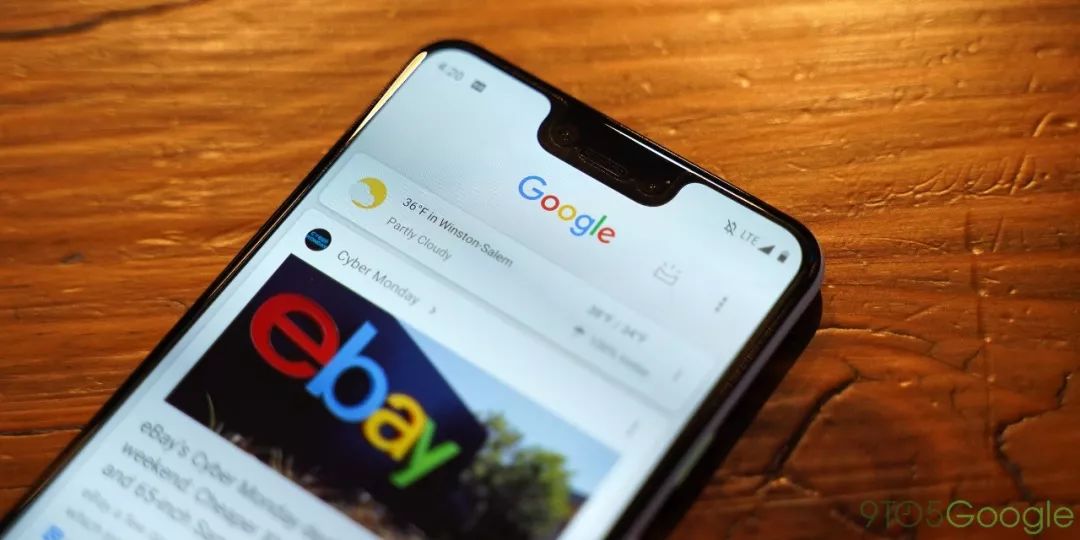 Overseas, Google has been investing money and manpower in the Indian market in the hope of creating a second Silicon Valley, but has been slow to do so because of local policies.

In September 2017, Google launched Tez in India, one of three apps to access UPI, and it successfully caught the attention of the Indian public. In December, Google launched its Google Shopping shopping service in India to take advantage of India's new Internet dominance, wheretechnology companies such as Amazon and Apple have been challenged and Google has a competitive edge.
Google has been upgrading and deepening its technology on autonomous driving, with earlier reports that it has been testing in California, with 48 companies submitting test reports in 2018. Alphabet's Waymo topped the list with about 2.02 million kilometers of testing.
For now, Google's Business on the C side is affected by competition, and the B-side business is not seeing significant growth, and Compared with Microsoft's earnings, Google's profits and revenue are still in transition and change.
Notably, google reported in its quarterly results that its total number of employees increased by more than 4,600 in the first quarter, bringing the total number of employees to 103.459 million. Despite falling revenues and profits, Google's workforce is growing.
Google is moving out of its comfort zone, and transformation is essential for search companies as their core business.While Google is still at the top of the list, everything is possible in the future, and what Google is doing now is to take root in every business, to continue to work deep and look to the future.
-End-
Reference:
https://abc.xyz/investor/static/pdf/2019Q1_alphabet_earnings_release.pdf?cache=8ac2b86
https://www.sec.gov/Archives/edgar/data/1652044/000165204419000011/googexhibit991q12019.htm
https://www.marketwatch.com/story/alphabet-stock-drops-after-earnings-show-disappointing-google-sales-growth-2019-04-29
https://9to5google.com/2019/04/29/alphabet-q1-2019-earnings/
https://www.wsj.com/articles/google-parent-posts-rare-misses-as-revenue-comes-up-short-11556569259?mod=article_inline
https://www.theverge.com/2019/4/29/18523162/google-pixel-3a-sales-lead-up-announcement-smartphone-competition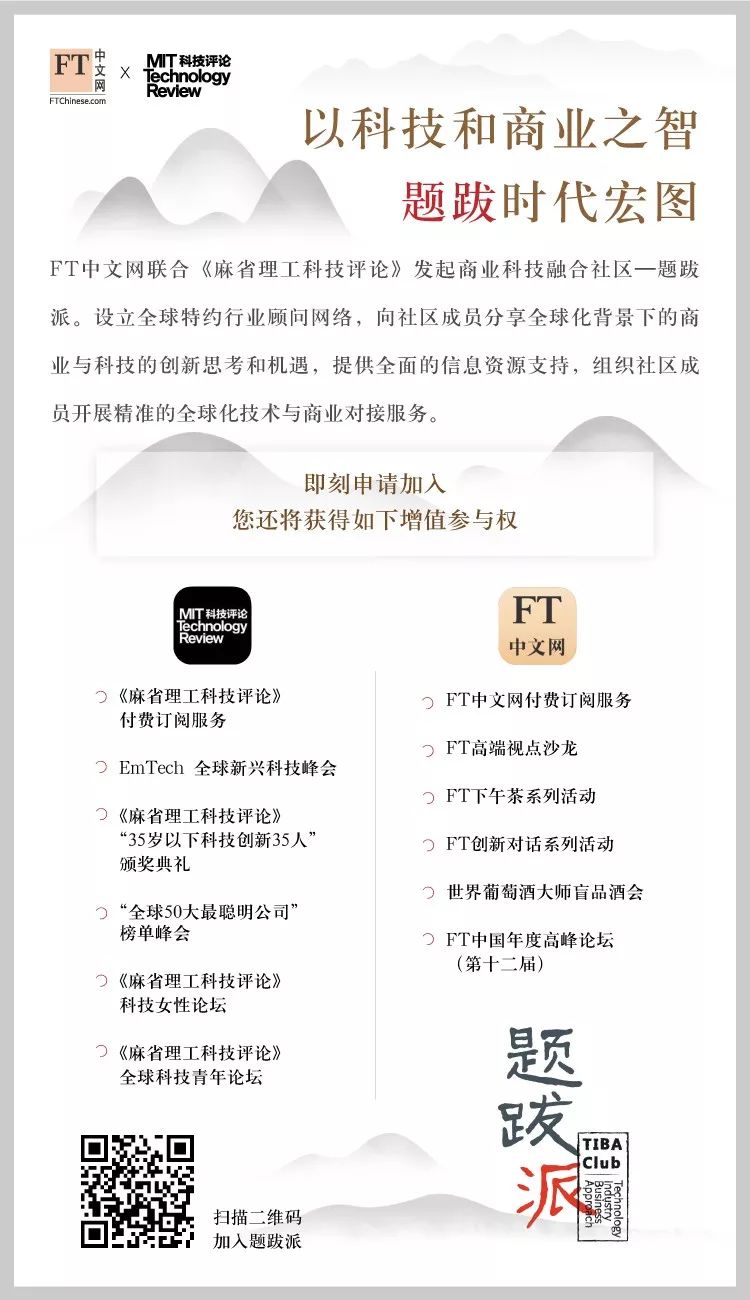 DeepTech Recruitment: Science and Technology Editor/Journalist, Intern  
Coordinates: Beijing International Trade
Contact: hr@mittrchina.com
Please attach 3 previous works (except interns) to your resume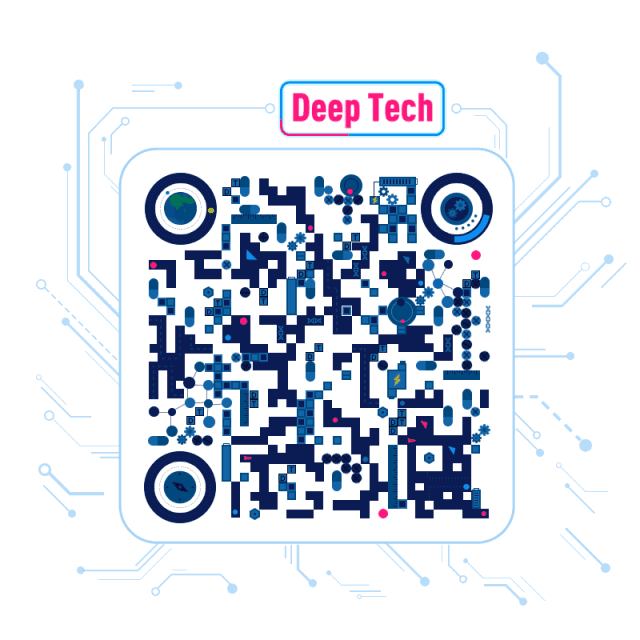 Click to read the original text to learn about the title↓↓↓
---