Google's Facebook double monopoly loosens, China's advertising platform "tiger mouths"
Google, Facebook double monopoly situation loosened, the tide of China's advertising platform "tiger mouth to eat"
For China's out-of-sea technology companies, overseas launches are bound to keep Google and Facebook two giants out of the way. In the global programd advertising value industry chain, the two companies are in a bipolar monopoly, basically holding the developer's realized lifeline.
But with the tide of China's seagoing tide, that changed.
On the evening of March 31, AppsFlyer, a mobile attribution and marketing analytics company, released the tenth edition of the Ad Platform Comprehensive Performance Report. The report shows that the three advertising giants, IronSource, Unity Ads and AppLovin, have fully realized the explosive growth of the gaming industry, accounting for 35% of gaming apps in the second half of 2019, in the traditional context of Google and Facebook's dual oligopoly. It's up 10 percent from the first half of the year, putting other competing companies on the back foot.
Unity gained 76% of the game's installed share and topped the list of arcade games in Southeast Asia, action games in Eastern Europe, strategic games in Japan and South Korea, breaking the double oligopoly of Google and Facebook to some extent.
With the boom in Chinese tools and content going out to sea, and the burst of short video content around the world, China's power is growing rapidly.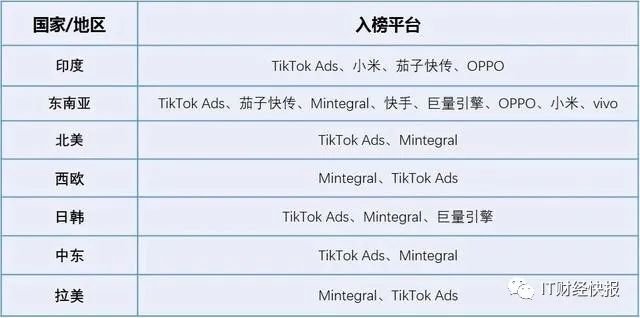 According to the report, Mintegral and Byte TikTok Ads, owned by Huihui Technology, are ranked 7th and 10th on the global gaming advertising platform Android and iOS, respectively. In the non-gaming application category, especially in the tool category and life arts applications, TikTok Ads outstanding performance, become the world's fourth largest platform. In terms of growth, the number of applications installed by TikTok Ads in the second half of 2019 increased by 120% compared with the first half of the year, topped the global growth index.
In the industry' view, this is largely due to the large user base of TikTok Ads, long user hours and extremely high daily activity. In the past year, TikTok's user base has increased by 614 million, with a total of nearly 1.5 billion users, and the average user spends about 50 minutes a day browsing TikTok, according to Apptopia, laying the foundation for TikTok to become a premium advertising platform.
In regional markets, China's advertising platforms have performed even better, with the largest number of Chinese advertising platforms in the Southeast Asia Growth Index, accounting for eight seats. In India, Southeast Asia and other Chinese mobile phone manufacturers have a high market share of the region, Xiaomi, OPPO in the distribution of non-gaming applications has a better performance, entered the region's non-gaming application strength list Top10.
Shenno Group COO Xu Mohan very early aware of this trend, in his view, the sea competition is becoming more intense, download volume has not been able to bring about the same rate of revenue growth, in order to ensure revenue and user growth, more and more brands began to look for more channels and traffic sources, when short video became a user information acquisition habits, Incorporating social channels into the media delivery strategy is the trend.

Amazon is known to be the third-largest digital advertising platform in the United States, after Facebook and Google. Facebook and Google's two-headed monopoly together account for nearly 60 percent of the U.S. online advertising market. But unlike the two companies, all of Amazon's advertising services are designed to promote physical products, while Facebook and Google offer advertising services for all industries.
About 38 percent of total U.S. digital advertising spending comes from retail, with the rest going to industries such as automotive, financial services, telecommunications, travel, entertainment and healthcare, according to eMarketer, a market research firm. That said, an estimated $16 billion of the $42 billion advertisers spent on Google ads in the U.S. market last year was spent on retail advertising. Similarly, $8.8 billion of the $23 billion spent on Facebook ads went to retail advertising. Amazon, on the other hand, has $7.4 billion in U.S. advertising all tied to retail.

(The u.S. digital advertising market share distribution in 2018 is shown on the left, and the chart on the right is the forecast distribution of retail advertising market share in 2019)
All this means that Amazon advertising has become an important player in retail advertising. Last year, advertisers spent only 8.8 percent of their total ad budget on Amazon, but 18 percent of their retail advertising spending went to Amazon. Amazon's share of retail advertising is expected to grow to 23% in 2019, when it will surpass Facebook. The increase is due to the fact that the company will account for more than half of retail advertising growth in 2019.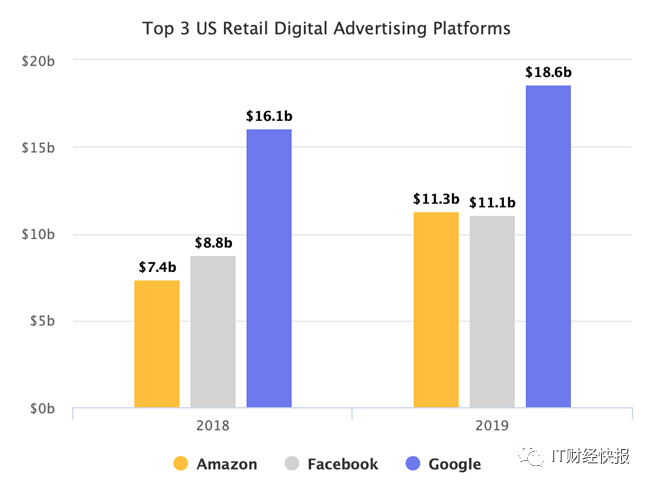 (Figure shows the projected size of the top three retail digital advertising platforms in the U.S. in 2018 and 2019)
It was mentioned earlier that retail advertising accounted for 38 percent of total digital advertising spending in the U.S., though it also included commercials in physical stores and other retail industries that Amazon did not compete with. This means that the exact proportion of total spending spent on branding physical products (Amazon's advertising focus) is less than 38%.
Amazon's advertising business focuses on a branch of digital advertising. Facebook and Google are at the top of the marketing and sales funnel, while Amazon is at the bottom. As a result, Amazon has higher conversion rates and better ROI than its competitors.
Google generated $94.5 billion in advertising revenue last year, and Amazon's global advertising business generated more than $10 billion. Google is undoubtedly still an advertising giant, but its total advertising revenue in retail advertising masks the fact that Amazon already has a significant share of the retail advertising market.
Google began to wake up last year to develop its e-commerce business, and Facebook is building a social e-commerce platform within the platform and recently with Instagram's in-app checkout feature, not because they want to fix shopping, but because brands are shifting their advertising budgets to Amazon. Both companies need to spend more time in the shopping space to reap the same bottom of the funnel as Amazon's ads.
---