Hands-on to teach you how to set up Google Search ads
Today mainly write about Google system ads, in fact, the main work is still mainly responsible for RTB auction media, such as Google, Facebook, Twitter, Youtube, etc. , auction media delivery needs to be advertising system and bidding principle, to have a very clear understanding, Today is mainly about the more commonly used Google SEM ads, that is, we often say by setting keywords for Google search ads.

In addition to Google searches, orVideo ads and display ads, shopping ads (Shopping ad), and app promotion ads.
Search ads:That is, someone searches for ads that appear, and when a user searches for certain keywords, the corresponding text ads appear in the user's search results (you can set Google search engine only or include Google's partners). How it works is to match keywords set by a user based on the words or phrases they search for, and matching and high-quality ads may be shown in user search results
Show ads:Mainly Display ads, Gmail ads and Youtube's Overlay ads, right-hand column ads, etc., are the image banner display ads that bounce out when youtube videos are viewed, and video ads are mainly youtube ads.) The Display Network has 2 million websites and covers more than 90% of the world's Internet users). Display ads can set up responsive ads, image ads, interactive ads, Gmail ads, and more
Youtube video ads: Mainly divided into Bumper ads (6S, not to skip), Trueview (15-30S, skipable ads), Youtube discovery ads (discovery ads, that is, enter keywords will see the video column has ad logo), Finally, Masterheads (CPD, Sky Ads).
Shopping ads:Mainly for stand-alone stations, first of all, create AMerchant Center, create a Product feed before you can launch, you can also bind center Merchant and Google ads account, so that you can optimize, action links forhttps://support.google.com/merchants/answer/2660968
App ads:Such ads are mainly used to promote APP, to attract users to download and use. Unlike other ads, this ad doesn't require the person to set up a specific ad, just provide some text, set the starting bid and budget, target the language and location, and then test the different ad combinations, choose the best ad and run it frequently
Because you are exposed to more search ads, this article takes a look at the structure of Google's advertising system and how to set up Google search ads.
Google's ad account structure is also a campaign, ad group, keywords and a number of copy ideas, google account structure and Facebook account, Twitter account is somewhat similar, are campaigns including ad groups, a campaign can be set up below multiple ad groups.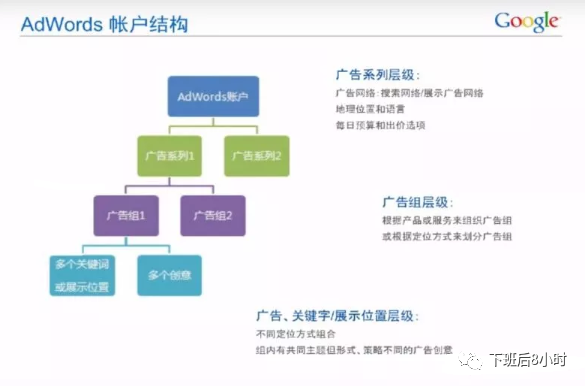 Put Google search, the key is to set up the keywords in advance, keywords are mainly phrase matching, perfect matching, broad matching and negative word matching, next look at what is the definition of the main?

Wide match:
Broad matching is the default match type specified by the system for all keywords.Ads may appear if a user's search query contains misspellings, synonyms, related searches, and other related variations.For example, if your keyword is "woman hat," people who search for "buy a woman's hat" might see your ad.Learn more about broad-based matches
Negative keywords:
Avoid search queries that include the words that trigger your ads to show.For example, if you run a hat company but don't sell baseball caps, you can add a negative keyword (-baseball cap) where the minus sign indicates a negative match
Broad match modifier:
Similar to broad-based matches, the difference is that the Broad Match modifier option only shows ads for search queries that contain the following:Words with a plus sign (and a female cap) or a tight variant of it
Phrase matching:
If a user searches for content that matches a phrase, or a tight variation of that phrase, and there are other words before or after it, the ad display can be triggered.However, if there are other words in the middle of the phrase, or if there is any difference in the order of words in the phrase, the ad will not appear.Phrase match is expressed in quotation marks ("female cap")
Exact match:
If a user searches for something that exactly matches a word, or a close variation of the exact word, it can trigger an ad impression.Tight variations include search terms that have the same meaning as exactly match keywords, regardless of the spelling or grammar difference between a search query and the corresponding keyword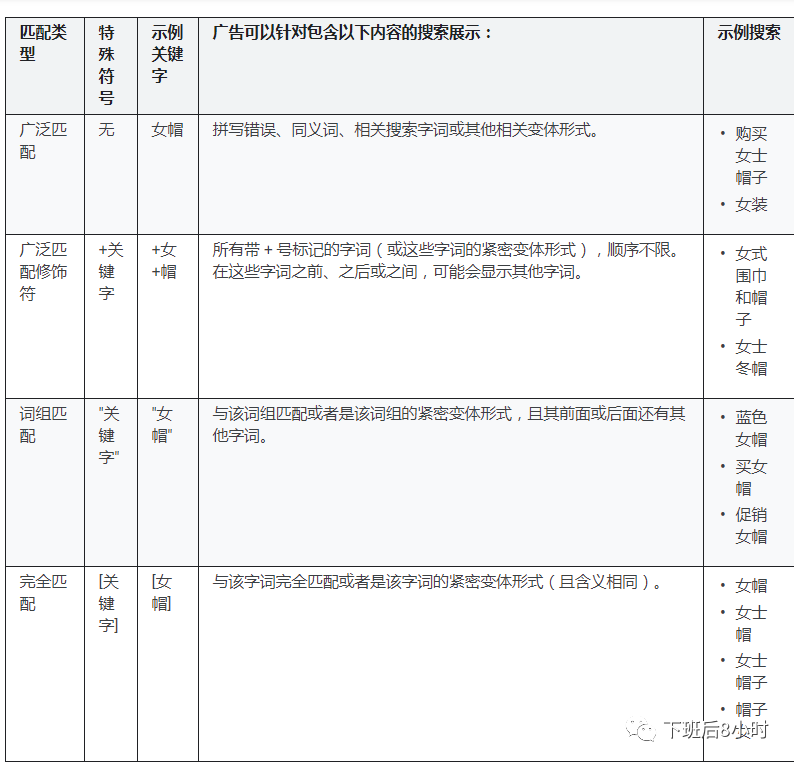 Generally speaking, the more accurate the keyword, the higher the ROI, the lower the cost, because the more accurate the keyword is the same as the user search words, CTR will be improved a lot. According to the current release of their own product words and brand word ROI can reach about 1:30, optimization relative to do is not good.

Since keywords are so important, it is recommended that several tools and plug-ins to get keywords, and that you can look at them before.Recommended 10 commonly used Google SEO keyword analysis mining tools
1. Google Keyword planner, in the tools and settings of google ads account, the main input of the main keywords, you can see the approximate number of searches per month, as well as the page's highest bid and the lowest bid, In addition, you can also broaden some KWS.
2.Keywords everywhere is an SEO keyword research tool that displays useful Google keyword search volume and cost-per-click data on multiple websites
3. SeoStack Keyword Tool plug-in, free tool, can easily find long tail keywords
4. Soolve (https://soovle.com) is an interesting text cloud that integrates search results so you can see the results of different search engines at once
5.Keyword Tool (https://keywordtool.io) Keyword Tool, a keyword planning tool that brings together search engines from Google, Amazon, Yahoo, Bing, Youtube, and AppStore, and can select search results based on different domains and languages
6. UberSuggest (https://app.neilpatel.com) long-tailed keyword sage and website analysis
7.K-Meta (https://k-meta.com/) searching for your competitors, website traffic, ad copy, keyword Position;If you search by keyword, you can see CPC, degree of competition, search volume, and related keywords and organic search results
8.SEMRush is familiar to everyone, do SEO one of the most important tools
9.SERPstat (https://serpstat.com) is similar to Semrush and is very powerful in analyzing keywords, long tail keywords and website analysis
10. Spyfu (www.spyfu.com) Spyfu not only helps you find the keywords your competitors use, but also tells you the cost and ranking of the ads they put in every word
11. Word Tracker (www.wordtracker.com) Is a combination of Google, Amazon and Youtube search engines that focus on optimizing traffic on the keywords you lock in.
12. Keyword tool dominator: a combination of consumer keywords from Google, Amazon, YouTube, Bing, eBay, Google Shopping, Etsy, The more troublesome point is that it has to install a browser-related expansion kit to get started, while the fee-free program uses only 3 keywords a day, and each piece of software is disassembled
13. Freshkey: Freshkey is a keyword system like Keyword tool dominator that combines many shopping e-commerce sites such as Google, Amazon, Bing, Etsy, Ebay, AndYoutube.Data found based on search engine results is sorted alphabetically to help you classify keywords.Can help you master future commodity trends and stay ahead of your competitors, using consumer search preferences as a tool's strength
14. Term Explorer: Term Explorer is a more integrated tool that gives you more integrated results than Google
15.iSpionage: iSpionage tells you how keywords are better used through ad results and duplicate keywords.You can also track competitors' login pages so you can see changes in traffic to their websites in real time to do this with your own keywords
16. Cyfe: Cyfe is a bit like iSionage, but the main purpose is that it can integrate its own website SEO tools on the same page, including social media, Google analytics tools, etc., and monitor the information of competitors in real time, the advantage is that it is simple to use, The layout and interface are also very pleasing.
17. Ahrefs is also an discovery keyword weapon, with the likeweb, sermush and become seo essential troika.In addition to the seed keywords you enter, you can get a lot of extended keywords, keyword-related issues, and New Discovered words, followed by a separate introduction to this tool.

18. Google Trend, in fact, can also see some of the most popular words and the number of searches up.
19.MOZ, a good tool for keywords, is similar in functionality to Ahrefs.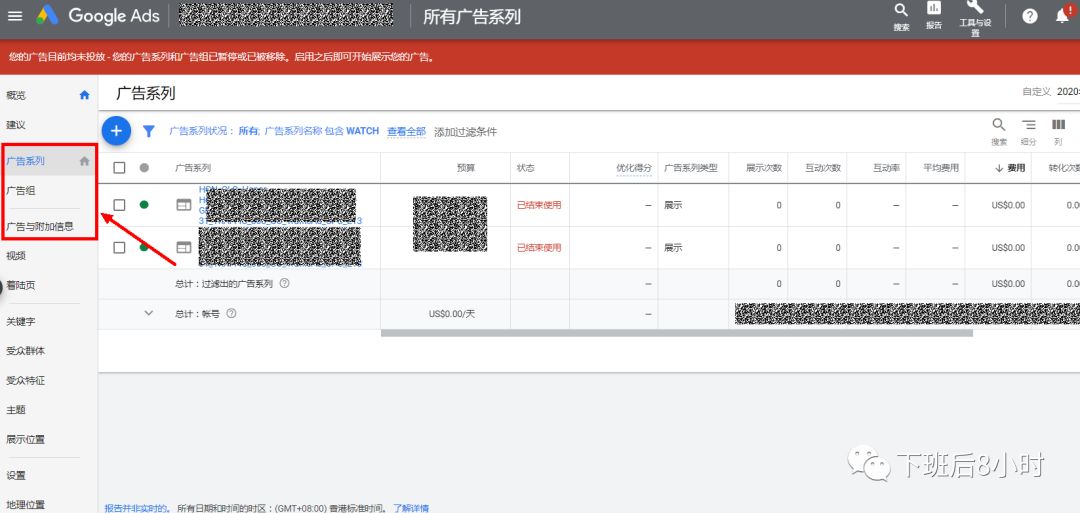 Above, google ads account stakes, search ads, display ads and video ads (except Youtube masterhead ads, which are set up with the help of google's in-house staff) are set up in this account.First click on the "plus" symbol in the image above and select your advertising marketing goals:
Sales: Attract users to buy on websites, in-app, over the phone or in physical stores, mainly for search, presentation, shopping, video, intelligence, discovery
Leads: Encourage users to take action to win leads and other conversions for search, presentation, shopping, video, intelligence, discovery
Website traffic: Attract your target audience to your site for search, presentation, shopping, video, discovery
Product and Brand Intent: Attracting Users to Know Your Products and Services for Presentations, Video
Brand awareness and reach: Reach a wide audience and build visibility for presentation, video
App promotion: Attract more users to install and interact with the app for app ads
For example, choose to sell as the target, then Continue, choose search, then website access, and then choose the drop area with the language, geographical location can also be targeted, but the minimum radius is about 20 kilometers, this can be used for offline store access, to your store as the origin A distance of 20 km away from the audience display.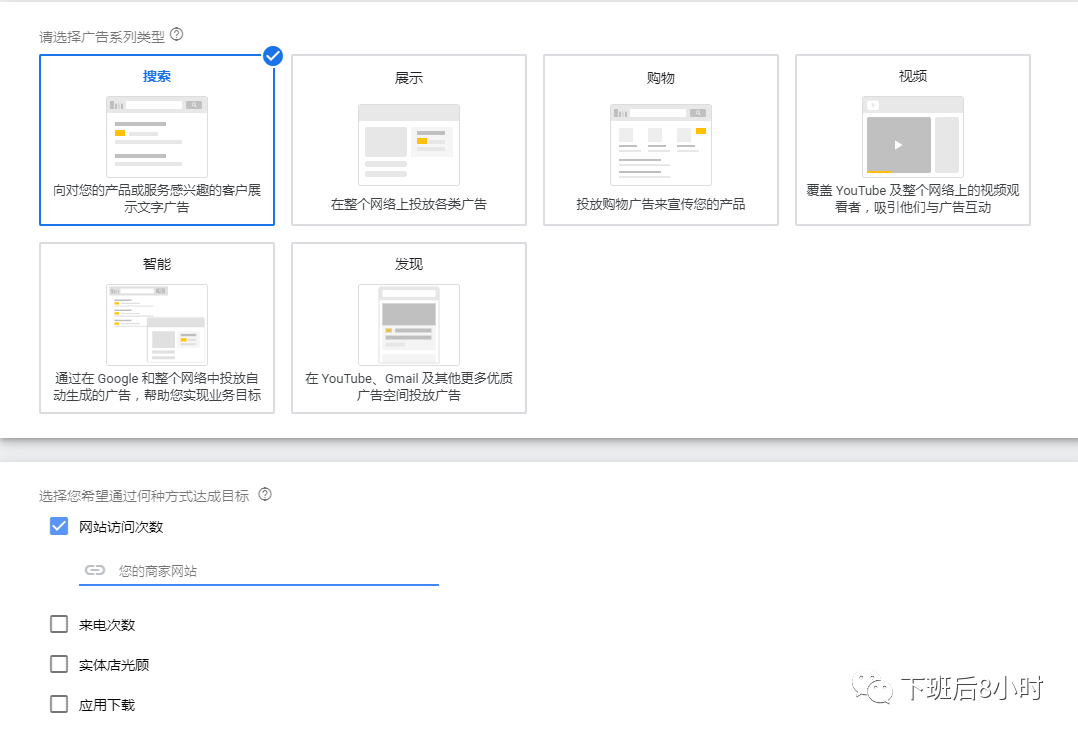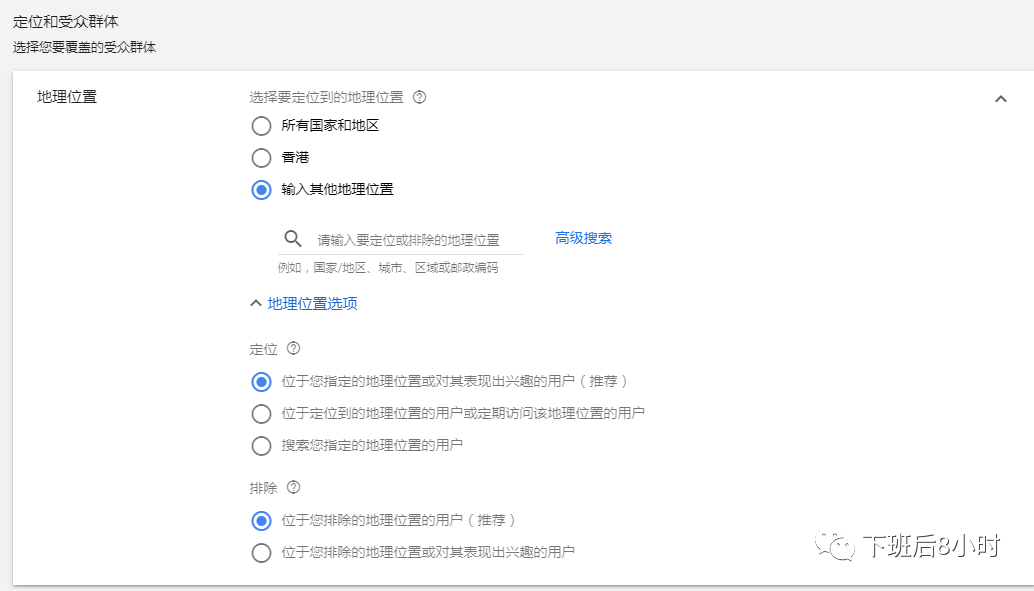 Next is to set the budget and bid, is you are willing to pay daily advertising costs, this fee can be developed by google keyword planner situ can refer to the estimated monthly keyword search volume and the bid of THE CPC, and then refer to the current KWS advertising display share (share Impression), It's probably a reasonable budget. In addition, ad delivery time can be selected throughout the day or at a certain point of the day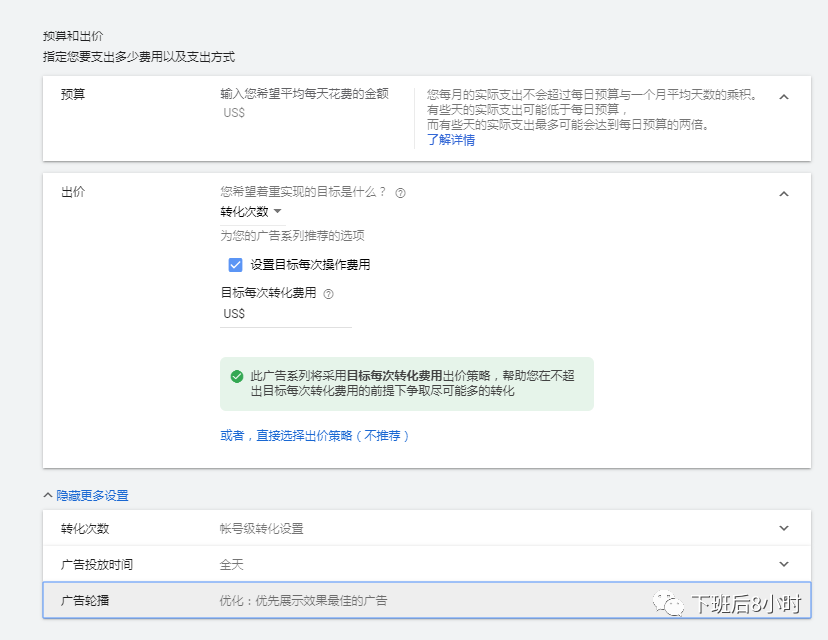 Next is the advertising information, additional information links, additional promotional information, additional telephone information, etc. , attachment information is currently for Google to optimize the transformation of the role is very important, in addition to can improve the display area of the ads, give users more information, can also improve CTR, attract more users click, if you do not set additional information , search ads only have one link to click, if you add a link, you can add 4 more landing links, more people can click.


Just found an ad on the Internet, so that you can more clearly see the following red box in the additional information, you also more easily understand that if there is no additional link description, there is only one line above title 1, title 2, title 3 and a copy.

The next step is to set up an ad group, you can set up a group can also set up multiple groups of ad groups, enter the corresponding keywords, in order to get better results, it is best to let all the ads and keywords in an ad group around a product or service, because the relevance of ads is also a very important factor in Google ad optimization, For example, your keyword is mobile phone products, but the landing page is a wearable product or other products, to the user's sense of experience is not very good.
In the following image red box input URL and products, you can crawl some keywords, added as the delivery of keywords in the word pack, here should pay attention to the above improved several keywords matching form.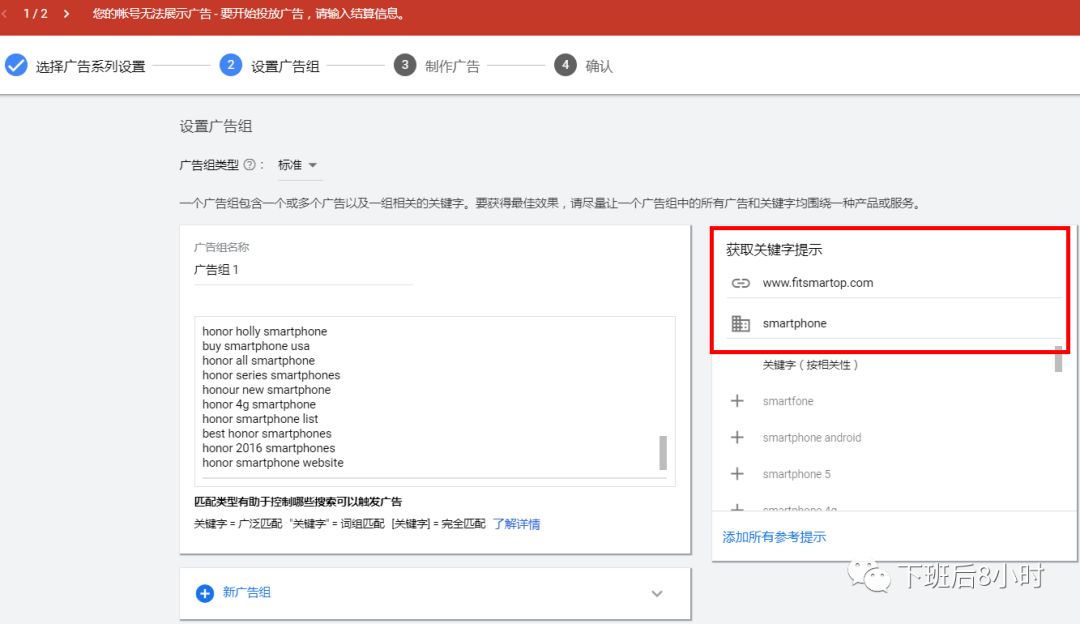 After setting up the ad group, is to set the ad text, but also suggested that each ad group inside more ads, Google ads will be better ads priority display, in addition to note that the title with the character requirements of the text is within 30 characters, the text is within 90 characters, as lean as possible, You can set up 3 headings and 2 copy.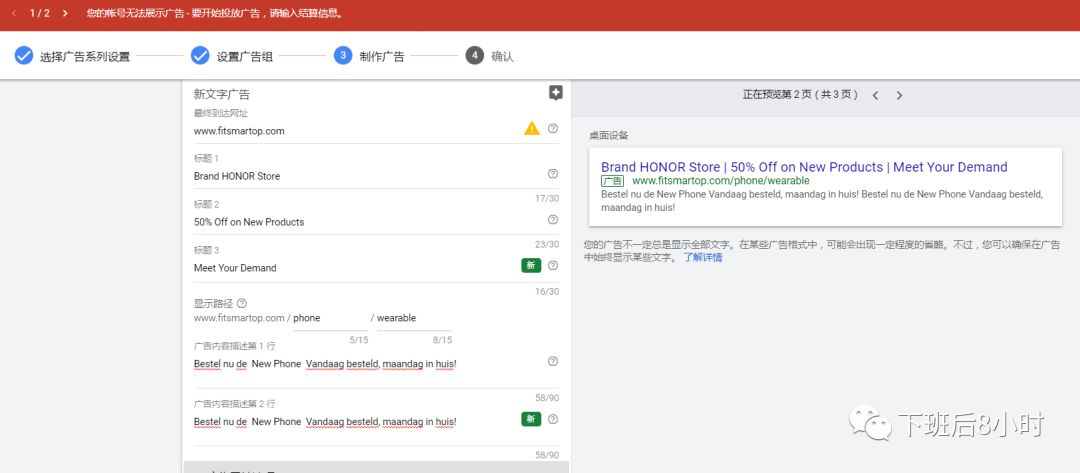 So far, Google's search ads are set up, the next is the review phase of the Google system, generally about 24 hours or so, the search ads keywords, with the copy are very important, suggested that the different forms of the key words to create ad groups, not all words, such as exact matching, phrase matching, Widely matched and so on are placed in an ad group, generally relatively complete matching words will be better, widely matched conversion is lower, if these are put in an ad group to go, will pull down the entire ad delivery quality, keyword slot to see the performance of each word every day, for some undesirable keywords can be suspended.

还有比较重要的一点就是Google ads account要与GA相关联起来, 这样既可以在Google ads account里面直观看到每个词的转化情况,比如说购买,加入购物车,注册等转化,在GA上面的google ads那里也能看到每个词的转化情况,比如带来点击次数,成本,CPC,用户数,会话数,跳出率,每次会话浏览页数,电子商务转化率,交易次数收入等,以及桌面端,移动端等不同设备的表现情况,链接上GA之后基本上所有的数据从前端曝光到后续转化,前后端打通,整个链路的转化path你都可以知道的一清二楚,并能以多种表格形式去呈现结果,对于优化广告账号结构,非常考验人的优化能力跟整合能力。

The following are mainly suggestions for optimizing Google search ads:
1. Daily view of campaign data, keyword search terms, auction analysis;
2. Look at the display share of keywords, the greater the value means that the better the ad performance;

3. Improve the quality of advertising keywords, reduce click costs;

4. Combined with GA data, the audience analysis, targeting the audience's gender, age, urban areas, etc.

5. According to the specific situation of the account analysis, and then the implementation of optimization adjustment, and then look at the data to see the performance of the account

If you are more interested in traffic conversion, the whole link marketing cross-channel multi-dimensional, you can click on the two-dimensional code in the figure below to listen to Karen teacher overseas traffic research institute class, Karen teacher has been a listed cross-border e-commerce company's brand trader, 11 years of promotional operation experience, 8 years of team management experience, led the team to create two sites into BrandZ TOP 50, creating a daily traffic peak of more than 1000W amazing record.
Fluent in traffic channels such as Google SEO, Blog Marketing, Forum Marketing, YouTube and Instagram, and Affiliate Alliance Marketing, The team has been building multiple traffic management systems such as: Net Red Management System and Affiliate Contact Marketing System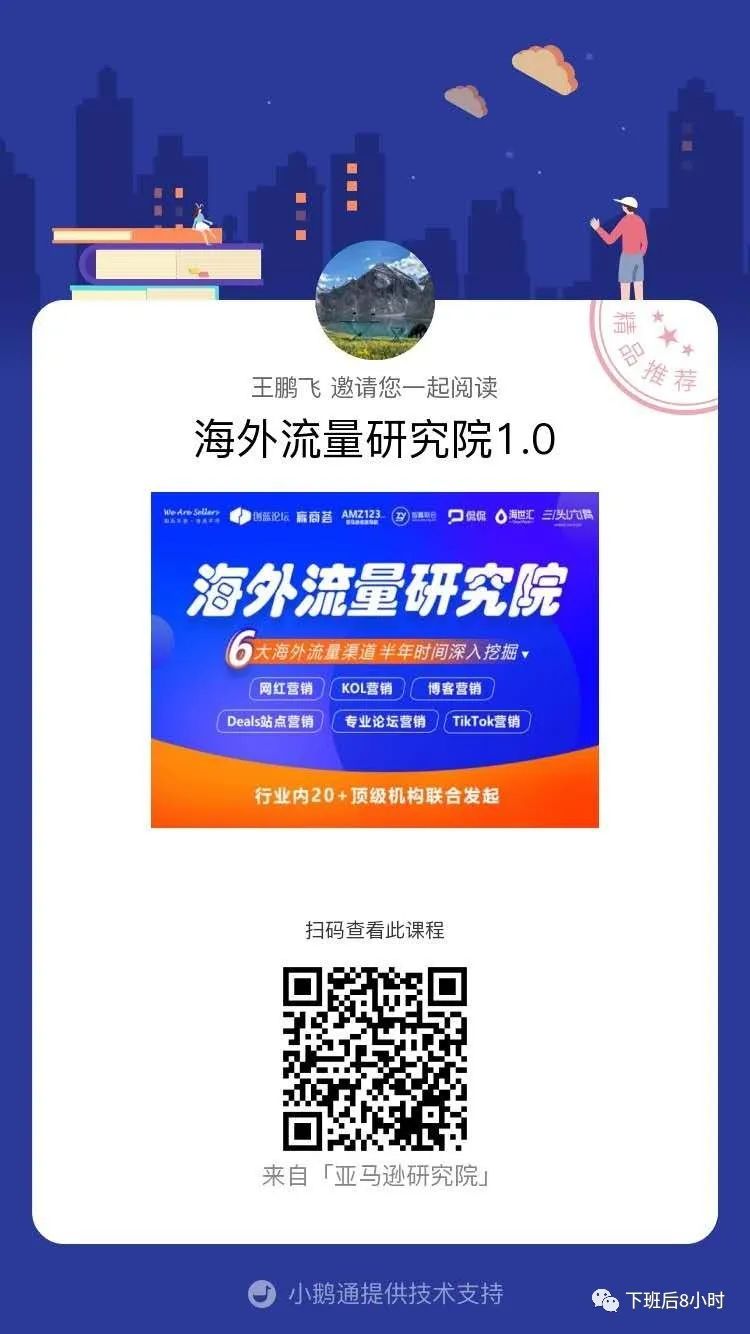 ---