How can I improve my Google Ads ad quality score and improve my ad performance? Official Partner of Google

Click on the top"Foreign trade gas stations " - Click on the top right corner of "..."
 - Click"Set to star ★ " Add a star to the foreign trade gas station.
Friends who run Google Ads must remember that if you want to do well in search ingress, you have to score high quality.
First, what is the quality score?
The Quality Score, or Quality Score, is a keyword-level metric in search ads that helps advertisers get an overview of ad quality.
Principle: Google Ads' Overall Performance of Keywords in Historical Advertising Auctions (acquired click-through rate, user experience data, etc.) to make a comprehensive assessment, and then give each keyword a quality score, the lowest score is 1, the highest score is 10. However, if a keyword does not get enough impressions or clicks, the system displays its quality score as empty (shown as "-" in the table).
Importance:In general, the higher your quality score, the higher your ad ranking scored at a lower price, resulting in a higher ROI.
For example: For keywordsA,竞争对手出价$3,质量得分3,其广告评级分数为3*3=9;你出价$1,质量得分10,广告评级分数 1*10=10,因为10>9,所以,即使你的花费不到竞争对手的一半,你的实际广告位置却在他之上。
The three main factors that determine the quality score:
Ad relevance (keywords to ad language and landing page)

Landing page experience (how relevant and useful your landing page is for clickers)

Expected CLICK-THROUGH RATE (LIKELIHOOD OF ADS BEING CLICKED BY USERS AFTER THEY ARE SHOWN)

As shown above, the Google Ads background can see the quality score for each keyword and its three main influencers.
Second, how to improve the quality score?
The improvement and optimization of quality score require us to learn to look at the essence through the phenomenon, to find out the cause of the disease, the drug.

First of all, the score range of quality score is 1 to 10 points, less than 5 points of keywords are serious patients, need to focus on diagnosis and treatment; Less than 10 keywords have room for optimization, need to build on.
How do I check the quality score of my ad?
1, click on the Top Campaigns tab.

2, select keywords label.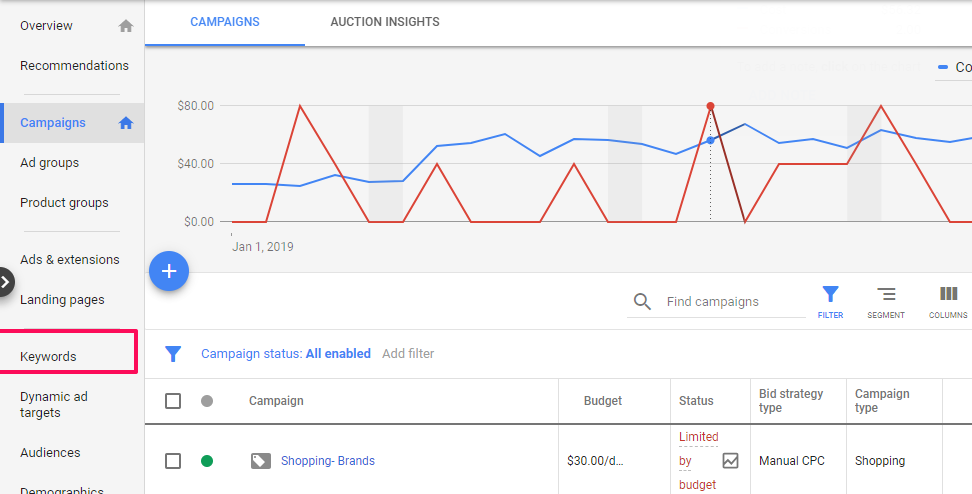 Click the status that appears next to any keyword to see more information about the keyword's Quality score.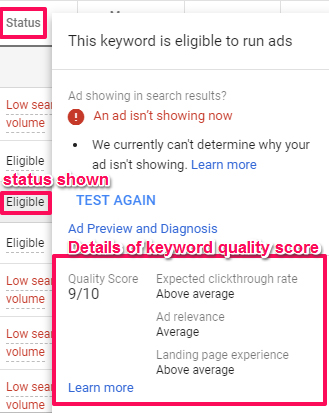 This metric not only helps improve the quality of ad ratings, but also helps drive the success of your campaign.
How to improve keyword quality score?
Increase click-through rates

Optimising the drop page
 1. Understanding the factors
Understand the factors that affect the credit score to improve it, which is the same in terms of quality scores.The first thing you need to do is understand the factors that affect the score.These factors are not all equal, but the percentage of scores for each factor is not clear.
That's why it's important to understand all the factors.You need to try to improve your score, not just one or two factors.You should do a little work on each of these factors so that you can see an increase.Once you know what it takes to pay attention, you can start improving your score.If you don't understand the factors that affect it first, your score won't increase.
2. Improve your score by targeting ad groups
If you design your ad group for a more targeted campaign, you'll increase your score.This helps to increase the importance between search and actual advertising.When you start setting up campaigns, you can use as many different ad groups as you want as long as they're related to the keywords you're using.
If they are not relevant, do not use them.If you only have a few ad groups that use the same keywords, this won't make your ads relevant to your users, because it's hard to find the specific ads they're looking for.
Each group of ads should have its own set of related keywords.This is the only way you can effectively target groups of interest.Make sure that the keywords you're using are logical and match what your ad group might be looking for, and you can try to improve your quality score by targeting your ad group with specific keywords.
3. Research keywords
Before you use keywords, you should know how they perform in macro scenarios.As with anything, study before you do it.Keywords are one of the most important aspects that affects quality scores, and when people enter a word in the search box, the words they use will determine whether your site or ad will pop up.
 4. Write high-quality Ads ads
As with any type of writing, well-written advertising is more likely to attract customers.If you don't have high-quality ads, you may not get the results you want.High-quality ads will focus on a product or service so that you can really appeal to the type of people you want.
5. Landing page optimization
Landing pages are usually the first pages that people see.If the target page is in poor condition, is not easy to use, and the visitor is confused, the quality score is lower.
You should also make sure that your target page contains relevant keywords that will interest more people about your content, and that for each ad group, you may want to consider using the only important keywords.
6. Make the ad group smaller
Sometimes size is important, and it's recommended that each ad group use 15-20 different keywords, but that's not always the best advice, which doesn't help the quality score.Running ads with 15 to 20 related keywords can be difficult, you may find it difficult to run ads related to multiple search terms, and it's more beneficial for a group of 1 to 10 keywords to suggest using 1 to 10 keywords than 15-20.
7. Try to use negative keywords
Negative keywords are helpful to some extent.You can use negative keywords to make sure that people who aren't in the target ad group can't find your ad.But using a large number of negative keywords will reduce the click-through rate of your ad group.By negative keywords, you can increase the relevance of ad clicks, which can actually improve the quality score.
8. Avoid using dynamic keywords
Google Ads has a dynamic keyword feature.While some people may benefit from using this particular feature, do not use it when seeking to improve your quality score.Dynamic Keyword Insertion (DKI) is a tool that lets you put a user's search field entirely into your ad story.While this may seem beneficial, it does lead to a decrease in quality scores.
Conclusion
Quality scores that can help you grow your business, win more customers, and save you money in the long run can be a useful part of market research, using it to make sure that your website or ad is doing its job.
For more knowledge sharing, follow the WeChat public number:
Foreign trade gas stations
Disclaimer: The copyright of this article belongs to the original author, if the content of the work and copyright issues, please contact us to delete.
Google is used in almost 90% of the world's countries and regions, and only 20% actually use Ads, compared with only 6% who are skilled in using Ads.(A senior overseas optimist)。 There are few erreados recognized by Google...
Ads services are essential, and how can Google 'excellent) partners be identified among a wide range of service providers?
Ask the advertiser to recognize the following badges 


As shown in the figure, the badge is divided into two levels, blue and red, i.e. Google ExcellentPartner badge(Red label) and Google Partner Badge(Blue label).PS: As it literally means, the red label is more recognized by Google than the blue label.

Google's official domestic partner, scan the qr code below.Google account opening, website construction↓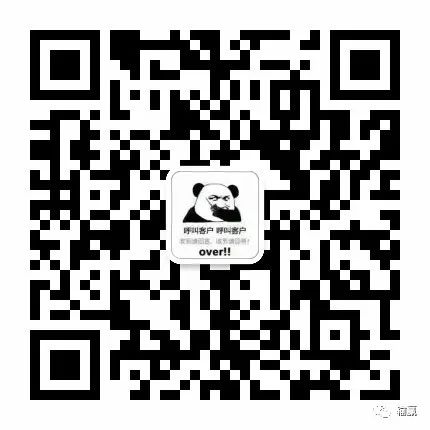 SourceSelf-networkIf copyright is involved, please inform, maintain the views in the textNeutral, for reference and communication only. (Invasion and deletion)
At present, more than 10,000 people have followed us















Foreign trade gas stations
Would you like to learn more about foreign trade? Foreign trade gas station every day for you to update foreign trade dry goods, foreign trade common sense, foreign trade skills, network marketing, corporate style and so on. Welcome to join you! Micro-signals:ChinaForeignTrade
Foreign trade gas stations
Internet/Foreign Trade Dry/Foreign Trade Tips
Foreign trade gas stations(ChinaForeignTrade)
Internet . . . Foreign Trade Dry Goods . . . Foreign trade tips
Press and hold QR code attention
---